"Nagarro carries the artists on its hands", Marco Villard would say. Marco is a celebrated pop artist who recently exhibited his work - which covers current affairs and draws inspiration from classical baroque paintings - at the Nagarro Art Forum in Vienna.

An art forum in a technology company? To know more about Nagarro Art Forum, and to understand how this fits with Nagarro's many corporate initiatives, I decided to interview a few people: Paul Haberfellner, one of the project founders; Susanne Soumelidis, the curator; Evi Schartner, the artist of 2017; and Marco, whose Pop Art exhibition Vicennial is currently running in our Vienna office.


[Vera Reichlin-Meldegg] Paul, how did the idea of the Nagarro Art Forum evolve?

[Paul Haberfellner] It was the summer of 2013: We found that the rather mathematical, especially top-heavy IT world needed a balancing, creative format to initiate a conversation with customers. It should inspire, touch emotionally and encourage dialogue, like a round of friends. And above all, it should be something "good" - a project where we make a meaningful contribution with our know-how and commitment. At the same time, we knew an artist who was incredibly talented, but who, like so many young artists, did not have the means to set up his own vernissage and subsequent exhibition. In short, we saw this as a win-win situation and the "Nagarro Art Forum" was born.

[Vera] So what is the concept of the Nagarro Art Forum?

[Paul] Since the launch of the Forum, twice a year, talented, up-and-coming artists present their works in our office for five months at a time. We organize a vernissage, where we invite both clients and art lovers, and request the artist to come on stage. Ever since we moved to our new, ultra-modern office, we have also set up a really attractive exhibition space of around 2,200m² to offer and it is already a challenge to fit all the walls. At the same time, our open space concept has become the ideal platform to showcase the paintings in the best possible way.

[Vera] Why should artists apply to exhibit at Nagarro?

[Paul] The aim of the Art Forum is to promote artists. And of course, it's a win-win situation: they increase their profile and we benefit from the colorful mix of paintings in the office. Many of our clients who see the artworks at an appointment in our office ask about the artist and, in fact, quite a few of the exhibits are sold! As an ambitious seller, I naturally don't miss the opportunity to actively support our artists in this process 😉. At our current exhibition of Marco Villard, for example, there are already many paintings under which the well-known red dot is displayed - a great success! In the end, we succeeded in turning this crazy idea into what we hadn't hoped for in even our wildest dreams: to create a creative platform that is a full profit for customers, our employees and, above all, for the artists!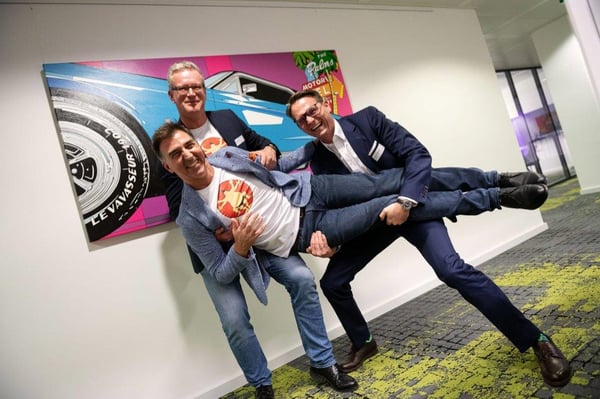 "Nagarro carries the artists on its hands", says Marco Villard; here with Nagarro Austria managing directors Thomas Riedl (left) and Paul Haberfellner.
[Vera] Nagarro is involved in many corporate initiatives, especially in the environmental sector - e.g. planting trees, eliminating plastic, or encouraging green commute. Does the Art Forum also contribute to Nagarro's CSR vision?
[Paul] Yeah, I'm sure! Basically, as CCR - Corporate Cultural Responsibility. As you can see, many companies are already showing a responsibility towards art and culture, and I think that's very welcome. After all, culture is a resource for creativity and inventiveness and therefore, also affects our own core business. We have to often find creative solutions for our customers. So, the exhibited paintings not only decorate our white walls - they also serve as inspiration for our own employees, our most valuable asset. Besides that, it also strengthens our own reputation. I, therefore, see our CSR, or in this case, our CCR commitment, as an investment in our image, and it also aligns with the long-term vision of our company.
[Vera] Susanne, now to you as the curator: How do you find your artists?
[Susanne Soumelidis] I remember the first year very well, and how difficult it was to find artists. The obvious call to the art academy faded away silently and finally, our first artist, Marina Cavlina-Koch, found herself in our own network. From a journey that began then, we can already look back on shows by over 10 artists already. Today, the Art Forum has become known as an attractive format in the art scene and we regularly receive requests for exhibitions. Whoever has the choice, is spoilt for choice! The format's good reputation precedes us, which of course, makes us very happy. This ensures the continuation of this great initiative and it is also a very nice task which is quite different from our regular IT business.
[Vera] The current exhibition shows your Pop Art, Marco. What were your experiences?
[Marco Villard] Nagarro successfully lives, breathes and sells digitalization. You can feel this in the conversations with customers and employees, and also in the way the Nagarro Art Forum is supported by state-of-the-art technology. As an artist, I feel valued not only by my art, but above all, as a person too. For me, this has been one of the best experiences I have had at exhibition openings. The quality of the event and the selection of the invited guests was quite impressive. It is rightly called an art forum, because as an artist, you profit not only in monetary terms, but also by expanding and positioning yourself in an extended network! It is simply a great platform!
[Vera] Evi, you opened your exhibition "A source of Light" in November 2017. How did you experience the exhibition then?
[Evi Schartner] The exhibition at the Nagarro Art Forum was my absolute favorite. Honestly! From the organization to the catering - everything was top-class! I got to know so many new people and customers; my paintings also sold very well, even in retrospect. The visitors were extremely interested and open-minded. Nagarro is great for networking and it's also great to meet amazing people and enjoy a lovely evening! I decided to participate because there is enough space to present the works properly and the whole thing is not dressed up like a dull exhibition but like an event with the right audience. And apart from that, because I really like you guys. The whole presentation, starting with my own catalogue and the advertising presence on the internet, is very professional. For an artist, this is simply enriching.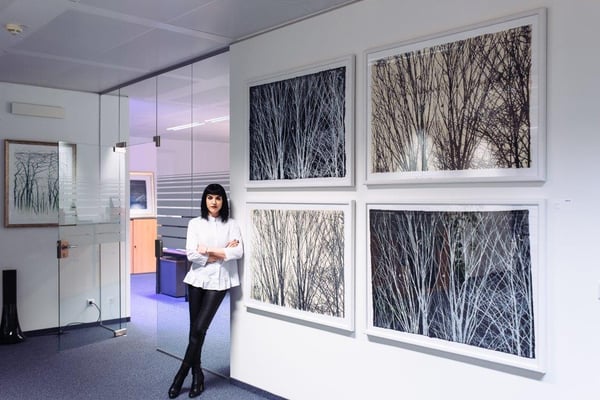 Evi Schartner also used the Nagarro Art Forum to raise her profile. A defining characteristic of her art on handmade paper is the exciting interplay of lines, shapes, and colors.
[Vera] Susanne, one can see that many artists use the Nagarro Art Forum as a stepping stone. What will happen in 2020 and the upcoming years?
[Susanne] The colorful pictures of Marco in his typical Pop Art style will stay on our walls till May 2020. I already know that many Nagarrians will be sad when they are taken down again 😉. But last week, our Art Forum core team met with a great artist from Upper Austria. His often large-format paintings are a mix of collage, portrait and abstract styles and immediately captivated me. We're really looking forward to it - more about it in September 2020! Apart from that, I think it would be a brilliant idea not to limit our Art Forum to paintings only. Because there are a lot of great sculptors and our office has enough nice places for some sculptures. Maybe we could combine both?! Painting and sculpture - that would be a great vision for the next year!
[Vera] Thank you very much for the nice conversation, all of you! With such a successful concept at Nagarro Austria, wouldn't it be an idea to extend it to other Nagarro countries? Paul and Susanne, let's think about it! 😊
Those interested in the Nagarro Art Forum and previous exhibitions will find information here.