In this edition of Nagarrians at Play, we present José Cardoso- a jack of all trades, a Master of Design, and a farmer with a flair for wine-making. He has been part of Nagarro for 4 years and showcases his design/product design expertise. However, he doesn't believe in limiting himself to just one passion; instead goes on adventures of exploring new things! In this feature, José shares his fascinating journey of starting his hobby of wine-making and gives you a taste of his delicious wines (figuratively, of course). Don't miss out on the juicy details of The Portuguese Conspiracy, the coolest cultural platform around.
What inspired you to start making your own wine, and how long have you been doing it?
In 2013, The Portuguese Conspiracy Platform was born to shine a spotlight on the best artistic, musical, and natural products from Portugal in London, UK. As we embarked on this exciting journey, we had the privilege of meeting and visiting several winemakers and their breathtaking vineyards. As I tasted the rich, flavourful wines, I was transported back to my youth, when I grew up in a small, agricultural community. It was a magical experience for me, and I quickly became enamored with the art of wine-making. The more I learned about the craft, the stronger my desire became to get involved in the wine-making process.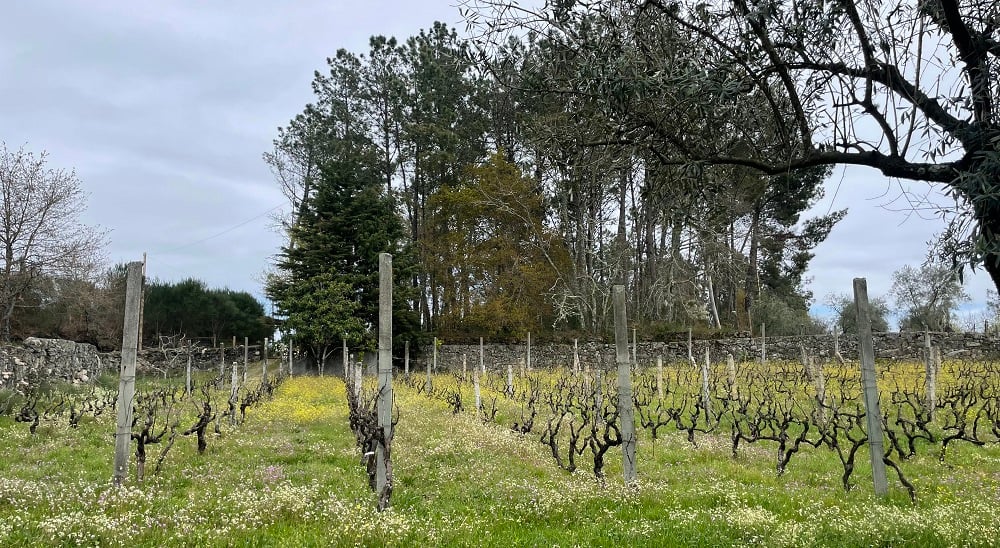 The pruned vineyard a few weeks before spring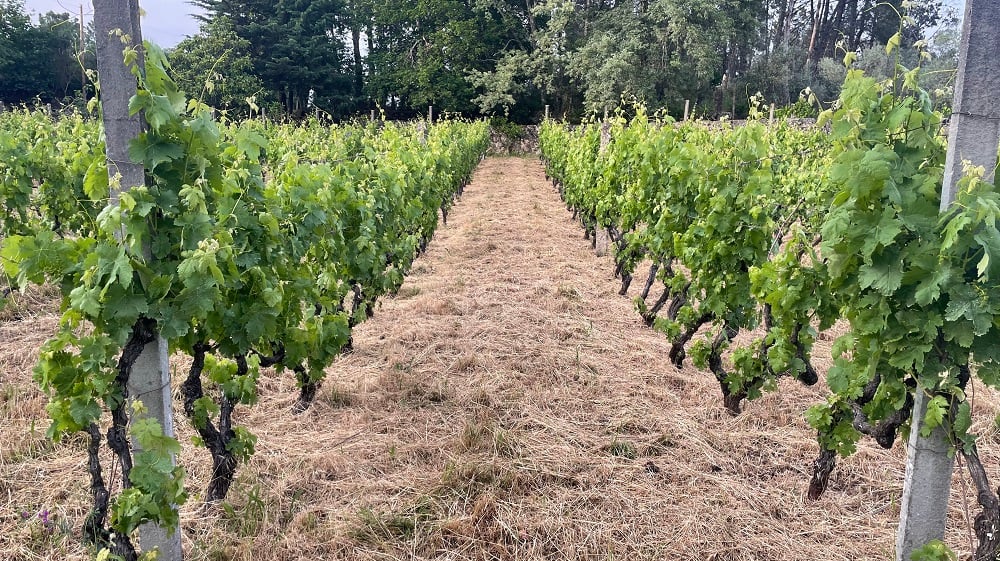 Once the vegetative cycle starts, it's time to cut the vegetation below and around the vines to prevent Mildew and Powdery Mildew to settle in. We do not use any pesticides or herbicides, so, all the work is done mechanically with an electric, battery powered weed cutter.
Can you walk us through the steps of making wine?
There are a few, but wine-making is done in essentially two stages: the grape-growing season and the wine-making process. Some might say that the magic happens in the cellar, but I personally think that the real magic is in the first stage, out in the vineyard.
With a healthy crop of grapes, everything else just falls into place. That is why we take great care in growing our grapes organically, without any harmful chemicals. And if that wasn't enough, we even have two furry assistants in the vineyard: Leonardo and Simone, our trusty donkeys who help fertilize the soil and keep everything in check. We've got a whole ecosystem going on out there, with olive trees, plum trees, apple and pear trees, cherry trees, almond trees, and even a small vegetable garden.
So, the next time you're sipping on a glass of wine, remember that it all started with some good old-fashioned grape-growing and a couple of hardworking donkeys. Cheers to that!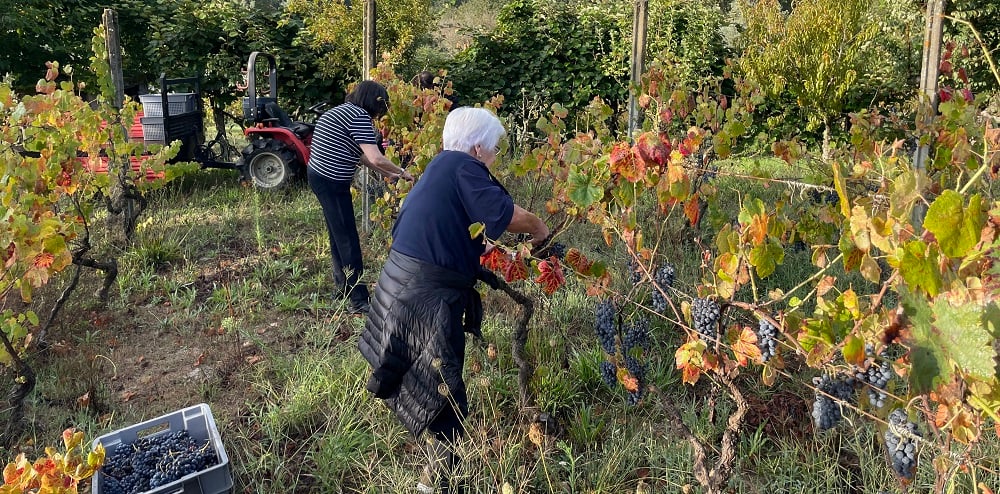 A Family endeavor. In the picture both our mom's help out with harvesting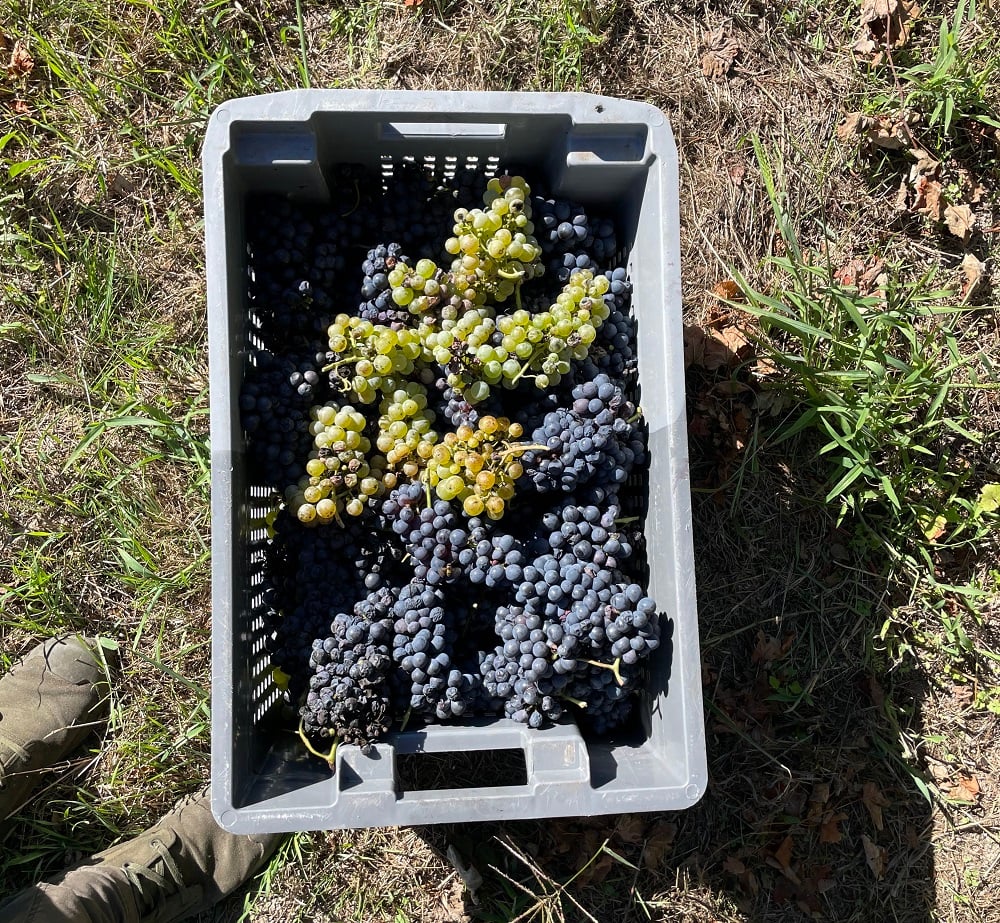 One of the Vineyard plots is more than 100 years old. Back then, 30+ different varieties were planted together, both red and white.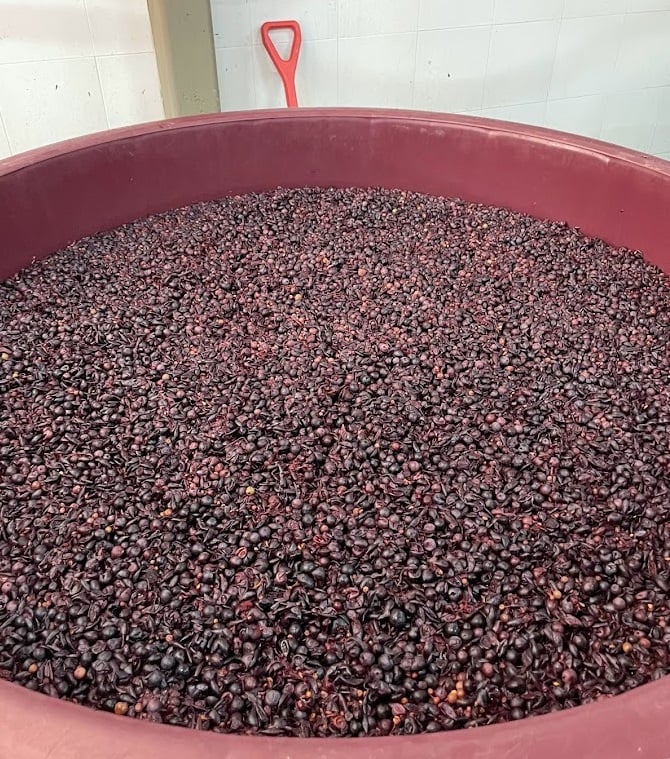 After destemming, the grapes are ready for foot treading
If you could describe your homemade wine in one word, what would it be and why?
It's a dynamic, living substance, not a finished product.
What's the funniest or most unexpected thing that has happened while making wine?
The cool thing about this whole process is that it's a team effort, which means everyone gets to pitch in and do their part. Our crew, which includes family and friends, is always in on the action, and we all have a blast working together. From pruning vines to picking and squishing grapes to finally bottling - it's all a great excuse to bring people together. And you know what's even better? When we get to pop open a bottle of that delicious vintage a few years down the line and reminisce about all the fun, we had making it. Now that's what I call a tasty memory!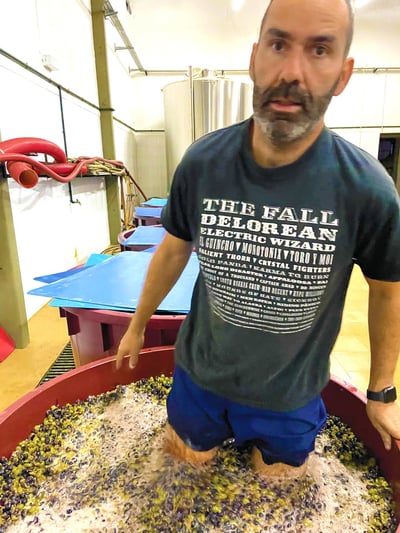 Up to my knees with grapes! Foot pressing is the real fun part!
Have you ever faced any challenges in your wine-making journey, and how did you overcome them?
It was a steep learning curve, and we made many mistakes along the way. We lost our entire harvest a few times due to a combination of bad weather and our cluelessness. What is the moral of the story? Don't let your enthusiasm blind you from the importance of knowledge and preparation, especially regarding farming.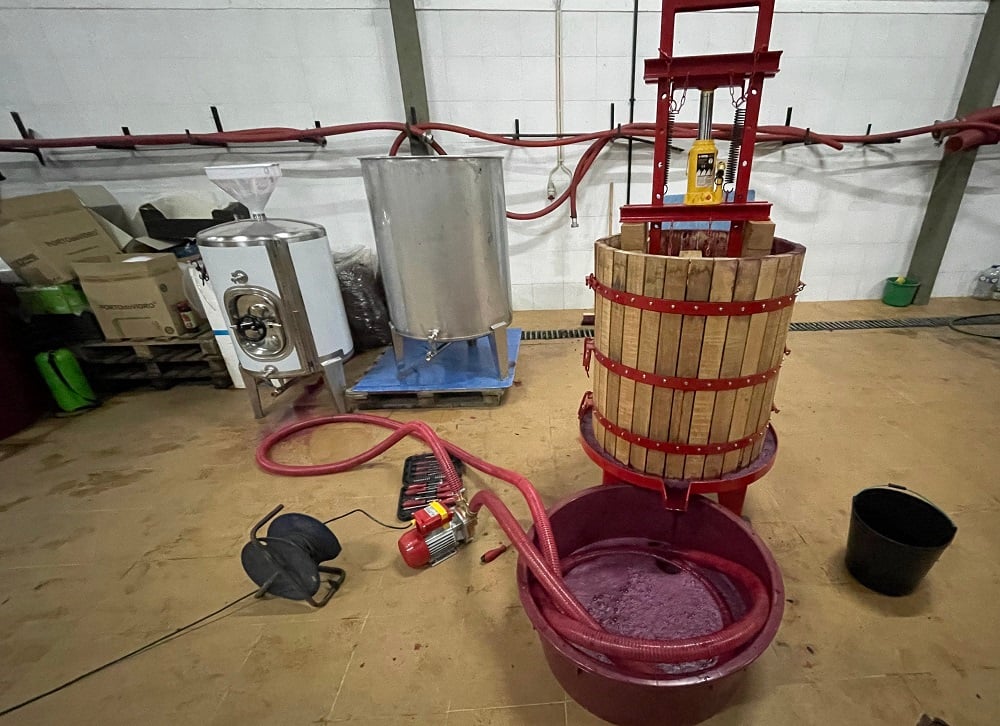 Pressing the grape must, is one of the final steps of vinification. Here we softly press the remaining grapes with a hydraulic press
What have you learned about yourself through the process of wine-making?
When it comes to making wine, by today's standards, it takes a while to get the results of whatever you do. Today we are drinking the wine we grew and pressed 4/5 years ago. I've learned to enjoy the process and let go of immediate outcomes. If one is to work with Nature, one needs to adopt a different rhythm and perspective.
Have you ever shared your wine with colleagues or friends, and if so, what was their reaction?
Yes, I have. I think my enthusiasm and excitement about the process and sharing the wine with them might have changed their perception and enabled them to experience wine, not as a finished product but as something a bit more dynamic, personal, and less "commoditized." Of course, that's just my hopeful impression - I wouldn't bet my collection of corkscrews on it.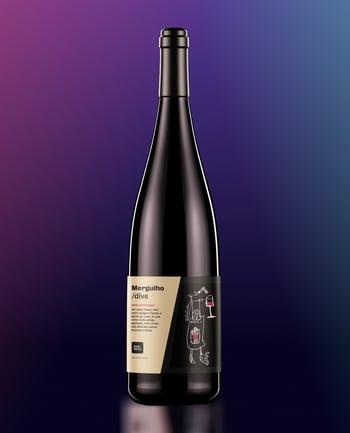 Once the wines take their path during the first year, we bottle them, and then we usually let them mature in the bottle for at least a year (or sometimes a bit more if possible). The illustration for this label was made by my godson Frederico. To honour his prescient vision and artistic flair we called the wine "Mergulho" (in English means "dive")
Do you think wine-making has any transferable skills or lessons that you apply to your work?
Everything that helps us grow and improve can be passed around and applied in different situations. We can call that process "Creativity"in a way. I've grown and keep growing by trying to be more aware and attentive to natural life processes. There's a fluidity, intelligence, and economy of means that inspires me.
What advice would you give to someone who is interested in starting their own wine-making hobby?
I'm only just starting too, so I can't provide sound advice on the matter. Also, your place and context make a world of difference. If you're thinking about dipping your toes into the unknown waters of whatever it is you're curious about my suggestion is: give it a shot! If you end up loving it, the questions will become clear, and step by step, the answers will too.
Here is how you too can sip on some fine vino crafted with love, courtesy of Jose's wine making recipe in the first edition Nagarro cookbook.
NagarriansAtPlay is a series that showcases Nagarrians following their passions. In this series, we bring to you some of our remarkable colleagues who have made it big globally, in their respective fields, and have inspired many to follow their dreams.