"The most dangerous worldviews are the worldviews of those who have not viewed the world." Alexander Humboldt
Have you ever dropped everything and planned a trip on foot across the Alps? Well, Vera did. Vera, our colleague from Austria. One day, a friend told her about a unique hiking trip passing the Alps through 3 countries along more than 500 km – and she knew right then: She had to go on a bit of a hiking adventure.
During the weekends, Vera is an adventurous traveler and, during the week, she's our Global Marketing Director at Nagarro. She's a nature lover with a particular affection for mountains. Now let's imagine we're on a hike with her:
How did you get into hiking?
I grew up in Munich, which is just 1 hour away from the mountains, and we also had a little hut in the Tyrolian Alps – so I'm used to going skiing in winter and hiking in the summers. I always preferred the mountains to the seas; it gives you such a sense of freedom when you're standing at the peak breathing in that fresh air and looking into eternity; and at the same time, you feel this vast satisfaction as you first had to climb to get to that peak.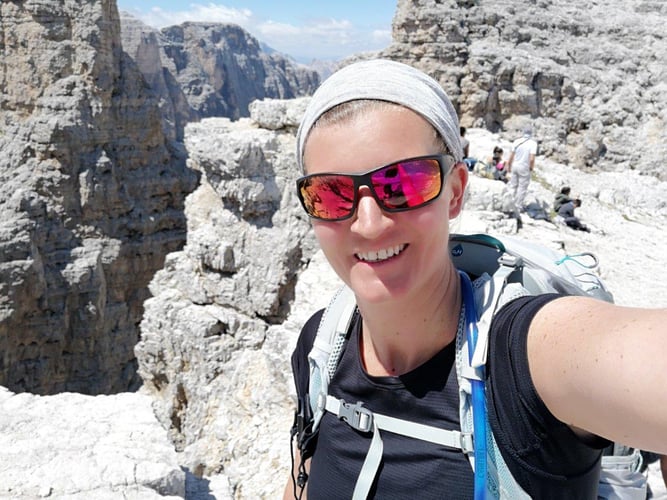 Flooded by freedom and happiness on reaching another peak
So please, tell us how this adventurous trip to cross the Alps on foot had started!
It was a time when I was much in need of a personal challenge. I heard about this trip some years back, but it was never the right time. Suddenly it was there, and it felt right to do it now! I was a little worried to tell my leadership team that I'd need five weeks of vacation, but they were as enthusiastic as I was about that trip and said, "why do you even think you have to ask – of course, do it!". That was a moment I felt how absolute our values of CARING are. So I had two months to get ready and plan the route. I drove from Vienna to my sister in Munich, said farewell, and just started walking. It was a strange feeling to be all by yourself suddenly. Still, once you leave the city behind you and are surrounded by the beautiful pre-Alps nature, you mentally let go and know that your unique experience is about to begin. I was never thinking of the entire route that lay before me, like "510km to go, 28 days left," but was thinking of my daily trails, "wow – today I'll be on this or that peak and will have finished another 25km".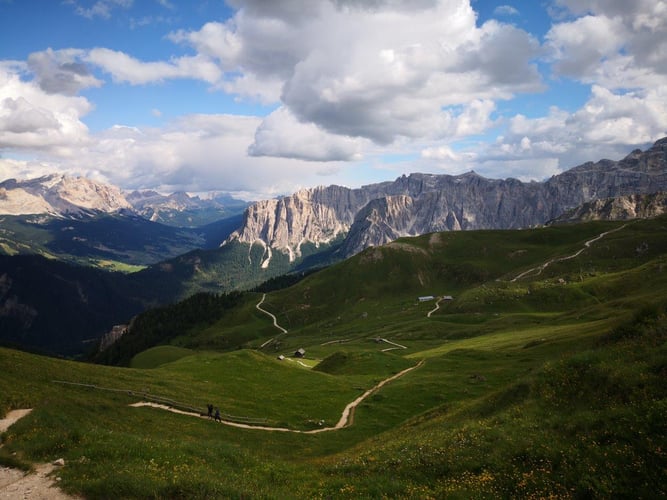 Every day was rewarded with the most amazing views
Is there any chance to summarize these 28 days at a glance?
To give you some facts: It was 28 days, a route of 510 km, almost 40,000 meters altitude, 17 peaks with Piz Boe being the highest (3,150m), and crossing three countries (from Munich in Germany, across Italy and Austria, and back to Italy to arrive in Venice).
Long-distance hiking trails take you far away from civilization and far away from routine life. Every day you take one step at a time, and nothing more – this is incredibly relaxing. You are surrounded by the most beautiful nature, but what made this hike so special were the people I met along the way. Between Munich and Venice, you meet hut keepers, mountain farmers, and, of course a few like-minded hikers. Sometimes you go together, sometimes alone; you share the hiking passion & the goal. The more difficult stages you master together, things like job role, origin, age, or gender are irrelevant – we're all the same. Most importantly, laughter and happiness are all around while hiking or in the huts in the evenings.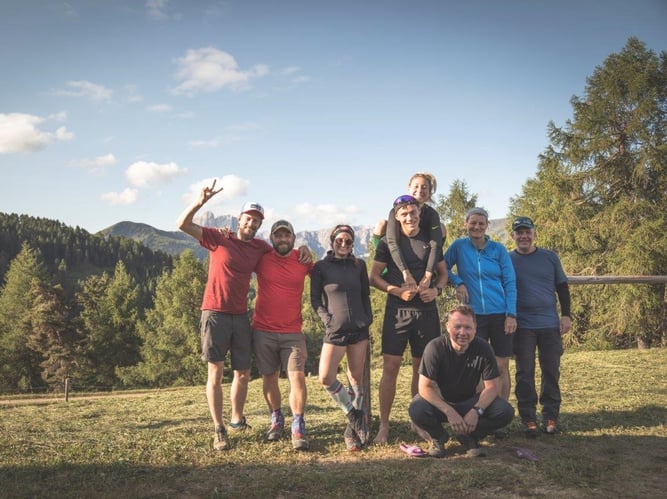 Vera's hike buddies during her adventure
How did you balance it to manage the trip with a full-time job?
It all depends on the people you work with and how you manage priorities. I had and still have a fantastic team, and I also had enough time in advance for preparing things. I think real teamwork is only doable when there's no bottleneck for information sharing or decision-making. It should always be possible to continue work even when team members are not available for whatever reason. I knew that I could 100% rely on my colleagues, and I also knew that I would come back with new inspirations and reloaded energy to support my team even better. Furthermore, it gave me such a good feeling that my colleagues were as excited about that trip as I was. Many of them also followed my blog diary – I am fortunate and am very thankful to have such a cool team in such a fantastic company.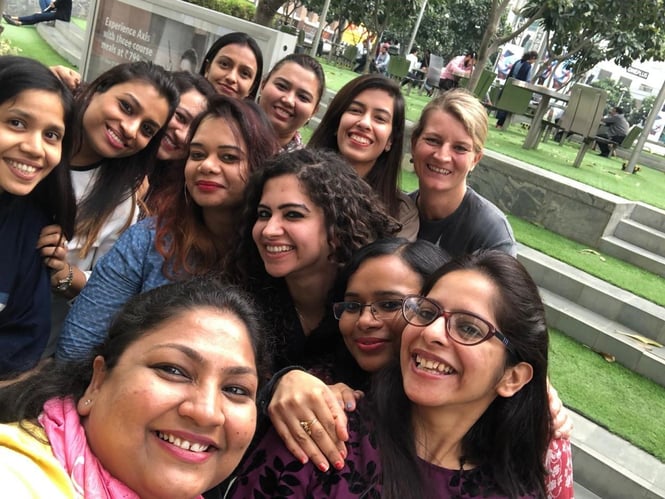 Vera meeting some of her Marketing colleagues from India – a true group of wonder women 😉
Do you find that your hiking experience influences your professional work? Or vice versa?
Absolutely! But it's not just hiking. I believe it is doing sports or spending time in nature in general. A time-intensive professional life and a stressful daily routine are commonplace today. The mind drives, the body tries to function. This is OK for a time, but at some point, everyone needs a timeout. Time away from the stress and the hamster wheel. Just dive into nature, let the fresh air flow through your lungs, and be in the here and now. For me, the best way to do that is to go hiking, but I guess it's valid for any sports in nature. Stress levels drop, and you relax, your immune system is strengthened, the fresh air makes for the best night's sleep. It's also been proven that hiking strengthens memory and concentration by oxygenating the brain, boosting blood flow, and thus increasing brainpower.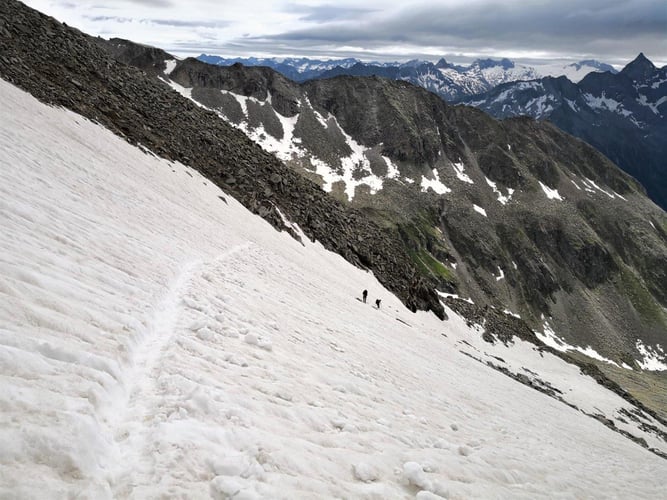 From crossing snow fields to rock climbing – the route was packed with challenges
You must have faced some challenges while on this impressive hike. Can you tell us about them? And how you overcame?
The biggest challenge was the last day I spent in the higher mountain areas of the Dolomites. It was the day of the superlatives! The most challenging day but certainly the most exceptional and evocative. The longest route (26.4 km in 12 hrs) with the most height (2.010 m up/1.870 m down). It also had the longest stage of rock climbing on the "Via Ferrata." After putting on our gear, we went down a C-level for 600hm - and if I hadn't been with my group, I would have started to cry and ordered a helicopter. It wasn't the height or even standing on nothing else but overhanging ladders, rock ledges, or iron pins hammered into the rocks. It was such a strenuous effort to hold onto the rope or bars for so long, having a 12kg backpack with you and finding the next spot to place a foot on, which was often only those 2 cm more away than you could reach, knowing that if you miss it, you can't hold on any longer. Some more experienced hike buddies helped me find the next spot to place my foot on, and after three long hours of descending, I was flooded with pride and happiness. It was a day I will never forget! And it again can be compared to business life: It is important to keep in mind what you are capable of, and even more to rely on teammates who are there for you to reach your common goal. Stay positive and motivate each other – and together as a team, you can accomplish almost everything.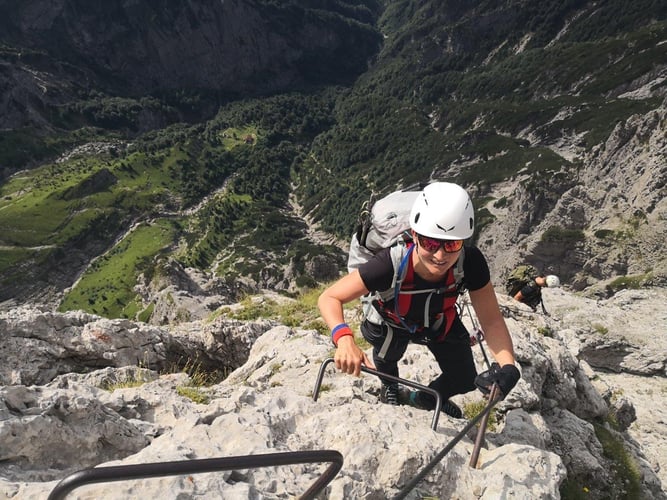 3 hours and almost 2,000 hm downwards a Via Ferrata in the Dolomites
Do you have any advice for folks who want to get into hiking?
Absolutely: Don't be foolish and go without the right equipment. The weather can change rapidly in the mountains, and you need to be prepared for everything. Also, always carry enough water with you. And please never – like never! – leave your trash behind; ideally, don't bring it up the mountain but if you do, take it with you to the valley again.
What were your feelings when you completed your hike in Venice?
Hehe, it was like, "been there, done that – what's next on my bucket list?" 😉 No, but honestly, it wasn't that spectacular. It was undoubtedly fantastic, but it did not feel like an enlightening, life-changing milestone. I was extremely proud of myself and happy to see my husband again, who welcomed me at famous Piazza San Marco; it felt pretty awkward to see so many tourists around after such a long time with just a bunch of people.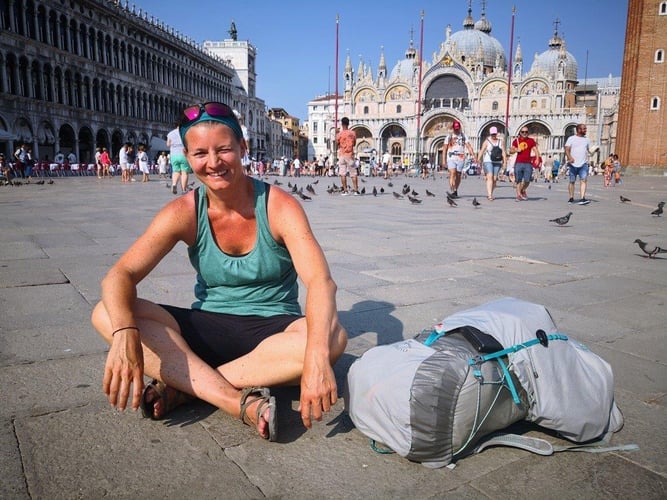 Vera è felice al grande finale a Venezia nella famosa Piazza San Marco!