Have you ever considered what we can do in our currently idle backyards? Or on that empty piece of land nearby that is currently no more than a dumping ground? Many of us have not, but our colleague Sarika Bhatt from India is a sustainability evangelist who turned an empty, dead plot of land into a wonderful small urban farm using only organic products.
Let us hear more!
What was your drive towards urban farming? How long have you been doing this?
Adjoining my house are three empty plots that were used for haphazard parking of cars and garbage dumping. I thought, "This is not only a waste of space but also a health hazard due to the garbage." So, I reconfigured the space to organize orderly parking of vehicles, which only took 10% of the space. And the remaining 90% was used as a play area for children and a part of it for urban farming. I have been doing this for the last three years.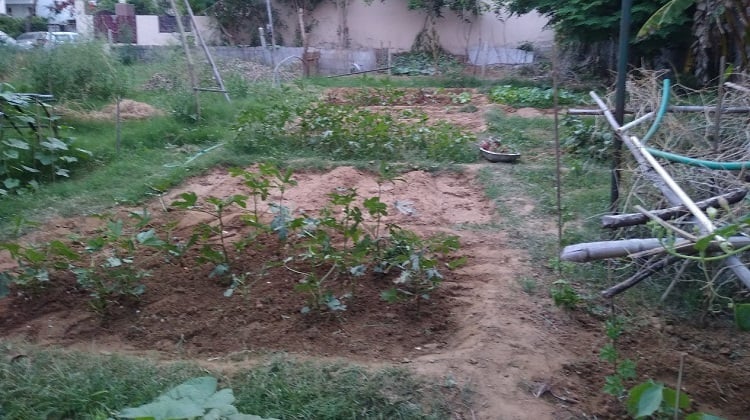 The farm landscape
How much do you harvest from your garden?
In my kitchen I usually get a good harvest of beetroot, tomato, okra/ladyfinger, cucumber, brinjal, spinach and other leafy vegetables, snake gourd, bitter gourd, etc., have grown well in my kitchen garden. The greens are enough to take care of my household needs, and sometimes I distribute them. For example, this summer, there was an excess of beetroot and tomatoes, so I gave them to my neighbors.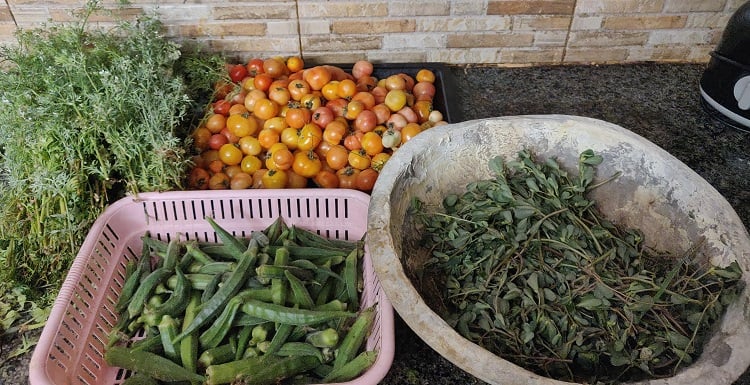 The weekend harvest
Usually, we think of farms as big operational area in the country. How did you develop this otherwise unused area for agriculture?
My entry to urban farming was more from the misuse of space. But, when I entered, I realized that a lot of our food needs could be met if you correctly use even the limited areas that we have in our homes. This was also a significant activity that has kept me engaged during the lockdown period.
You have a busy work schedule. How do you manage your farm?
Earlier, I had employed a gardener who would take care of the farm. However, during the lockdown when the gardener could not come, I thought all this effort would go to waste unless I did something. That is when I started doing it all by myself. The big problem was managing the pests. As I am doing organic farming, I could not use pesticides, so I had to find household remedies for these common pests, which was an issue.
On average, how much time do you devote to this hobby?
I usually spend two hours in the evening in my kitchen garden. My husband helps me.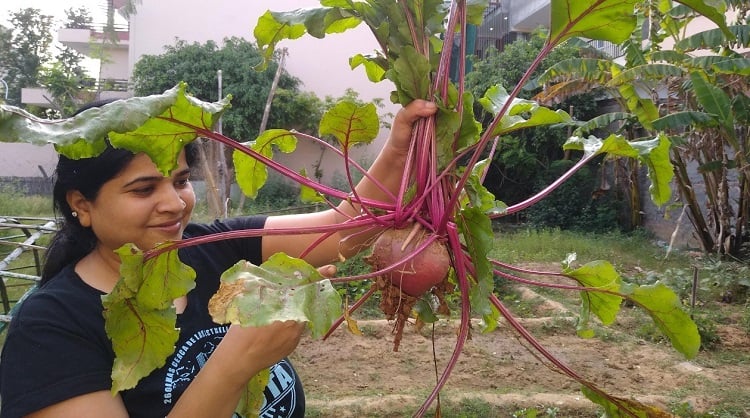 Sarika shows a freshly harvested beetroot
How has your passion helped you develop your emotional well-being?
Urban farming was a big help for my well-being, especially during the ongoing Coronavirus crisis. It helped me reconnect with nature, which was a big plus. In addition, I also learned something new in these tough times.
Has your experience of working at Nagarro at all influenced the way in which you think about urban farming?
Nagarro is about thinking breakthroughs. I have learned here that innovation is the key to pursuing your dreams and this has helped me think about my hobby further. I had no idea about farming; I did not know what to plant, how to plant, or how to deal with pests, etc. But I eventually learned these things online, and now I am helping others do the same.
How have you managed to balance your work life and your hobby? Is there enough flexibility to follow your passion?
The flexibility that Nagarro offers is the reason why I can continue and build upon my hobby. I can restructure my working hours that helps me in maintaining the balance. The best thing is that I never have to choose between my work and my hobby. I can do both here and that is why I love being at Nagarro.
Thanks, Sarika! Indeed, sustainable choices like urban farming help us build a positive environment to create a future we can all enjoy.
If you want to own an urban farm or a kitchen garden like Sarika, she recommends getting started using the following resources:
NagarriansAtPlay is a series that showcases Nagarrians following their passions. In this blog series, we bring to you some of our remarkable colleagues who have made it big globally, in their respective fields, and have inspired many to follow their dreams.