NagarriansAtPlay is a series that showcases Nagarrians following their passions. This blog series features some of our remarkable colleagues who have made it big globally in their respective fields and have inspired many to follow their dreams.
"To me, it doesn't matter whether it's raining, or the sun is shining or whatever: as long as I'm riding a bike, I know I'm the luckiest guy in the world." – Mark Cavendish.
Recycling is a value that is very dear to Nagarro. For some of our Nagarrians, it is an integral part of their lives in more than one way - they love cycling again and again!
In this edition of NagarriansAtPlay, we meet two passionate bicyclists, Reena Katyal from India & Martin Swidersky from Germany. Reena started her career as a Test Engineer and is currently working as a Scrum Master with Nagarro. She has been with Nagarro for more than ten years now. Even as a kid, she was always inclined towards fitness, skipping ropes, playing Table Tennis and Badminton.
Martin Swidersky is a Business Analyst. Besides cycling, he is passionate about football, which he has been playing ever since he was six. Now he plays in his hometown club and attends regular practice sessions. Football has also helped him create many good memories and long-lasting friendships. He also likes to hike, run, and climb on large boulders.
How did you get into riding?
Reena: Well, I got into riding as a kid. I grew up with Atlas bikes, like all other kids on my block. Then there was a break. In late 2011, I got back into cycling to lose weight and revive my childhood days, and since then, I have never looked back. I joined a cycling club and religiously rode with them on weekends. I have cycled in many places around Delhi NCR and have made some cross-country trips too.
Martin: The first time I rode a bicycle was when I was 4. I was with my father, and it was an old bike. I was busy playing football; I dropped it again. The older I got and the less I played football and the less I saw my friends playing football (as we were not going to the practices that often anymore because of work or injuries), we got more interested in biking. We bought road bikes and started to enjoy group rides. We were always looking for challenges and decided to do the first long ride with 150 km distance and 1500 meters elevation gain. We were wholly unprepared and unfit, but it was complete fun even then. Since then, I have become a part of group rides & the challenges. We used to group ride once a year.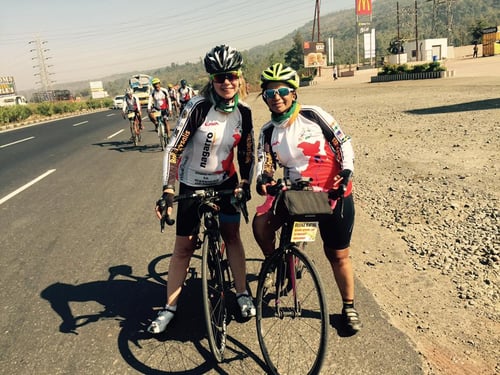 Reena (right) & friend on the Delhi- Mumbai ride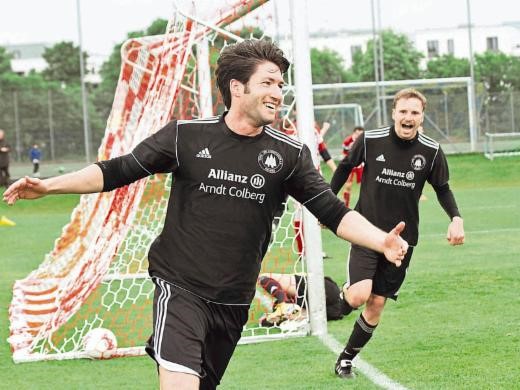 Martin (right) playing soccer in his homeclub
Please tell us something about your adventurous trip?
Reena: Delhi to Mumbai ride changed my life for good. The courage to ride through unknown territory day after day, on the trot, needed a lot of mental courage. Of course, you needed to be physically fit to do this kind of craziness, but at the end of it, I realized that this was 98% mental and 2% physical. I think all the different situations I faced changed me for good, both personally and professionally. It was only upwards and onwards from thereon.
Note: Don't try this all by yourself. I was part of a group of 20-odd crazy, like-minded people.
Martin: It was in the winter month during the lockdown in Munich, and we were planning to go for the next challenge. One of my friends wanted to do a cycling marathon (216 km and 4500 meters elevation gain). I agreed to ride but only when he was ready to do the ride in one day from Munich to lake Garda. The Munich to Lake Garda trip is under the Munich road cycling community, one of the more significant challenges for long-distance. We rode, climbed, & travelled along the river & apple yards. It took us around 16 hours riding, 22 hours in total, as we covered 380 km of distance and 2800 meters elevation gain 😊
Once we completed it, we were already looking forward to the next challenge 😉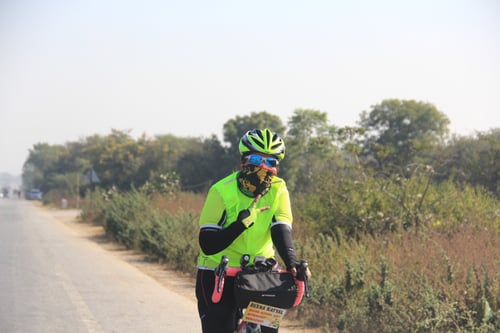 Reena on day 3, Delhi to Mumbai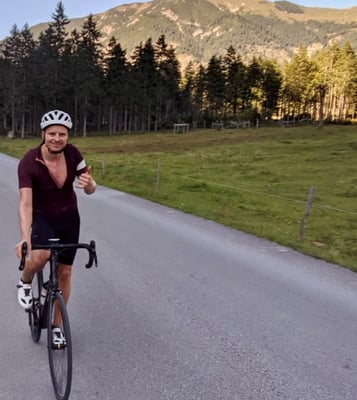 Martin on a bike ride in Austria
How do you maintain balance between your work and hobby?
Reena: It's essential to choose your priorities and love them as much, since you feel incomplete without them. At work, the bottom line is discipline while dedication is the key in a hobby. You also develop a set of like-minded friends with the same goals who encourage you to push yourself and do even better. In the technology world, we call it FOMO; Fear Of Missing Out makes us guilty and does not allow us to neglecting our hobby. We end up balancing it and giving it our best. I am glad, at Nagarro, I am able to strike a perfect balance between my work and my hobby.
Martin: I think the most crucial part is taking the time out. There will always be enough work; I try to schedule the work according to my hobbies.
Do you think that your cycling experience influences your professional work? Or vice versa?
Reena: Cycling keeps my weight under check and makes me a disciplined, early morning person. I have also improved my time management & team bonding skills. As a result, I function better & it reflects in my work. I am motivated towards my goals when I am on a cycling trip. This makes me a group leader who can inspire even the weakest link of our work chain. My experiences on the road make me more patient and humane.
Martin: Yes, the biking experience certainly influences me professionally. It keeps me going! There are difficult situations where you get stuck, but I never give up or think I can't do it. As we say, the mountain is always the tallest before you take the first step 😉
You must have faced some challenges when covering long distances on a bicycle. Can you tell us about them? And how did you overcome it?
Reena: Well, the third day of the trip was quite challenging. We had to cover a distance of 300+ km that day, and somehow, I lost faith in myself and felt I could not go further. The body was not in good shape too. If I hadn't been with my group, I would have started to cry and sat in a supporting car. Another cyclist buddy of mine rode with me. He came back around 7 km to help and motivate me. There will be distractions but you must have faith in yourself and keep going without thinking too much. In fact, after that, I enjoyed the route more on the rest of the days, despite feeling pain and fatigue. The camaraderie the riders shared made the distance more manageable.
Teamwork is everything. Without team support and like-minded people, I would have given up on day 3 itself. Nothing is impossible when you have a good team.
Martin: There were multiple challenges. We had to ride for hours in the dark of the night. We chose a hot day in August, and the temperature was 36 degrees. It was pleasant at night, but before Italy, it was scorching, and no water was available for quite some stretches. I think the best way to overcome is to just keep pushing, even when you feel you can't do it anymore. Every pedal turn will bring you closer to your goal.
What were your feelings when you completed your bicycle ride?
Reena: It was one of the most significant & most memorable moments of my life when I completed my ride in Mumbai. I will always remember this journey where I made some great new friends and did something that most people would only call as craziness. The same could be compared to an office situation when at times, you have a mammoth task or unexpected issue on the client-side. The key is to never give up, always believe in your team, and overcome the challenge together. Doesn't that make life more interesting? 😊
Martin: Exhausting yet laden with happiness, could not stop smiling. Just a gratifying feeling!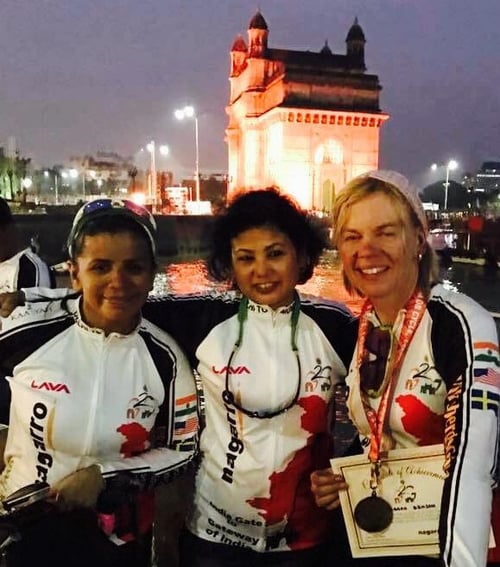 Reena (extreme left) reaching the final destination - Mumbai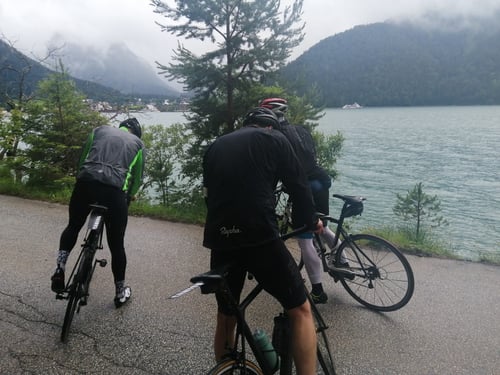 Martin and friends exploring Achensee on bikes
Any plans for future bicycle trips?
Reena: This year, I am planning a trip to the mountains. A trip from Jim Corbett National Park to Nainital is on the cards. I have heard the climb is steep. I am sure I am going to love it.
Martin: Oh yeah, the bicycle marathon did not happen last year, so we plan to participate this year. And let's see what other long trips we can find!