The best view comes after the hardest climb. The feeling of an incredible sense of achievement comes with that breathtaking view. It almost feels like you conquered the world!
This edition of Nagarrians At Play presents Roger Hansen, who has been climbing mountains for the last 30 years. He is a Team Lead in Norway, Nagarro, and a father of two kids aged 5 and 7. He introduced climbing to his kids, which is now a family passion.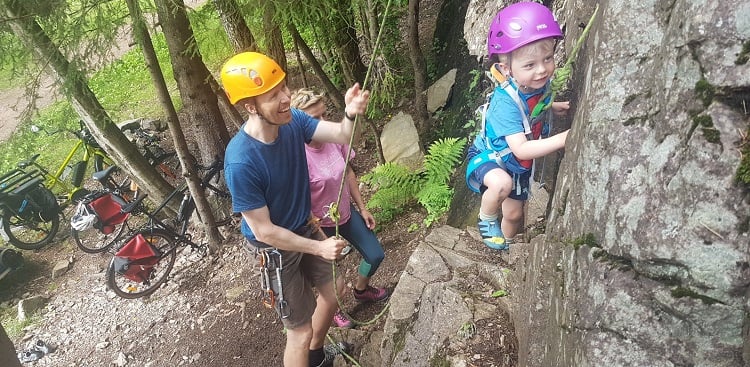 Roger climbing with his family
For Roger, working at Nagarro and his hobby of climbing mountains are similar. He says, "While Climbing, I meet so many people from different backgrounds and nationalities, and we share our experiences to help each other perform better. That is just like Nagarro! We are diverse, from different nationalities, and work together to solve complex problems and help each other. Later, at the campfire, we also share stories, brag about our triumphs, and laugh about our failed attempts, just like we do at Nagarro."
How did you get into climbing? How often do you climb?
I wanted to do some activities out in nature and discovered climbing. I used to climb 3-4 days a week during my most active years. With more responsibilities on the personal and professional front, it is not more like once a week.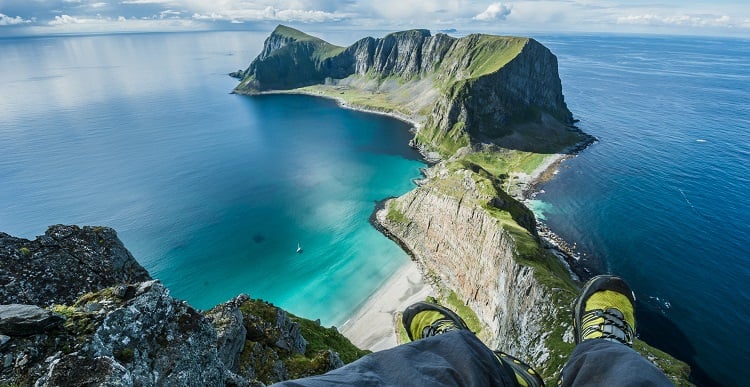 Lofoten Island, Picture Credits: Jon Olav Larsen
What all climbing tours did you have? What has been the best so far, and why?
I have had many great climbing tours! Combining traveling and climbing is excellent. Visiting famous mountains and climbing cliffs is great, but I also like visiting smaller less-known climbing sites. Quite often, you are away from the tourist crowds. Climbing at such places can be lovely, and you can meet and talk with local climbers.
The Lofoten islands are some of the spectacular places to climb in Norway. Here the sun never sets during summers. It has steep mountains with fantastic climbing routes. In the fjords and the sea, you can catch fish for dinner, see eagles, and even whales if you are lucky 😊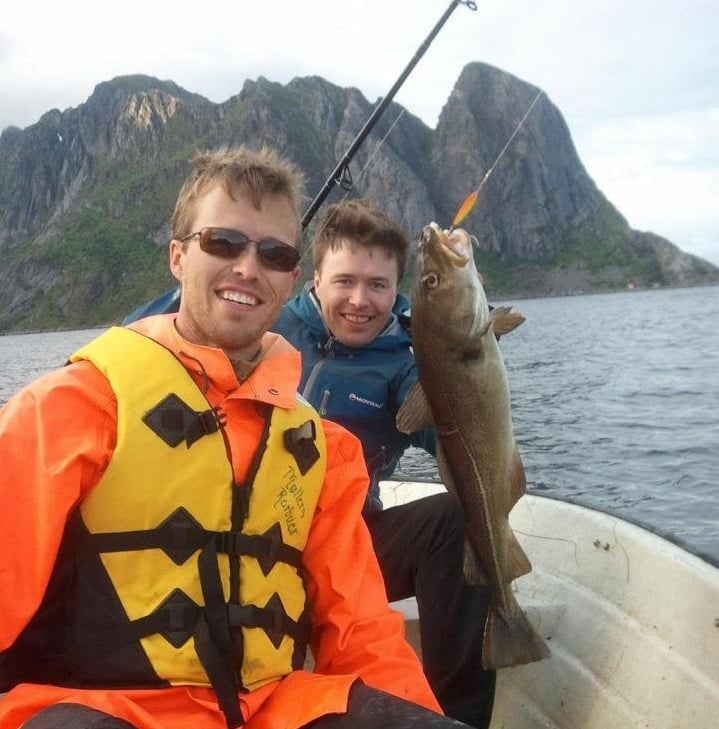 Roger caught the fish for his meal
Another place I love is Kalymnos. This is a small Greek island with fantastic climbing. The climbing is very different here. The rocks are limestone, with cliffs and giant caves, and steep limestone climbing is fun and physically demanding. There are small villages with family-driven shops and restaurants. The food is excellent!
What has climbing taught you?
From climbing, I've learned to challenge myself. It is rewarding to set a goal and finally succeed after multiple attempts. The most important is that I have come out of my comfort zone. Most people only get the physical challenges of climbing; it also has its mental challenge. Climbing can be both scary and dangerous. Falling a few meters before the rope catches you can feel very scary, but at the same time, you need to be perfectly safe. With practice and repeated exposure to fear, I have learned to manage and better distinguish anxiety from objective dangers.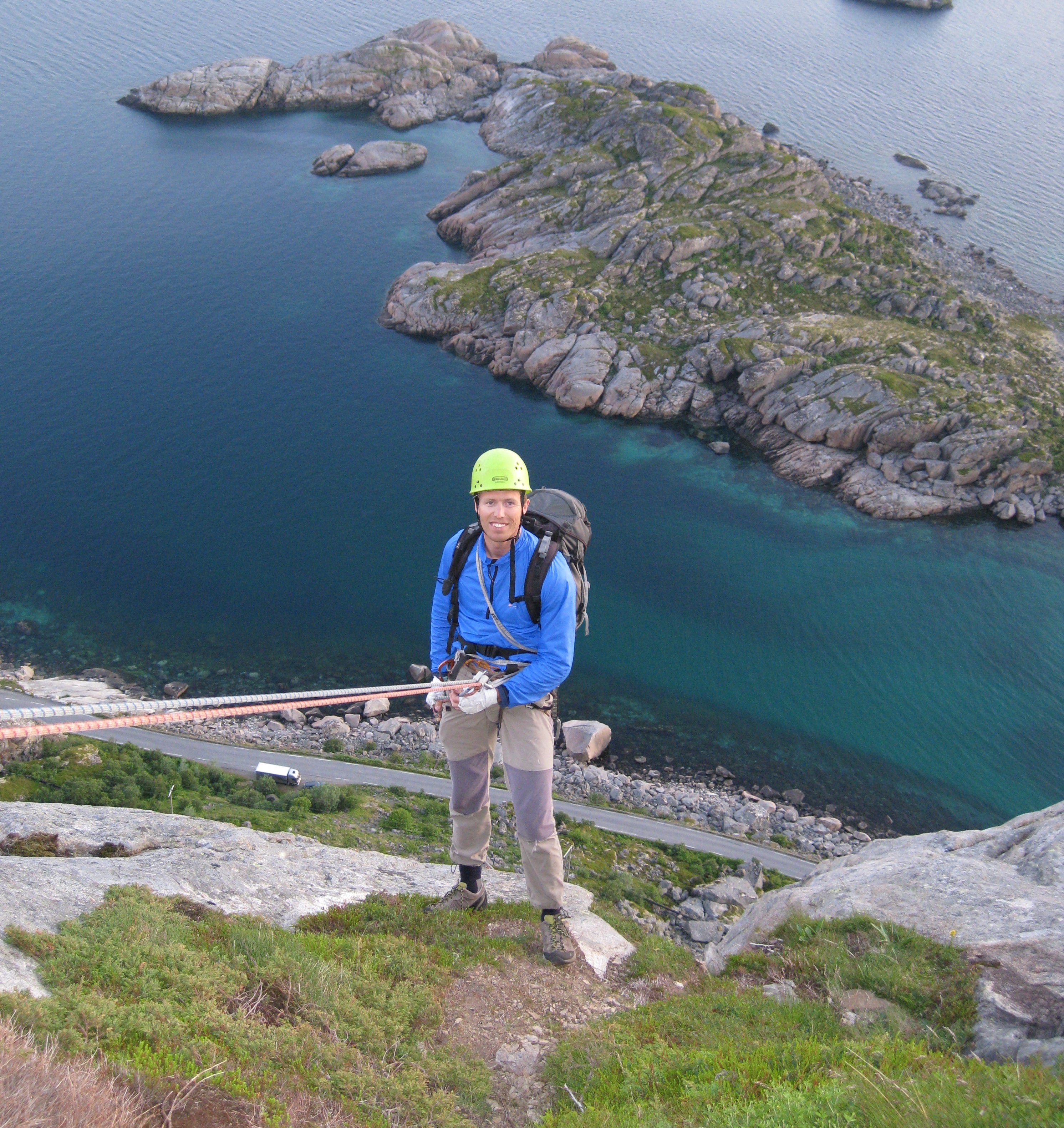 Roger climbing the mountain
How do you maintain a balance between work and hobby?
These days as a father with two kids, my hobby is less prioritized, and my family and work go first. Still, I manage to find time to do some climbing. For instance, in November, I plan to go to Turkey for a week with friends to climb and enjoy the nice warm weather. Also, I think the last few years at Nagarro have been fascinating, so spending less time on climbing doesn't feel like a sacrifice. Besides, I know that life phases change and that there will be more time for climbing later.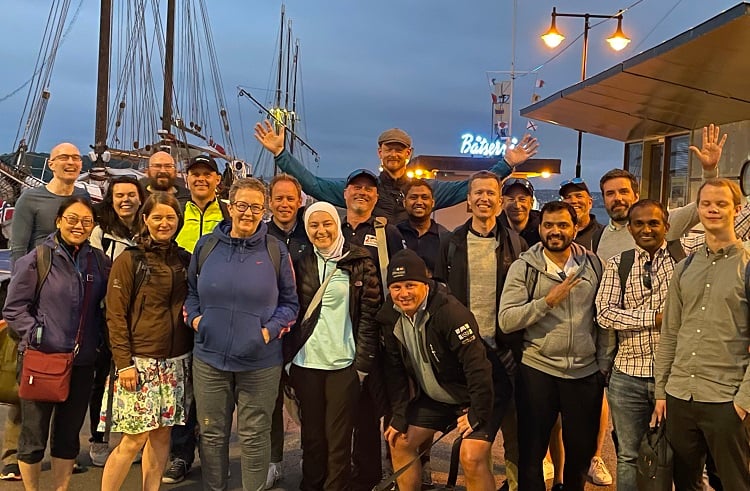 Roger (second row, towards the middle, in a grey sweater and black jacket) at a summer party with Nagarrians.
How do your climbing experiences help you grow as a person and professional?
Climbing has been a significant part of my life. I've traveled to great places and made so many friends. For some years, climbing was more like a lifestyle than a hobby. Through many years of climbing, I became physically & mentally stronger.
My climbing experiences have been vital for my professional work and other life situations. Speaking in front of an audience, accepting new challenges, or working within a new domain can be challenging. But taking small steps and repeatedly exposing yourself to some discomfort can expand your comfort zone. Leading a project team, mentoring, and helping others succeed is rewarding.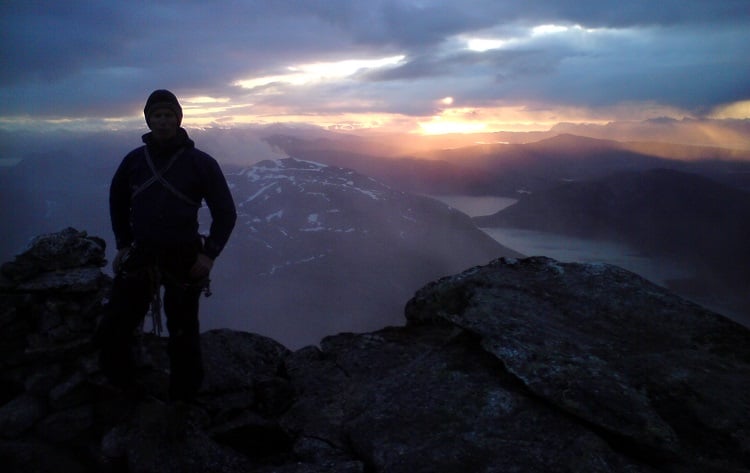 Roger at the Stetind top