In this edition of Nagarrians at Play, we present Govinda Trazo – a multitasking maestro who conquers the day as a Creative Marketing Director at Nagarro.
During the day, she is also a mom to four boys and three playful pups, a teacher, and a loving wife. But wait until the night falls, for there's more to this wonder woman – she's a dreamer, with a twist. In this dialogue, we'll delve into Govinda's delightful hobby of dream journaling through which she keeps track of her dream experiences. We will also get to know about Lucid be, her brand, through which she encourages people to keep track of their dreams. So, brace yourself for this interesting conversation!
Hi Govinda, what an interesting hobby! Could you share what a dream log is?
Govinda: Let me tell you about my cherished creation – 'the Dream Log'! It's a special journal to record dreams – the short, weird, mind-blowing adventures, or the spiritual, meaningful kind.
I've created nifty sections to dive into every dream's detail. Was it a vivid dream, was it lucid, or just clueless wandering in the dreamland? Emotions are the language of dreams, so my dream log becomes the canvas of every emotion. And let's not forget the identity shifts (superhero, alien rockstar, and whatnot!) and dream symbols which you can draw in the doodle section.
My dream log also features five dream catchers – one for each glorious year of dream tracking. You can weave the patterns of your dreams across the years, and it's like a celestial dance of beads. Each dream catcher holds its own unique tale and watching them evolve is nothing short of mesmerizing.
This isn't just a hobby; it's a remarkable journey of self-discovery! The dream log paints a vivid picture of your subconscious mind. I'm happy to share this personal treasure with the world, hoping it'll spark curiosity in others to explore the delightful realm of their dreams too.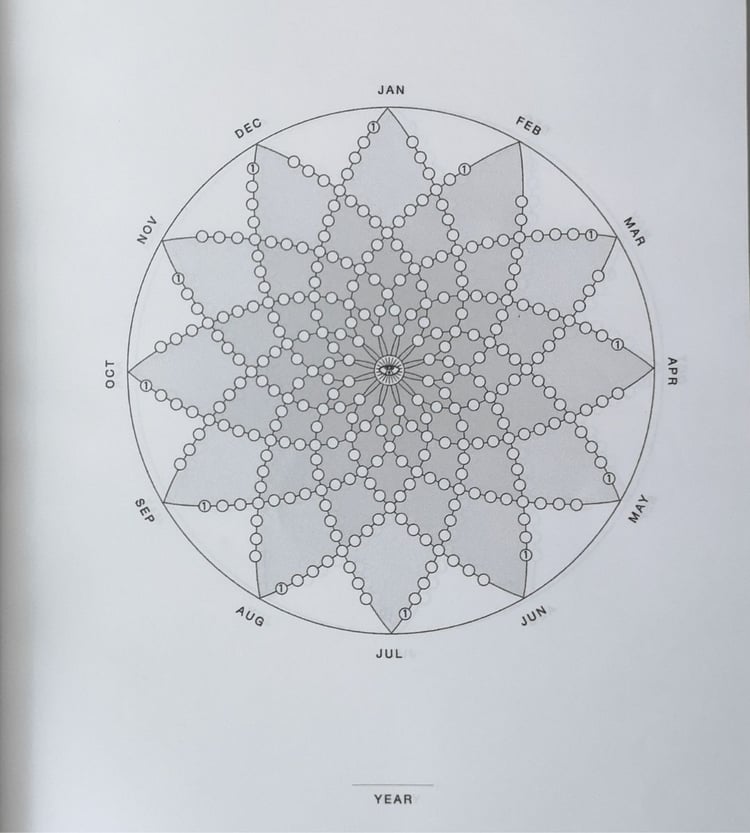 The Dream Catcher designed by Govinda
I am already curious! What inspired you to start creating a dream log?
Well, it all began in the 90s when I first started recording my dreams – you know, those vivid stories that leave you scratching your head in the morning. I tried everything from typical notebooks to phone apps, but nothing lasted. It was all a bit inconsistent (you know how it goes, ha-ha!).
Then, a brilliant idea struck me – why not design my own dream journal that would stand the test of time? That desire for a lasting dream log became my driving force, and I created my first dream journal. I couldn't keep this treasure to myself, so I decided to share it with the world.
Tell me a bit about Lucid be.
On November 11, 2022, I launched Lucid be, my dream log brand, at a local crafts pop-up market/show. Under Lucid be, I launched a variety of products such as dream journals, candles, sleepwear, and the Dream Deck to help people dream better and log their dreams more effectively. The response was overwhelming! Seeing others excited about embracing their dream world has been the most rewarding experience.
Now, my mission is to share the magic of dreams – the healing power of nightmares, become better at dealing with emotional stress and even accept divine messages through them. This has made me come up with the idea to organize short interactive dream retreats where I talk about lucid dreaming techniques and encourage dream sharing amongst the participants.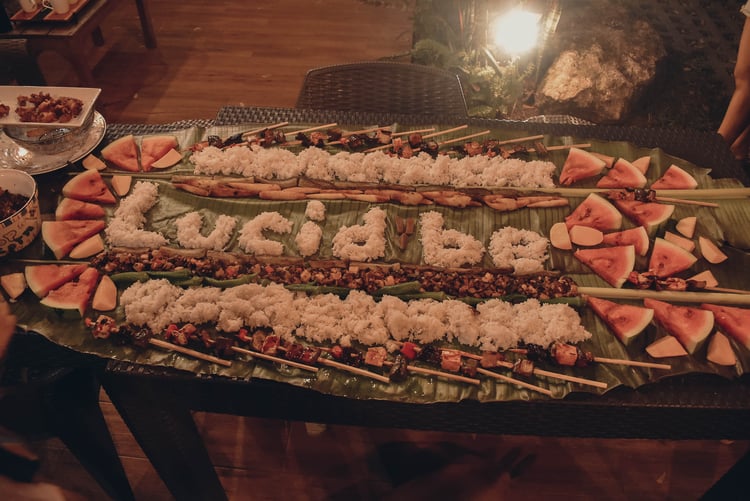 A vegan *Boodle fight at the dream-sharing retreat
*A traditional Filipino feast where people gather around to share a meal.
Wow! That's inspiring! Any specific instance you remember when your dream log profoundly impacted someone's life or brought joy to their heart?
There was a heartwarming instance where one of my customers shared her experience with me, saying that since she started using the dream log, she felt like she could dream again. She said and I quote, "I don't know if it's a spiritual thing, but whatever this is, I want to say thank you."
Not just her, but many others have also noticed a significant improvement in their dream recall since they began using the dream log. They described it as a mini therapy every morning, where their dreams offered a unique insight into their emotions and thoughts.
It's truly remarkable how logging our dreams, not merely remembering them, can create a beautiful connection with our inner self. Dreams seem to respond to us when we pay closer attention to them. It's like a gift of healing, helping us cope with emotional stress, and even offering divine messages if we're open to them.
Witnessing the positive impact of the dream log on people's lives has been a profound joy for me. It's a powerful reminder that dreams are more than just random musings; they hold a treasure trove of possibilities waiting to be unlocked.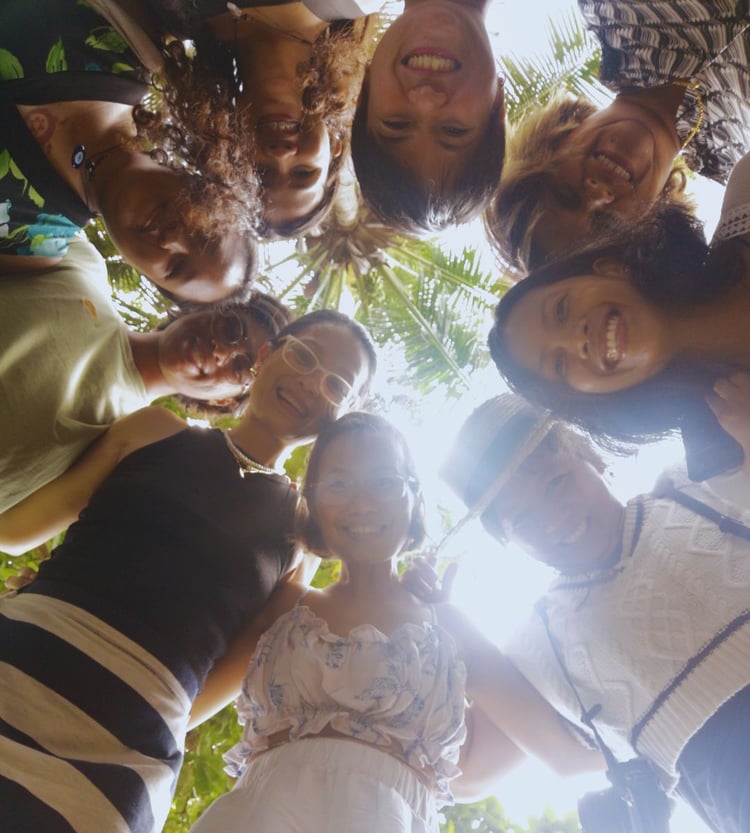 Govinda with the participants at her dream retreat named
'Sleep Dialogues: The Magic of Dream Sharing'
How do you continuously find creative and innovative ideas for your dream log and your brand?
Finding creative and innovative ideas for my dream log and related products has been an exciting journey! As a lucid dreamer, I'm deeply passionate about exploring the wonders of the dream world and sharing that gift with others.
One of my creations, the 'Dream Deck,' is a deck of 44 dream themes, each adorned with original poems and hand-drawn illustrations. It serves as a unique guide for self-reflection in dream exploration, making it a unique gift to oneself.
And because sleep is truly cherished, I have also designed a luxurious sleepwear set made from the softest mulberry silk. This set includes a kimono, shorts, and an eye mask, ensuring that dreamers drift off to dreamland in the utmost comfort and style!
It's all about creating an enchanting experience from bedtime to the dream realm. I also craft candles that set the perfect mood for a restful night, inviting lucidity into our dreams.
Innovation and creativity know no bounds when it comes to crafting products that resonate with me as a lucid dreamer. Bringing the mission to the top of my mind is always the driving force. Because what good is this gift if not shared?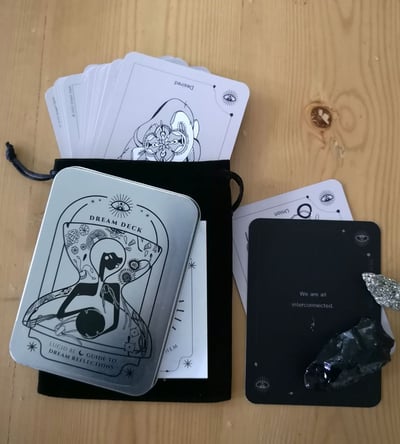 The Dream Deck designed by Govinda
I totally agree. And how has your hobby of creating dream journals influenced your own life journey and personal growth?
My dream journaling hobby has been a transformative journey, deeply influencing my personal growth and life path. Through this creative outlet, I've delved into the profound realm of dream work, contributing to my emotional and spiritual development. It's like a magical gateway that led me to explore fascinating oneiric practices, from Tibetan Sleep Yoga to Dream Yoga, and even the intriguing Nagualismo in ancient Mexico; I have always been a curious dreamer seeking to learn more.
As I share my passion for lucid dreaming and create products to help others heal through their dreams, I find myself becoming more aware and present in every moment.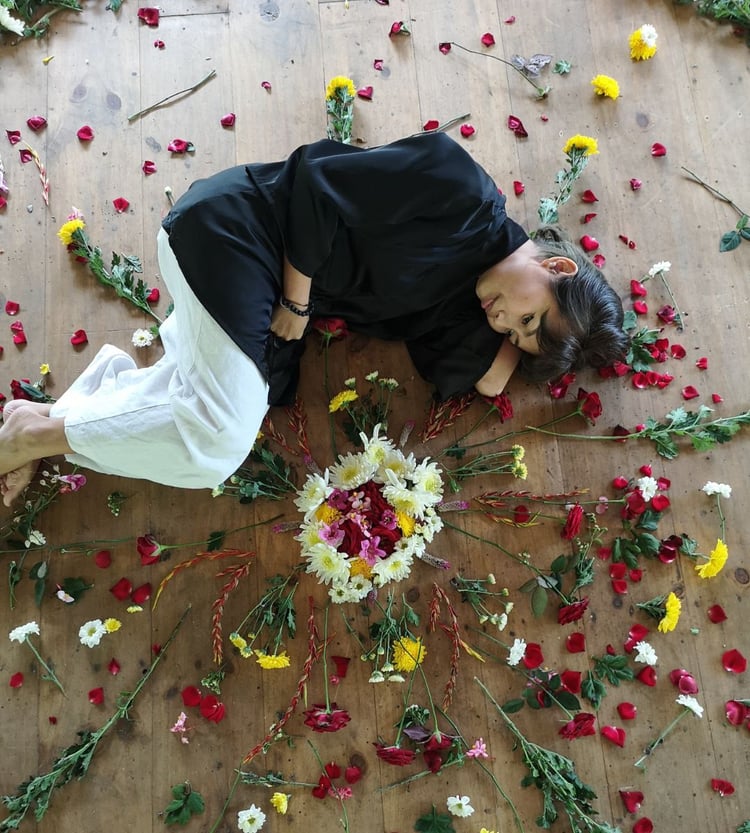 May we wake in our dreaming. ~ Govinda
How has your hobby of creating dream journals and dream decks influenced your approach to Nagarro's goals and values?
Immensely! You see, while work itself provides its fair share of challenges, I've learned that embracing who I am outside of the office has a tremendous impact on my performance professionally as well.
By following my passion, I have discovered a whole new way of perceiving the world around me. It's like having a secret key that unlocks a treasure trove of creativity and innovative thinking.
By nurturing this passion for dream exploration, I find myself embracing a well-rounded approach to life and work, becoming a better contributor to Nagarro's bigger vision. It's a beautiful harmony between personal growth and professional excellence, and I couldn't be more grateful for how the gift of lucid dreaming has positively impacted both my life and my journey at Nagarro.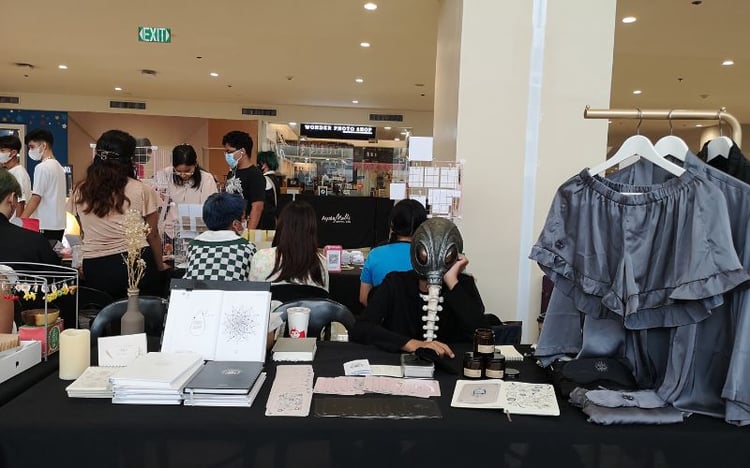 Govinda's son helping out in the Lucid Be booth, cosplaying as Dream of the Endless
That's good to know! What advice would you give to Nagarrians who are interested in pursuing a similar hobby or creative endeavour?
I would say if you felt that inner spark for a hobby or creative pursuit, don't let anything hold you back, not even yourself. Embrace what you love, give it a chance to shine, and watch as your passion leads you to extraordinary places. Your dreams are worth chasing, pun intended!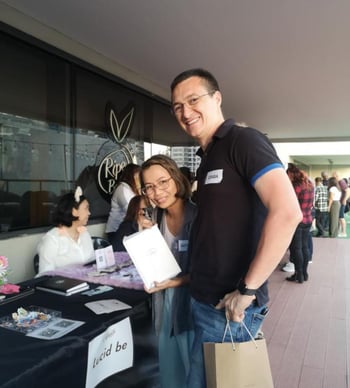 Govinda with fellow Nagarrian, Csaba Szabo
at the Lucid Be booth
Can you share a heartwarming testimonial from someone who received one of your dream books and the positive impact it had on them?
Yes, of course! This was shared by Beverly, a photographer: "Logging dreams has been an enjoyable way for me to recall my 'sleep adventures'. I used to shrug off unpleasant and intense dreams but the Lucid Be Dream Log has been a safe space to dump all the feels. It has made me connect more to my dreamscape."
Check out Govinda's insta page to get more insights into her dream journaling.
NagarriansAtPlay is a series that showcases Nagarrians following their passions. In this series, we bring to you some of our remarkable colleagues who have made it big globally, in their respective fields, and have inspired many to follow their dreams.