In this edition of Nagarrians at Play, I present Mahika Bhatnagar, a Human Resources professional at Nagarro and a passionate dot art painter.
I recently caught up with Mahika, who indulges in dot art during her off-hours. Mahika's story from a corporate desk to a canvas filled with vibrant dots is inspiring, and a testament to the supportive environment fostered at Nagarro. Let's dive into Mahika's creative journey and how she seamlessly combines her two worlds – one of a corporate professional and the other of a dot artist. Mahika has also been actively connecting with dot art enthusiasts through social media and providing them with pieces of her art upon request. When not immersed in the intricacies of human resources, Mahika loves navigating the immersive landscapes of video games.
Anushka: Wow! Dot art! That's interesting. Can you tell us how you got started with dot art painting?
Mahika: My journey into dot art began when I struggled to define my hobbies. That very challenge sparked my quest to discover something uniquely captivating. I chanced upon a DIY dot art kit that ignited my creativity. Dot art quickly became an irresistible passion. Not only did it redefine my hobbies, but it also led to the birth of my Instagram small business, @DotItByMahika, which recently celebrated its first anniversary.
What inspired you to choose dot art as your preferred painting style?
I experimented with conventional drawing and painting, but my skills fell short, preventing me from immersing myself in art. That all changed when I stumbled upon dot art. What drew me to dot painting was its deceptive simplicity and mesmerizing effect. The idea that I could create intricate and stunning pieces using only dots was a revelation. I found solace in the precision and patience required by dot art, and it became my source of calm, almost akin to meditation. My favorite color had been black for the longest time, but through dot art, I have discovered a newfound appreciation for the vast spectrum of colors available to me.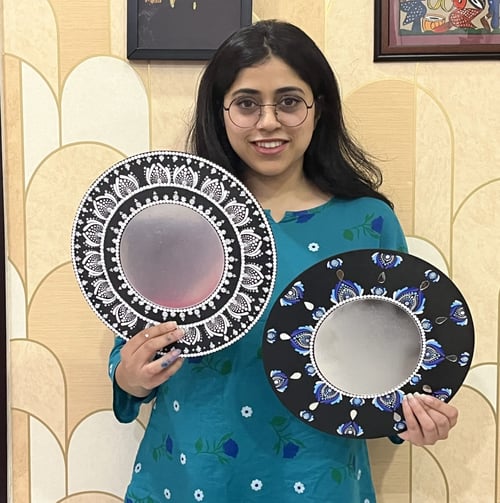 Mahika with her creations
Could you explain the basic technique behind dot art painting?
Dot art is a painting technique that uses small, precise dots of color to craft intricate images. It's a method that demands patience, precision, and an unwavering focus on detail. The process is made more accessible with tools featuring various dot sizes dipped in paint to bring dot art to life. Interestingly, the nuances of dot art creation are in the details—how much paint you use, the amount of pressure applied, the tools, etc. Tools and techniques can dramatically impact the result, making each piece of art unique, complex, and dramatic at its own level.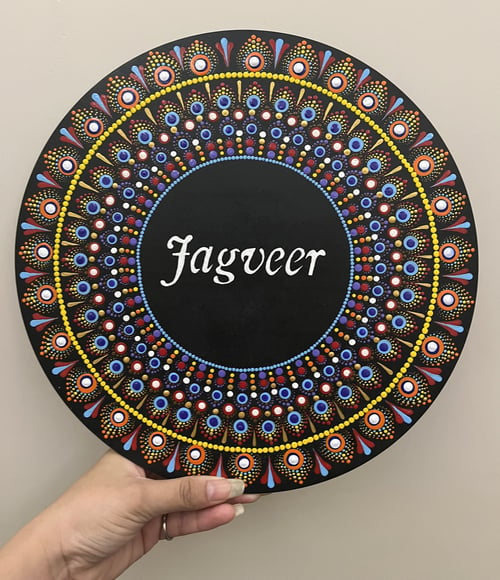 An intricate name plate designed by Mahika
What do you find the most rewarding about creating dot art paintings?
Dot art offers a distinct canvas for the interplay of colors and shades. The art form's beauty lies in manipulating the density and arrangement of dots, resulting in visually captivating creations that stand apart from traditional painting styles. Moreover, the demanding patience required in dot art serves as a therapeutic counterbalance for my naturally hyperactive disposition, providing me with a sense of tranquility amid life's constant chaos.
Do you have any tips or advice for individuals interested in trying dot art painting by themselves?
Starting your journey in dot art is simpler than you might think. Begin with a straightforward design, seek inspiration from YouTube tutorials, and avoid splurging on pricey tools and materials. All you need are some basic supplies like paper and paints. To create perfect circles, utilize everyday objects like a pencil, pen, needle, chopstick, or toothpick – it's both cost-effective and efficient.
Once you've honed your skills, consider taking the next step by starting your own page or business. Identify your niche market and think about the customized products you'd like to offer. This approach allows you to share your unique dot art creations with the world and turn your passion into a fulfilling endeavor.
Great tips! Do you think you have been able to do justice to your passion while also working full-time? How do you find time to balance your work and artistic pursuits?
Honestly, being a Nagarrian has been a true blessing. I doubt I would have had the time, encouragement, and confidence to kickstart my small dot art business if it weren't for my Nagarro family. The flexibility and nurturing work culture, along with the incredible support from my team members and leaders, gave me the courage to balance my corporate responsibilities with my artistic pursuits. A defining moment was when I had the privilege to present my customized nameplate boards to the ten deserving competition winners. It was a heartwarming experience, for sure.
What's even more incredible is the vibrant art community on Yammer. They appreciate my work and serve as a wellspring of motivation, pushing me to exhibit my talents. And the best part? This audience extends far beyond the boundaries of India, thanks to Nagarro's footprints across the world. On platforms like Connections (Nagarro's weekly open discussion platform to help establish virtual connections for remote workers), I've found a global stage to discuss my interests and art, networking with colleagues that transcend geographical and physical constraints.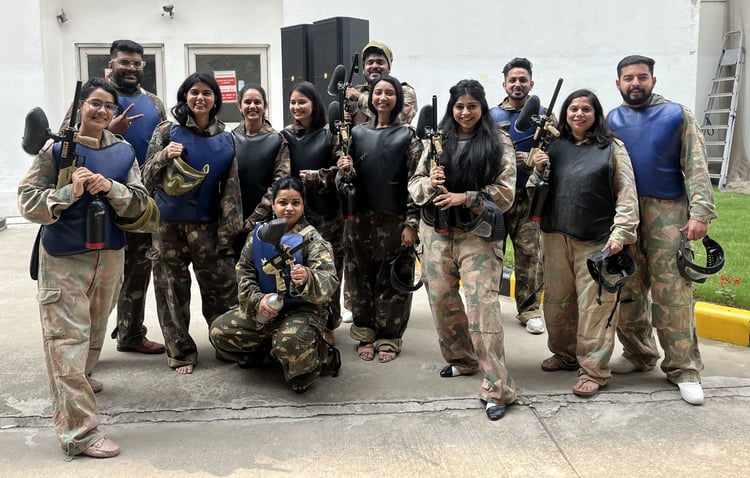 Mahika during a team activity with HR colleagues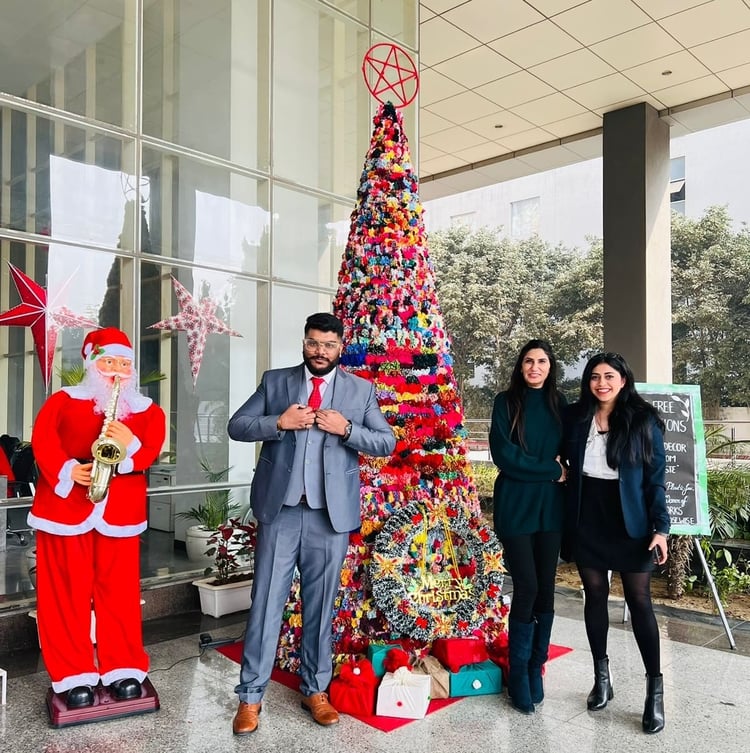 During the annual Christmas Party
Mahika's story is a testament to the power of pursuing one's passions, supported by a nurturing workplace. Her journey from an HR professional to a flourishing dot art artist demonstrates that anything is possible with the right environment and the determination to follow your heart. Don't forget to explore Mahika's mesmerizing creations on her Instagram page @DotItByMahika and witness the magic of dots coming to life on canvas .

NagarriansAtPlay is a blog series that showcases Nagarrians following their passions. In this series, we bring to you some of our remarkable colleagues who have made it big globally in their respective fields and have inspired many to follow their dreams.