"The world is a global village" - the pandemic made us realize this phrase's magnitude, gravity, and depth. Every industry was impacted in some way or the other.
The pandemic accelerated digitization, adoption of online sales, and flawless customer experience. Organizations that kept pace with the age of data-driven approaches flourished, while those that didn't perished. In 2020, a record 12,200 brick-and-mortar storefronts fell in the US alone, and in 2021, 8,700 chain stores disappeared from British high streets.
As the world bounces back from the pandemic, the retail industry faces its challenges. Let's look at how Snowflake, a data storage, processing, and analytics solution, can help confront and mitigate these new problems while enabling the retail industry to seek new opportunities and capitalize on the everchanging trends.
An integrated world
At a macro level, as the supply chain, manufacturing, and even the customers are spread across the globe, it is not sufficient to look at one's own data. Individual datasets are not rich enough to derive sufficient insights for reducing and predicting the impacts of several decisions worldwide.
For example, to correctly understand the trend of footfall in brick-and-mortar stores vs. online shopping, businesses need to broaden their horizon and look beyond their own sales data. For example, to understand the stock availability, companies need to look at the Covid-19 pandemic data of the manufacturing nation, the logistics data of the shipping industries, and the everchanging government regulations, etc.
Traditional ways of collecting volumes of data from FTPs, APIs, and ETL pipelines may not offer the optimized experience businesses may want. They are slowly becoming obsolete. Enter Snowflake data share and marketplace capabilities, collating several such data sets that can be instantly leveraged. The marketplace data is readily available and can be quickly adapted to your warehouse/lakehouse infrastructure with the click of a button. The data is continuously refreshed to ensure reliability and is auto-synced with data elements in your warehouse/lakehouse without any external mechanism.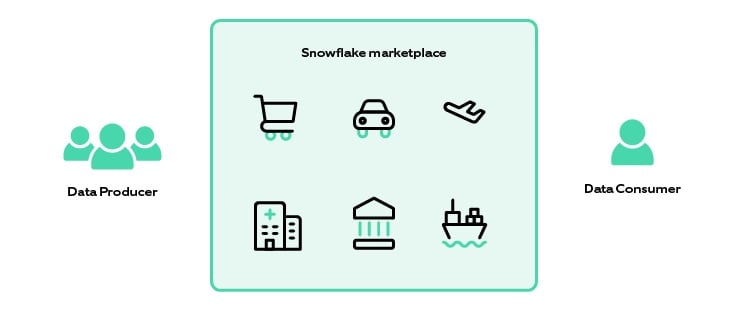 Snowflake marketplace data comprising of a variety of data sets
Snowflake has also introduced external functions capabilities that can eliminate the need to move a large amount of data around.
Don't lose your customers
Customer retention is one of the biggest challenges for the retail industry now. Around 76% of the customers in the US shifted to online shopping in 2020. This trend is the same everywhere else globally, which means that customers now have greater exposure to other brands and offers and are more open to exploring other brands.
Does this mean in-store shopping will perish? Not really. According to studies, over 81% of adult customers still prefer in-store shopping over online shopping. However, the customer today is more aware and has researched well before visiting the store, and traditional ways of customer retention like loyalty programs and offers may not be enough.
Micro-level personalization can help retain customers by making them feel privileged and valued. Snowflake's ability to scale computing resources on the existing cluster ensures that one does not need to worry about burdening the servers & so there is no need to wait for the batch processing to be completed before executing their queries/use cases. Thus, data scientists can have their personalization engines running parallel to the reports being prepared on campaign performance, enabling them to tweak the messaging. Snowflake's decoupled nature of storage, computing, and cloud services ensures that the analytics team can purely focus on analytics and personalization engines without worrying about resource availability, ETL/ELT loads, active users, or even the number of active users.
The three-layered architecture ensures that costs, performance, & ease of integration always stay in balance.
Storage layer ensures that the data is split into micro partitions & compacted to reduce storage costs. The data is secured with encryptions, and metadata is extracted for effective query performance. [Read our blog on 10 pro tips to manage and reduce storage costs.]
Compute layer is designed to ensure maximum processing capabilities. Snowflake has the unique ability to allow multiple processing engines to work on the same data set. Also, the querying is optimized as per the principle of minimum retrieval & caching of the query results.
Service layer is responsible for managing various Snowflake features such as authentication, security, query optimization, metadata management, replication, etc.
Tapping into the unexplored customer pool
With the advent of smart gadgets, easy accessibility to the internet, newer ways of advertising, and customers' adventurous attitude, the retail market is facing the fiercest competition ever. From startups to online platforms to retail giants, everyone is vying for the customers' attention. It is crucial that you know your target audience and more to reach out to them at the right moment. To identify potential customers, you need a more intimate and detailed view.
Snowflake allows a holistic 360-degree view of customers by taking advantage of third-party data sets which are securely available in the Snowflake marketplace. But one might wonder, how does adding more data on top of the already huge data set simplify the problem rather than complicate it?
Let me sight some instances to illuminate the advantages. To predict who is most likely to purchase a suitcase, you need the information from the travel industry about who has recently planned holidays. To reach out to prospective customers who may purchase new home appliances, you need data from banks to find out people who have recently taken a mortgage or home loan. To tap into customers who may be looking out for gift items like perfumes and watches, you need the information about functions your immediate family & friends will be attending in the near future by leveraging social media platforms.
For running any such predictive ML model, a lot of data is required to train the models. Using Snowflake, data prep is accelerated. Snowflake also provides native connectors to many of your ML tools of choice. You can have the ML models run within Snowflake as user-defined functions or even externally.
Don't pit your store against your online presence
Customers don't differentiate between your online presence and storefronts, so neither should you. Online purchases can be returned at the store, and feedback given online could be for a product purchased at the store. If businesses continue to treat online and storefront as two separate entities, they risk upsetting the customer. Another important step in enhancing the customer experience is to gather feedback wherever possible, either physically or via social media platforms or through feedback on your app.
Snowflake helps bridge the online-offline gap well. Snowflake by design is highly versatile, with a multitude of connectors to connect to various platforms. With Snowflake, you get the ability to work with structured & unstructured data and all major cloud providers across regions.
Snowflake also provides features like Snowpipe that can enable event-based ingestion & micro batching ingestion. Snowflake's intuitive library, Snowpark, allows a unique way of querying & processing data by building data frames and user-defined functions in a programing language such as Java, Scala, etc.
Using Snowflake, businesses can easily integrate their online presence with stores and present a consolidated front to the customers. This would guarantee a hassle-free, seamless shopping experience and also bring out a clear messaging by synergizing all arms of modern-day marketing.
Keep pace with security & compliance
Customer privacy and protection of user data have evolved and have become a major focus area. Any organization not keeping pace with the latest requirements runs the risk of lawsuits worth millions of dollars. What is worse is the loss of reputation.
Snowflake provides built-in security & governance features that support government compliance acts such as HIPPA, GDPR, etc. Some of Snowflake's notable features that can help protect against malicious intent and even help recover from disasters include:
Data encryption at rest or in transit
RBAC (Row Based Access Control)
DAC (Discretionary Access Control)
Time travel & fail safe (ability to recover deleted or lost objects)
Clone or zero copy clone (ability to showcase snapshot data without copying it)
Data replication & failover (cross region replication)
Snowflake has also introduced dynamic data masking feature to mask data at query execution and hide the data that was previously displayed as plain text.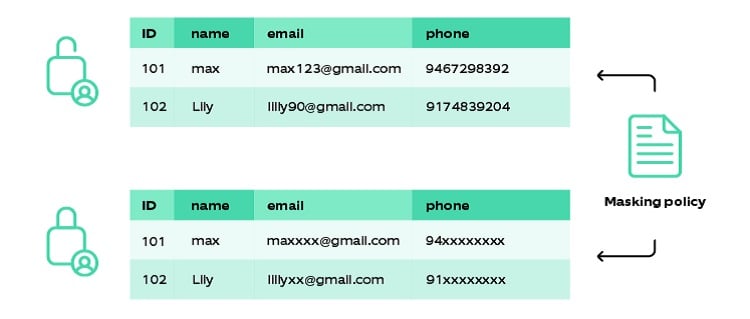 Dynamic data masking feature to mask the data
Is Snowflake the only answer here?
Probably not. With several other offerings available in the market, you need to keep an eye out to find one that addresses your business problems. However, Snowflake provides a single platform that can take care of most of the modern retail industry's challenges. It is a truly managed Software as a Service (SAAS) that can enable businesses to transform into a data-driven organization by infinitely scaling storage and compute, providing data overlap from the marketplace, allowing great versatility, and guaranteeing enhanced, up-to-date security.
Retail businesses can trust Snowflake to get the data side of things right, allowing them to focus on what they do best – Sell to the customers.
Conclusion
Data should not be viewed as points of value impacting different silos of business but rather as part of a bigger picture that, if well integrated, paints a mural capturing the minute details of individuals and at the same time revealing the various connection and dependencies. This mural opens insights at a macro (delays, fall in footfall, the demand of items, running out of stock) and micro (likes and dislikes, purchasing powers and patterns, areas of interest, location) level.
Businesses need to re-envision their approach to data and move from a reactive report-driven approach to a proactive decision-making mindset by leveraging the predictive capabilities of globally available, cloud-agnostic data.
Also, the retail industry needs to get the balance right to thrive in this highly competitive, diversified market. To gain a competitive edge, they need streamlined un-siloed data science, seamless multi-channel customer service and marketing, and authentic personalization to create an exquisite buyer experience to influence and combat the fickle nature of the modern consumer.
Nagarro can help! To learn more about our Snowflake capabilities, visit this link or write to data.analytics@nagarro.com