Worldwide, more than 65,000 companies trust Jira to manage their projects. This makes Jira by far the most popular tool among agile teams across the world, in organizations of all sizes.
So, why is Jira so popular?
For starters, it is easy to plan and track projects using interactive dashboards.
Moreover, Jira caters to teams and use cases across the organization. Be it software engineering, IT, or business teams (e.g. from finance, HR, and marketing), Jira has become a one-stop solution to track and plan everything.
But should users migrate to Jira Cloud? And should one start sooner than later, given that Atlassian is phasing out Jira Server and other Server offerings - and because Jira Cloud is inherently the way ahead? Are there any cons in moving to cloud? Read on to know more.
The COVID-19 push
As they say, every adversity also presents an opportunity. The global COVID-19 pandemic forced companies to switch to remote working very quickly, which came with its own challenges. This is where tools like Jira play a crucial role in making this transition smooth for organizations and teams. Jira enables everyone to communicate and collaborate seamlessly, without the need to be in the same room.
Till a few years ago, Jira Server was the default deployment option. However, owing to the high dependency on the tool, the underlying infrastructure supporting Jira needs to be monitored and remedied. As the organization's ability to build products and deliver services increases, the Jira server instance too grows bigger and more complex along with it, leading to an excessively high load on the infrastructure.
Today, organizations want to focus on building the core products and do not want to worry about the hassles of managing infrastructure, scaling, performance, and security. This is where Jira Cloud (SaaS) comes to the rescue—it sets you free to focus on your mission.
Why migrate to Jira Cloud?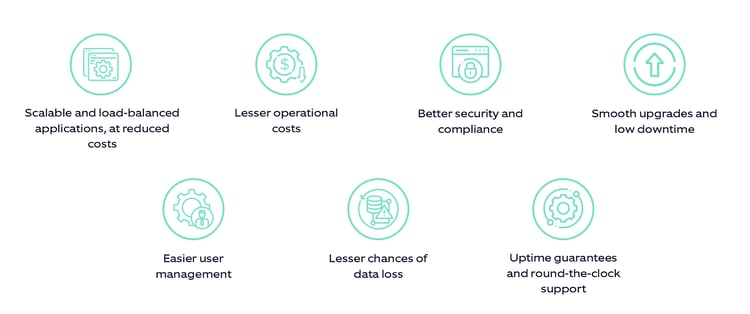 Scalable and load-balanced applications, at reduced costs
Hosting Jira on the server involves more than license costs. Procuring and maintaining physical hardware, installation, and support, in addition to other hidden administration costs, can add up quickly. In Jira Cloud, Atlassian handles the procurement of inventory and storage space, thus reducing your expenses. Atlassian Cloud applications are built to scale with your business and meet customer requirements quickly. The cloud setup comes with automatic scaling and load balancing capabilities.


Lesser operational costs
Since the hosting, updates, and other maintenance is done by Atlassian, the investment to acquire competency and personnel becomes a lot lesser than the self-hosted applications of the same size.


Better security and compliance
One of the major benefits of using Jira Cloud is that Atlassian manages the application health, underlying infrastructure, data compliance, and security. Since many different industries work with Jira, application security is of critical priority. With Atlassian Trust Center, it is easy to verify the Atlassian security certifications required to meet your organization's compliance needs. Atlassian also helps meet GDPR data transfer requirements and the organization's data privacy obligations across the globe.


Smooth upgrades and low downtime
Planning for upgrades requires an in-depth analysis of features, vulnerabilities and finally, preparing a downtime schedule. Intensive testing before upgrading the application can take weeks, causing a delay in accessing new features. But there is no such problem when it comes to Jira Cloud. The weekly Atlassian Cloud Release Notes provide every detail about all the new features automatically available for everyone to use - without requiring any elaborate planning.


Easier user management
Managing users has never been easier. User accounts can be managed centrally through an organization rather than product by product. One central place to manage users and access their applications makes it easy to monitor any unauthorized access and avoid unnecessary license costs. Atlassian Access also enables the management of authentication and security policies across your Atlassian Cloud users.


Lesser chances of data loss
Backups are generated every day and saved for 30 days to enable point-in-time data restoration. An offline backup of your Jira or Confluence Cloud site can also be generated once in every 48 hours. Atlassian maintains these backups on your behalf for 7 days.


Uptime guarantees and round-the-clock support
Application support is another standout feature of Atlassian applications. Atlassian provides access to highly trained support teams with quick response times for faster resolution. Atlassian's Premium Cloud guarantees 99.9 percent uptime and offers service credits if the SLA is not met. In the Cloud Enterprise plan, this financial guarantee rises to as much as 99.95 percent. Both plans include 24/7 support with a response time of within 60 minutes.
Challenges with Jira Cloud
While migrating to Jira Cloud comes with a long list of benefits, it is often misconstrued to be an all-at-once activity, with no checkpoints along the way.
Migration to the cloud can be complex
The actual migration process involves assessment, design, iterative implementation, DRs, launch, and ongoing support. Migration should be planned and executed carefully, by considering how much data and add-ons you have on the Jira instance and the choice of your migration strategy. To facilitate the planning and processes, Atlassian offers Server and Data Center customers the opportunity to explore and evaluate cloud for up to 12 months—at no extra cost!


User management
You need to be subscribed to Atlassian Access in order to integrate and provision users via external User Management. Atlassian Access allows for single sign-on (SSO) and can help you manage authentication and security policies across your Atlassian Cloud users.


Availability of marketplace apps
There are thousands of applications in the Atlassian marketplace and vendors are working to rapidly unveil their apps for the cloud. But it is worth noting that many apps are only supported in self-hosted instances of the Jira product. The importance of an application in your self-hosted instance determines its availability for cloud. This is an important consideration before planning a move to Jira Cloud. Many applications have built a cloud-compatible version while others are on their way to do so. In instances where apps do not have a corresponding cloud version, various other alternatives are available.


Limited configuration and API access
It is no surprise that Jira Cloud provides limited access to DB, configuration files, and API. However, by using the Atlassian Connect framework or Forge, you can develop apps, customizations, and integrations for Atlassian's cloud products. For better security and performance, some APIs present in self-hosted Jira have not been made available for Jira Cloud, thus creating increased dependence on the Atlassian marketplace.
Our conclusion
Customers often choose to move from self-hosted to the cloud because it enables them to move faster and save costs, since hosting and maintaining on-premise applications can be time-intensive and resource-heavy. The decision would depend on the level of customization of your self-hosted instance. If the server hosting is not able to fulfil the performance requirements and you are looking to retain control over application instances, then Atlassian Data Center hosting might be another option worth exploring.
Nagarro's Partnership with Atlassian and Amazon
Nagarro is a Platinum Solution partner with Atlassian and a global Amazon Consulting Partner. Our expertise in Cloud platforms, migrations, and implementation and support of Atlassian products can help you get customized solutions that work the best for you!
To know more, reach out to us and plan your migration to Jira Cloud with Nagarro, today!