The metaverse has varied definitions depending on the different perspectives and ideas that people have of what the future would look like.

But one thing which remains consistent is that it is an ever-evolving virtual world that offers a unique opportunity for brands, people, and technology to interact in ways that are yet to be seen. The evolution of user interactions and community will always be important for any metaverse experience. With Apple launching its mixed-reality headsets, this space will get more exciting!

Let's deep dive (read: immerse) to explore the potential ways metaverse in banking can ensure engagement and monetization with a keen focus on consumer experience.
Exploring the opportunity in metaverse for banks
Metaverse is not just a new consumer engagement channel but also allows monetization by including commerce in its ecosystem. As per a McKinsey June 2022 report, with an estimated economic impact of around $5 trillion by 2030 for consumer and enterprise use cases, the metaverse has a tremendous potential to impact our commercial and personal lives.

The report also mentions that almost 60 percent of consumers using the early version of the metaverse are excited about transitioning everyday activities to it—connectivity among people is the biggest driver, followed by the potential to explore digital worlds. As of today, even though gaming has maximum gravitas in the metaverse, its use cases are easily expanding to sports, entertainment, education, retail, banking, and much more.

How does metaverse in banking work?

Metaverse allows to transcend geographical barriers or physical disability, unlocking unlimited potential and allowing people with similar interests to engage and share experiences. You can be teleported from the comfort of your living room to a virtual bank branch without even stepping out of your home!

There was a degree of skepticism when banks adopted online and mobile banking channels and similar doubts linger as to what banks and financial institutions would do in the metaverse. But what might surprise many is that Saxo Bank opened its virtual office in 2007 within Linden Labs' Second Life with features no different from today`s metaverse. It consisted of a virtual office, live trading games for visitors, and training modules.

To put any other doubts to rest, let's journey through how banks can engage in metaverse, ensuring engagement for its customers. Ready? Put your headsets and grab your hand controllers for a ride into a virtual bank branch.
Generate engagement with metaverse in banking : here is how to build immersive experiences
#1. Immersive Experiences
As you are about to enter your bank's 3D, fully immersive, virtual branch, you perform a quick iris scan to confirm your identity and get access. You walk through the virtual branch, a digital twin of the physical branch, where you not only experience the comfort of familiarity but also get an option to learn about the bank, its history, and its products and services.  
As you navigate through the branch, you decide to walk over to your relationship manager`s avatar. When you both shake hands in the virtual world, your hand controller vibrates giving the assurance of being at the branch itself. You sit down for a comprehensive discussion for optimizing your portfolio and seek advice for financial planning for your long-term goals.
#2. User-Generated Content
Now that you are satisfied with the investment recommendations, how about having some fun while you are at the virtual branch. You choose to customize your debit card via your non-fungible token (NFT) of Bored Apes purchased last time. And how about customizing your avatar by choosing a gender, skin tone, clothes, hairstyle, and accessories!
#3. Real-time Events and Updates
Happy with your avatar; as you explore the branch, you get a real-time update that a seminar is happening at the virtual conference room on building start-ups with sustainable business models. As the issue has always been close to your heart, you buy a ticket to the seminar to learn what it offers.
#4. Social Interaction and Collaboration
As the beaming environment enthralls you, you invite your friend, who is also a customer of the bank, to the seminar. Amazed with the information you received at the seminar, you interact with fellow attendees and find collaborators and friends for your next mission to save the planet!
#5. Cross-Platform Playability
Armed with determination, you switch out of the virtual branch with a plan to meet your soon-to-be-initiated sustainable start-up collaborators for brunch tomorrow. You can stay connected with the bank and your newly found team outside the virtual world via the bank's mobile application.
Other than the above-listed scenarios, there are several ways in which metaverse can boost the banking experience. The following figure highlights some key use cases.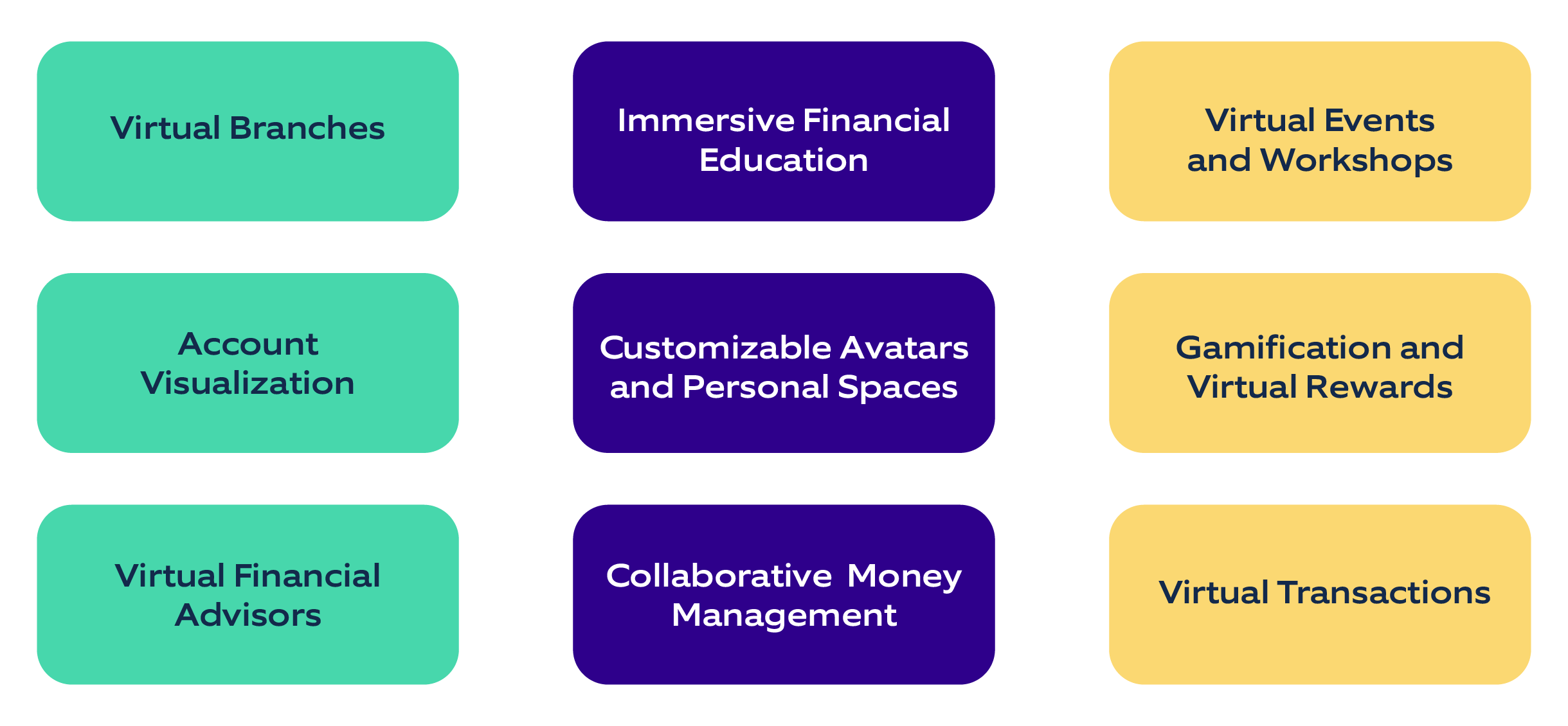 Image: Metaverse use cases in banking
In addition to the above, haptics can provide tactile feedback or physical sensations to users utilizing their sense of touch to create a more immersive and realistic experience.

Haptic feedback can be used to deliver notifications or alerts via a vibration or get the sensation of shaking hands with a virtual representative. It can even assist visually impaired individuals by giving sensory clues as they navigate the virtual bank or enable gesture recognition to trigger a specific banking transaction.

While metaverse is still evolving, when it comes to accessibility, personalization, and collaboration, it surely has an edge over existing channels as represented in the figure below.

Image: Opportunity for banks in metaverse
As banks and financial institutions increase engagement with customers and find new ways to interact, they look closer at their customers` interests, motivations, frustrations, aspirations, and preferences via the metaverse. This gives way to deep insights, opening an opportunity for hyper-personalization, which empowers you to:
Offer tailor-made experiences and fine-tune the experience
Reduce the friction that persists in today`s digital platforms
Identify new opportunities for engagement
Ways metaverse in Banking can help you make money with its virtual environment

Monetizing the metaverse includes various ways in which businesses can generate revenue. When building and monetizing experiences, banks and financial institutions do not have to limit themselves to banking and financial services use cases but can go much further. A case in point is HSBC, which has acquired a space in 'The Sandbox' metaverse to engage and connect with sports, esports, and gaming enthusiasts.
Below are three key drivers around which banks and financial institutions can focus their monetization strategy.

Image: Key Drivers of Monetization Strategy for Banks
Winning the Attention Economy: Banks need to create their presence in the metaverse to foster the development of immersive virtual experiences. This will build communities and bring personalized service, establishing the deep emotional engagement characteristic of branch banking in the pre-digital era.


Immediate Revenue Generation: Gamification in the banking industry is amplifying customer engagement. It provides an excellent approach to making banking tasks and activities fun and engaging by introducing challenges, rewards, leaderboards, and other game mechanics. As the metaverse evolves, with customer experience at the center, gamification will be pivotal to ensure customer engagement. It can be reinforced by in-app purchases, which allow users to buy additional features like energy or vehicles, customization options, or upgrades.


Leveraging Integrations: Banks can build 3rd party partnerships to provide immersive experiences like learning and development, sponsoring events and concerts, virtual viewing parties, selling merchandise & NFTs, and allow 3rd party creators and studios to sell avatars on their metaverse platform.
Undoubtedly, new monetization methods will continue to emerge as technology, business models, and ecosystem takes shape.
The future of metaverse in banking
Metaverse in banking is characterized by explosive growth and continuous innovation and is bound to reinvent it. Banks and financial institutions must create a strategy to enter and advance. They must identify use cases that align with their business needs and define value-driven customer journeys. While some early adopters have already started investing in certain use cases, there is a lot of unexplored ground to think about new ways of servicing and engaging with customers.

Having the right balance of business and customer benefits is key to building a metaverse strategy, and building the right engagement and monetization models, therefore, becomes imperative.

In addition, banks and financial institutions also need to be careful of safeguarding user data and privacy in the metaverse. To begin with, transparent data practices, data sharing and minimization, user consent and control, privacy by design, identity management, security and compliance, and user education can be some important measures, while emerging challenges will inform additional practices.

A "test-and-learn" approach can be useful as banks experiment in this space, taking continuous feedback and building it back into their models to meet the ever-growing customer expectations.


Nagarro's View
Implementing a metaverse strategy while traversing the multiverse of technologies and platforms in the absence of any regulatory framework can be daunting. Additionally, the need to surpass customer expectations when creating personalized experiences can be a tough act. At Nagarro, we help you navigate the issues from streamlining customer journeys to ensuring the security and efficiency of virtual financial services. We can help you leverage the metaverse's full potential and meet your engagement and monetization objectives.

Do you feel up to it? Speak to us for a consultation.