"If it cannot be measured, it cannot be managed."
– Peter Drucker
Key performance metrics (KPIs) are instrumental in evaluating the success of an organization, an initiative, or a process. KPIs help with the quantifiable evaluation of the performance of an objective over a period while providing milestones to gauge the progress and make informed decisions to meet that objective efficiently.
Consider KPIs as a health marker or a blood test, the results of which are not the end objectives. However, these results help in taking appropriate actions and medicines to be on track to lead a healthy life, which is the final goal.
Monitoring KPIs is a good start, but more importantly, you need to measure the right KPIs. Non-profits process and manage a large amount of data annually. This data is spread across different areas like stewardship programs, campaigns, events, marketing, donor profiles, financials, etc. There could be hundreds of KPIs on top of this data. So, do you have to monitor them all? The answer is, no. Monitoring too many metrics would overwhelm your team and make them lose focus.
KPIs should be goal-oriented, relevant, and realistic. We recommend seven key metrics which a non-profit should measure to gauge the performance of their fundraising efforts.
Key metrics
1. Gifts secured
This is the first and very basic KPI. It is a measure of the number of gifts received by your non-profit over a given period. Your non-profit can choose the period of their choice, like monthly or annually. Further, you can dice the data for analyzing gifts secured per donor segment, for analyzing major giving, and for a lot more insights.
Keep track of gifts received to know your major donors and segments.
2. Average gift size
Average gift size often reflects your non-profit's fundraising health. Not all donors gift the same amount; it varies from person to person. Some prefer to give in small quantities, and others give regularly. In contrast, some may choose to give a large amount at the end of the year.
This is a great metric and lets you plan your fundraising goals. For example, your non-profit received $2,000,000 in gifts last year, and the total number of gifts was 15,000. So, your average gift size would be $133.33. This year your objective is to raise $5,000,000. With $133.33 as the average gift size, now you know you would have to convince approximately 37,500 people to donate.
Average gift size lets you plan your yearly fundraising goals.
3. Number of major donors
Major donors' number is another important KPI a non-profit should track. Raising major gifts not only requires strategic efforts but involves high stakes as well. Non-profits must carefully curate their relationship with every major donor with a dedicated stewardship program. Up to 88% of the total gifts raised by a non-profit come from the top 12% of the donors. This data shows how crucial these significant donors are for the success of any campaign/program.
You need to carefully track and curate your relationship with every major donor.
4. Donor retention rate
Simply put, donor retention is the number of donors who continue to contribute to your organization since they made their first contribution. Even with a robust retention strategy, non-profits will lose a few donors yearly. For the same reason, every non-profit strives to maintain a healthy retention rate. Here are a few key reasons why:
It's always more expensive to solicit gifts from a new donor than to convince repeat donation from an existing one. Statistics suggest that close to 70% of new donors give only once.
Repeat donors have a better prospect of turning into major donors.
The donor retention rate reflects a non-profit's relationship with its supporters. It tells you how successful your stewardship program is and how confident donors are in your non-profit.
It gives insights into your communication, acknowledgment, and recognition strategy.
All these reasons make donor retention more important than ever before.
A healthy retention rate reflects your relationship with supporters.
5. Donor growth (Year-over-year)
It's impossible to maintain 100% donor retention. It's crucial to acquire new donors and cover for the attrition. This metric alone doesn't give an accurate picture of your non-profit's fundraising strategy, but this, in conjunction with other metrics, is a good indicator of progress towards your business objective.
Donor growth reflects how well your organization engages with its supporters and prospective donors. A negative or low growth rate may be due to issues with your stewardship and engagement program, or your retention plan may not work as expected.
Donor growth indicates your progress towards your business objective.
6. Lifetime value
This is another crucial metric that all fundraising organizations should monitor. A better understanding of this metric could be game-changing for your fundraising efforts. It could help you plan your fundraising goals and make better budgeting decisions.
Average lifetime value (LTV) helps you predict the donation you can expect from a donor before they lapse. It tells you how much a donor is worth to your non-profit, and it also tells you if the acquisition cost for a donor is justified. For example, a donor donates $100 each for five years, making the donor LTV $500. The acquisition cost for that donor is $120. This may sound reasonably high for the 1st year, but it would be justified over the period. LTV should be greater than the acquisition cost.
Varying LTV between different segments of donors could help you figure out what engagement model is working best for you and enables you to channel your efforts into a stewardship program in a better way.
LTV tells you how much a donor is worth, and if the acquisition cost is justified.
7. Recurring gift percentage
This is the portion of total gifts which is donated periodically. It could be monthly, quarterly, or yearly. An increasing recurring gift percentage tells you that donors believe in your non-profit. This gives you an idea of future funds, allowing you to better plan your fundraising goals.
This KPI gives you an idea of future funds, and allows you to better plan your fundraising goals.
A study says that an average recurring donor would donate 42% more in a year than one-time donors. Regular donors are an asset; every non-profit tries to convert new donors into loyal recurring donors. If you intend to increase donations, this may be your group to start with. It may be fruitful to run a dedicated campaign focusing on recurring donors or to convert new ones into recurring donors.
Summarizing the seven metrics above: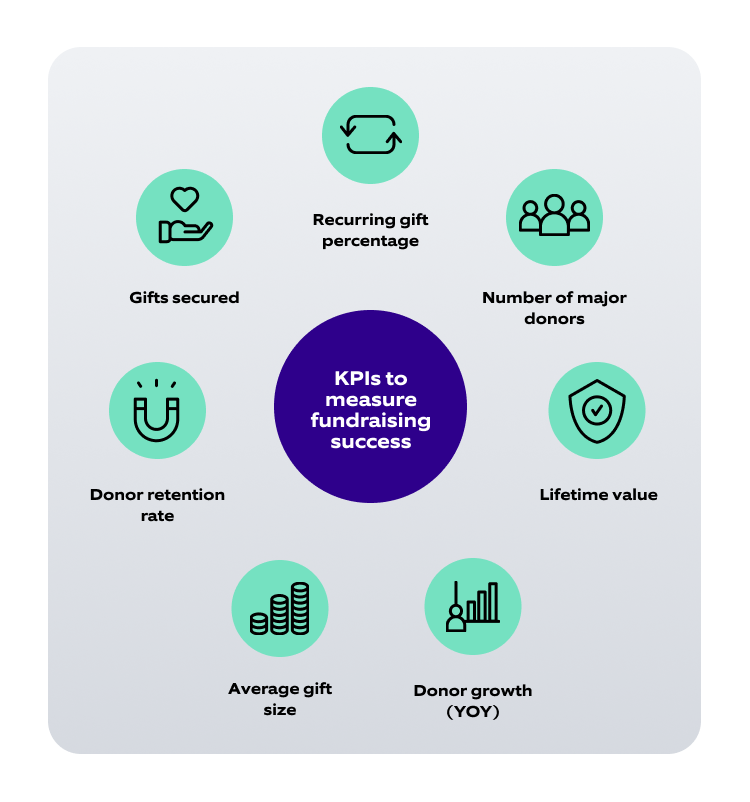 Helpful formulae
While selecting the KPIs to measure fundraising success, it is essential to select a combination of lagging and leading indicators.
Lagging indicators

help analyze past performance whereas

leading indicators

influence future performance.
Below are standard formulae used to capture the KPIs discussed in this blog.
KPI
Formulae
Indicator

1

Donor Retention Rate

(Recurring donors current year/Total donors last year) x 100

Leading indicators

2

Donor Growth

[(No. of donors this year – No. of donors last year)/No. of donors last year] x 100

3

Recurring gift %

(No. of recurring gifts/total gifts received) x 100

4

Lifetime Value

Average annual donation/Attrition rate

5

Average Donation Size or Average Gift Size

Total donation revenue/Total gifts received

6

Gifts secured

Number of gifts secured over a period

Lagging indicators

7

Number of Major Donors

Number of major donors acquired over a period
How Nagarro can help
At Nagarro, we strive for innovative ways to help non-profits improve their fundraising strategy with faster analysis and accurate reporting. Our FundKPI accelerator extracts valuable insights from their data, leading to better decision-making and greater impact.
Connect with our experts to know more!