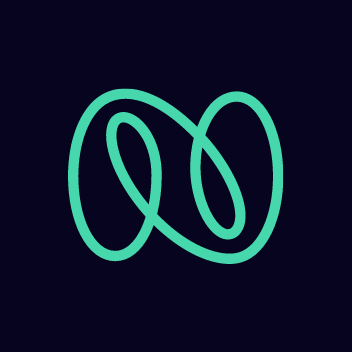 Consumers move very quickly from "I have a need" to "I want to buy". Knowing that, companies must identify opportunities inside every micro interaction and must act on the spot.
These savvy consumers like and follow brands who strive to stay competitive and creative. They are advanced technology users, informed decision makers, smart, self-assured, and active.
They quickly add and remove options, compare, proactively address needs and are quite willing to express their opinions. When consumers reach a purchasing decision, the company's work has just begun. Or simply put, the effort never stops.
Sounds complicated?
Let's take you through Helga's story.
She might be one of your ready-to-engage customers.
Helga is a 31-year-old, soon to become 32, Project Manager in a well-established company. She enjoys her job, but she invests just as much in her life after her working hours.
Her energy and hands-on attitude come from her healthy lifestyle and her extensive readings about a more balanced life. She is also keen on keeping herself updated in other areas, such as politics and environment. Therefore, her opinions are well documented, and her Pocket app holds a list of preferred bloggers and analysts.
From time to time, she enjoys treating herself with online shopping. When she doesn't buy a trip to a new place, she chooses gadgets or other tools that help her live, work, play or learn better.
Her smartphone is her true companion in everything she does, and nothing gets overlooked with this powerful device in her hands.
Responding to a buyer who calls the shots invites a closer look at the path to purchase.
'What's this?'
It's Monday and Helga is at home, doing her morning routine before leaving for work. While the coffee boils, she scrolls down her Facebook page. An ad grabs her attention. It looks too appealing not to follow the link.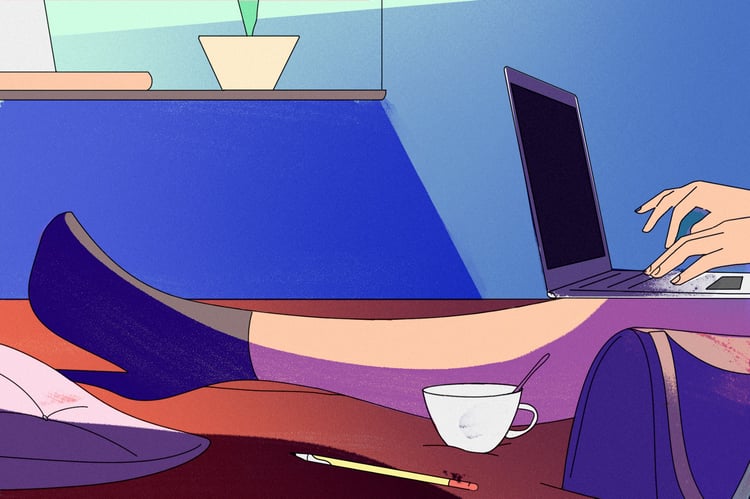 She quickly grasps the information: She is already an ABC subscriber, so all she needs to do is to install the Self-Care app to use the advertised discount when buying the phone. Seems easy, she thinks.
The coffee is ready.
Activating customer journeys by capturing attention requires customer insights such as milestone events, timing, daily routine, device preference and much more. Spotting the exact match of a consumer's traits expands the opportunity to advance along the purchase funnel. This is called contextual targeting.
'Seems interesting'
As Helga gets to the office, a bunch of emails, tasks and meetings are expecting her. While checking her Inbox, she notices an email with the same offer she saw this morning: 15% off for a new iPhone, if she buys it from the Self Care app. It's the same phone she researched so much in the past weeks, as her birthday is just around the corner. The Newsletter brings her to the ABC Telekom website, where the full offer unfolds.
Now, she's curious.
This is the moment when she shifts from 'passive' to 'active' phase. Agile companies don't stop when the first trigger won't switch on. They pursue the customer from different angles, until they engage them in performing an action. The impulse to buy is an accumulation of impressions coupled with personal insights, like the upcoming birthday of Helga in this case.
'Do I need it?'
A few seconds later, she has logged into the app. She carefully reads the offer details, as she likes to take informed decisions, seeking value for money.
To be fully convinced, she compares the new iPhone with other devices from the same range, googles the features she's most interested in and reads some techy articles. She even asks a friend or two about her options.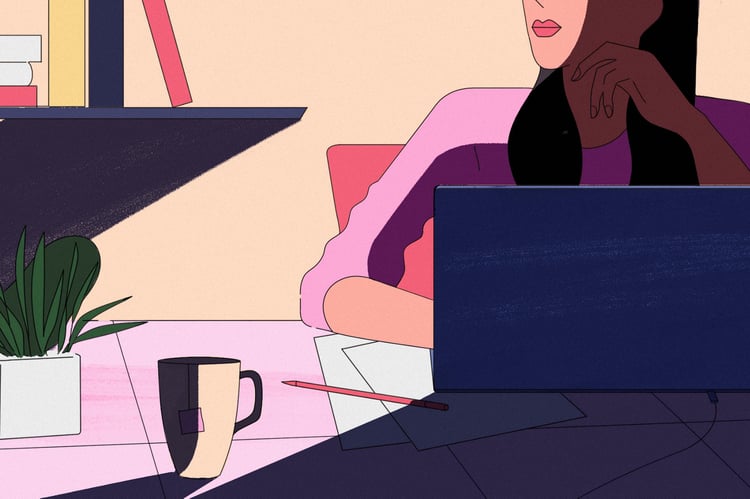 You might think she would have made up her mind by now, but her buying path can take any course from now on. She adds the phone to Favorites and leaves for a meeting.
"Two-thirds of the touch points during the active-evaluation phase involve consumer-driven activities such as Internet reviews and word-of-mouth recommendations from friends and family."
At this stage, brands' efforts to engage, be relevant, and be present whenever the customer is looking should be visible. This is a sales, marketing, and customer service team effort. At the end of the Discovery phase, they already know if the offer has met their needs, carefully having compared prices, features, and offerings.
'Why not?'
Helga's back home, longing for a quiet night. While searching for a movie, her Evernote app notifies her about the dinner night she arranged for her birthday.
This is the moment when the idea of a new smartphone in her hands pops in almost like an "aha" moment. She decides to buy it.
Even if the customer has already chosen you, make sure he/she won't question his/her decision during the buying process. The Action phase ends in a successful purchase if you can offer real-time assistance, a smooth user experience, and an easy transaction. It is an opportunity to bond and set the stage for the Advocacy phase.
'I like it a lot!'
The next day, Helga's phone is safely dispatched and arrives at the office. She's happy. This is exactly what she was expecting.
A few hours later, a notification pops up on her screen informing that she has received 100 loyalty points for her new acquisition which can be used for other purchases. 'Maybe I could use it to buy a Smart Watch', she thinks.
The after-sales experience is an opportunity to nurture the relationship with your customers, reassure their decision and turn them into loyal customers.
Helga is satisfied with her decision. She enters the ABC Telekom Self Care app to leave a comment and a 5-star review.
Listen to and encourage your customers to share their experience. It will not only lead to your business growth but will generate valuable market feedback, delivered at your doorstep.

A customer-centered mindset is a journey itself. Shifting to this kind of thinking brings superior customer experience, revenue and more loyal customers.
There's no single, right way to manage a customer journey, but this framework should work as a starting point to realize how customer engagement could make room for growth in your business.