Brands have always targeted their customers and prospects with both advertising and marketing. But of late, they have begun focusing more specifically on individuals, targeting them with a mix of personalized advertising and marketing.
How does this work? Let's look at an example.
Imagine you have to book a flight for your next trip. As soon as you book it, you see hotel advertisements on almost every website you visit or get emails for hotel offers customized to your budget, even though you never even mentioned your budget!
Is there a method behind this madness? This transition from seeing random to personalized advertisements and getting targeted marketing offers is the convergence of the marketing and advertising world.
The traditional era
Conventionally, for most brands, marketing and advertising are two sides of the same coin. When targeting an audience, brands traditionally use marketing techniques. But when they are unsure about their audience profile and want to target specific demographics, advertising becomes the preferred mode. While both marketing and advertising have always had the same objective, they have operated in silos.
Even when businesses went online and shifted from the traditional brick and mortar to the digital world, they continued to keep marketing and advertising separate. In the digital world, marketing tools include emails, push notifications, social media, etc. On the other hand, advertising tools include online banners and streaming ads. As marketing and advertising remained in silos, it led to the advent of Adtech (technologies for online advertising) and Martech (technologies for online marketing).
Adtech: Overview and how it works
Adtech (or advertising technology) is the generic term for the software and tools that help brands target, deliver, and analyze their advertising campaigns. In linear advertising (the ones you see on TV) – the advertiser buys timeslots, hoping that the right audience will watch the ad. In digital space, programmatic advertising rules. Programmatic advertising is when advertisers buy the target audience instead of time slots. Publishers broadcast content on various channels to attract the audience allowing marketers to influence them through ads. Adtech bridges this demand-supply gap between advertisers and publishers. (Learn how Nagarro helped Adform engineer a next-gen Adtech platform)
Whenever the audience surfs the web, it leaves trails as cookies that store audience history and behavior.
When the same audience visits their site, publishers alert all the potential advertisers. This helps in getting the most interested advertisers and hence, maximum revenue.
The software that processes cookies and creates an audience profile is called Data Management Platform (DMP).
The software that automates the publisher workflow is called Supply Side Platform (SSP).
Once the audience profiling is done, the auction for the ad space for this audience takes place in an ad exchange.
The advertiser uses a DSP (Demand Side Platform) to automate its workflow to manage campaigns and bid for this audience.
Once an advertiser wins the auction, the ad server provides the right ad to the publisher for display. The entire process happens within milliseconds while the publisher's website is still loading.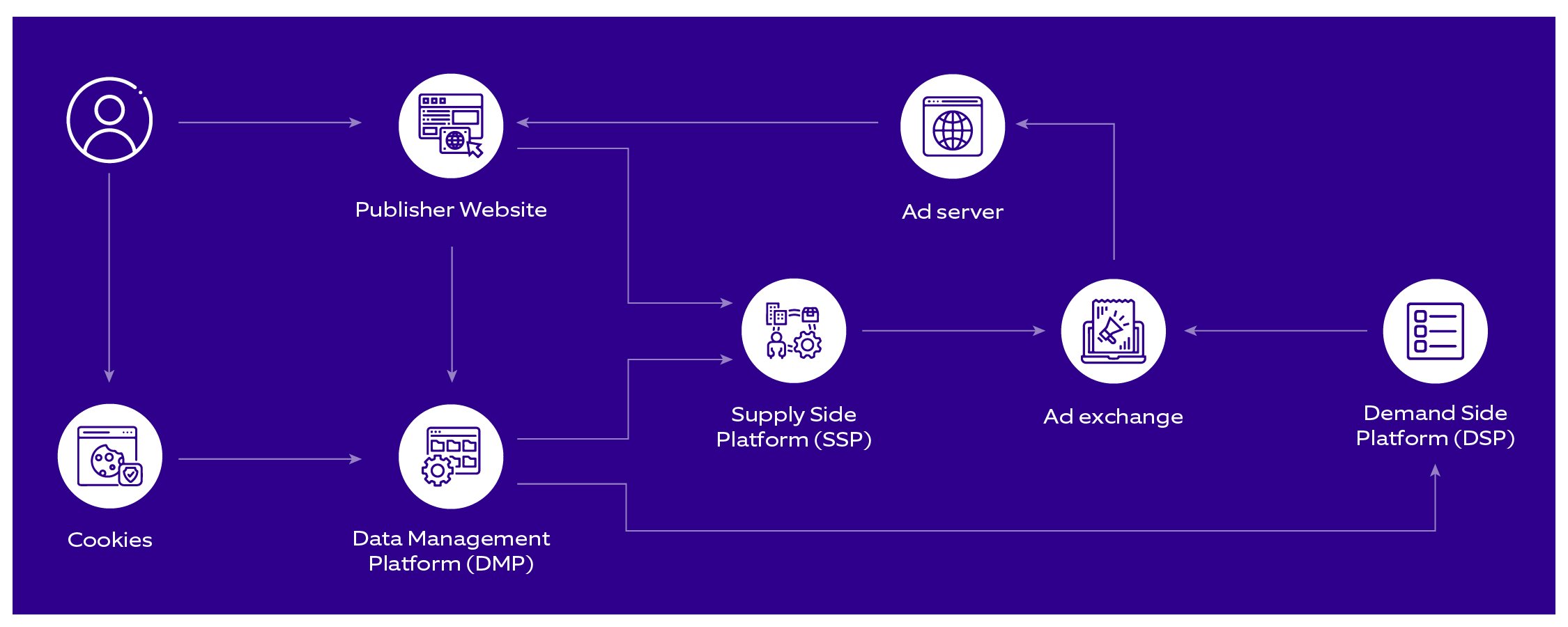 Adtech diagram representing audience, cookie, SSP, DMP, ad exchange, DSP, and ad server
Martech: Overview and how it works
Martech (or marketing technology) is the generic term used for the software that helps brands market their products to a known set of consumers. Marketers know their audiences through personal information like email ID, mobile number, social handles, etc.
Marketing aims to reach out to the audience through newsletters, blogs, offers, emails, notifications, or social media to promote the brand.
Customer Relationship Management (CRM) manages customer information. The Marketing Automation Platform (MAP) uses this information to plan campaigns for marketing the brand and its products.
Other tools like email marketing, content marketing, mobile marketing, search engine marketing, and social media marketing allow marketers to dispatch the marketing content to the audience through the right channel.
The Content Management System (CMS) powered by Digital Asset Management (DAM) contains the content that is dispatched to the audience.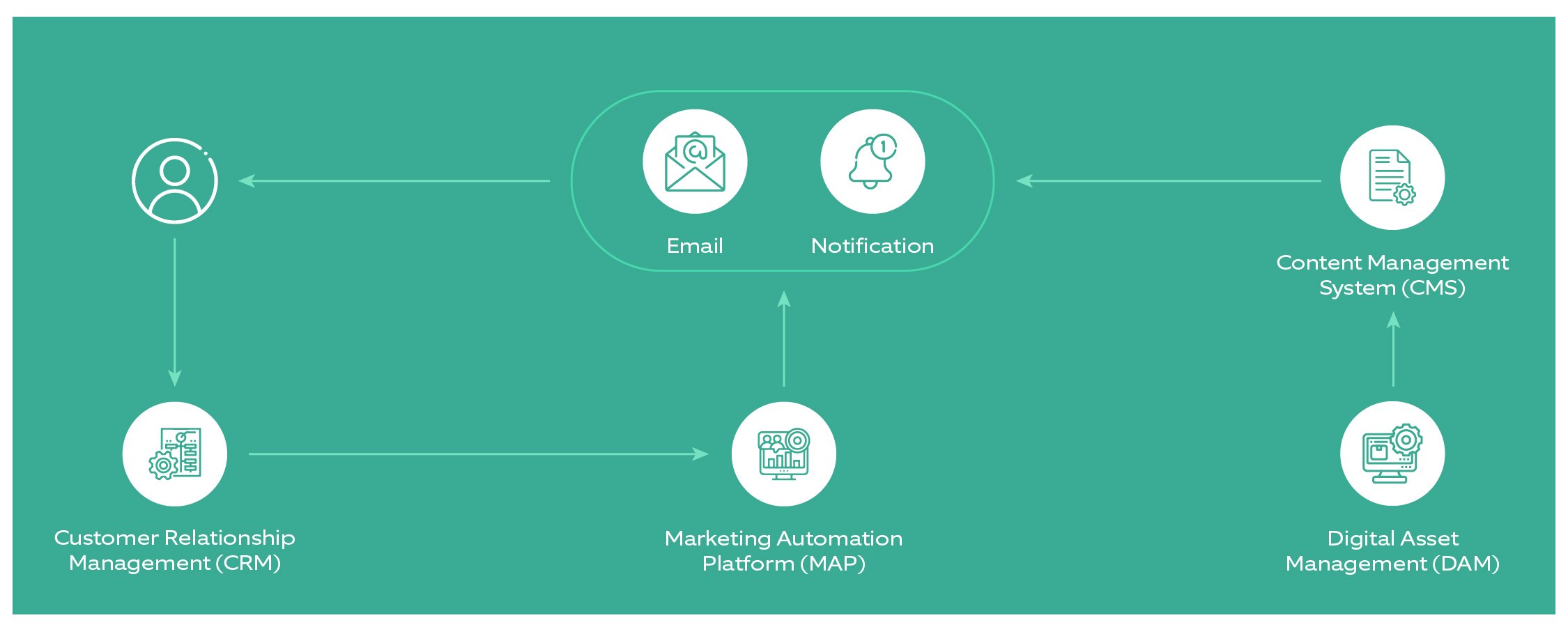 Martech diagram representing audience, CRM, MAP, marketing tools (email, content, mobile, search & social), and CMS/DAM
The transition phase
The purpose of both activities is to generate brand awareness, leading to conversions. The key difference is that, unlike in marketing, you do not know your audience in advertising. This is probably why they were dealt traditionally in silos to act like two sides of the same coin. However, for a business, it is still the same coin. They want to track the combined spending in advertising and marketing, and view the success or failure of the campaign holistically. Since the same audience can be reached via advertising and marketing, merging them will offer a better user experience.
Converging advertising and marketing is beneficial for brands to:
generate better insights
understand their customer better, and
enable personalized messaging
Convergence is happening partly because the Adtech and Martech ecosystems are commoditized and overcrowded. According to a report by Forrester, 58% of B2C marketers want to reduce the number of vendors and their integration efforts with them. Marrying Martech with Adtech extends the customer life cycle beyond acquisition into the realm of engagement.
The world of Madtech
As mentioned in our previous article 'Advertising: Trends and the changing landscape' , the new set of tools enabling this convergence sits over the existing Adtech and Martech tools, providing a unified experience. One such example is Freewheel (a Comcast company) acquired Beeswax.
Customer Data Platform (CDP) feeds on third-party data from DMP and on first-party data from CRM.
CDP unifies the data to generate an audience to target them through ads and marketing.
The predictive analytics tool analyzes marketing and advertising campaigns to provide insights into the best way to target a specific audience.
Ad Revenue Management (ARM) systems manage the budget for DSP and MAP. The performance of ad and marketing campaigns can be combined to provide a unified view in the BI platform.
At the heart of all this is the Dataware House (DWH) or a Data Lake, which gets data from multiple adtech and martech tools and provides a seamless data flow between different systems.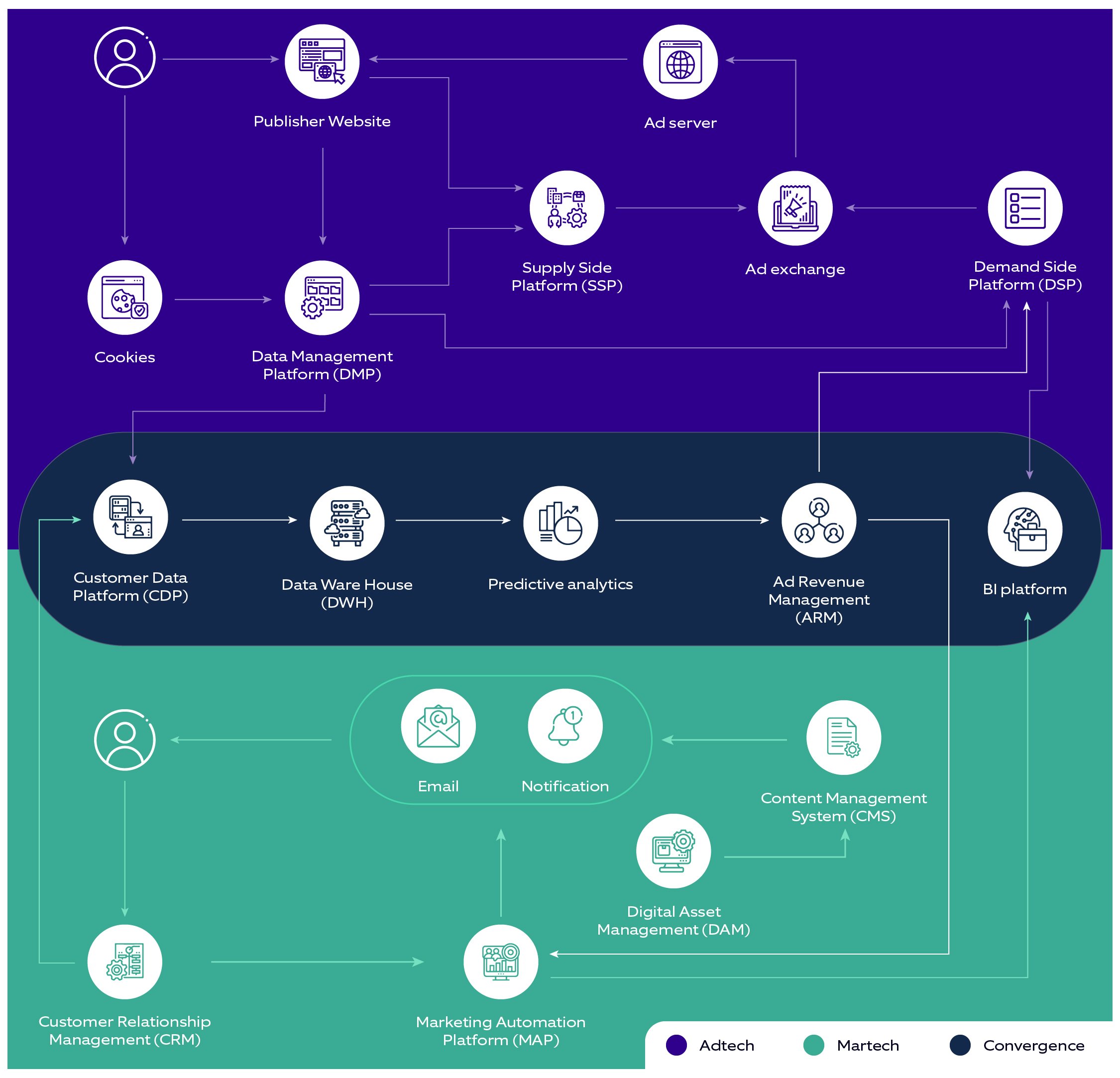 Overall diagram showing Adtech, Martech, and convergence tools
Conclusion
Adtech and Martech are converging at a fast pace, which will only increase in the future. In the third quarter of 2019, 33 ad-tech deals were completed worldwide.
Data privacy concerns and new regulations like GDPR led to the removal of third-party cookies, impacting the advertising world. Marketing cannot succeed without the historical data of audience behavior. New tools and technologies will make the ecosystem increasingly complex. The overall ecosystem needs to be safer, seamless, and personalized to thrive in this ever-changing advertising and marketing world.
Adtech and Martech come together to help marketers craft a consistent, connected, and seamless customer journey. This combination can streamline processes, help save costs, and strike a better chord with customers.
Are you ready to make the most of this convergence? Investing in the right technology can make a huge difference! Our media experts can help. Explore our offerings and write to us.