With digital transformation in vogue, financial services players (FSPs) have had to redefine their priorities to remain sustainable. However, even after significant technological investments in change the business, the overall results are nowhere close to the expectations of FSPs and consumers.
While several factors are at play, two major ones are the response time to market changes and the reduced involvement of business during execution. Is there a way to tide over this problem?
The recent advent of low-code platforms can help financial services players overcome these barriers by involving business across the product lifecycle and by rapidly deploying enterprise-grade solutions in response to the market pulse.
The need for transformation has been necessitated by customer centricity, innovative business models extending beyond core/traditional services, among a myriad of initiatives to differentiate in a highly commoditized space. However, recent studies and surveys have shown that digital transformation has been quite a bumpy road for FSPs, with only a select few achieving ROI from their digital investments.
A report named Caterpillars, Butterflies, and Unicorns: Does digital leadership in banking really matter?analyzed more than 160 banks in 21 countries, and found that only 12% of them appear to be fully committed to digital transformation by investing in a digital-first strategy; the other 38% are in the midst of transformation, but their digital strategies lack overall coherence; and the remaining 50% have not made sufficient visible progress.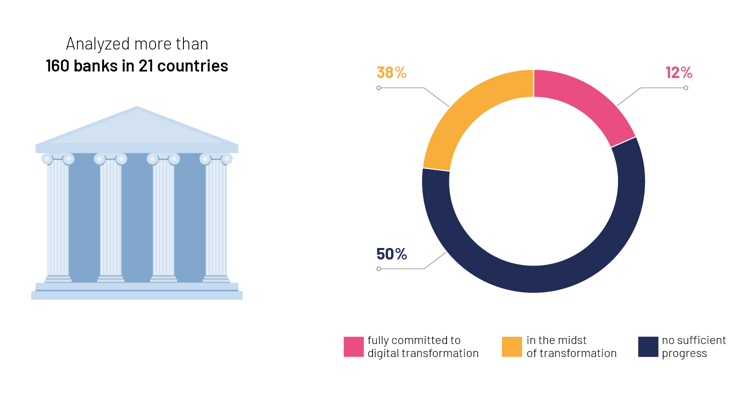 Progress in digital transformation across banks
Digital Banking Report - The Financial Brand highlights that 41% of the financial institution executives state that digital transformation initiatives have only been partially deployed, while 27% have managed to execute limited deployment, 11% are still in the design phase and 4% of these executives have no digital transformation strategy in place at all.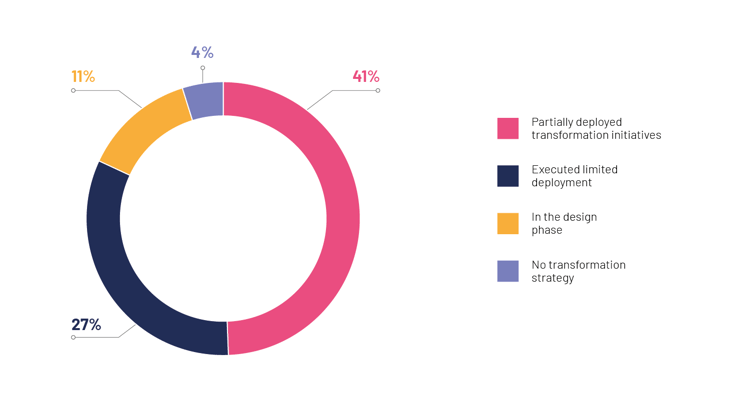 State of digital transformation initiatives across banks
A clear gap that can be seen across FSPs is the lack of participation of business in execution of digital transformation strategy. While the business is close to the customer to understand the market pulse, their evident lack of participation in technical execution leads to a wide gap from the envisioned outcomes. Additionally, FSPs invest in a variety of technology platforms, reducing their technical debt, future-proofing their architecture, and hiring the best technology talent available to achieve their digital agenda. However, none of these initiatives allows involving business users actively.
The advent of low-code platforms
A low-code platform helps democratize application development by empowering the business and IT to collaborate and rapidly build solutions tailored to the needs of the end-users. These platforms utilize the concept of model-driven development, providing a drag-and-drop interface to develop end-to-end enterprise-grade applications. This helps to easily integrate them with the existing systems and add custom code on top of them. By taking care of the underlying complexities such as database, UX, security, integrations, etc., low-code platforms can build and deliver breakthrough solutions up to 10X faster.
Making digital transformation more holistic for financial services
The ease, speed, and power to turn an idea into a solution is central to any digital transformation strategy's success. The common factor amidst all this is that customers, market dynamics, regulations, etc. are always changing, so a static approach will not always make the cut. To test new theories and ideas, a business needs to be flexible and dynamic enough to intuitively deliver software without getting caught in the vicious IT cycle of multiple developmental bottlenecks.
By adopting a low-code platform, FSPs can respond promptly to all stakeholder requirements. The platform offers all the underlying infrastructure and technical capabilities to create a range of apps (MVPs, portals, progressive web apps, process automation, legacy modernization, ERP/Core integration, and many more) for different use cases. The playground it provides for digital leads and architects to collaborate and quickly test new propositions, followed by go-to-market at lightning speeds, is what will help FSPs in spearheading the digital change.
Here are some success stories of FSPs that have embraced low-code platforms:
Aviva (a UK-based multinational insurer) leveraged the

Appian

low-code platform to combine data from 22 systems to build a single customer view, resulting in more efficient call center operations. The customer service response times improved by 9x, and Aviva reduced costs by 40%.
Rabobank (a Dutch multinational bank) utilized the

Mendix

low-code platform to develop its online banking portal that manages €18 billion for over 500,000 customers and realized 50% savings in IT costs.
Thinkmoney (a UK-based banking services provider) was able to replace its customer onboarding process, develop a new mobile banking app and an online banking system within 6 months using the

OutSystems

platform, resulting in a 30% increase in conversion rate as well as savings of 300,000 pounds in software costs.
Dealstruck (a US-based FinTech providing financing for small businesses) uses

Salesforce

to offer end-to-end loan origination and loan management services. The company has grown 16-fold in a single year.
As per Gartner, "By 2024, low-code application development will be responsible for more than 65% of application development activity."

Forrester expects that the "market for low-code development platforms will increase to $21.2 billion by 2022, up from $3.8 billion in 2017, a CAGR of 41%."
While it is certainly evident that low-code platforms are seeing huge traction, it is equally important to align them with the organization's long-term strategy. The flexibility and simplicity delivered by these platforms should not be misused to go on a solution spree. Proper governance controls should be in place, with involvement from the CIO and other line of business (LOB) heads for each of the solutions to derive the expected value from low-code platforms.