Did you know that the average lifetime of a rail car is 30 years? That's almost thrice the average lifetime of a car. To run smoothly across such a long lifespan requires railcars to go through regular maintenance and repairs. Maintenance is key to efficient and safe railway operations, as a minor glitch often leads to unwanted accidents and productivity losses.
Predictive Maintenance and its scope in the railway industry
Predictive maintenance utilizes data analysis and real-time monitoring to detect anomalies and potential defects in equipment and processes, identifying issues before they result in failure. It enables rail companies to address such issues proactively, minimizing costly downtime and optimizing maintenance schedules.
Predictive maintenance reduces the reliance on reactive maintenance. It harnesses various technologies, including the Internet of Things (IoT), artificial intelligence (AI), and integrated systems, enabling seamless connectivity between assets and facilitating data sharing, analysis, and action. IoT devices, such as sophisticated sensors, collect and transmit valuable data in various geo-location applications, security train control, and maintenance.
Geo-location empowers railway operators to track freight and empty railway cars efficiently.
Robust security measures, including video surveillance and sensor-based solutions, safeguard against theft and damage.
Train control systems provide real-time information on location and enforce speed regulations to enhance safety and operational efficiency.
Maintenance operations leverage IoT sensors for comprehensive condition monitoring, ensuring asset health and enabling proactive maintenance interventions.
Meanwhile, technologies like machine visioning, lasers, and scanners streamline inspection processes, reducing manual effort and enhancing accuracy. Railroad companies can leverage these technologies to enhance reliability, safety, and operational efficiency across their vast networks.
Benefits of predictive maintenance for the railroad industry
| | |
| --- | --- |
| Improved reliability | Enhances asset reliability and reduces costly unplanned downtime by detecting and addressing defects before they lead to failures. |
| Enhanced safety | Proactively identifies and addresses defects to mitigate safety risks associated with asset failures, ensuring the well-being of rail personnel and passengers. |
| Optimal resource allocation | Optimizes resource utilization by accurately prioritizing maintenance tasks, reducing unnecessary downtime, and optimizing spare part usage. |
| Cost savings | Reduces production hours lost in maintenance and optimizes spare parts usage, ensuring significant cost savings. |
| Efficient maintenance planning | Facilitates informed decision-making on maintenance and helps optimize maintenance schedules and minimize disruption of operations |
Predictive maintenance use cases for the railroad industry
Rail track Maintenance: Manual maintenance of rail tracks is a challenging process with unplanned repairs, limited defect visibility, subjective monitoring, and labor-intensive processes. AI and data science can address these challenges by analyzing images of railway assets, detecting defects, and assessing their severity. Machine vision, AI models, and data labeling can further help identify and prioritize repairs, improving resource allocation and maintaining accuracy.
Preventive maintenance of railway assets: Predictive analytics help analyze historical defect records, identify recurring patterns, and consider external factors like weather conditions. Rail companies can take corrective actions by understanding the types of defects, predicting future occurrences, reducing the risk of unexpected failures, and optimizing maintenance schedules.
Defect detection and assessment: Organizations in the sector can stream data from advanced cameras, thermal sensors, acoustic sensors, and other sources in real-time to detect and identify defects in railway assets. This data-driven approach enables timely notifications and auto-generated work orders for manual inspections, facilitating efficient defect management and resource allocation.
Nagarro developed a similar predictive maintenance solution for a US Class 1 railroad company. It's an app-based solution that automatically assesses the dents and scratches on the car exterior using computer vision and calculates the refurbishment cost.
The solution included a guided image capture process, a machine vision-based model to automatically detect the type and severity of defects from the captured images, and a business rule engine to assess refurbishment costs.
Asset health monitoring: Real-time sensor data can be streamed into a monitoring dashboard, providing a comprehensive view of asset health. Notifications and alerts can be configured based on thresholds, ensuring prompt attention to abnormal conditions. This proactive approach to monitoring helps prevent equipment failures and enables timely maintenance interventions. For instance, BNSF, a major railroad company in the US, relies on a Remote Health Monitoring System for predictive maintenance. It utilizes onboard sensors and telematics technology to collect real-time data from locomotives and other equipment.
This data includes information about engine performance, fuel consumption, temperature, vibration, and other parameters related to the health and operation of the equipment. The company can optimize maintenance schedules, improve operational efficiency, and reduce downtime by predicting maintenance needs. And prevent unwanted failures and increase asset lifetime.
Asset lifetime prediction: By leveraging historical asset data, including operational conditions and average tonnage, predictive models can estimate the remaining lifetime of assets. This valuable insight empowers rail companies to make informed decisions about asset replacements, maximizing resource utilization, and minimizing operational disruptions.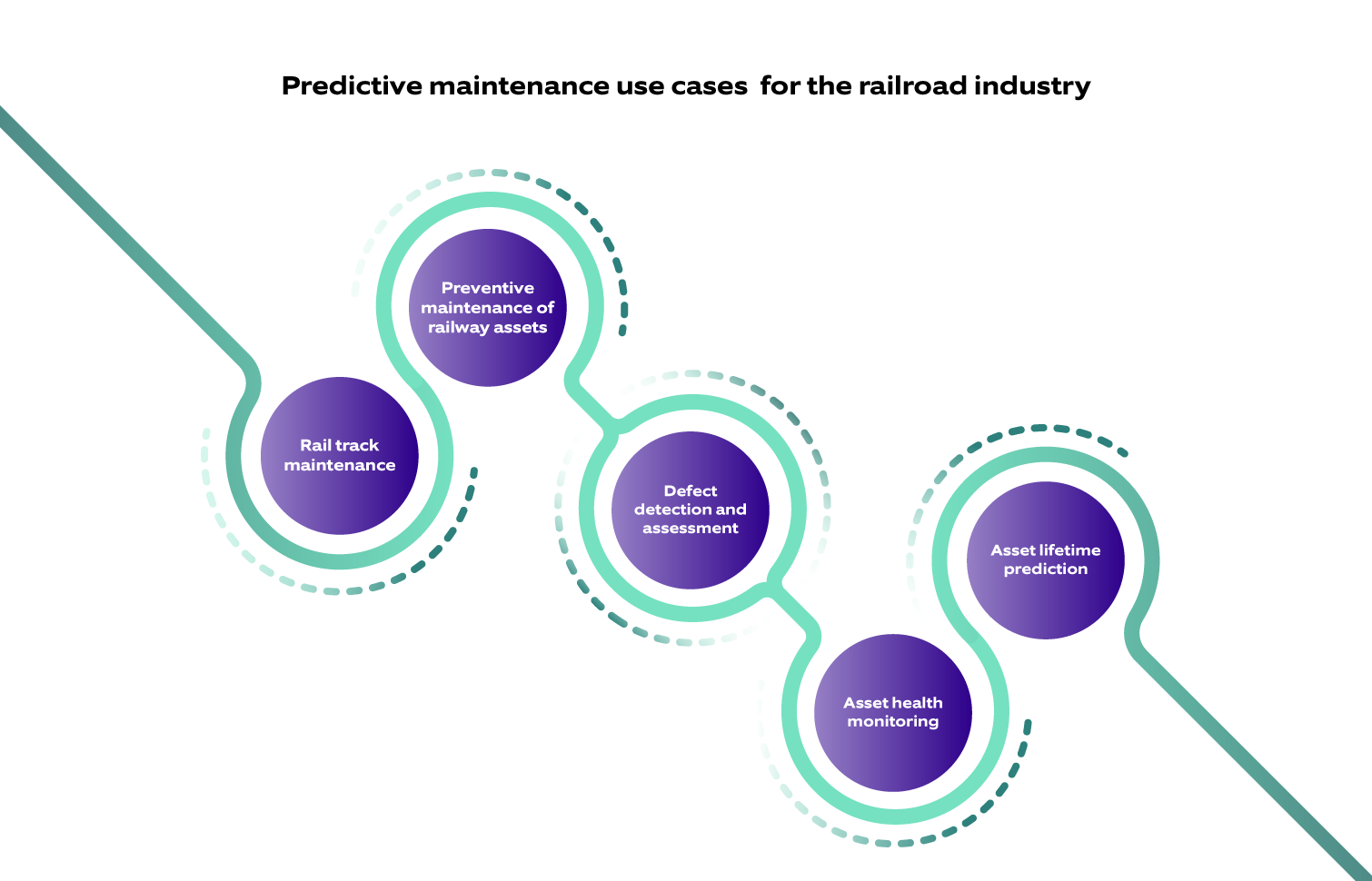 Cost-efficient railway operations with predictive maintenance
A successful predictive maintenance project requires more than just technology. While embarking on this journey, it is extremely crucial to understand and define the project outcomes, your existing tech capabilities, and the required tech resources. Do the expected returns justify the costs of retrofitting a train with new technologies?
With these questions answered and a definite roadmap, predictive maintenance can significantly boost railroad companies' business growth by proactively detecting, assessing, and addressing defects, improving reliability, safety, and cost efficiency. It will optimize their resource allocation, reduce downtime, and enable efficient planning, resulting in substantial cost savings. The time to embrace the power of predictive maintenance is now!