Artificial Intelligence (AI) is a transformative technology molding various industries, sectors, and functions. In the product management realm, AI can help organizations stay ahead of the curve, build customer-centric products, and thrive in an increasingly competitive marketplace.
In this article, we explore the diverse applications of AI in product management and delve into how it transforms key areas of the product development process. We will examine how AI can aid in ideation and concept validation, enable efficient market research, optimize resource allocation, and project planning, facilitate agile development methodologies, and enable comprehensive product performance tracking and optimization.
Uncovering the scope of product management
AI product management involves using AI technologies and techniques to optimize the product management process. It combines the principles of traditional product management with AI methodologies to develop, deliver, and manage AI-powered products.
An AI product manager has similar core responsibilities as a traditional product manager. They are responsible for market research, idea generation and evaluation, defining user personas, product vision strategy, product releases, collaboration with stakeholders, and managing customer feedback. In addition to these responsibilities, AI product managers are also responsible for:
Collaborating with data scientists and engineers to develop, enhance, and manage AI models.
Training and educating product team members on data science principles.
Analyzing customer needs and using AI to address specific customer problems.
Ensuring that AI implementations are done responsibly and ethically to avoid issues like bias and bring in privacy and transparency.
What value does AI bring to product managers?
AI can bring efficiency and speed to the following components of the product management process:
Market insights: It helps product managers analyze vast amounts of data, including market trends, customer behavior, and competitor analysis, providing valuable insights. For instance, using an AI-powered KNIME open-source analytics platform, product managers can access, blend, analyze, and visualize data without any coding in a short time. Such a low-code, no-code interface allows them to gain a competitive edge over other PMs.
Streamline internal processes in the product management process: By harnessing AI capabilities, product managers can enhance the efficiency and effectiveness of the product management process, ultimately improving overall productivity and output. For instance, Miro AI can assist product managers in managing product concepts and ideas by auto-building on a topic/idea/question.
Predictive analytics: AI algorithms can predict customer preferences, demand patterns, and market trends. Product managers can anticipate future needs by leveraging predictive analytics and aligning their product strategies accordingly. This proactive approach allows them to stay ahead of market shifts and deliver products that meet evolving customer expectations.
Efficient product development: AI technologies can automate various aspects of the product development process, reducing time and effort. For example, AI can automate repetitive tasks like data analysis, quality assurance, and documentation generation. This enables product managers to focus on higher-value activities like innovation and strategic planning.
How can AI systems be utilized in the product management process?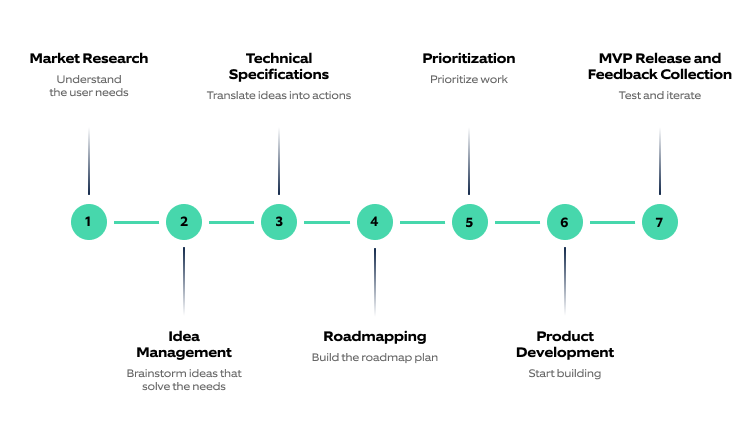 Product managers need to identify and understand the unique characteristics of their products and organization to utilize AI effectively. They must consider the following pointers to harness the potential of AI in product management:

Usability tests and user research: AI excels at data analysis, making it highly advantageous for tasks such as usability testing and user research that involve large data volumes.
So, how can AI be utilized for usability testing? Start by exploring tools like Tobii and Affectiva, which employ AI for tracking and analyzing eye movement and facial expression. These tools track user interactions with the product and assess the emotional responses they evoke. Leveraging such insights can help optimize the product's UI.
Furthermore, by utilizing historical data and employing predictive analysis techniques, you can simulate user behavior and test UI changes without direct user involvement to accurately assess the potential impact of UI modifications.
Backlog grooming: Traditionally, backlog grooming heavily relies on the subjective judgment of the product manager or product owner, leaving room for human biases even in the case of a data-driven decision-making process.
However, AI enables product teams to identify and prioritize the most valuable items in the backlog. AI can further break down these items into manageable tasks, estimate the required effort, and assign them to specific sprints based on the team's velocity.
AI continuously updates the backlog using real-time data, ensuring that the backlog remains dynamic and reflective of the evolving needs and priorities of the product development process.
AI-generated videos: When it comes to educating users, video tutorials offer an engaging and enjoyable experience compared to written materials such as product documentation or resource center entries.
However, creating videos has traditionally been time-consuming and expensive. Fortunately, this is no longer the case. Tools like Synthesia, Peech, Runway, and Descript allow you to swiftly create educational video materials using AI-generated avatars. By simply entering the script and customizing slides like Powerpoint, the application can create engaging videos saving you time and effort.
In-app user behavior: AI's data analysis capabilities aid product management teams in making data-driven decisions. By leveraging AI, you can analyze historical in-app user behavior and utilize predictive analysis to determine the features that will improve the user experience for specific segments. This approach helps reduce customer churn and fuel the growth of your product.
Sentiment analysis on user feedback: In addition to analyzing product usage data, AI can evaluate user sentiment. This encompasses the examination of quantitative metrics such as NPS (Net Promoter Score) or CSAT (Customer Satisfaction) and qualitative feedback analysis. NLP can help product managers assess text input from user surveys, identify patterns, and extract valuable insights.
Is it time for you to add AI to your product management mix?
By harnessing the power of AI, product managers can enhance their product development processes, deliver personalized user experiences, and drive business growth. An AI product manager is pivotal in aligning AI capabilities with product strategy, collaborating with cross-functional teams, and ensuring successful product delivery.
Strategically implementing AI systems throughout the product management process and following effective strategies can help you and your organization companies unlock the full potential of AI to gain a competitive edge through relevant, efficient, and effective products.