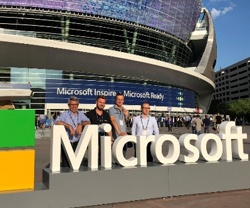 Every year, Microsoft presents its strategy for the new fiscal year and the upcoming focus topics at the Inspire Conference. The partner cooperation is in focus as well. For Nagarro, it was the perfect reason to visit Las Vegas this time. After eight years of cloud evangelism and a fierce determination to support companies in their transformation, Nagarro Austria from a total of 2,600 submissions in 115 countries received the coveted "Partner of the Year" award. Our Austria team proudly accepted the award and was enthusiastic about what they experienced at the Microsoft Inspire 2018 in Las Vegas. Here are a few highlights from the event.
Daniel Brezina, how did you experience Inspire 2018?
In all, the Inspire was a successful event. The idea of strengthening the partner network inside and outside Microsoft is the right answer to the rapidly increasing complexity of the Microsoft cloud offerings, and above all, it benefits the joint customers. For medium-sized IT service providers, who find difficult to keep pace with the rapid development of Microsoft's cloud product portfolio, it's essential to be able to call on competent and experienced partners when required.
As a first-time attendee, I was of course particularly curious about the content transported, the process and the intensive exchange with international partners and colleagues from Microsoft. The highlights were the keynotes of Gavriella Schuster and Satya Nadella as well as the Award Winner Lunch with Satya. Moreover, the evening program created by Microsoft was fantastic with steaks, concerts and Ferris wheel rides–everything was there!
Mike Reisinger, what was your highlight at the conference?
The ultimate highlight for me as a technician was without a doubt the demo of the holoportation!
Holoportation is a new type of 3D capture technology that allows high-quality 3D models of people to be reconstructed, compressed and transmitted anywhere in the world in real time. When combined with mixed reality displays such as HoloLens, this technology allows users to see, hear, and interact with remote participants in 3D as if they are present in the same physical space. Communicating and interacting with remote users becomes as natural as face-to-face communication.
More information is available here. This technology will bring us as Nagarro, our customers and humankind, in general, a lot closer.
Daniel Brezina, Nagarro is Microsoft's top-selling partner for Azure, and the Nagarro Center of Excellence "Cloud" is managed worldwide from Austria. Where is the Cloud journey going?
These are indeed two circumstances of which we are quite proud of. Our customers largely accept Cloud as the technological basis for advanced topics such as IoT, Big Data & Analytics, and innovation. The discussion on whether server A or service B is operated in the company's own data center or the Cloud is becoming increasingly rare. This is particularly pleasing because it brings Austria closer to the international pace for the adoption of new technologies, which has not always been the case. Nevertheless, we still see a noticeable difference between projects in and outside Austria. While many of our globally operating customers already pursue a clear "cloud-first" strategy, we spend a comparable amount of time in Austria consulting on the security or advantages and disadvantages of cloud solutions. But now is the ideal time to take the next step. Cloud has become ubiquitous, so what do we make of it? Automation, Security, Infrastructure-as-a-Code; that's where we want to go!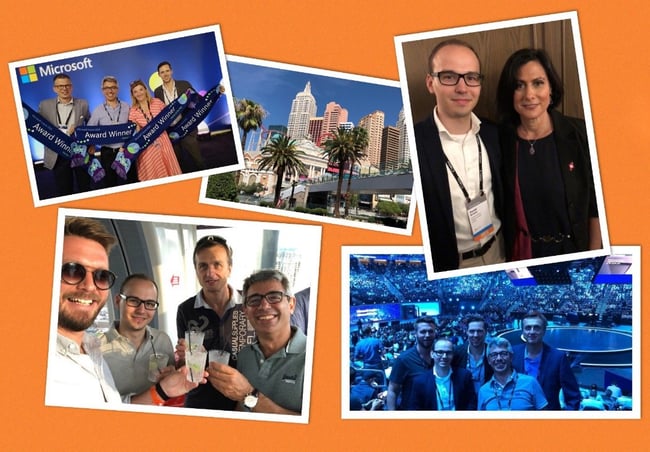 Mohit Bhardwaj, what potential does Microsoft technology offer and how can Nagarro use it for successful customer projects? Which use cases are there?
In this new era of technology, Microsoft has understood and re-shuffled its technological footprint, allowing open-source to become a significant part. This is a big step with the inclusion of .NET Core now being able to develop, hosted for Linux based environments. This change has enabled the use cases which were unthinkable until recently. Now, we can talk about .NET Core based Microservices, which are comparable to the open source world technologies of Java and NodeJS. Another fantastic application case was the reorganization of the Azure offering regarding IaaS and PaaS. This has enabled the use of Microsoft Azure to an enterprise that has their complete infrastructure on Microsoft technologies and wanted to use Cloud, moreover, this course of success does not stop here. With Cloud, modern-day solutions such as IoT, Big Data, AI, and ML are realized for our esteemed customers. This shift was easily accessible by Microsoft's offering of providing Professional, Premium and Enterprise level MSDN accounts for software developers. The more you benefit software developers, better the chances are of the products to be used being updated as per the requirements, which Microsoft has understood and implemented.
Nagarro has implemented a model to work on Microsoft technologies as its core capabilities, which enables us to focus on the technologies to make it resolve real-world customer problems. For example, Nagarro is actively working on chatbots using Microsoft Bot framework in redefining customer experience platform for our customer. Similarly, Microsoft's IoT and Big Data platform are being used internally as well as recommended to customers in the energy and power domain, industry and manufacturing control domain, and more.
In the future, the way Microsoft is inventing new capabilities, the entire technology sector will revolutionize with Microsoft technologies for better business cases and offerings.
Mike Reisinger, Nagarro has been Microsoft Gold Partner for many years and ANECON (now Nagarro) has also been carrying this award for many years. What is the nature of the partnership?
The Microsoft partnership has always been important in the past but will be even more so in the future. With digitization and the uncertainty of many companies, customers turn to Microsoft. However, as Microsoft itself is hardly active in Austria, the Microsoft partners are invited to customer meetings, or the contacts are forwarded. This means that the more we, as Nagarro, are present at Microsoft, the better we can present our specializations and such customer contacts occur more often. Furthermore, there is the possibility to use the Microsoft partner network as an extension of our services for existing customers and leap from being the competitor to the partner (in both directions).
Bernd Ruiss, Nagarro is "Country Partner of the Year" for the first time, before that it had been a Gold Partner with a wide range of competencies for many years. How does this partnership reach our customers, where and how can we take care of projects even better?
Many customers who have followed our trip to Las Vegas on Social Media congratulated us on this award and are already curious about what will come from Nagarro in the future. With our current focus on the connected enterprise, we already have exciting use cases and demos planned and showcasing what the intelligent cloud can do for industry experts.
Of course, we are proud of the award as it stands for outstanding achievements in joint customer projects and confirms the expertise and commitment of our colleagues. The digital transformation–for which the cloud is usually the basis–also employs more and more customers in Austria. It is pivotal to find the best solution not only technology-wise but in terms of the business as well. Nagarro has focused on this aspect from the very beginning and has gained a lot of experience in numerous projects. The Partner of the Year award gives us additional visibility in the market and offers our customers the security of choosing Nagarro as the right partner when it comes to Cloud transformation, agile software development, DevOps and a smart, connected enterprise. Our close cooperation with Microsoft enables us to put together the right teams across companies quickly and reliably to support our customers during this digital change.