For the generation that is retiring now, most people would take a job and then just take retirement next, with hardly any job change through their career. Not everyone hopped around, in search of greener pastures. Indeed, that was a different world.
Today, moving to a new job comes with its fair share of challenges. New place, different people, new expectations and the fear of the unknown are enough to give sleepless nights to anyone.
About a year ago, I was in such a situation. If anything, my struggle while switching gears went to a different level as it involved relocating to another country. As I look back, I can list some of the hardships that I faced and how I managed to overcome them. If you are in a job change process, I hope this list will guide you to make your transition smoother.


1. New surroundings
Getting to know new colleagues can be quite a daunting task, instilling the greatest fear among new joiners. One could worry about not being accepted and might try to project a personality that is contrary to one's actual self, which can eventually lead to bigger issues later.
My take – In my experience, it's best to stay your own self. While a high-brow person is not appreciated, a people-pleaser is equally disliked. It is important to bond with your new team and remain your true self. Choose your pace but remember to be friendly when you meet someone new, and whenever you feel comfortable, you should make the first move to join in for lunch or coffee. It is a two-way street where you must take a few steps but surely not run!
Undoubtedly, an organization's orientation program plays a significant role here. Luckily, I had an exciting orientation workshop in Nagarro, a good mix of information transfer and fun activities. It helped in easing at least a part of the anxiety to be in a new environment.

2. Information management
No two organizations follow the same processes; in fact, projects within the same company may operate differently. When you join a new organization, too much information (technology, businesses, and processes) can be overwhelming. Bombarded with data from all directions, this information soon becomes noise. This is termed as IFS (Information Fatigue Syndrome), where the concentration power and productivity become lower and hurry sickness (the rush to keep pace with time) sets in.
My take – 'Rome wasn't built in a day!' You must accept that there is no magic pill or a fixed number of almonds to learn and memorize everything. However, during this learning period, it all seems just too much to handle.
I followed Eisenhower's Urgent/Important principle during this period to channelize my energies in the right direction.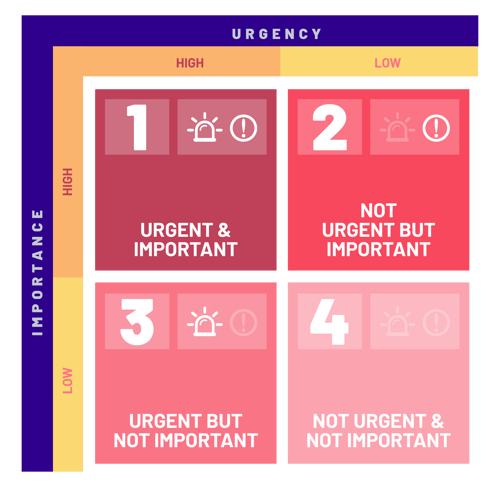 I ruled out the 4th quadrant because, in my opinion, nothing that I needed to absorb about my new job could be considered trivial. The knowledge transfer sessions organized by my team in Nagarro were quite useful as they were structured in a way that was indicative of the priorities that required more focus.

3. The role vs. skills tussle
You have been hired for your dream role. What next? You dive into learning about the business to expand your skills, and within no time, you find your footing.
You might have to sharpen your saw for an unprepared battle in the current day or work in a silo (that no one wants). Sometimes, to bring out the best in your role, you might also need to understand a completely new function or process.
My take – I started off as a Business Analyst in a small IT company of a US-based automobile giant where there was a dedicated team for every imaginable task. After switching jobs, I joined as the Functional Lead in Nagarro. At first, I felt lost during the meetings when discussions began steering towards technical and operational topics. I safeguarded my ego with soothing balms like "this is not expected of me anyway" or "it is not my Zen", but gradually, these terms became a cacophony of noises that kept deflating my ego with each passing day. So, I started researching these buzzwords because it was quite clear that there was no hiding away from them.
I explored the resources provided by my organization and was delighted to find a vast knowledge base about unlimited subjects with access to reputed learning platforms, quite close to a university in itself. I started investing time in enhancing my knowledge, and making sense of topics like DevOps Continuous Integration, Dockers, Release Management, etc. and discussed those topics with the architects and developers. With time, I gained the confidence to follow the issues and handle queries in the discussions.

4. The relocation stress
The thrill of moving to a new place after a job switch is so compulsive that one tends to ignore the practical facets of the process. Looking for accommodation, learning about the transportation system and experiencing a new culture are some of the relocation stressors, along with the expense factor of shifting your base.
My take – Since you have decided to relocate, every time you feel bogged down, recollect the reasons that made you go for a new life (job security, a better standard of living, career advancement, desire for new experiences, etc.)
I moved from India to Germany alone in the peak of winters, prepared for the challenges with some videos I watched on YouTube, and a few online German language lessons. However, I was in for a surprise in many ways. The German I learned didn't quite help as I just crammed the sentences with no understanding of the replies! Not to forget, that realization of being a foreigner, along with constant pangs of loneliness and homesickness.
Nagarro's buddy program deserves a special mention here. It was quite helpful because it helped me get in touch with my buddy (a colleague) in the new location. My buddy helped me understand the day-to-day practices and culture of the place and helped me connect with more colleagues and acquaintances.
I signed up for meetups of my interest (book club and a hip-hop dance classes) and enrolled in a Deutsch course to positively catalyze my integration process. I made a few friends with whom I used to spend time on weekends or shared a post-work drink.

Bottom line
In this roller coaster ride, I realized that it takes a lot of courage to get the rubber to the road. I hope this blog assists you in making your journey a bit smoother and encourages you to take that leap of faith in overcoming the fear of the unknown as it can be great. What is even greater is conquering that fear to know what lies beyond! Fret not, if you are a new joiner too. Wish you all the luck! 😊