Every firm wants to attract more customers and lead the market. How? By delivering a defect-free product. The most critical aspects of delivering bug-free software are user feedback and seamless customer support. Customer feedback helps companies eradicate issues in software and retain their customers. On the same note providing impeccable customer support helps in business growth.
"A satisfied customer is the best business strategy of all." - Michael LeBoeuf
How can you provide a convenient user support platform? Yes, you got that right - through the Jira service management tool. It is a popular ITSM tool provided by Atlassian to support customers in reporting any issues and providing suggestions for improvements in a product.
How does a standard customer support process work?
Usually, a user must sign up on the customer support portal and log a support ticket to report an issue or provide feedback. A ticket requires a lot of information and sometimes becomes too overwhelming. In the case of an existing user, authentication is required every time. A user might feel reluctant to report an issue due to the exasperation of entering the long list of details. If the support is user-friendly, more customers will provide valuable feedback, which will help improve the product and grow the business.
What is Jira Service Management?
Jira service management is an ITSM tool that helps create support portals for companies based on their projects. It provides ITIL-certified incident, problem, change, and service management customizable templates. Jira Service Management makes it easier to categorize service requests, incidents, problems, and changes by organizing and prioritizing the requests. It is used by over 1,80,000 companies worldwide.
Enhance the power of Jira Service Management through Five9 VCC
Five9 VCC is a product of Five9, the leading global provider of cloud-based call center software for sales, marketing, and support. Five9 Virtual Contact Center software enables agents to be more effective on the phone, so they can sell more and service better. Five9 provides robust pre-built integrations with leading CRM solutions like Jira to give agents access to complete customer information.
Benefits of VCC:
No maintenance cost
No technology lifecycle syndrome
No time-consuming administration
No hardware investment
What are the benefits of integrating Five9's VCC with Atlassian's Jira?
The Five9 Virtual Contact Center (VCC) is designed and created with the business user in mind. Integrating it with Jira Service Management gives the benefits of both—a perfect blend. With this integration, we can connect with customers over the phone, take their requests and feedback and provide updates on the existing requests faster as users don't need to log in to any support portal. Through one call user will reach Jira and can get/provide information. Jira integrates well with all other Atlassian and non-Atlassian tools to achieve its most. It provides fantastic reporting, so if a management person wants to check ticket reports, they can review the same on their page as a dashboard without much effort.
How do Jira Service Management and Five9's VCC solve our problem?
A user calls on the helpdesk number provided by Five9.
The call is answered by a support agent who checks for user details in the active directory.
In the case of an existing user, all the details will pop up, including any active ticket.
If an active ticket is found, the agent will use it. The agent will create a new ticket in case no active ticket is found.
In the case of a new user, the agent will add user details and log a ticket on the customer's behalf that will be saved in the active directory.
A user can check ticket status by just a call.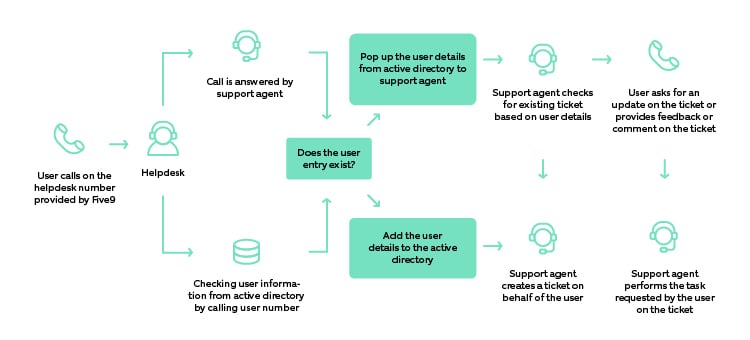 Atlassian practice at Nagarro: Use case
We have provided the integration of Five9's VCC by configuring different APIs provided by Jira software to create new issues in Jira and manage existing ones. With the configuration of these APIs in Five9, whenever a user calls the number provided by Five9 for support:

the user's email will be fetched from their phone number using the integration of any active directory and Five9 VCC,
then, the agent will be able to see the user's tickets through the view request API of Jira to view an existing issue
or the agent can create a new request using the create request API of Jira if the customer requests.

Key takeaways
The successful exploitation of new ideas is critical to a business's ability to improve its processes and bring new and improved products and services to the market. For this, customer feedback is essential. Feedback can be achieved in a better way if the support process is customer-friendly. Integrating Jira Service Management with Five9 makes the customer support process easier and helps the company and its customers. Organizations can quickly respond to user queries. A user can log a ticket and provide any input in terms of improvement or enhancement by a call, thus keeping their user satisfied.
Do you want to know how to integrate Jira Service Management with Five9 VCC optimally? Get in touch with our Atlassian experts today!