In today's net-savvy age, getting information about anything is just a click away. Given this ease, what is it that can set you apart from everyone else?
The key differentiator then, is not in getting information but in what you do with that information – how you assimilate knowledge, by learning from the best in the business.
Nagarro recently launched an interactive talk series: Converse@Nagarro. This series invites leaders and distinguished speakers from diverse fields such as politics, public agencies, private sector, civil society and citizen groups to share their knowledge, insights and experiences.
Besides providing the audience with a platform to learn from the speaker's experience, the Converse sessions aptly live up to their name too – they enable the audience to interact with the speakers by voicing their queries and thoughts.
Such sessions are in line with Nagarro's approach of encouraging thought leadership, while also emphasizing on knowledge and excellence.
Inaugural Chapter: Making Cities Safer by Design
Nagarro hosted its first edition of Converse@Nagarro in July 2019 at its Gurugram office in India. The inaugural chapter was on the theme "Making Cities Safer by Design". Launched by Nagarro's CEO Dr. Manas Fuloria, the Converse series got off to a rousing start, with three distinguished speakers sharing their thoughts around road safety and Haryana Vision Zero.
Haryana Vision Zero (HVZ) is a first-of-its-kind program in India, dedicated towards minimizing road accident-related deaths in the state to zero. It aims to eventually expand this target from a state-level to a pan-India level. As always, contributing in its own way, Nagarro has partnered with the government of Haryana, NASSCOM, and WRI India, in planning and implementing Haryana Vision Zero.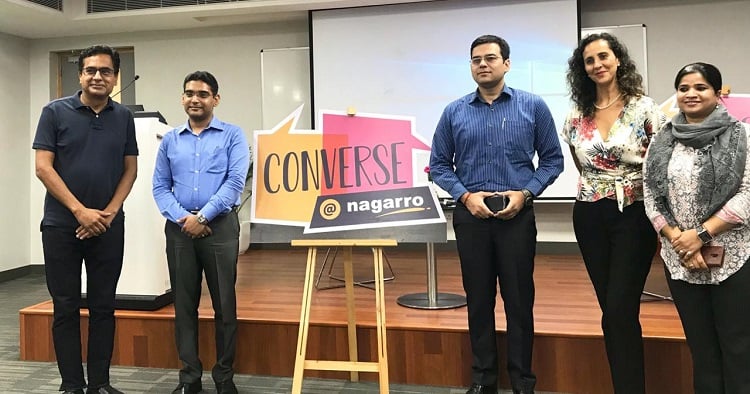 Manas Fuloria, CEO, Nagarro (extreme left) with the speakers and Sarika Bhatt,
Associate Director, Delivery, Nagarro (extreme right)

Meant to spread awareness about the importance of road safety, this session focused on why road safety is a critical issue for every country and the global initiatives around it. The session's, and Converse@Nagarro's first-ever speaker, Ms. Claudia Adriazola-Steil (Director, Health & Road Safety, WRI Ross Center for Sustainable Cities, Washington) spoke about the impact of poor road designs across the globe, statistics on road-fatalities, and the best approaches to ensure road safety.
This was followed by sessions by Mr. Amit Khatri (Deputy Commissioner, Gurugram) and Mr. Himanshu Garg (DCP Traffic, Gurugram), who drew on instances from closer home. Mr. Khatri gave insights on reducing on-road fatalities, the upcoming road safety drives and best practices. Mr. Garg spoke about a typical traveller's approach towards following traffic rules when on road and what his department is doing towards the same. Both these sessions were also highly appreciated.
Chapter 2: Books and experiences of Stanley Moss
The second chapter of Converse@Nagarro was held in November 2019. This speaker session witnessed an absorbing round of discussions with the bestselling author and brand building expert, Mr. Stanley Moss.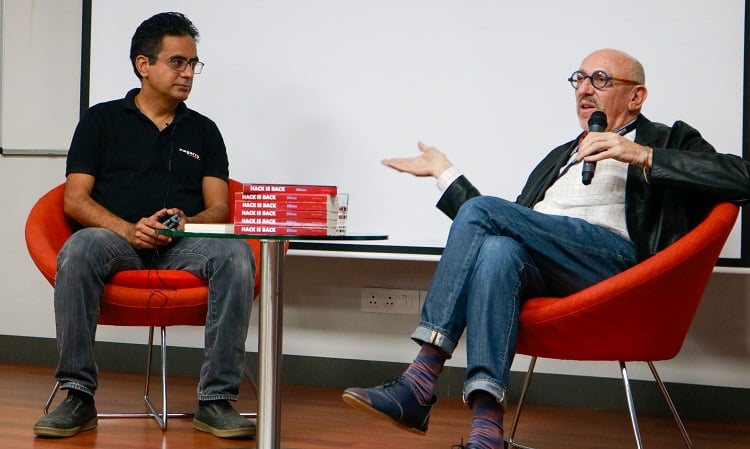 Author Stanley Moss sharing his insights
Known more popularly by his pen name of SMoss, Stanley is a brand guru for different brands and has also written 3 books on brand discipline: Nuclear Brands, What Is A Brand?, and What Did You Just Say? You might especially want to read about The Hacker, given that the fictional IT company mentioned in it is said to be loosely based on Nagarro!
In his session, Stanley spoke about Nagarro, his writing experiences and discussed about his books with the audience. As expected, the event drew a very receptive audience, who listened in rapt attention to Stanley's experiences and advice.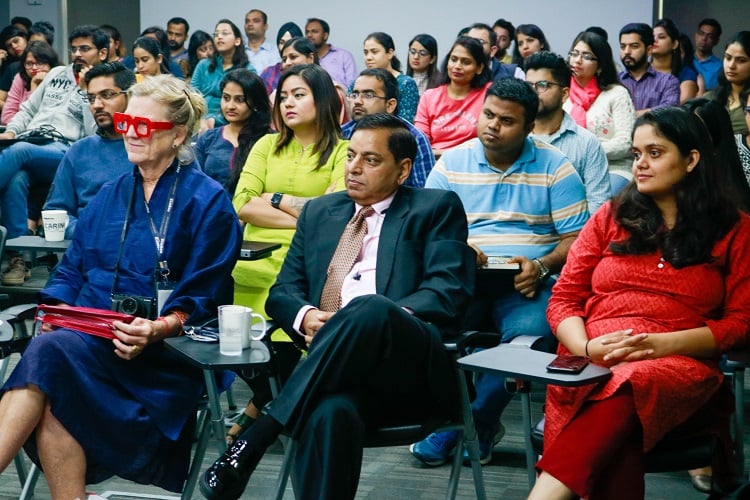 A full-house at the event
It is safe to say that all these sessions have been received very well, with everyone now eagerly looking forward to the next intellectually stimulating sessions by similar domain experts. If you happen to be around for any of the upcoming speaker sessions, make sure you do attend them. You can expect to be inspired, and better informed from such insightful and engaging experiences!