The automotive supply chain ecosystem consists of huge supplier networks with multiple tiers and global distribution lines. Battery Electric vehicles (BEVs), rapid digitalization, Industry 4.0, COVID-19 supply chain disruption, and the overarching need to make automotive operations sustainable have only added to this complexity. Further, it also provides the opportunity to architect intelligent supply chains by making them asset-light, transparent, flexible, resilient, and sustainable to support the evolving business needs. Disruptive and emerging technologies like AI/ML, big data analytics, IoT, RPA, reality technologies, blockchain can act as the digital fuel for this cognitive change.
An intelligent supply chain could exist in varied forms of cognitive ability based on how it adopts, understands, and uses technology. For example, the deployment of IoT devices would have connected the ecosystem and generated data. Therefore:
Some supply chains might be analyzing this data to identify areas for automation, process and cost optimization.
Other supply chains would be using this data to generate insights to reduce risks and strengthen margins.
The advanced supply chains would be using the insights to drive decisions accounting for external factors, and might well be taking decisions without any human intervention.
To demystify how technologies can be leveraged systematically to create an intelligent supply chain, we have established maturity levels that serve as a guide for supply chain managers to benchmark their supply chains (based on their technology initiatives). The four levels categorize supply chains based on their capabilities. The technologies that can be implemented to reach the next level of intelligence in the hierarchy are also identified further.
Intelligent supply chain maturity levels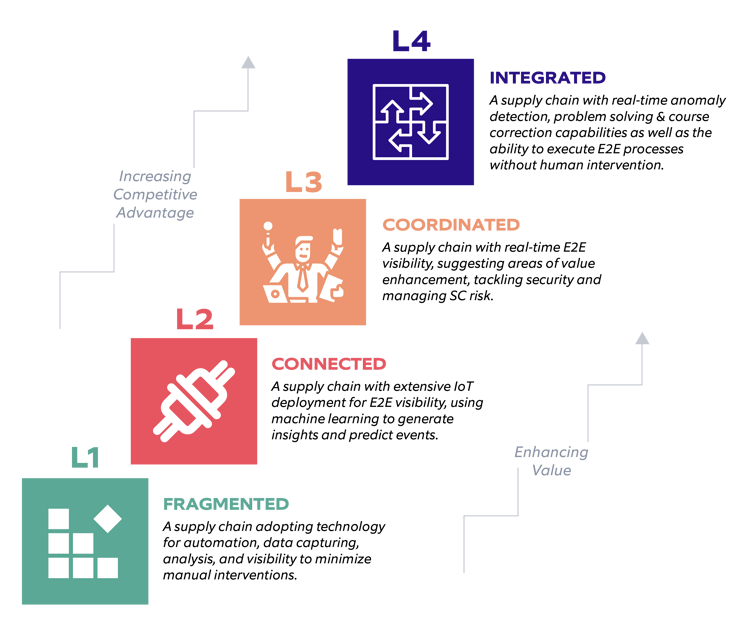 Level 1: Fragmented supply chains
Fragmented supply chains are still in the pilot or exploratory phase of their journey towards intelligence. Due to their siloed implementation, the benefits from technology initiatives do not enhance overall value or lead to a change in the working style .
Visibility in the supply chain is low due to nascent IoT deployment and dependence on manual tracking methods.
Basic tools like spreadsheets are used for complex processes such as production planning due to lack of or poor implementation of enterprise systems.
While supply chain performance data is gathered and used more proactively, the response to service level failures is mainly reactive.
Owing to the lack of efficient information flow in the supply chain, decision-making is siloed, based on heuristics, and requires extensive manual intervention.
Illustrative example: Quality management system for inbound logistics at a national PDC.
Use case: Capture quality parameters such as part condition, quantity, and on-time delivery of received shipments.
Value: Automated generation of supplier performance scorecards and recordkeeping for tracing faults discovered downstream.
Limitation: The self-serving dashboard helps a quality manager to identify risks in the downstream value chain. However, the data is not shared with the production planner, which means that production plans are unable to incorporate the latest defect rate in received parts.
Level 2: Connected supply chains
Connected supply chains have moved ahead from the exploratory phase and have started to embrace technologies that make the information flow easier between partners and functions.
They have achieved a higher level of visibility due to the deployment of digital track-and-trace methods and IoT.
These supply chains have established data management systems for creating data lakes, which can act as a stepping stone towards holistic deployment of solutions, powered by machine learning algorithms.
They have a roadmap to generate insights from their nascent data by adopting common intelligence tools and analysis methods.
The organization is starting to embrace new ways of working.
Leaders are championing the way forward by generating interest and buy-in from stakeholders to focus on automation and a data-driven approach towards decision-making.
Illustrative example: Machine learning driven stock replenishment system
Use case: Gather real-time information on order quantities, historic inventory levels, production plans, supplier delivery performance, delivery lead times, and receiving schedules to adjust ordering quantities and maintain dynamic inventory and safety stock. Relay delivery schedules directly to the supplier's systems.
Value: Dynamic inventory levels, which reduce working capital requirement due to lower inventory levels, optimize inventory holding costs due to space saving and reduce line stoppages by real-time optimization.
Limitation: The system connects the supply chain from suppliers to the manufacturer and suggests optimizations in real-time while improving reliability through less manual intervention. The generated insights do not necessarily trigger actions that are left to human heuristics due to lower confidence on prediction models, poor quality or insufficient amount of data, or incomplete network.
Level 3: Coordinated supply chains
A connected supply chain becomes a coordinated supply chain when it has institutionalized data-driven decision-making across the entire chain and has moved ahead from functionally siloed technology solutions.
It is mature in data capturing, structuring, analysis, and generating insights. It has also achieved real-time end-to-end visibility in its value chain.
This real-time information is run through complex artificial intelligence algorithms which generate forward-thinking and risk-mitigating scenarios.
The supply chain is much more resilient and robust than before. It can anticipate the effects of events across the chain, such as raw material outages, and can suggest corrective actions proactively.
The organization has implemented changes in its working style by removing manual and repetitive tasks. It has started onboarding people with the skillsets suited for maintaining and improving the functioning of the employed technology solutions.
Illustrative example: Digital twin of a component warehouse
Use case: Capture and monitor data points from three sources:
Warehouse system: Component receiving times, storage locations, quality check-sheets, storage duration, and dispatch times
Sourcing system: Component delivery lead times, ordering quantities, receipt schedules, and supplier quality adherence records
Production planning system: Component consumption rates and future demand patterns
Decide receiving quantities, storage locations, and dispatch timings to the production line while ensuring no delivery failures occur.
Value: Optimize inventory levels at each stage, leading to reduced effort in storage and movement of components. Improve resilience and robustness through enhanced visibility and real-time coordinated response.
Limitation: The system coordinates among multiple supply chain partners and takes decisions across the chain for optimization at multiple tiers by ingesting and analyzing big data. Not all external factors or disruptions are factored in, and some organizational or system blind spots prevent the supply chain from being fully flexible and autonomous.
Level 4: Integrated supply chains
Integrated supply chains can analyze end-to-end internal information along with the effects of external factors such as socio-economic changes or adverse weather to predict disruptions in the value chain in real-time.
They have achieved the ability to change course intelligently and autonomously to ensure the preservation of value. They can re-plan supply routes in real-time to ensure that service levels are not hampered in the short-term, and can suggest long-term actions to mitigate the risk.
Integrated supply chains can run repetitive and manual processes autonomously without any human intervention and can manage supply risk independently.
The organization has transformed internally in its way of working, and the personnel employed in the supply chain are now mainly tasked with maintaining and improving the systems, which is reflected in their skillset.
The advanced level of automation, consideration of effects of externalities and the long-term changes in the organization culture towards a more system-based mentality differentiates an integrated supply chain from a coordinated supply chain.
Illustrative example: Maintaining service excellence by anticipating and automating risk-mitigating response.
Use case: Capture, analyze, and monitor data from supply chain partners, internal operations, and external sources to anticipate supply disruptions and automate response by coordinating decisions and actions across the chain and its partners.
For instance, real-time production, replanning, and supplier order updates in anticipation of weather disruptions are expected in one of the supplier locations. The system would also update warehouse allocations and realign downstream delivery schedules to ensure optimum customer service levels.
Value: Preservation of customer value with proactive and autonomous response and decision-making across the chain.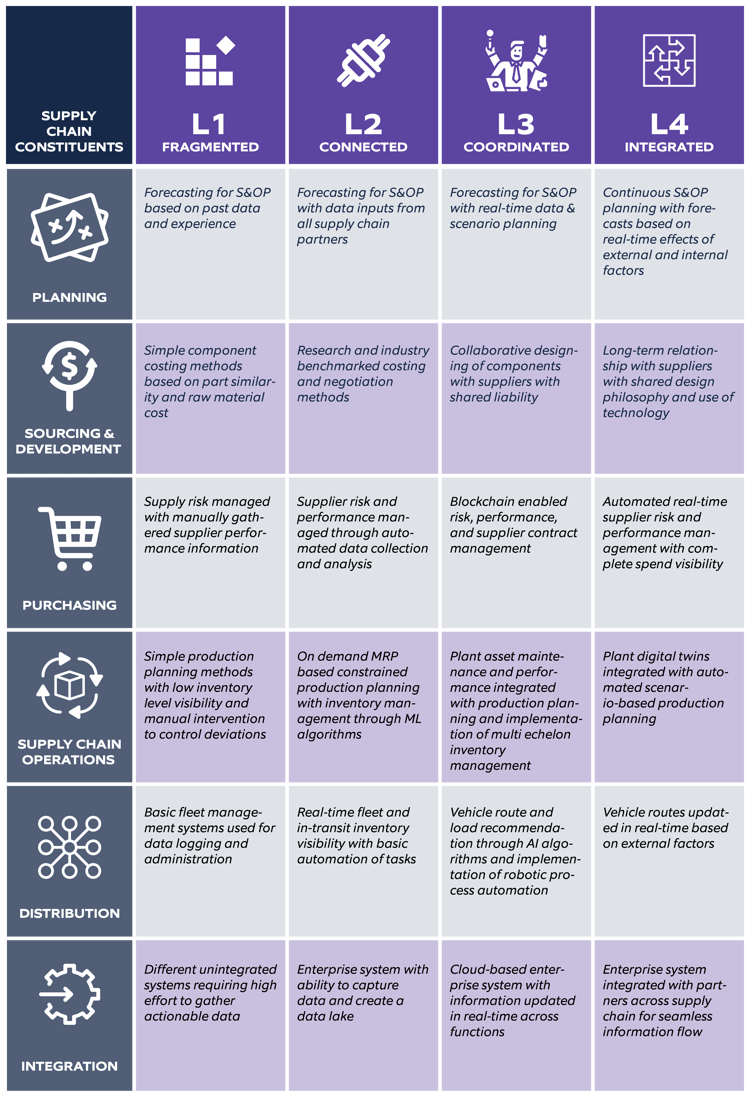 Bottom line
Each supply chain constituent of an automotive OEM, supplier, logistic provider, or dealer could follow different digital strategies to form a cognitive view of the supply chain, thus maturing into an integrated supply chain. To enable this transformation, an organization should establish the following underpinnings in its digital roadmap:
Establish new data-driven business models to derive insights.
Embrace the cloud to leverage its scale, provide resilience, and reduce time-to-market.
Incubate emerging technologies into all value chain functions to enable automation and innovation.
Develop trustable and secure platforms based on open architecture where the partners can deliver and consume services and solutions to support new use cases.
Nagarro is a trusted digital engineering partner to several global automotive OEMs, Tier 1 and 2 suppliers. We use data-driven approaches leveraging AI that enable organizations to take decisions effectively and account for uncertainties in multiple areas such as inventory optimization, supplier management, demand forecasting, reverse logistics, and order management. Our IoT solutions help in asset tracking and tracing, allowing for better utilization of resources. Our smart wearables-powered connected worker solution enables location-based instructions to workers, giving guidance during a picking or maintenance process.
If you would like to know more about our supply chain capabilities, explore our offerings and get in touch with us.