In cooperation with Specialisterne, Nagarro embraces neurodiversity and supports the careers of IT professionals with Asperger Syndrome. After more than four years of successful cooperation and after having trained 40 people with autism as certified software test experts, it is time for an interim summary. First things first: To our pleasant surprise, our initial diffidence about how we will train these people was soon dispelled. We want to train more such special talents so that our customers and other companies can find innovative ways to benefit from these special abilities.
How it all began
I had heard about Specialisterne before, and been thinking that people with Asperger syndrome have special skills that add value to software testing. The initial spark, however, came from a colleague who has an autistic son.
At my first meeting with Specialisterne, I learned a lot about neurodiversity, autism, and about people with Asperger's. I got to know about the incredibly dedicated and innovative social start-up team of Specialisterne and the great project team through people with Asperger's. They transferred old church books written in an ancient German script style called Kurrent script and also added ancient or misleading names for diseases (because of a very early state of medical knowledge) to a database. They developed text recognition further, fixed errors in automatic recognition and manually transcribed unrecognizable items. I was impressed by the passion and pride with which they spoke about the challenges of their work.
The time spent in getting to know the project team and talking to the people helped me a lot in overcoming my initial uncertainties about how to deal with them and how to use them.
The first project
Later that day, I visited our customer, Austrian Railways (ÖBB), to discuss a major development project where we are responsible for software testing. It was mentioned that a team was working on transferring large amounts of complex data - including quality assurance. I thought of my visit to Specialisterne that morning and told them about it. The innovative project team was very interested, took a closer look at the topic. Guess what, just a few months later, two people with Asperger's were working in this area, creating great benefits! The typical niche talents, such as analytical thinking, an eye for detail, pattern recognition and accuracy, create great added value for companies when used in a targeted manner. Nevertheless, at the beginning of the cooperation it was not clear which approach to take to bring these skills into the project in a beneficial way with high success rates?
Qualification by TestingPro
In order to prepare all participants for the software test, we have developed a specific training curriculum, based on our proven training courses: TestingPro. With TestingPro and our proven trainer team from Nagarro, as well as in close cooperation with Specialisterne, we offer a well-founded training as a software tester including ISTQB® certification for people with autism. After the course, the TestingPro graduates are ready for job placement in order to make a valuable contribution to quality assurance in software projects. The course focuses not only on ISTQB® certification but also on modules to deepen knowledge as a technical tester, project practice and a preparation for the Tosca test automation certification.
I remember the first upcoming training; our trainers were also nervous: How will it be? But the ice was already broken during the introductory workshop - and you not only got to know your colleagues with Asperger's, but also learnt one or two new things about yourself. During the training, all doubts were cleared. The enthusiasm, commitment, and interest of the participants impressed our trainers very much.
Robert Licen, one of our trainers, sums up how we deal with people with Asperger's: "All my fears were unnecessary, because..: How do you talk to them? Quite normal! How do you approach them? Just like everyone else! How were the course days? Many times even more fun and exciting than in "normal" courses."
The potential of new perspectives
We were, and still are, surprised by how quickly neurodiverse people are able to learn in our trainings, how well they implement what they have learnt and how committed and concentrated they are in performing their tasks - even now, in their projects. In 2018, nine of the ten participants passed the certification exam, and this year, all of them did: one of them, even scored 93% correct answers - that's rare!
Another surprise awaited us in our three-day training course "360° Test Automation": Our four participants in this special module had already processed all the usual examples within two and a half days. So much so, that in the remaining half day, we were able to come up with additional tasks.
It wasn't just the participants who learned a lot: the different points of view and the special abilities enabled us to recognize and develop valuable things that we had either completely missed out or simply hadn't thought of, till then.
Two examples:
The participants tested a mobile phone app, which had been especially developed for the training. During their testing, the team found a bug that was not even known to the trainer!
To practice reviewing a requirement document, things had either been intentionally kept inconclusive, or other facts were not specified, while some information was totally left out. The goal of finding these gaps was also exceeded here: The team found other important inconsistencies that had not considered during the preparation!

Team productivity = difference * acceptance2
If we now take a closer look at the cooperation after some time, there are also very important, but at first glance, not so obvious effects, which I can only recommend to every company, every organization.
For me, the old formula of team productivity has clearly proved to be true, both in terms of the technical aspects and in terms of team dynamics: "Team productivity = difference * acceptance2".
This is because through the differences new team dynamics develop, which promote mindfulness, reduce disturbances, and enable us to help others more.
Specialisterne's workshops for getting to know each other are especially valuable, not only for establishing contact with the new team member, but also for clarifying and aligning different expectations and needs for the respective setting.
We have become more open - especially with regard to our strengths and weaknesses. This enables us to communicate more clearly and directly. We now pay more attention to our own needs.
How do these factors manifest themselves in practice?
I now automatically reflect more on the usual procedures and social processes. It is precisely the "explaining why" which helps to question conventions which make no discernible contribution. By reflecting and recognizing our own needs, we have become more attentive in our cooperation. I reflect more on what is stressful for me and my team - find sources of disturbance, etc.
Another very important point to note: Our employees and I feel proud to be part of this story and this important mission: To help people to develop their strengths. That was and is a very important value for everyone at Nagarro - and this has been further strengthened through the cooperation with Specialisterne. This benefits not only our team, but also our projects and customers.
WIN-WIN-WIN situation
We, at Nagarro, have recognized the high potential of neurodiverse people with autistic perceptions and have experienced the benefits they can bring. As a major test provider, we can complement and expand our range of services with these special talents.
The cooperation is a win-win-win situation: for us as service providers and for our customers. We can benefit from the special abilities and from their effect on the team and organization, As for the people with autism, this profound and professional training, the internationally recognized certificate including Nagarro's project preparation sustainably increase their chances on the job mark. The coordinated technical and social entry support called 'Managed Start' additionally supports a successful project start.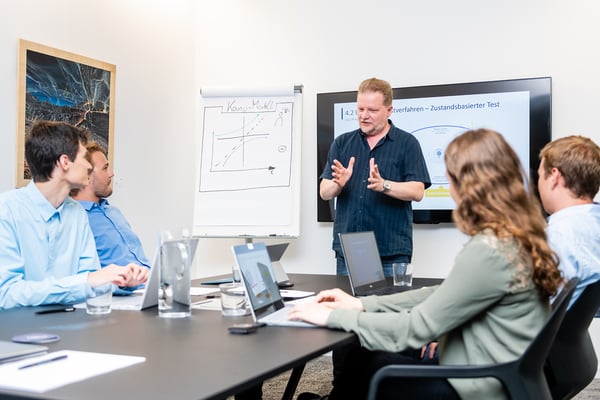 A success story
After more than four years of successful cooperation with Specialisterne, and after training 40 people with autism, with 80% of them transferred into projects (in 2018, even 90%!), I am very proud of what we have achieved as a team.
The success of the initiative has already been confirmed several times: in 2018, the project team was awarded the "Constantinus Award", Austria's consulting and IT prize and in 2019, the team received the IT & business prize "eAward" in the category "Social Responsibility."
I hope that many more companies will follow our path in embracing neurodiversity at the workplace and will recognize and leverage these benefits for their projects and teams. Are you interested or would you like to learn more or exchange experiences? I look forward to hearing from you: hannes.faerberboeck@nagarro.com