In 2023, an estimated 4.9 billion people use social media across the world. (Source: Forbes)
This indicates how crucial it is for marketers and small businesses to understand current social media trends and evolving user behaviors on these platforms. While 71% of small-to-mid-sized businesses market themselves using social media, here is what you need to know about using social media correctly in 2024.
Social media has transformed from a medium to stay connected to a powerful platform for businesses to engage with their audience and drive growth and conversions.
With about 130 million social media users engaging with shopping posts every month, it is important to use the right advertising strategies to harness the potential of these channels.
In the fast-paced world of digital marketing, the landscape of social media advertising is constantly evolving. Each year, new trends like Personalization, User Generated Content (UGC), Influencer Marketing, etc., challenge marketers to adapt and innovate.
Ways to take your social media advertising one step ahead
Here is how you can build momentum on social, keeping pace with the changing trends and consumer behavior.

AI-Powered Personalization
Personalized advertising has gained immense traction in recent years. Businesses now understand that generic advertisements no longer suffice; instead, they must tailor their messaging to match the interests and preferences of users. Social media platforms are becoming increasingly sophisticated in showing targeted ads to specific users. This is being driven by the increasing amount of data that social media platforms collect about their users and using modern technologies like AI and ML.
As a result, advertisers can now target their ads with greater precision, ensuring they reach the right people with an effective advertising copy at the right time. The need to understand the importance of data analytics, user behavior tracking, and targeted marketing approaches contributing to higher engagement and conversion rates has been the greatest of all time. You can unlock the vast opportunities by utilizing tools like Recommendation Engine and Hyper-personalized UX.
In 2023, personalization has become a defining strategy in the media industry, with statistics showing that 73% of media companies have implemented personalization techniques in their content recommendations. (Source: Adobe) For example, the streaming giant Netflix attributes 80% of its content views to personalized recommendations, enhancing user engagement and retention. (Source: Light House Labs)
Emergence of Niche Platforms
Another aspect of the changing landscape is the emergence of niche platforms. While giants like Facebook, Instagram, and Twitter continue to dominate the social media space, niche platforms like Twitch for gamers, TikTok for short-form videos, and LinkedIn for professionals are joining the league, too. These platforms have gained popularity because they have a focused and engaged audience, making them attractive for advertisers looking to connect with specific population segments. Niche platforms allow advertisers to tap into the power of micro-targeting.
However, the increasing fragmentation of the digital landscape is making it more difficult to reach consumers through these mass-market social media advertising campaigns. This is where technologies like AI and ML can play a vital role. These platforms use AI-powered algorithms to analyze user data and behavior to design recommendation systems. This helps advertisers identify and reach the most relevant audiences, ensuring that users see content that aligns with their interests, thereby increasing the likelihood of engagement. Niche platform users are 20% more likely to click on ads than mass-market platform users.
For example, Lululemon uses the niche platform Pinterest to reach women interested in fitness and fashion. Lululemon creates high-quality pins that feature its products and lifestyle content. On Pinterest, Lululemon has over 2 million followers, 10,713 re-pins, 1,342 likes. (Source: Pinterest)
Some additional benefits of using niche platforms for advertising include higher engagement rates, more cost-effective campaigns, and a better brand reputation. However, if you are considering using niche platforms for your social media advertising campaigns, it is important to do your research to identify the platforms for your target audience. You should also create content and ads specifically tailored to each platform with the help of strong campaign creation and management tools.
Influencer Marketing & Brand Advocacy
Influencer marketing has become a cornerstone of social media advertising. The meaning of influencer marketing in simple words: Brands collaborate with influencers, having a large following and influence over their audience, allowing them to tap into existing communities and gain credibility through authentic endorsements. When an influencer endorses a product, their followers are more likely to trust the recommendation as they are seen as experts in their field. Content-driven commerce is driving shopping behavior for the viewers now. Almost 61% of consumers say they are more likely to buy a product if it is endorsed by an influencer they trust. (Source: Social Shepherd)
Technology is increasingly important in influencer marketing and brand advocacy campaigns. For example, AI can be used to identify influencers who are relevant to a brand's target audience. AI can also be used to create personalized content for influencer marketing campaigns. Additionally, technology is being used to track the results of influencer marketing and brand advocacy campaigns. This allows brands to measure the effectiveness of their social media advertising campaigns and make necessary adjustments.
Let's look at what the 2023 influencer marketing statistics say:
1 out of 4 marketers are leveraging influencer marketing.
72% of Gen Z & Millennials follow social media influencers.
89% of marketers using influencer marketing strategy will increase or maintain their investment in 2023. (Source: HubSpot)
Top influencer marketing platforms include Instagram, YouTube, Twitter, Snapchat, Facebook, etc. One of the prominent influencer marketing examples comes from Nike. It works with various influencers to promote its products. It partners with famous athletes like LeBron James and Cristiano Ronaldo to promote its shoes and clothing. Nike also partners with smaller influencers who have a following in specific sports or activities.
User-Generated Content (UGC) as a Powerful Tool
User-generated content (UGC) has also emerged as a powerful tool in social media advertising. What is user-generated content? It is any type of brand-specific content, such as text, review, video, etc. created and published by consumers on social media. Consumers are increasingly creating and sharing content about brands, products, or services they love. 84% of consumers say that UGC has an impact on their purchase decisions. Brands can harness this UGC by incorporating it into their social media advertising campaigns, thus leveraging the trust and authenticity associated with user-generated content. (Source: Cloudinary)
Technology is playing an increasingly important role in UGC campaigns. For example, AI can be used to identify and curate UGC that is relevant to a brand's target audience. AI can also be used to create personalized UGC campaigns. Additionally, technology is being used to track the results of UGC campaigns, allowing brands to measure campaign effectiveness and make tweaks wherever needed.
Let's look at one user-generated content example: Starbucks uses the hashtag #RedCupSeason to encourage its customers to share photos of themselves with their Starbucks red cups on social media. Starbucks then reposts these photos on its own social media accounts. This social media advertising campaign helps Starbucks to engage with its customers on a personal level and to generate excitement about its holiday products.
Tips for creating effective social media advertising campaigns
By following these tips, one can create effective social media advertising campaigns that will help reach the target audience and make the most of Social Media Advertising: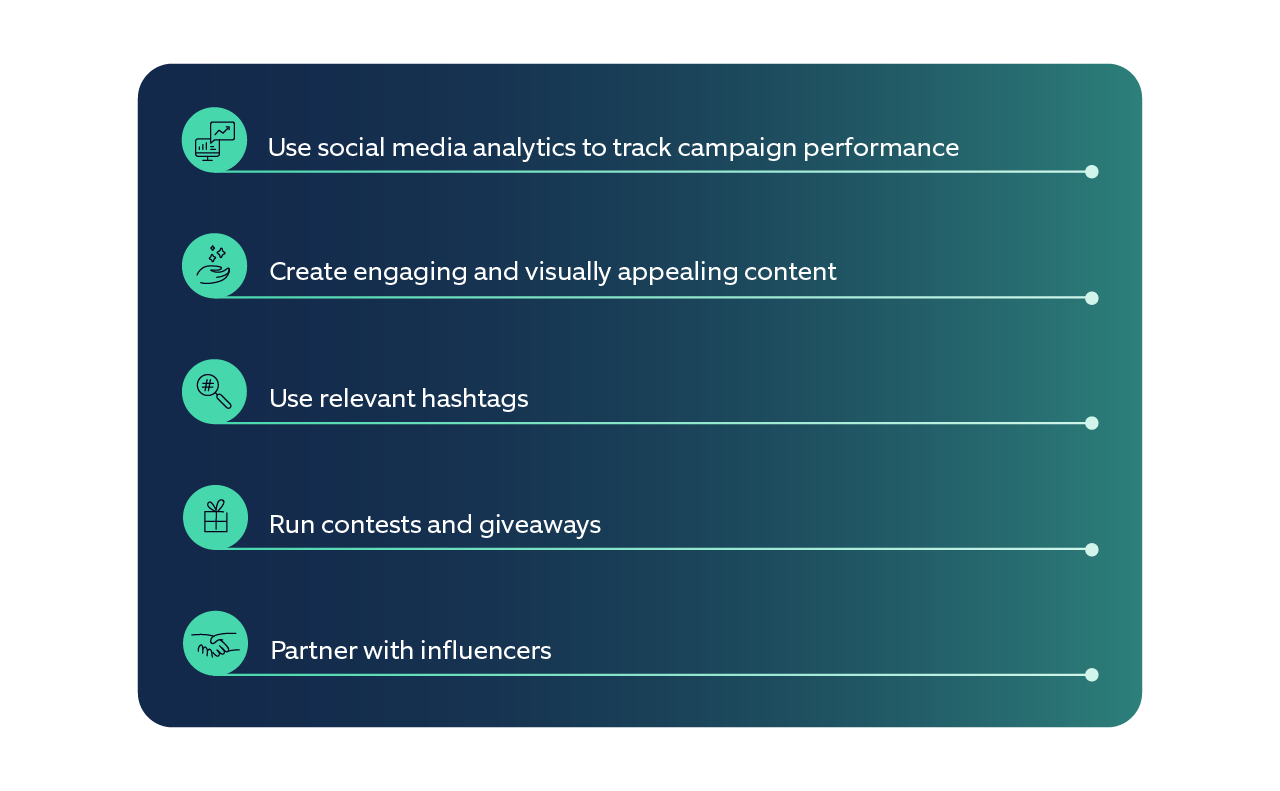 Use social media analytics to track campaign performance: Big data can help identify which campaigns are most effective and make necessary adjustments to the strategy.
Create engaging and visually appealing content: People are more likely to pay attention to ads that have a hook and are visually appealing. Generative AI can create personalized and engaging content for each individual.
Use relevant hashtags: Hashtags help reach a wider audience, thereby increasing the visibility. AI-driven metadata extraction can identify which hashtags will make or break the campaign.
Run contests and giveaways: Gamified contests and personalized giveaways are a great way to generate excitement and engagement around your brand.
Partner with influencers: Influencers can help reach a wider audience and build credibility with your target demographic. AI can help you identify the right influencer for your target group.
By following these tips, one can create effective social media advertising campaigns that will help reach the target audience and make the most of Social Media Advertising.
How we can help
Social media advertising is an ever-evolving landscape that requires businesses to stay vigilant and adaptive. These insights and actionable strategies can help businesses create an effective social media advertising plan. By understanding the trends, incorporating ethical practices, and leveraging the power of personalization and niche platforms, businesses can unlock the full potential of social media to drive growth and build lasting customer relationships to stay ahead. At Nagarro, we are committed to enabling our clients to develop and implement social media advertising strategies that are aligned with the latest consumer trends and best practices. We understand that social media is a dynamic landscape, and we are constantly monitoring the latest trends and developments to ensure that our clients are always one step ahead.
If you want your business to lead these trends, or ideate on your social media advertising we would be happy to discuss your needs and provide you with a customized solution.