The telecommunications industry has always been a backbone to most of the streams in day-to-day life such as healthcare, security, emergency response services, public safety, energy & utility, logistics, and many others. With the evolution in technology generations in the past two decades, customer expectations and buying behaviour have also changed significantly. Therefore, telecom players continue to reinvent themselves and invest in the new technologies while ensuring the best business value out of it. One such technology enabler is immersive technology—the new 'Reality' of today.
Over the past few years, reality technologies have enabled the telecom companies and their customers (for e.g., cross-industry enterprises) to take operational excellence to the next level, ranging from network inspection/maintenance, workforce training, inventory management to warehouse operations. We believe that Augmented Reality (AR) and Virtual Reality (VR) truly have the potential to bring about some remarkable breakthroughs. Let us discuss some of the key use cases of AR and VR that are accelerating such transformations:
Remote network inspection and maintenance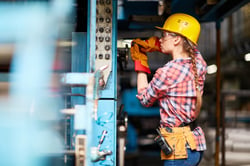 To ensure uninterrupted services to the end-users, telecom companies run continuous network inspection and maintenance. These inspection and maintenance activities are tedious and cost intensive. By deploying an augmented reality-based solution, the high cost and time can be reduced substantially, as the expert (instead of having to travel to the location) can now just connect to the equipment remotely!
Let us look at how the augmented reality solution for tower inspection/maintenance works: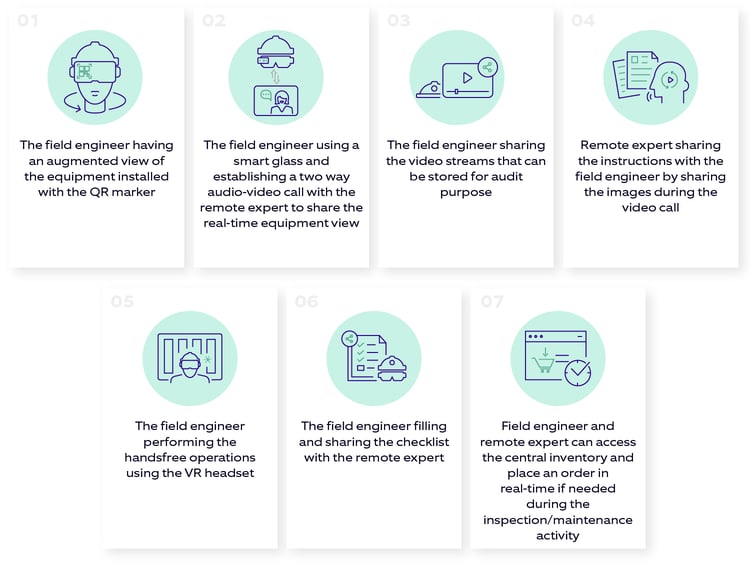 Immersive training solution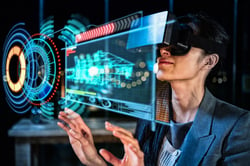 Learning and development is an essential part of any company. The telecom industry is no exception and has witnessed continuous evolution and technological advancements since its very inception. All the telecom players need to train their workforce continuously to ensure quality and consistency in their day-to-day operations. However, delivering training courses across locations and teams is expensive and time-consuming.
AR/VR-based training brings a radical transformation in the way training is delivered by the companies. While it brings an immersive experience for the employees, it also ensures a significant cost saving for the management as there is no need for the trainer to travel to different locations. The role of immersive training becomes even more important for telecom players as it provides them with a more active and practical way of learning without impacting the real network and production scenarios. Hence, it ensures cost efficiency, high productivity, and employee safety.
Inventory management and smart warehouses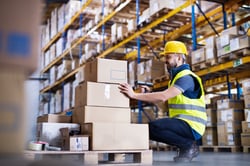 Inventory management is one of the most important dimensions in the entire telecom value chain, right from equipment manufacturing to its final delivery. Let us see how reality technology has engineered a paradigm shift in inventory management and supply chain operations with the help of a few use cases:
An AR-enabled worker, having end-to-end visibility of the inventory, including what's on the shelf, what's in stock, what's in transit, and what's on the counter, will be more responsive to the customers and can help avoid overstocking or understocking.
Real-time order placement anytime, at any stage of the supply chain, with the help of smart glass.
Hands-free operations inside the warehouse, with the workers wearing a smart glass for pick and ship operations, thus ensuring increased worker safety.
Conclusion
The need to be entirely digital, especially in a post-COVID world is inevitable so that the essential services like connectivity and communication can always be provided uninterruptedly, without any hassle. We truly believe that immersive technology is going to be the next leap in the digital journey of telecom players. It is also evident with the extensive investments made by the leading OEMs, device vendors and the operators in the AR/VR space. Some of the recent examples include Qualcomm partnership with telecom operators (including Sprint, Telstra, SK Telecom, LG Uplus and Swisscom), Verizon partnership with a reality glass player ThirdEye Gen and Investment of $280 million by NTT DoCoMo in Magic Leap, an AR/VR pioneer.
It is crystal-clear that AR/VR brings enormous new business opportunities for all the players in the ecosystem, but it is equally instrumental in accelerating the efficiency and productivity of handling the telecom operations. Telecom players are striving to leverage the full potential of AR/VR in the different areas touched upon in this blog and beyond.
Nagarro has been helping various telecom players and their enterprise customers in their digital journeys, with the power of immersive technologies. Our service offerings cover end-to-end lifecycle services in AR/VR (including consulting, rapid prototyping, full-blown projects, support & maintenance, etc.) delivered with an agile approach. Some of our successful and flagship engagements include tower maintenance solution using assisted reality for a leading European operator, factory-in-a-box solution for a leading OEM, consulting for AR-based fiber locator solution, and many more.
Do you want to leverage the true potential of immersive technologies? Are you looking for some useful AR/VR use cases that are customized, agile, and scalable? Explore Nagarro's telecommunications offerings and get in touch with our experts today!