Every successful business today recognizes the constitutive role of the customer experience they deliver to their customers. It's not enough to compete with peers on products and services; it's about how they communicate with customers, making them feel heard, seen, and understood at all times. Customers expect communication across industries, whether it's an airline passenger, a retail consumer, a digital buyer, or an IT outsourcer, dictating the rules and expecting higher satisfaction from organizations. Whether you are a small player, a mid-level company, or a leader in the industry, businesses that work to master this dynamic, win it.

Adopting a Customer Communication Management (CCM) solution is the swiftest move businesses can make to meet this major KPI, as it customizes communications between the business and its unique customer.

According to Gartner, "Customer communications management (CCM) is defined as the strategy to improve the creation, delivery, storage and retrieval of outbound communications, including those for marketing, new product introductions, renewal notifications, claims correspondence & documentation, and bill and payment notifications."
As companies focus on attracting customers through marketing campaigns, the interactions after winning a customer are even more important. This is especially true for highly regulated industries like insurance, banking, healthcare, government, and utilities.
These industries face challenges such as legacy IT systems, operational and data silos, changing regulations, lack of IT resources, and pressure from nimble startups. And for these industries, CCM solutions produce a range of documents, including statements, invoices, alerts/notifications, correspondence, and marketing communications. CCM solutions ensure that these communications are relevant, personalized, accessible on-demand, and compliant with regulations.
How CCM Works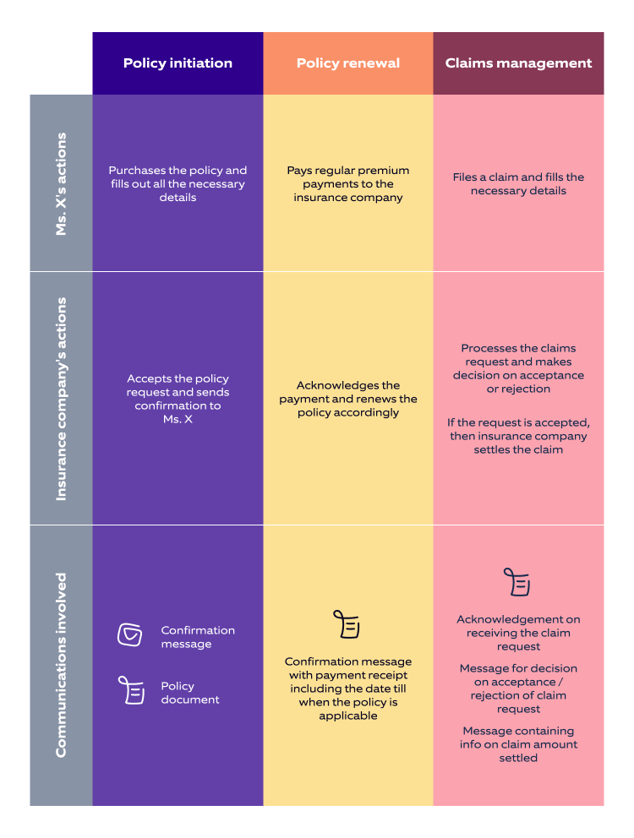 Let's try to understand how CCM works with the help of an example.

Ms. X bought a policy from an insurance company through their online portal. Let's see how many messages or communication touch points she will receive from the insurance company.

Step one, the insurance company will send the policy details over mail to Ms. X's email id, over a text message on phone number , and any other channel preferred and mentioned by her. Ms. X should get the same experience while reading that message, irrespective of the device she chooses, i.e., a phone, tablet, laptop, etc. CCM ensures that consistency in customer experience, by building omni-channel experience that does not vary with the choice of device.

In next step, Ms. X will need to pay premium every month/quarter/year or whichever payment interval she prefers. Once she pays the premium, she expects a confirmation message from the insurance company. Also, if Ms. X applies for a claim, she expects a series of messages that include successful submission of claim application, status of claim application, at the time of acceptance/rejection of the claim.

Now, the question is, how does the insurance company get the details to create these communications for Ms. X, given that it has to do the same for over a million other customers?

With a Customer Communication Management (CCM) tool, an insurance company gets access to templates for the message, which ensure consistency in communicating with a customer. There is a unique template for each message type, for instance, when a customer purchases an insurance policy, a template when a customer makes premium payment, etc.

The next question is, how to prepare these messages for delivery, with such a vast database and widest device choice?

A CCM tool fetches the data from various databases within the organization, e.g., personal details of the customer might be in a CRM (Customer Relationship Management) system, policy details of the customer might be in core policy administration system, and so on. CCM tool fetches all this data, populates it into the templates and prepares the messages within seconds, and delivers them to the customers over their preferred channel of communication. CCM does all this work within a matter of seconds which saves a vast amount of time for a company.
Benefits of CCM
Customer Communication Management is a critical component of modern business operations. It helps businesses streamline their communication processes, enhance customer experiences, ensure compliance, reduce costs, and leverage data to drive more effective interactions with customers, ultimately contributing to the success and growth of the organization. By ignoring this crucial aspect, you might be missing out on these benefits.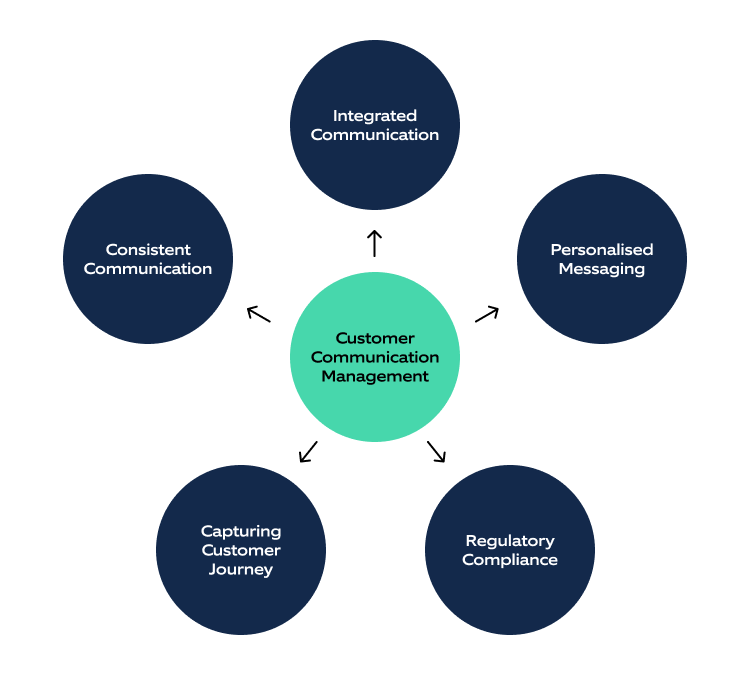 Caption: Benefits of CCM Software
1. Integrated Inter-Departmental Communication
Each message created for a customer requires inputs from various departments. For instance, to prepare a reminder message for a customer about a nearing insurance premium date, we require customer's personal details, insurance policy details, premium amount details, last date of payment, etc. Getting these manually is time-consuming, especially when you are doing this process for over a million customers. CCM consolidates all these details in one place, so that messages can be prepared straight-away with a CCM tool without the need of gathering these details separately.

2. Consistent Communication
Consistency in messages is the key to retaining your customers and your brand value for them. Inconsistency can easily lead to you losing your credibility. CCM ensures that consistency across different types of communications, with the help of its powerfully built templates.

3. Personalized Messaging
To build an effective customer experience, organizations need to prepare personalized messages for each of their customers. CCM helps in creating these personalized messages which not only enhances the customer experience, but increases the overall customer satisfaction, positively impacting the company's business.

4. Customer Journey Mapping
Capturing business-critical customer communications into journey maps is crucial as these communications are key moments of truth for customers. Journey mapping visualizes the process a customer goes through to accomplish a goal and helps ensure the delivery of communications that meet customer expectations.

5. Regulatory Compliance
Organizations have a vast amount of customer data within their database, it contains personal data of every customer, like their phone number, address, which if falls into false hands can be misused, therefore Government of every country has some compliance standards for safety of such customer data while communicating with customers. CCM ensures that these Government standards are complied with, safeguarding organizations from hefty penalties and loss of reputation.
Nagarro's View
Customer Communication Management (CCM) is a valuable tool for achieving personalization at scale in your interactions with customers. It makes customers feel valued, understood, and they are more likely to engage with your communications. Start utilizing CCM to build stronger customer relationships, drive higher engagement, increase customer retention, and ultimately achieve better business outcomes while staying compliant. It is your powerful way to stand out in a crowded marketplace.

And this is not just it, CCM has a lot more in store for you. Read this guidebook CCM 101 by our partner- Quadient to discover more about this really interesting technology.

Nagarro is an expert of CCM platforms: Quadient Inspire and OpenText xPression and has been partnering with organizations globally to transform their communications landscape in line with their customer experience strategy. We have been successfully helping business in migrating legacy customer communications, across industries. Explore our CCM services and offerings a) and take a consultation on its relevance for your business.
Do you feel up to it? Speak to us for a consultation.