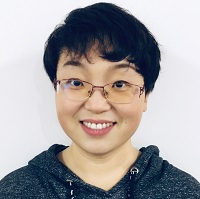 The goals and objectives of a Customer Communication Management (CCM) project focus on improving how an organization communicates with its customers. CCM often involves creating, managing, and delivering personalized and consistent communications across various channels.

In today's fast-paced business environment, CCM projects successfully define project goals and objectives clearly and precisely. Organizations can enhance customer interactions, improve operational efficiency, and ultimately achieve higher customer satisfaction and loyalty by setting clear goals and objectives for a CCM project. The specific goals and objectives should align with the organization's industry, customer base, and communication strategies.
Five critical steps that define the project goals and objectives for success.
1. Understand the capabilities of the platform
Before defining project goals and objectives, ensure that you clearly understand the capabilities and limitations of the CCM platforms such as OpenText xPression or Quadient Inspire. This will help you set realistic project goals.

For instance, one of the largest insurance providers in the US, offering a wide range of insurance products, is focused on understanding the capabilities and limitations for months before investing in a CCM platform migration project. The intensive understanding of the platform helps them define objectives such as optimizing document workflows, integrating systems for seamless data exchange and enhancing communication efficiency across different channels.


2. Understand the Business Need
Identify the specific challenges and pain points in your current customer communication processes. Conduct thorough market research, customer surveys, and internal assessments to identify specific roadblocks within the existing communication workflows.

While working on a CCM platform upgrade project, Nagarro's team brainstorms internally. It conducts customer surveys to discover the client's major issues with their existing xPression implementation that might be causing delays or negatively impacting their customer experience.
3. Establish SMART Goals
Building on the understanding of the business need, create SMART: specific, measurable, achievable, relevant, and time-bound goals for the project. These SMART goals ensure the project stays on track and delivers the desired outcomes.

Examples of SMART goals could include:
Reducing xPression processing times by 20% within six months.
Improving the efficiency of document production by implementing automated workflows.
Enhancing the overall customer experience by personalizing policy documents and streamlining claims communication.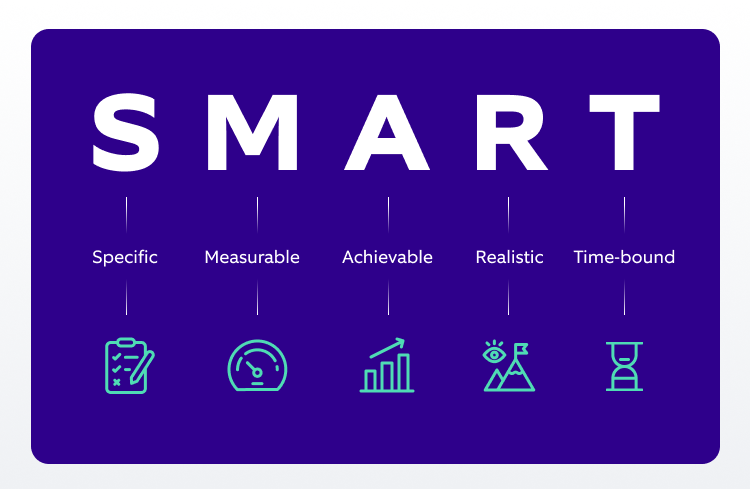 4. Define Objectives and Key Results (OKRs)
The next step in the project is to define specific objectives and key results (OKRs) that align with the SMART goals established earlier.

Once the areas of customer communication that need improvement are identified, define the overarching objectives that represent the outcomes you want to achieve. Move forward by breaking the objective into key results, ensuring specificity and measurability as you set ambitious targets.
OKRs are meant to be dynamic and adaptable. As the CCM project progresses, you may need to adjust your OKRs based on changing circumstances, insights gained, and emerging opportunities. The key is to use OKRs to drive focus, alignment, and continuous improvement throughout your CCM project. Nagarro works with clients closely to identify the underlying objectives to enable them to achieve the SMART goals.

For instance, in one of our previous projects, the objectives and key results were streamlining document processing by implementing automated document workflows and reducing processing time by 30%. This ensured high-quality document production through error detection and reduced document errors by 20%, thus improving the reliability of the implementation by achieving 99% system uptime and minimizing downtime incidents.


5. Monitor Progress Against Objectives and OKRs
Cascade OKRs if your CCM project is part of a larger organizational initiative, ensure that your CCM OKRs align with and support the higher-level OKRs. Monitor the progress and conduct reviews. During these reviews, assess whether you are on track to achieve your key results and make any necessary adjustments.

For instance, once the project is underway, Nagarro regularly monitors progress against its clients' established objectives and OKRs. This monitoring allows us to identify areas where we are falling short and make course corrections as necessary. By monitoring progress, we can keep the project on track and ensure that it continues to drive the desired outcomes.

A client working with Nagarro closely tracks document processing time, document production quality, and implementation reliability metrics. By actively monitoring progress, we quickly identify deviations or needs for improvement, taking corrective actions in time.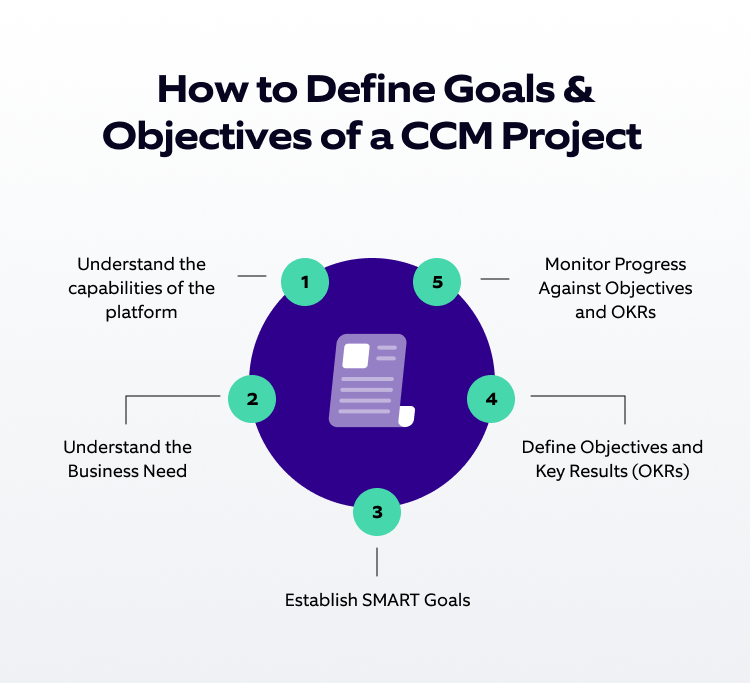 Image: How to Establish and Achieve CCM Project Goals and Objectives


Takeaway
Defining project goals and objectives is essential for success in complex CCM platform projects. By following these steps, organizations can set SMART goals, define clear objectives and OKRs, and monitor progress against those objectives. This will enable your business to achieve the desired outcomes and improve its overall business performance.
Nagarro's Expertise
Nagarro's hands on experience in working with diverse customers for decades helped it build their portfolio of CCM services. It helps us determine what specific points we want to follow in pursuing this goal.

At Nagarro, we offer consulting and implementation services to design and implement customized CCM solutions, that is aligned with your business's specific needs. This includes creating personalized and consistent communications across various channels, integrating with existing systems, and optimizing workflows.

Speak to our experts to explore how we can help you build a robust CCM project experience.