Whether optimizing your e-commerce space, starting a new sales channel, or entering a new market, your logistics infrastructure is crucial to your business growth. But no "one size fits all" shipping or delivery system meets all the needs of small, medium, and large shippers. Based on your shipping volume and other parameters, there is a range of solutions, from multi-carrier shipping software solutions to shipping APIs. But how do you decide what is best for your business? Let's find out.
What is multi-carrier shipping software?
Multi-carrier shipping software is an aggregator platform of multiple shipping carriers that lets merchants and e-commerce businesses compare rates, create shipping labels, track transit time, and deliver parcels all in one place.
These solutions sync directly with any online e-commerce store to help view order information, draw a comparison, and buy the best shipping labels from a huge range of carriers, track shipments, notify customers of their shipping status, easily enable returns, track RTO, and more.
Benefits of multi-carrier shipping software
Reduced shipping costs
One of the most significant advantages of using multi-carrier shipping software is that businesses can compare and choose the suitable carrier that offers them shipping service at a reduced rate. By integrating the shipping solution into their supply chain ecosystem, retailers can meet their shipping requirements at the lowest cost.
Quick delivery timeframe
Proper multi-carrier software can help businesses optimize their shipping strategy by offering faster delivery at the most affordable rate. Nowadays, customers expect their orders to reach them as soon as possible; some expect delivery on the same day. To keep up with such customer expectations, businesses can use shipping software to choose the best carrier that offers the quickest/most suitable last-mile delivery services.
Efficient order tracking
Order tracking becomes super easy with shipping software. Once a business selects a suitable carrier for last-mile delivery, it can track the orders at every stage, from the ready-to-ship stage to the delivered stage. Also, it can track return or canceled orders easily. The same information is automatically shared with the end customer once the order is marked as ready to ship. From here on, the customer gets a clear picture of the order's status and can track it at every stage of the last-mile delivery.
Easy integration with your online store
Multi-carrier shipping software is easily integrated with any online store. It makes the whole end-to-end order cycle very smooth. Whenever an order is received in an online store, the shipping software automatically fetches the customer's shipping details. All the retailer needs to do is select the order, mark it ready for shipping and generate the corresponding manifest and labels.
What kind of businesses should choose multi-carrier shipping software?
At large scale, standard shipping requires less support. As a result, the business enjoys lesser delivery time and lesser shipping costs. From this perspective, small and middle-size firms should aim to optimize their standard shipping with the help of shipping software.
For example, suppose a business has shipping orders above 3000 packages/day but needs help with slow delivery times, increased freight costs, and substantial labor requirements in the warehouse. In that case, it can consider implementing a multi-carrier shipping software solution. This will allow the business to ship more packages in lesser time, lower warehouse labor requirements, and reduce shipping costs. The software automatically makes right and performance-oriented decisions without human intervention, increasing the company's shipping efficiency.
What is shipping API?
API refers to Application Programming Interface. Shipping API integration is a solution that ensures the combinations and interactions of the software applications are performed automatically, with no manual intervention.
A shipping API connects a website or web portal to the carrier's/shipper's logistics functions and the existing business workflows relevant to shipping. Both shipping API and multi-carrier shipping software have similar functions, like generating labels and manifests for shipments. But shipping API is more valuable to customers due to the availability of customization values.
The shipping API does not have any specific user interface to perform the tasks as it directly connects the server to the portals. It performs its functionality in its existing application or plugins. Some examples of shipping API are DHL API, Blue Dart, Fed Ex API, USPS API, etc.
How shipping APIs work
A shipping API sits in the background of the application it's integrated with. It pulls in data from an external server, translates it, and then displays it on the platform.

The diagram below shows how shipping APIs work: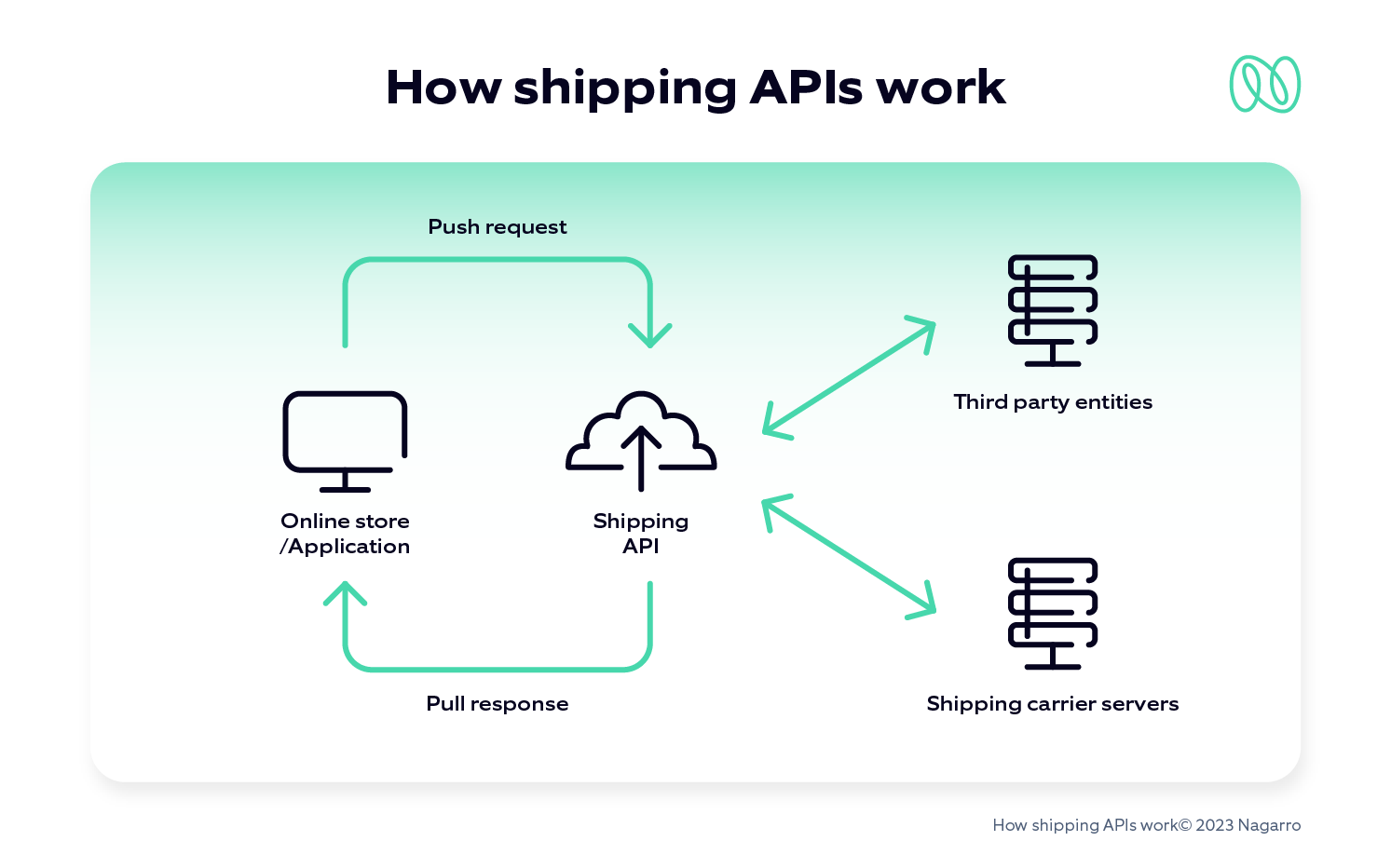 Types of e-commerce shipping APIs
The following image highlights four types of APIs commonly used in e-commerce.

• EDD Shipping API
• Order Manifestation Shipping API
• Track order Shipping API
• Cancelled Order Shipping API.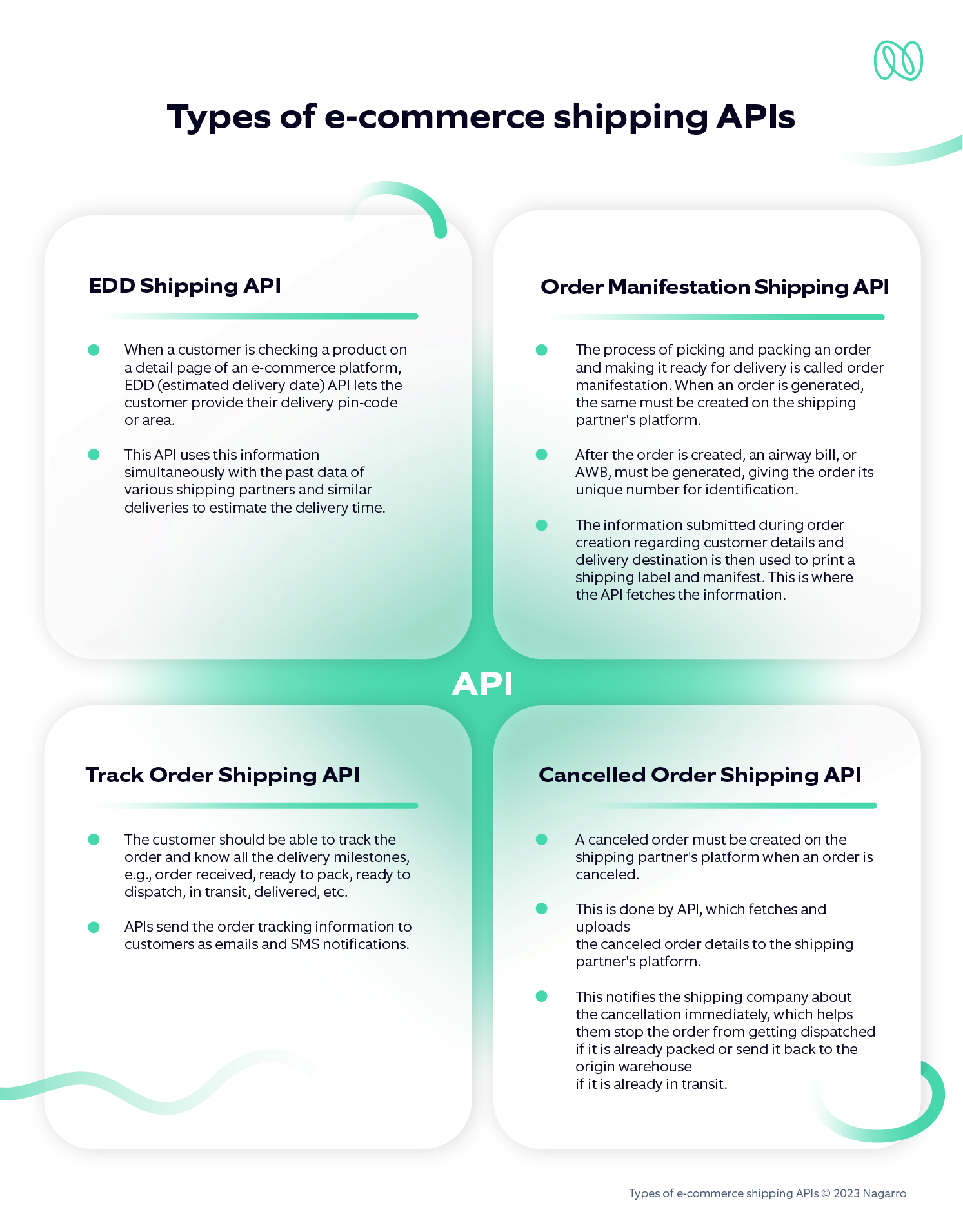 Benefits of shipping APIs
Automated processing of orders
Never has order processing been so easy and swift as that with shipping API. The API activates automatic order generation and processing. As a result, shipping carriers, warehouse operators, cargo agents, third-party vendors, and end customers involved in this process receive generated notifications at each stage of the order. They can maintain visibility in the shipping process.
Estimating the delivery date
While a customer is on the product page of an e-commerce website, she can enter the pin code of the shipping address and see the estimated delivery date instantly. The shorter the estimated delivery time, the higher the chances of the order getting placed. Hence an EDD API engages customers to place orders more often.
Order tracking process
The client satisfaction rate substantially increases when customers receive real-time updates regarding the different order shipping processes. This way, customers can keep track of the package status with the help of shipping APIs.
Processing of canceled shipments
Canceled orders are widespread in the e-commerce business. Orders are canceled for various reasons; they are part of the order shipment cycle. To handle such shipments, it is essential to have an integrated canceled order shipping API so that the shipping company gets notified and does not continue shipping the order to the end customer; instead, sends it back to the warehouse.
Flexibility to update shipping information
There could be exceptional scenarios where incorrect shipping information is provided, such as a wrong pin code, address, phone number, customer name, etc. Such information needs to be rectified, and this can be performed by the IT infra supported by relevant shipping APIs. The shipping carrier receives the edited data automatically at any phase of the entire order delivery cycle.
What kind of businesses should choose shipping API?
E-commerce platforms
Massive producers and merchants operating online should optimize their shipping standards with API, which will help simplify the bulk delivery process, and keep track and organize the transaction for account maintenance.
3PL logistics providers
Logistics providers involved in warehousing, fulfillment, and inventory management services for worldwide businesses should have shipping carrier connections via shipping API integration, allowing them to scale in volume and provide new offerings.
Marketplaces
Online marketplaces provide sellers with a few flat-fee shipping tiers based on weight. They and the shipping company mutually agree upon a fixed quotation which they pass on to the sellers. With shipping API integration, marketplaces can access discounted carrier rates to keep shipping costs low for sellers and buyers while generating shipping labels, tracking shipments, etc.
Case study

: How Nagarro helped a leading logistics company achieve 230% growth using shipping APIs

• Client wanted a one-stop solution to get the shipment details and support in calculating duties and taxes, generating shipping labels, manifesting packages, requesting shipment pickup, tracking packages, and generating return labels.

• Nagarro created a list of APIs on microservices-based architecture to address the above functionalities and problems. It was a cloud-compatible solution with the latest technologies and tools, which yielded higher quality, scalability, reliability, and security.

• Client has seen over 230% growth YTD after adopting these services and has received positive feedback on ease of use, performance, and capabilities.

• The solution enabled easy integration into any e-commerce platform, such as an order management system, transportation management system, or an e-commerce website.

• Merchants can use the API to access clients' shipping solutions. Third-Party Vendors (3PVs) and shipping aggregators can use the API to provide their customers with access to clients' shipping solutions.
Conclusion
If a business is scaling up and is not small anymore, then it should opt for shipping API over multi-carrier shipping software. API integration makes shipping solutions and supply chain management easier for e-commerce logistics. It helps to create orders quickly, enable picking and packing, track orders till the last mile, ensure successful delivery and enable better returns.

When the order volume increases rapidly, multi-carrier software makes it difficult to operate with different carriers. But with shipping API, a dedicated carrier/shipper takes full responsibility for the logistics.

You can directly incorporate shipping API into your business. Hence, you get the added advantage of integrating API with your existing business workflow. Unlike in multi-carrier shipping software, shipping API becomes your one-stop solution for your brand with your customization. So, are you ready?