The current market scenario requires businesses to anticipate changes in customer preferences, regulatory frameworks, technological landscape and take proactive measures to stay ahead of the competition. Leveraging technologies is the only way to achieve efficiencies in this rapidly changing landscape making digital transformations inevitable to a business's success. Be it market expansion, increasing customer satisfaction, or achieving higher profit margins, digital transformation is the solution. Most organizations realize the importance of digital transformation and are already charting out plans, but they struggle while putting this concept to practice.
Our collaborations with several organizations that have undertaken digital transformations tell us that these organizations face three main challenges in this journey– agility, security, and integration. The pandemic has sparked a new focus on business agility, and because of the rapid changes brought by the pandemic, businesses value agility more than ever. Similarly, with the increasing number of system applications and data sources to integrate, security and governance needs have only grown.
While agility and security are significant concerns, we believe that integration is the biggest challenge an organization faces while undergoing this transformation. Integration is the process of connecting data, applications, devices, and APIs across an organization for enhanced productivity and efficiency. An effective integration strategy ensures that there are no silos within the organization and that all the departments have access to data and applications when required. It cuts the need for separate data sets and reduces the costs by making the same applications and APIs available to people across different divisions. Though crucial, integration is tricky and requires proper planning and strategy. In our experience, organizations face seven key challenges while carrying out the integration.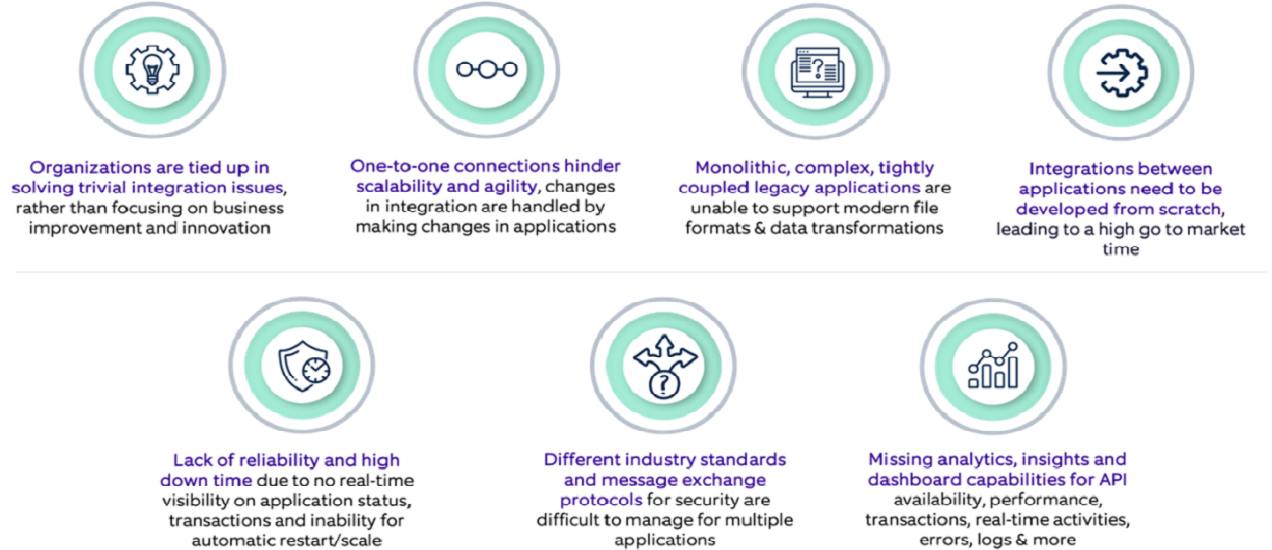 Legacy integration techniques can't effectively address these challenges. API-led connectivity is the most effective strategy for enabling new IT operating models. When we think about transitioning to a production + consumption model, organizations must package capabilities for consumption. Those core IT assets and capabilities are packaged in a well-designed API, critical to streamlining integration. Most IT and business decision-makers agree that reusable building blocks like APIs make the whole process of stitching together disparate systems, apps, and data much simpler. These solutions helped our clients extract tangible business value and increase efficiency across teams, and they witnessed multiple benefits by adopting this approach.
What API-led connectivity brings to the table?
Faster development time – Reusable APIs, templates, accelerators, systems connectors, and file formats available for common use cases.
Improved agility, reliability, and scalability  – Easy to integrate and build new functionalities without downtime, along with horizontal/vertical downtime features.
De-risk project delivery – Nearly code-less integration approach using API standards to streamline and standardize development​
Greater governance and security – Secure platforms with industry standards, automatic threat protection, tokenization, masking, policy-driven firewall, and end-to-end governance
High platform value & improved profit margins – iPaas and API tools provide Periodic platform updates, zero downtime, and a solution to build, monitor, and deploy APIs.


Nagarro has helped global clients from varied sectors implement an API-led connectivity approach. One of our recent projects included working with a leading global healthcare company with a large customer and patient record in different Salesforce CRMs geographically spaced with high volume data transactions across multiple software components. The client needed to save the clinical trial data of patients across the globe in the form of reports, from various sources to a single platform. There was also a requirement to upload large data from the Salesforce interface, and since the data is susceptible to theft, it required end-to-end security assurance.
Nagarro created a holistic solution on the Salesforce platform where we leveraged API-led connectivity for integration. To make secure data transfer, we added different security layers in our APIs. The client deals with a large amount of data that can grow further in the future. Our API-led solution is on the cloud, offering reliable and scalable infrastructure, so, if demand grows, we can scale up quickly to handle more requests in the future.
Our team also worked with a leading client in the logistics sector, where we developed and delivered an integration solution that helped integrate disparate systems like CRM, CDM, order booking systems, and ticketing systems. We further collaborated with client teams to define business integration processes based on integration best practices to ensure a futuristic, extensible, flexible, and secure solution. Similar solutions can be built for other sectors keeping in mind their specific requirements.
Finding the right API strategy: Nagarro's Integration maturity model
Technology isn't a magic wand that can take all your challenges away. For any tech solution to be successful, organizations must design develop and deploy it strategically. An effective API strategy has three key parameters:
Business Aspect- The business aspect takes care of the alignment of business and functional goals.
Technical Aspect- The technical aspect covers the integration between source and target systems.
Evaluation- In evaluation, we see three main indicators including future innovation, scalability, and expansion.
While developing the API strategy, organizations must evaluate their IT systems and strategy and align it with business and technical goals. This needs an in-depth understanding of its current technological landscape and ambitions. Nagarro has developed a maturity model that helps you establish the same. The maturity model assesses the tech integration maturity level in a company, its goals, both long term and short term, and the efforts required to bridge the gap between the two. The model assesses the maturity level for
API Strategy
Governance framework
Architecture Modeling
Build Methodology
Monitoring, Support, and infra
Communication & Collaboration
The five maturity levels are basic, emerging, component/system-driven, service/process-driven, and dynamic/API-led. For instance, if the API strategy is reactive rather proactive with a project-based execution system, the organization has a basic maturity level. On the other hand, a dynamic maturity level would mean that the API strategy is based on discovery, self-service, and reuse. The basic level for architecture and design would apply to an organization with monolithic operations with basic architecture patterns whereas service/process-driven maturity level would have service-based infra, well-defined SLAs, and automated monitoring and recovery. Below is a sneak peek into Nagarro's integration maturity model.




Digital transformations are inevitable for organizations looking to stay ahead of the curve. And integration is inevitable for successful digital transformations. Our six-tier integration maturity model assesses the place of an enterprise in the digital transformation age because we believe that the Integration approach is directly proportional to the alignment between business and technological goals. If you are keen to know more, come back for a detailed and descriptive paper on the maturity model.
Want to explore more on how we can transform your business with APIs? Let's talk.