iGaming, bingo halls, video gaming terminals, lotteries, sports betting, and more are all seeing massive growth. Grand View Research recently reported that the iGaming market size was valued at USD 57.54 billion in 2021 and is forecasted to grow at a CAGR of 11.7% from 2022 to 2030. Rising internet penetration, gambling legalization, and increasing use of mobile phone use are propelling the gaming market.
To tap the potential of this growing market, casino gaming operators must be quick and smart in keeping users engaged. The major market players are concentrating on continuous product innovations, mergers, and acquisitions to expand their market presence and obtain a competitive edge. According to ResearchAndMarkets, as of March 2022, Flutter Entertainment plc holds the largest market share of 6.06%, followed by bet365 Group Ltd., Entain plc, Kindred Group plc, William Hill, and 888 Holdings plc.
How can gaming operators win big?
With the power of API integration, operators can quickly integrate with leading game providers and aggregators, enriching their gaming portfolio with the latest and greatest. Similarly, providers look forward to integrating with the aggregators and operators to maximize the coverage of their games and increase their customer base. It helps the providers reach new markets without spending the effort and money on licensing.
The API integration process stitches together the operator and provider's disparate systems to facilitate the efficient flow of information.
What does an API integration lifecycle comprise?
Nagarro has rich experience in owning and supporting over 200 API integrations for its casino gaming clients. We support our gaming customers throughout the entire integration lifecycle. A typical integration lifecycle includes: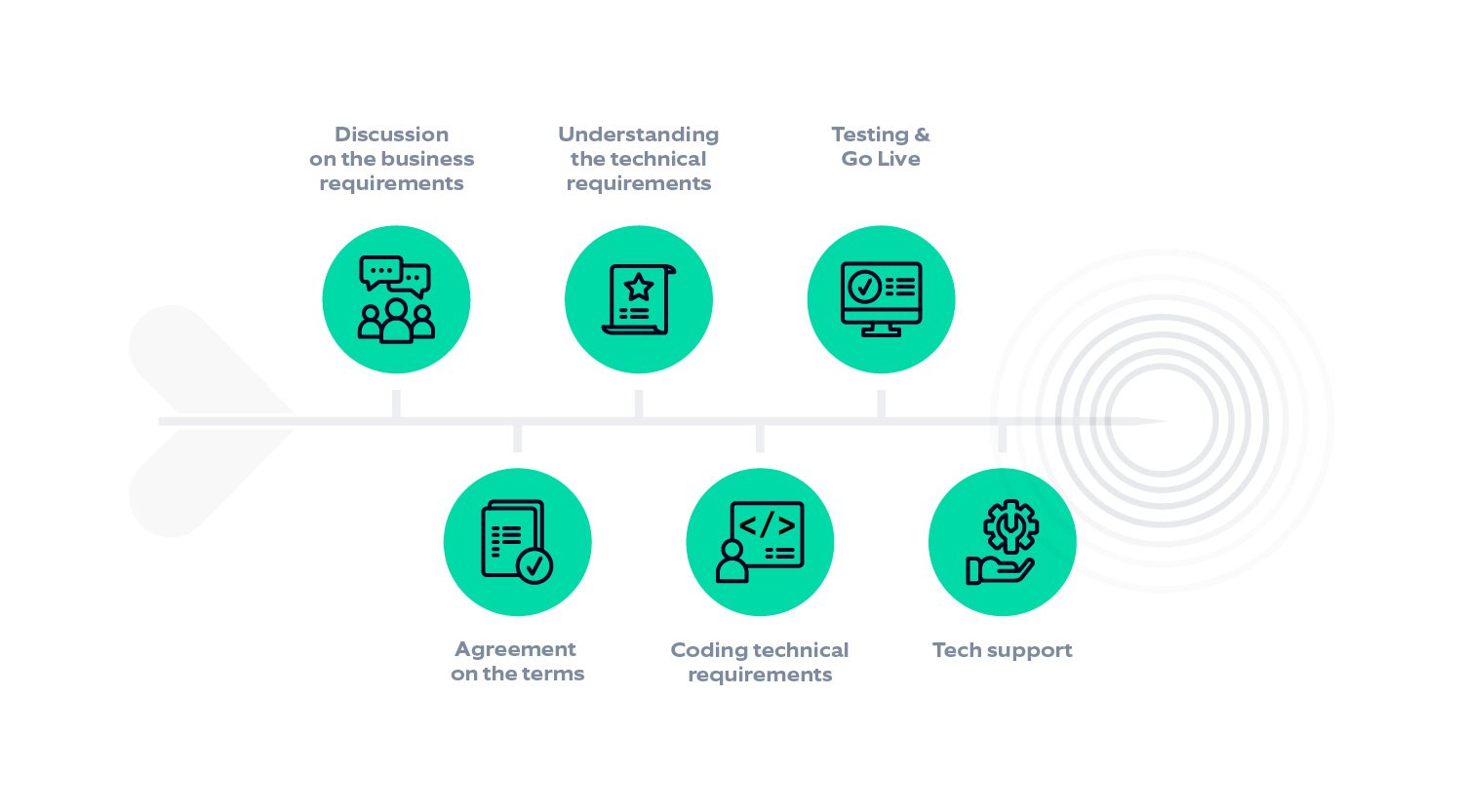 1. Discussion on the business requirements – Engaging users with the right game content can give an operator a competitive advantage. Thus, casino operators look for providers or aggregators that provide them access to the most popular games and enrich their portfolios. They decide on the games to be integrated, jurisdictions targeted, wallet integration strategy, and compliance requirements.
2. Agreement on the terms – A partnership agreement is reached, often involving KYC procedure and signing of the revenue model. Usually, aggregators charge a markup in the monthly fees, while providers take an upfront fee for the rights to integrate into their game library.
3. Understanding the technical requirements – API-based integration between the provider, aggregator, and operator is done to provide a seamless experience to the gamers. We at Nagarro practice a direct communication channel with the operator/provider to ensure clarity of requirements and business priorities. Since multiple stakeholders are involved, it is crucial to identify the dependencies and risks and to monitor them continuously for timely and successful completion. We follow the agile model to plan API implementations in sprints. Each sprint planning is focused on hashing out any risks and dependencies. There is an emphasis on eliciting exclusive requirements like:
Exponential back-off and circuit break patterns for retry mechanism,
open round configurations for transient disconnects,
and reality check integrations as a measure for responsible gaming.
A gaming API document is created, becoming an ultimate truth source for the entire integration process. This document lists all the actions and formats that must be implemented in the code. Technicians go through this gaming API document to understand how two systems are interconnected.
4. Implementation – At Nagarro, we use proven design patterns and principles like SOLID to write highly optimized and maintainable code. Extensibility and scalability are at the framework's core to ensure agility and adaptability. Our focus is to deliver high-performant code in the shortest time possible with a single-time right approach. During development, we parallelly verify each implementation with the customer environment so that there are no surprises in the later stages. The agile values and principles have served us well; some integrations require a tweak to accommodate the delays from various stakeholders risks are atypical to stakeholder management.
The entire integration is broken down into several user stories and added to the sprint goal. Planned user stories are developed, tested, and delivered in each sprint. This enables early feedback from various stakeholders and better delivery and release management.
5. Testing and go live – As the number of integrations increases, scalability and extensibility become important. Our expertise in automation helps us reduce the cost and effort for customers and make quality achievable in a consistently changing VUCA (Volatility, Uncertainty, Complexity, and Ambiguity) world. The Nagarro team ensures testing the interfaces for the desired results using several processes and checklists, facilitating a good customer experience. Coverage of the entire gamut of testing, including functionality, reliability, load, penetration, and security testing, ensures a robust integration framework.
6. Technical support – After going live, the team is available to support throughout the production. While some issues will need a simple fix, others may be complex requiring a long-winded solution. The team looks at problems holistically to deflect any regression effects.
What does Nagarro's API integration experience for gaming include?
1. Direct Integration – The Nagarro team enables the operator to directly integrate into the provider's or aggregator's interface, assisting them with any incompatibilities, testing, and support.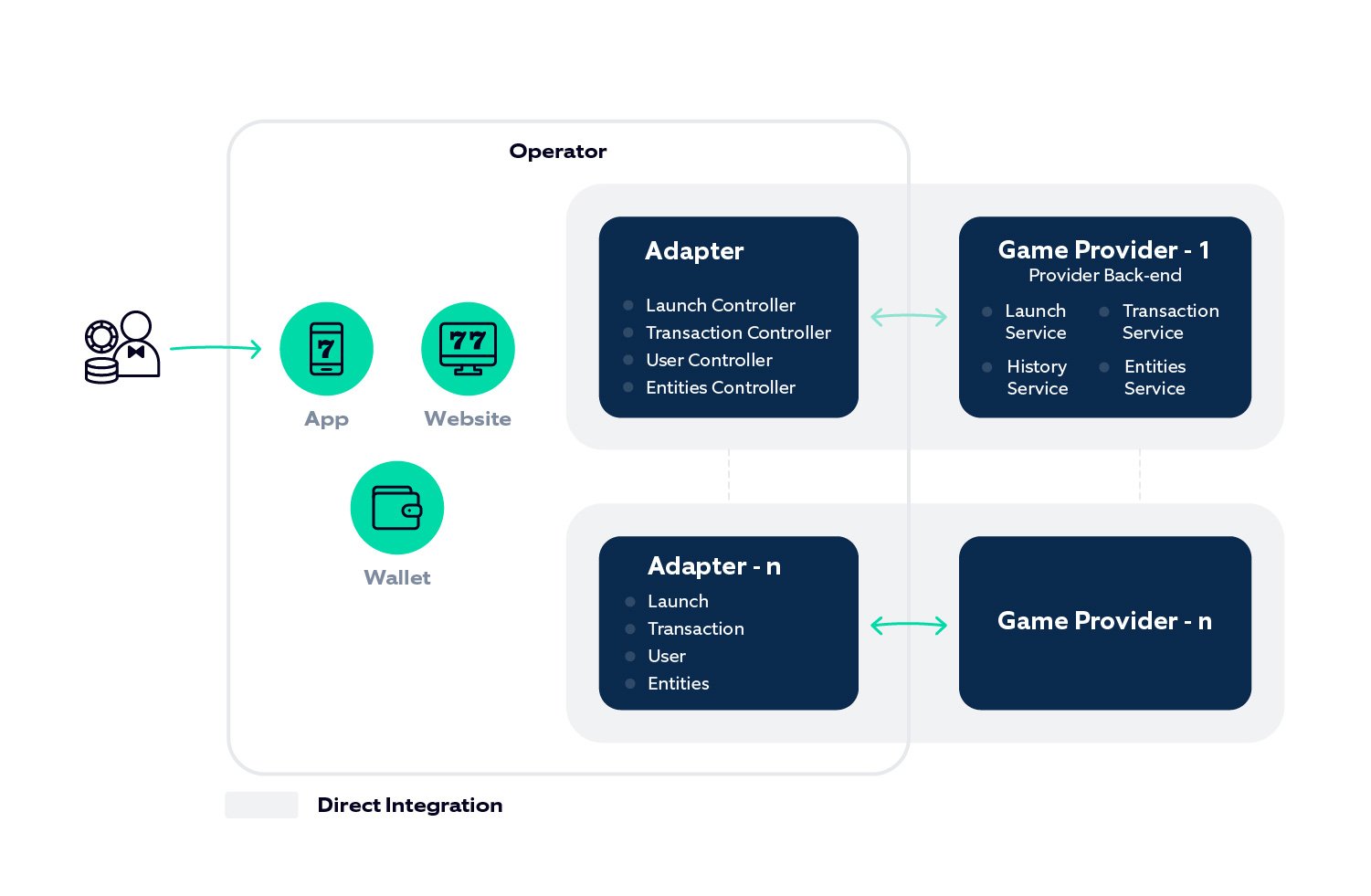 Fig1: Direct Integration Workflow
2. Indirect Integration – Nagarro's gaming experts work with the game providers/aggregators to integrate into the operator API by building the required mapping, regulatory compliance, and jurisdiction implementations.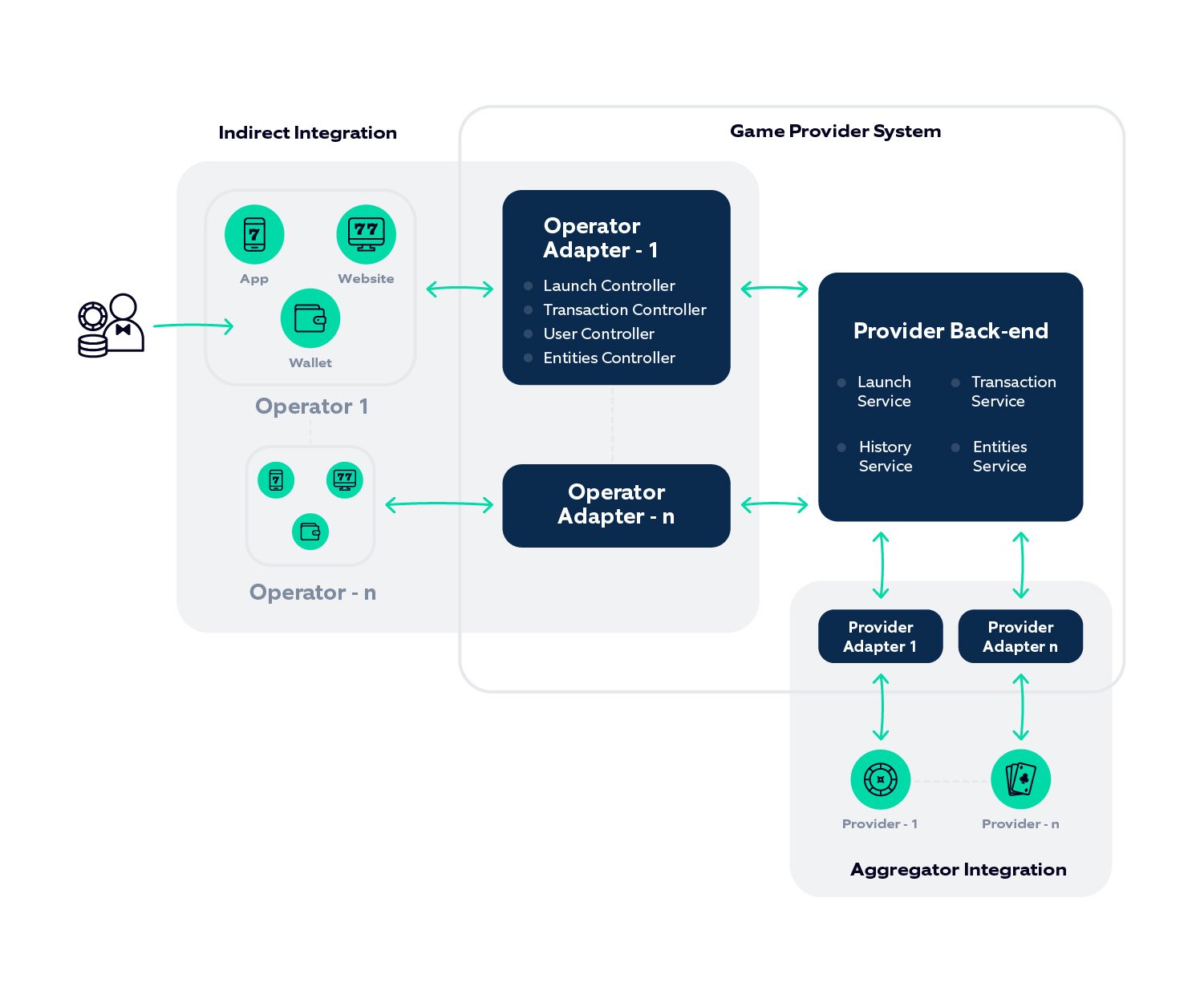 Fig2: Indirect Integration Workflow
API integrations in gaming: Nagarro's best practices
Test automation framework
We have a test framework developed in-house by a team of automation experts and customized and curated by the Gaming Practice to have inbuilt features for game testing and API testing. A plug-and-play framework saves time and costs in testing the APIs integrated between the provider and operator.

Agile at the core
We leverage our extensive experience in agile delivery to enable continuous improvement and increase performance and customer satisfaction. Collaborating closely with the stakeholders encourages the team to bring in innovation, giving our customers a competitive edge.

Gamification
Our expertise in integrating gamification toolkits into the games boosts player engagement.


Cost and speed to market are the most critical factors to consider. API integration is a powerful B2B tool that helps game providers, aggregators, and operators equally to speed up their business growth. Nagarro's extensive experience in Casino Gaming integrations (more than 200+ successful integrations) enables us to provide robust integration solutions to gaming providers and operators.