Today, consumers are demanding more from automotive brands than ever before. With fierce competition, customers have more choices when selecting a car. Increasingly, purchase decisions are being made in favor of OEMs who are engaging meaningfully with the customers, establishing a strong emotional connection, and building trust. One poor experience can lead a customer to switch to another brand.
Additionally, the high value of a car purchase makes it crucial for OEMs to improve conversion by targeting the right leads with a tailored purchasing experience. This experience is based on an individual customer's preferences, behaviors, and previous experiences.
OEMs can leverage Artificial Intelligence (AI) to learn from large amounts of customer data, derive valuable insights, and provide an optimized experience across the sales and marketing process to drive engagement and loyalty.
In this article, we focus on exploring AI-powered use cases across the car-buying journey that can revolutionize customer interactions in the automotive industry and drive business success for all stakeholders.
Three pillars of sales and marketing
After examining a standard sales and marketing process, we identified the three fundamental pillars where Generative AI can make an impact.
| | | |
| --- | --- | --- |
| Strategy | Interaction | Conversion |
| How to achieve sales and marketing objectives by leveraging market insights? | Engagement and communication between customers and the OEM to foster relationships and drive conversion. | Converting prospects into customers through successful sales and marketing efforts. |
Upon deeper analysis of a customer's path to purchase, it becomes evident that the 'Interactions' at various touchpoints are leading to a painful car buying experience for the customer, thereby affecting business outcomes for dealers and OEMs.

Figure 1:Challenges in customer's car-buying journey
Generative AI has the power to optimize the experience at each interaction touchpoint by intelligently sharing information, addressing queries, making recommendations, and more, through data-backed behavioral insights. This will enable a strong competitive edge where others are providing a generic experience.
Generative AI use cases to elevate customer engagement
Rapid advances in NLP-powered Large Language Models enable AI to mimic real-life human conversations. With conversational AI like ChatGPT, which is fine-tuned using Reinforcement Learning from Human Feedback (RLHF), businesses can interact with customers in a natural way. Generative AI, such as DALL.E, Midjourney, and Make-A-Video, can produce custom content on demand, including images, videos, and audio. By harnessing Generative AI, OEMs can deliver personalized and captivating experiences during the car-buying process, accelerating the path to purchase.
Smart marketing assistant for efficient ad campaign management
This smart marketing assistant can analyze a wealth of data, including online behavior and purchase patterns, to identify potential car buyers who are actively researching or displaying intent to purchase a vehicle. It can then dynamically generate, at scale, persuasive ad copy, imagery, and other visuals tailored to the audience's specific interests. This smart assistant can then automatically place targeted ads on relevant platforms and websites, reaching the right audience at the right time.
Figure 2 illustrates an example of this smart marketing assistant at work, where it has tailored the ad content according to the respective customer's preferences. So, for one customer who is interested in the great outdoors, an ad is served with a car against majestic mountains. For a second customer with an active social life, an ad is served where the same car is featured in bustling city roads.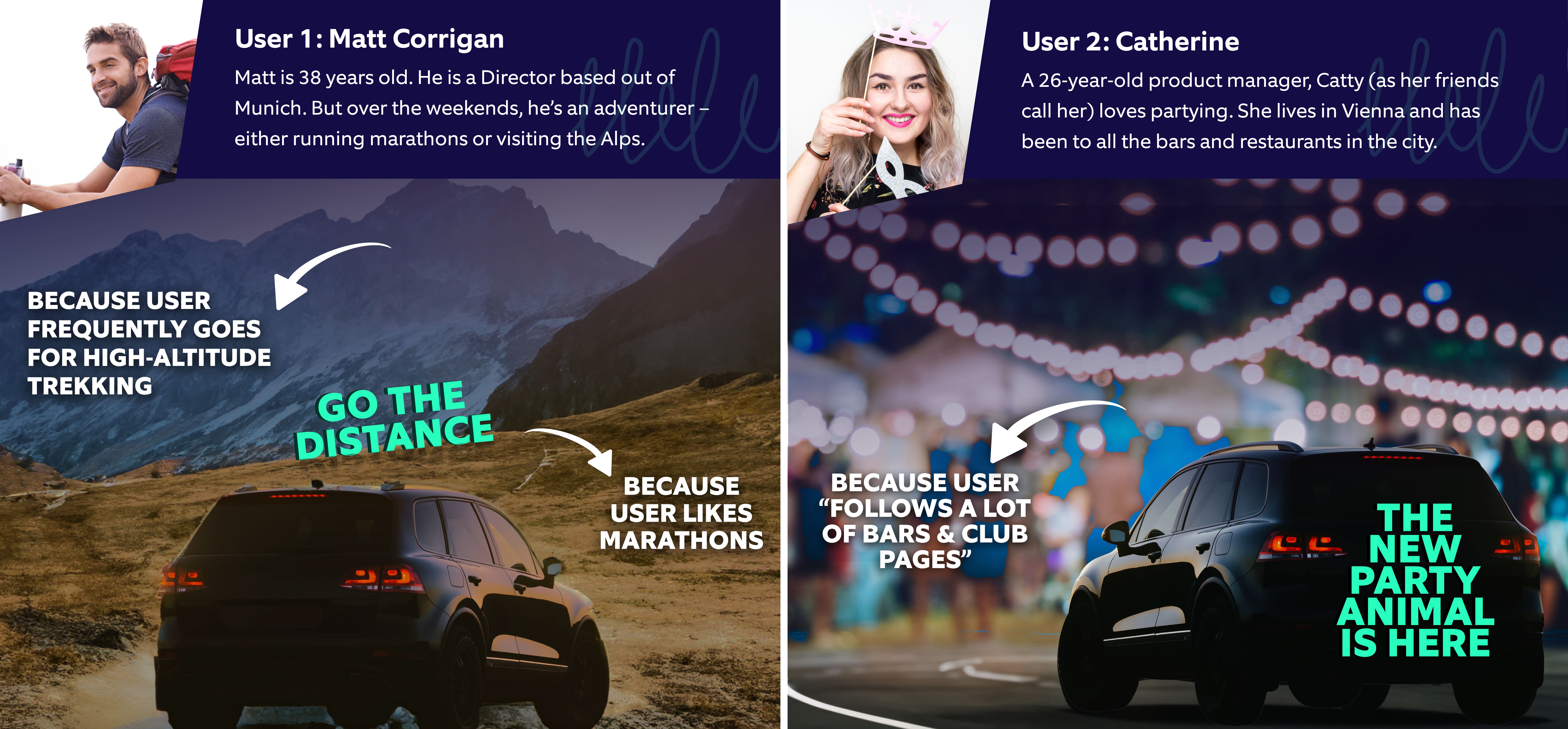 Figure 2: Hyper-customized ads for individual users
This smart marketing assistant also enhances campaign performance by:
Continuously assessing ad performance and monitoring relevant metrics, such as click-through rates and conversions.
Making automatic adjustments to the bids and budgets to maximize the effectiveness of the campaign.
Intelligent shopping assistant for a personalized and immersive car buying experience
This intelligent assistant acts as a virtual companion, guiding and assisting customers during the car-buying journey. It can learn from the interactions with the customer about their preference, budget, lifestyle, and desired features. Armed with this knowledge, it can understand and anticipate the individual's needs and preferences, proactively share relevant information, make recommendations, and address queries.
This powers a bespoke customer experience across all channels, like websites, digital signage, and smart kiosks. For instance, conversational AI chatbots that have been trained on datasets such as vehicle catalogs, OEM brand guidelines, and car-buying policies can effectively function like an experienced sales advisor.
Figure 3 shows an example where an AI-powered Chatbot makes intelligent recommendations based on customers' preferences, generates targeted content in real-time, and thus ensures a caring and personalized experience.
| | | | |
| --- | --- | --- | --- |
| The chatbot understands customers' needs and makes intelligent recommendations with empathy. | Creates image based on real-time chat by identifying critical keywords like "6-year-old daughter", "golden retriever," "countryside," "sunroof | It goes another step of personalized engagement by recommending accessories and digital services as per requirements. | Configures the vehicle for the customer and helps in navigating the next steps. |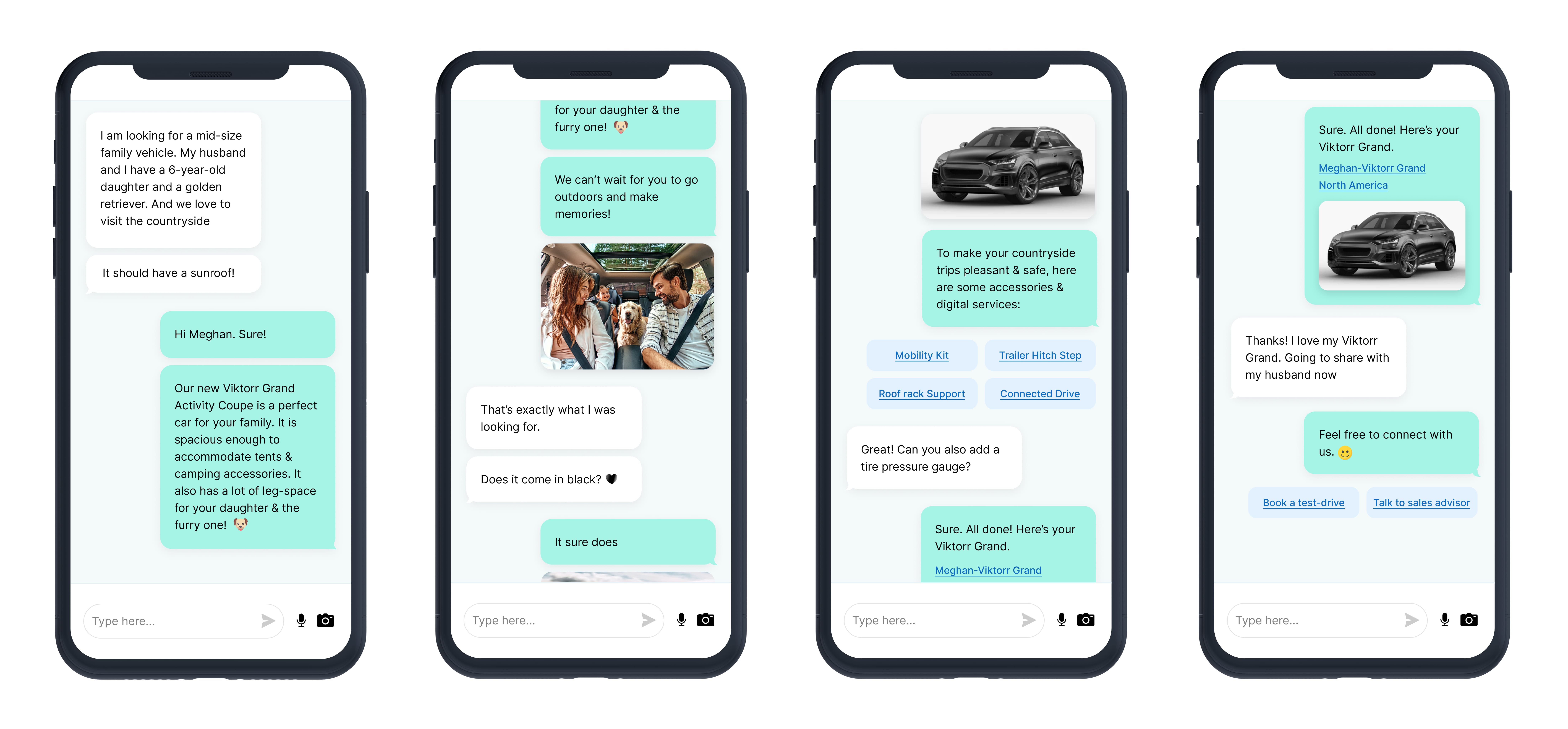 Figure 3: Intelligent shopping assistance
Such an intelligent shopping assistant can also transform the car-buying journey with the following:
Speech-enabled guidance in vehicle configuration
Predicting the availability of the preferred vehicle
Suggesting alternative car models based on supply chain analysis
Delivering meaningful follow-up messages.
Smart Sales assistant that delivers meaningful customer insights for an informed and persuasive sales pitch
The smart sales assistant can analyze data from various sources, such as conversations, social profiles, and test-drive performance, to derive insights on customer behavior. This comprehensive understanding helps the assistant to identify high-potential leads and tailor the sales approach to highlight features and benefits that resonate with the customer.
It can also generate customized content (Figure 4), such as brochures with specific wording, taglines, and photos specific to an individual customer's preferences. This smart assistant equips sales professionals with the necessary knowledge and resources to engage effectively and build stronger customer relationships, thus increasing conversions.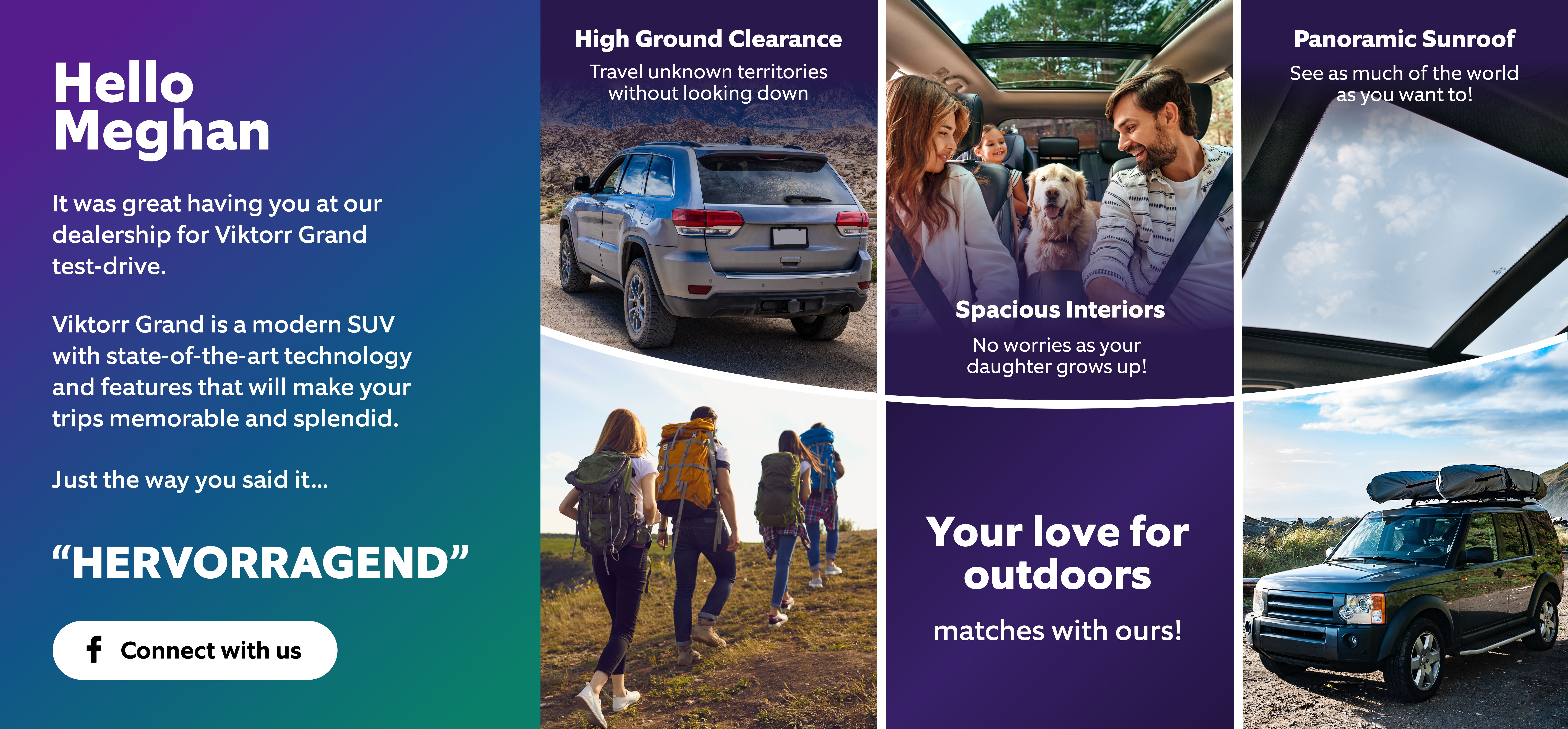 Figure 4: Personalised brochure based on customer profile
Smart finance and insurance manager to smoothen the automotive finance and insurance process
The financing and insurance process in the car-buying journey can be complex, time-consuming, and often anxiety-inducing. The customer is inundated with many offers from multiple financiers yet lacks clarity on the finer details. With its capabilities, this intelligent assistant can quickly assess a customer's financial health, credit history, and insurance need to recommend best-fit financing options and personalized service contract. This enables faster and more accurate decision-making.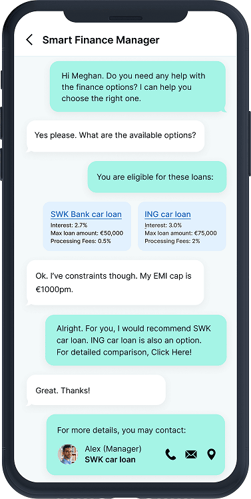 Figure 5: Smart finance & insurance manager
In addition, the smart financing and insurance assistant can help
Choose between buying and leasing
Evaluating deals
Understand nuanced differences between loan offers
Select the one suitable based on credit score and other factors
Smart in-vehicle companion to make test drives more fun and interactive
The Smart in-vehicle companion can power the test drive experience to explain salient features, respond to queries, and build on prior conversations. It empowers the OEM to engage with the customer at the right time as they are sitting behind the wheel. While test-driving, customers can understand the value of additional accessories and digital services that make the ride more pleasant, thus opening avenues of cross-selling. It could also help in:
Answer questions regarding vehicle specifications,
Build on prior customer conversations
Analyse driving style to make contextual recommendations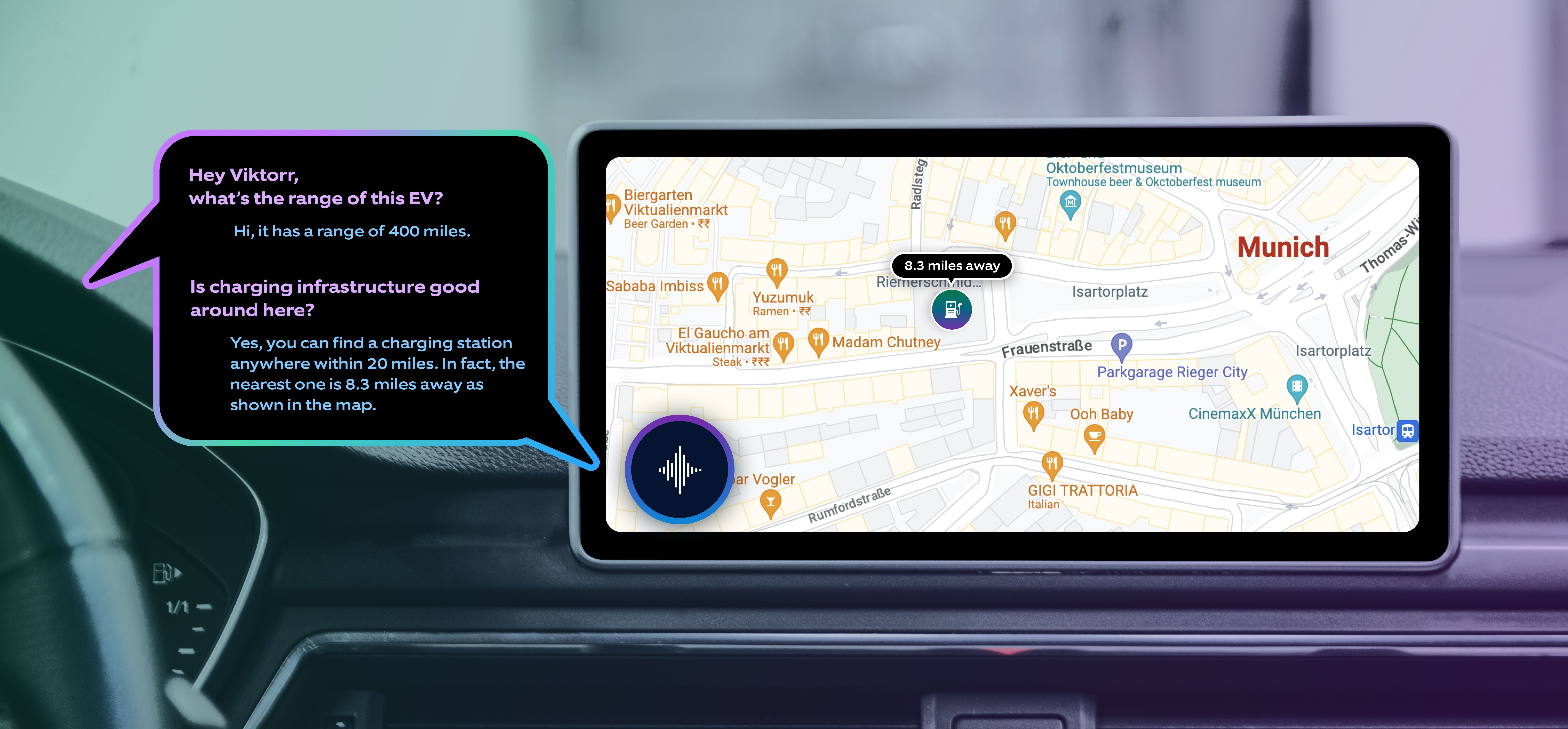 Figure 6: In-car digital companion
Such in-car digital assistants can revolutionize how customers interact with the vehicle even before purchase.
Enhancing experiences through AI and human collaboration
Generative AI models hold immense potential for transforming the Automotive marketing and sales landscape. OEMs can unlock new revenue opportunities and enhance brand loyalty by optimizing customer interactions through hyper-personalization, customized content, and intelligent recommendations. As Generative AI evolves, we expect even more exciting use cases to push our reality's boundaries.
However, it is important to remember that while AI can augment and enhance the customer experience, it cannot replace the human touch entirely. In today's world, OEMs must strike a delicate balance between leveraging the power of generative AI and maintaining a human connection with their customers. Those who can master this balance are well-positioned to thrive in the ever-evolving automotive industry.