It would be easy to see the COVID-19 pandemic as the only reason the hospitality industry faced a crisis. In reality, the hospitality industry had already been embracing its digital transformation needs, and COVID-19 only accelerated it.
Regaining guest's confidence has become a critical factor for hoteliers to manage the ongoing economic storm and remain competitive in the uncertain years ahead. The industry must brainstorm its re-opening strategies to welcome guests with evolved preferences who live in a hyper-connected world.
Before we talk about how you can face and even benefit from disruption, we need first to understand it.
The industry's disruption
There is an imperative need for transformation due to the focus on aspects such as:
health and cleanliness first,
greater commoditization,
the emergence of new customer segments,
hyper-personalization,
technology differentiation, and
sustainability.
COVID-19 obliged you to focus on taking safety, health, and cleanliness demands and expectations to a new level. But beyond that, there are so many other moving pieces linked to the disruption of the hospitality industry. The root of these disruptions can be boiled down to two major elements. Firstly, consumer expectations. They have never been higher, and consumers are more vocal than ever. Today's consumer is travel-savvy and has a plethora of options. They expect the highest level of service and standards and use social media and the internet to guide their choices and leave feedback. The second element is the advent of smart technology and the opportunity for you to innovate, creating an engaging customer experience while optimizing your business model.
Do not just transform. Redefine.
To better face these disruptive elements, it is time to augment your digital transformation.
Technology, used in the right way, can augment your digital transformation. To successfully do so, you need to re-frame the problem, re-think the market, and devise a new strategy per your business model.
A good plan should have a two-pronged approach to "adapt to the evolving guest expectations" and to "create a smart and sustainable business." The end goal is to reimagine the hospitality industry, optimize processes and operations while enabling flexibility to tailor the customer experience around their preferences.
Adapting to the evolving guest expectations
To cater to the demands of guest personas like the digital nomads, staycation guests, green travelers, leisure guests, vacationers, backpackers, boomers, wellness seekers, luxury travelers, hotels need to build experiences and not just accommodations. This also means vitalizing direct sales channels and increasing your digital presence.


Creating smart and sustainable business
Business functions must undergo some reshaping across the value chain by rediscovering operations. Guest services and property management must adapt to contactless operations and manage more frequent guest interactions to recalibrate brand sentiment. Procurement and planning functions will have to re-model marketing campaigns and explore alternates to maximize revenues. On the sustainability side, hotels need to think of ways to be as carbon-neutral as possible.
By successfully using technology to adopt the above approach, you augment your customer's experience and business processes, fueling your growth and creating unique brand differentiation.
Have you considered which kind of technological innovations could help you augment your digital transformation?
What's hot, what's not.
It is easy to invest in technology, but it is not easy to do so effectively and sustainably. While some tech trends may be temporary, others are here to stay.
Here is a list of the technological critical business enablers that, we think, will remain relevant even after the pandemic: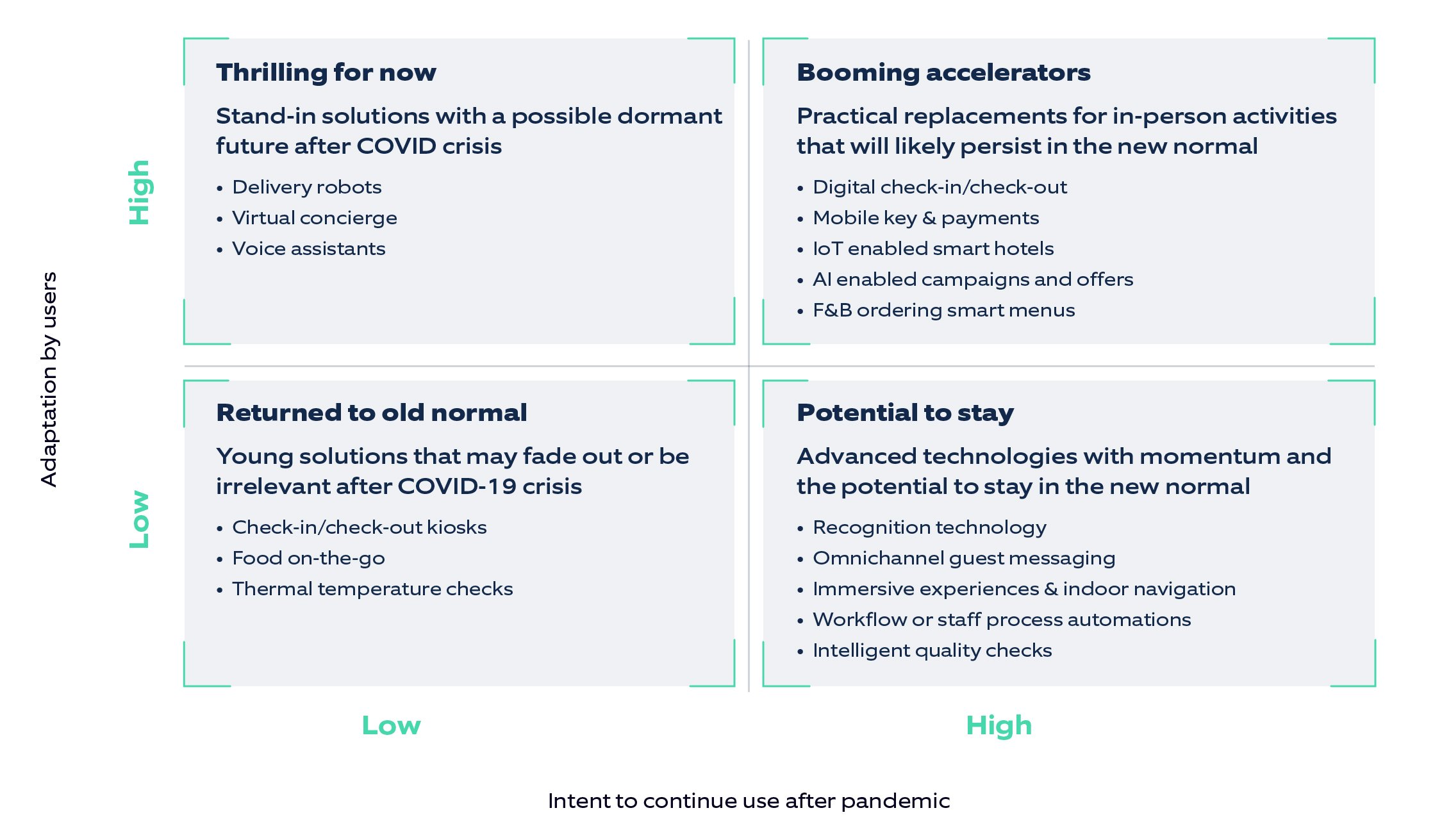 Fact check (source) -
More than ever, travelers want more control over their trips. According to a recent Travel Technology Association report, 65% of travelers say that accommodations that use the latest technologies feel safe.

According to an international hotel brand's analysis, social media posts with the phrase "self-service" increased 170% year-over-year from 2019 to 2020.
Riding the technology wave towards your MVP
With state-of-art trends like local travel, home away from home, sustainability, transformed corporate and group travel, millennials, and the focus on wellness dominating the industry, some technological solutions will become the industry standard.
Curbed human interactions

: Mobile check-in/out, an integrated hotel app, mobile key, and payments have created their place into guests' practical experiences. Thanks to their ease of access and 'self-service' control, contactless experiences are here to stay.



Connected smart and intelligent properties

: There is potential to stick to IoT-enabled smart room technologies even after the crisis considering the booming parallel trend of smart homes, which is a part of customers' everyday experiences. Digital lock/keys, IoT-enabled room and property controls, QR-based F&B ordering, AI-enabled housekeeping, and food analytics are some solutions that can attract more guests while reducing the overall operational costs.



AI-powered customer personalization

: Graph maps and AI can foster hyper-personalized service to individualize experiences based on preferences, historical actions, and current needs. The parameter of dynamicity catalyzes the designing of a 360-degree customer profile that helps to reap benefits of up/cross-sell, brand loyalty, and continued collaboration.



Streamlining data explosion

: Recently, an analysis of the data accumulated during the pandemic revealed a new segment of travelers: people taking local or regional road trips. This finding helped hotels adjust their campaign marketing and offering strategies by tweaking their CMSs and CRMs, making them dependent on such data discoveries for the future.



Automated personalized guest communication

: With the worldwide boom in messaging (accentuated by the forced virtual setup), people are addicted to sending messages. They prefer communicating via messaging/emails that can also be referred to later. Omnichannel engagement with customers helps maintain all interactions as records, which helps both customers and businesses.



Social responsibility

: We are becoming a more environmentally conscious society. This changing attitude is also evident in how travelers choose their hotels. Hotels have started their journey of green responsibility via eco-friendly construction, energy saving, waste management as priorities, which requires implementing various underlying technologies.



Bots' humanized operations

: Automation, done right, for staff processes, back-office operations, and workflows using RPA and analytics allow you to create resource reduction benefits. They also provide greater accuracy and faster processing.



Immersive experiences

: With its wide availability on web-based platforms, XR or extended reality (AR/VR) is no longer the niche technology it used to be. Virtual 360-degree tours of the property have made the customers want to "try before they buy." These experiences play an important role in the decision-making process. With AR, hotels make the on-property experience more immersive with solutions like an interactive map, videos of amenities, in-room menus, etc. Guests look forward to these "out-of-box" experiences!


Check this out for a quick recap on how the hospitality industry can make a comeback in the new normal: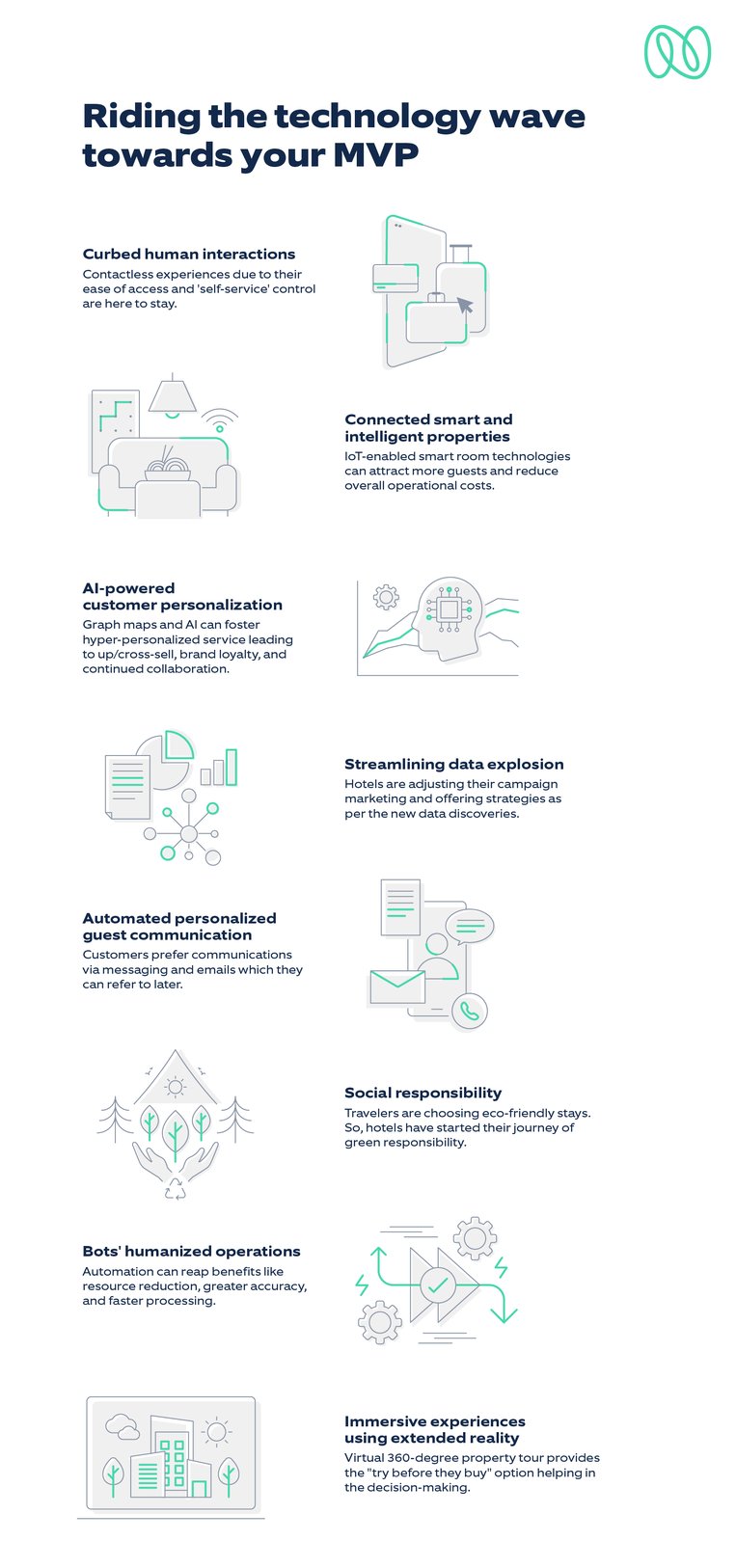 The accelerated pace of innovation adoption sets a scene for rapid digital transformation over the next few years. A smarter, safer, and more sustainable hospitality industry fit for both people and the planet.
It's time to Re-set, Re-focus and Reimagine the world of travel and hospitality. Are you prepared for the comeback? Nagarro can help you do it right; connect with our experts today at hospitality@nagarro.com.