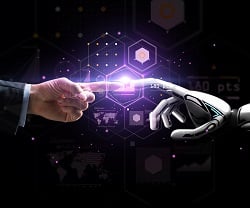 The financial service industry has undergone drastic changes over the last few years. Several firms today remain focused on the implications of the digital revolution and its impact on customer behavior and expectations. One such technological innovation is Robotic Process Automation. Robotics is the foundation for "Workforce Virtualization." Standardization of all high-volume, low value-added tasks can be done not by artificial intelligence, but through software applications that can be scaled up or scaled down as deemed fit without manual intervention.
For players in the financial service industry today, the following are the key drivers:
Increased scrutiny by market regulators, globalization of commercial markets and increasing competition require capital market firms to search new means to earn revenue.
To sustain in today's complex global financial markets, they need speed, precision, and cost-effectiveness.
To accelerate efficiency in operations and reduce costs beyond the ability of humans.
To improve profitability in the short term as well as the long run with enhanced client experience.
To improve productivity so that it enables staff to focus on generating high value and client-focused activities.
How can RPA help financial institutions?
New tools can adapt their operating models, to automate a wide range of programs without the need for complex programming. The most important advantage of RPA is that it can eliminate human effort involved in the previously non-automatable activity. The productivity of over 90% has been achieved by deploying RPA in "thinking situations." We have collated a few credible use cases:
RPA has been used for shortening periods in banks to resolve trades that were impacted by system processing issues. Banks have tried to use runbook-scripting tools to help the IT function and failed. Therefore, this process needed a new approach. By using RPA, a banking firm was able to resolve 80% of failed trades without human involvement, resulting in a 93% reduction in average resolution-and-fix time.

In financial risk management, robotics can recognize and describe changes in risk exposure. Robotics also determine causes for such movement whether they are data-related or business-related.
Robotics can also be used to estimate credit limits and determine causes for breaches in such limits. It also provides recommendations for remedial actions. Huge, time-consuming risk reports, such as the Top 50 Counterparty Report are suitable for automation as well, providing the ability to execute regular, accurate and comprehensive checks on data quality, moreover initiate remedial actions as required.
In terms of regulation and compliance and financial risk management, Robotics can help firms examine account openings and paper statements and making employee trades and transfer disclosures subject to immediate and appropriate levels of review. Moreover, disclosure attestations and transfer disclosures can also be examined automatically.
Trend overview
Financial firms face challenges concerning costs, regulatory requirements and data volumes. They have started investing in Robotic Process Automation.
With the help of RPA, firms are reiterating resources to focus on strategic roles. Some known examples include:

Barclays is using RPA across various functions, which resulted in saving over 120 full-time employees to the firm.
HSBC is restructuring its business to save $5 billion per year and reducing workforce by 25,000 people. In 2015, with the help of automation, firm removed the requirement for around 3,000 roles.
According to Capgemini, the global IT Robotic Process Automation market is expected to grow at CAGR of 60.5% from 2014 to 2020.
The banking and finance sector has been forecasted to be the fastest industry to adapt RPA. According to a report from Capgemini, the sector is expected to grow at CAGR of over 65% from 2016 to 2024.
In my opinion, RPA can be used widely albeit must be implemented prudently. It is a bad idea to automate processes which undergo significant change, and some activities may be too complex to automate. Robotic Process Automation (RPA) is an efficient and demonstrable way to help capital markets banking firms to reduce their IT expenditure without compromising service provisioning. In an industry full of risk mitigation and constraints from regulations RPA seems attractive because of:
Extreme cost reduction: 25 to 50% lower costs are typical, and even higher savings are possible.
Streamlined budgets and technology-based service deliveries.
Reduced probability of human error.
Conclusion
Robotics is gaining prominence across industries because it provides the ability to improve tasks for enhanced development and cost efficiencies. To ensure minimal disruption and full compliance with regulatory standards financial firms must address specific issues before deployment. The key to successful deployment is writing down the process as a set of rules that leaves no need for human interference. For maximizing the impact of RPA, firms should not only analyze processes for RPA suitability but also map current resources which are in use and forecasted future resource in situations of developing a virtual workforce. Typically, robotics delivers increased precision and control by standardizing tedious, manual task, and eliminate futile tasks for the workforce and enabling them to do more valuable work.
There is plenty of scope and usefulness of RPA in capital markets which can be leveraged by banks and other financial institutions to bring back offshore work and gain better control of their processes.