Are you aware that every workload we put on the cloud consumes energy? You may think that embracing digital technologies and moving to the cloud is eco-friendly, but it's not the case. Every activity that we perform online comes with a cost to the environment. CPUs, cooling systems, data centers, storage, networking, servers, etc., all add to the consumption.
As a report suggests, the carbon footprint of our gadgets, the internet, and the systems supporting these account for about 3.7% of global greenhouse emissions; that's almost the same number when compared with the airline industry. If this trend continues, the figure is predicted to double by 2025. Cloud providers opine that while they are responsible for the physical architecture of their services, the way the cloud is used is up to their customers and, by the same token, the efficiency in terms of sustainable development of these environments.
But how can organizations deliver on their new commitments to reduce carbon footprint and drive innovation responsibly while ensuring that cloud costs are under control? The answer is GreenOps!
What is GreenOps?
Making an IT ecosystem sustainable requires evaluating all areas of IT to consider their impact on the environment. It requires collaboration with procurement and financial management departments to set business requirements, improve software development and DevOps processes, and adhere to operational principles.
Similar to FinOps, an evolving cloud financial management discipline, GreenOps, at its heart, encompasses an operational framework and a philosophical shift. GreenOps brings development, finance, and business teams together to drive financial and environmental accountability and provides a hands-on approach to improve or optimize the carbon footprint of all the applications running in the cloud.
GreenOps aims to provide the right approach, guidance, and tools to build and operate in the cloud while keeping sustainability in mind. It includes:
Understanding the emission drivers and their relation
Having the ability to measure the right data
Implementing the right strategies for your engineering work to optimize the cloud carbon footprint

GreenOps through FinOps: Sustainability in the cloud
Ensuring sustainability in the cloud is a continuous effort. A sustainable cloud is focused primarily on energy reduction and efficiency across all components of a workload. This can be achieved by deriving the maximum benefit from the resources provisioned and minimizing the total resources required. The effort required can range from:
the initial selection of an efficient programming language,
adoption of modern algorithms,
use of efficient data storage techniques,
deploying to right-sized and efficient compute or storage infrastructure, and,
minimizing requirements for high-powered end-user hardware.
Engineers have realized that they have the power to make their cloud architectures more sustainable. To act on greenhouse emissions, they must measure them with a harmonized approach, and to do so, the carbon footprint can be classified in three scopes as noted by Greenhouse Gas Portal Protocol, the world's widely used greenhouse gas accounting standards.
Scope 1: It covers greenhouse gas emissions that a company makes directly. For example, company vehicles, facilities, boilers, etc.
Scope 2: It covers the emissions a company makes indirectly. For example, the purchase of energy or electricity for its own use.
Scope 3: It covers the gas emissions associated, not with the company itself, but that the organization is indirectly responsible for, up and down its value chain. For example, from buying products from its suppliers and from its products when customers use them.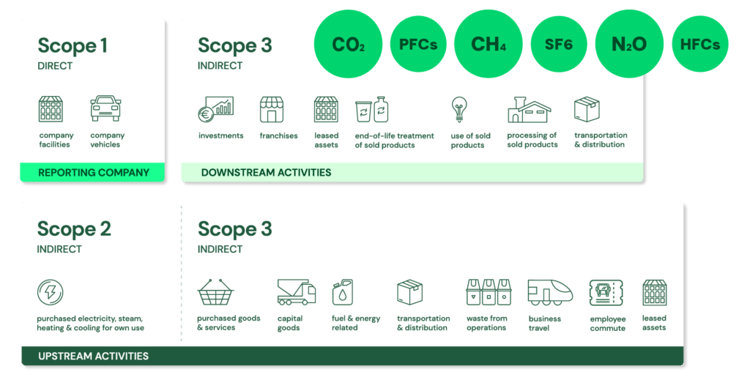 Image source: Plan A
Cloud service providers like AWS, GCP, and Azure offer tools and guidance on the technical choices we make to reduce the carbon impact of our technical estates. While there are solutions to deliver net zero for Scope 1 and 2 emissions in certain cases, organizations have less control over Scope 3 emissions. Currently, cloud service providers do not provide insights on Scope 3 emissions, which reportedly account for over 80% of the carbon footprint. Scope 3 emissions are substantially larger than scope 1 and 2 combined, making it pivotal for businesses to address them.
Microsoft, for example, has already pledged to become carbon negative by 2030. The organization is now focusing on Scope 3 emissions and is working to reduce construction emissions and make its devices more energy efficient.
Getting started with GreenOps
In case you already have a FinOps team, they can also follow best practices for digital sustainability alongside working to optimize cloud costs.
To kick-start your GreenOps journey, you must start by forming a dedicated green cloud optimization team (even if it comprises just one individual) that can help strategize, define, & implement the best practices for optimizing cloud carbon footprint internally. The GreenOps team shall be responsible to foster the culture of cloud sustainability at every layer of the organization.
Listed below are the steps that the team must take to optimize cloud usage and reduce cloud carbon emissions:
Establish or define the best practices for reducing the cloud carbon footprint
Establish baselines and identify trends, spikes/anomalies, and opportunities for cloud cost and cloud carbon footprint reduction
Measure, monitor, & analyze energy usage and carbon emissions
Understand cloud carbon footprint baseline and make specific, targeted reductions to lower emissions through rightsizing compute/storage infrastructure, deleting idle/unwanted instances, turning off unused resources, etc.
Work closely with the FinOps team to establish targets and KPIs such as CO2 emissions reduction, energy consumption, plastic reduction, compliance with chemical safety requirements & environmental standards, etc.
Educate IT and engineering teams on Green Software or Green Cloud best practices and principles
Establish the right set of GreenOps tools to create visibility into the current cloud usage
Tools to implement GreenOps
There are several tools available in the market to support you throughout your GreenOps journey. With these tools, you can easily get visibility into the cloud as well as recommendations to reduce your carbon emissions from the cloud.
One such tool is the Azure Sustainability Calculator, a Power BI application for Azure business customers that provides insight into the data on the carbon emissions associated with their Azure services.
AWS offers the Customer Carbon Footprint tool that provides cost and usage reports such as carbon emissions summary, emission savings, emissions by services & geography, and overall AWS carbon emission statistics.
The widely popular Cloud Carbon Footprint open-source tool is also efficient for collaboration with multiple cloud providers and can be built or extended as per businesses' needs. It offers several other features, such as a comparative analysis of energy and carbon emissions for a particular time period at provider, service, account, and region level, a graphical representation of energy usage and carbon footprint, recommendations to reduce carbon emissions, etc.
GreenOps efficiency indicators
There are three indicators through which businesses can gain sustainability insights:
| | |
| --- | --- |
| Indicators | Description |
| Power Usage Effectiveness (PUE) | This indicator reflects the energy efficiency of a data center. It evaluates the performance of a data center by making a ratio of the energy it uses against the energy used by computer equipment. Organizations must choose a cloud provider with a low PUE score. |
| Carbon Usage Effectiveness (CUE) | It is the ratio between the total CO2 emissions caused by the total energy consumption of the data center and the energy consumption of computer equipment. |
| Energy Reuse Factor (ERF) | It is the ratio between the reused energy and the sum of all the energy consumed in a data center. |
By incorporating cloud carbon emissions into your sustainability strategy and as a cross-functional requirement, you can make steady optimizations to reduce your cloud cost and cloud carbon footprint. By taking in account the above-mentioned cloud carbon emission indicators, you can make steady optimizations to reduce your cloud cost and cloud carbon footprint.
Conclusion
Irrespective of where you are in your cloud modernization journey, it's time you implement GreenOps and take responsible measures to reduce the impact of carbon emissions on the environment. You can contact us so we can help you optimize your cloud usage by giving you an overview of the cloud carbon impact on your workloads and identifying rightsizing opportunities.