As we all know, Christmas is not just a major cultural celebration. It is a global symbol of faith, hope, joy, and love. It has been celebrated with enthusiasm for centuries, and over time, this most festive occasion has acquired a myriad of cultural connotations and taken on many avatars. Cultures worldwide have their local traditions, regional symbols, and significance when it comes to celebrating Christmas.
In Nagarro's global spirit of embracing all cultures, we decided to look at what this occasion means to Nagarrians and how they celebrate it worldwide. So, without further ado, let's look at how Nagarrians spread across geographies come together to celebrate Christmas, albeit with some regional flavors.
"The best part is being grateful and remembering that you are blessed with family and friends to come together, give gifts to one another, and celebrate your love for each other."
Bency Fernandes, Consultant, based in Dubai (UAE)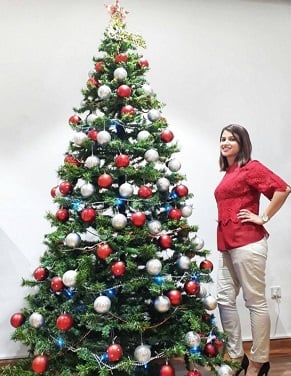 Christmas for us is a season and "we call it the best time of the year." Our preparation starts from the beginning of December and ends with the three kings' feast the following year on 6th Jan. We begin with preparing for Advent – a period of four Sundays before Christmas. The churches and homes prepare an Advent wreath with four candles, symbolizing HOPE, FAITH, JOY, PEACE. All Christians are expected to sacrifice luxuries and extravagant spending and utilize this money to help the underprivileged community, bringing the true spirit of Christmas.
Closer to Christmas, we start decorating the house with the tree, lights, stars, stockings for presents, making the crib, and preparing sweets. The period from 20th till the New Year is the busiest with different competitions, dances, get-togethers, Christmas tree days in church, etc.
When it comes to celebrations, we usually have a mix of all; that is, big parties like ballroom dances for the sophisticated, club music for the young, and family celebrations for the homely.
The country/church community youth move around from house to house, singing Christmas Carols and spreading joy. This group is accompanied by a Santa who distributes sweets to kids in the household. The church will have different competitions like the best star, best crib, etc.
A big Christmas tradition is the Midnight Mass. The 25th Dec is the most important day for us. We start with Midnight Mass on 25th eve, celebrating the birth of Jesus Christ. This is followed by greeting our loved ones and dance or get-together parties with family and friends.
A big part of the day is the food. Traditionally, we indulge in preparing a lot of Christmas sweets like Neureos, Dodol, Kulkuls, Bebinca, Baath, Marzipan, Peraad, Jujubes, gingerbread, cake, and so on. Before everyone sits down for the main meal, snacks such as Rissois, Croquettes, Spring rolls are handed out. The main course is usually made of Roasted Turkey with Rosemary Potatoes, Chicken Cafreal, Beef Roulade, Tiger prawns, Prawn Pulao, Salads, etc. For the dessert, we have the glorious Caramel Custard, Apple Pie, Serradura, and a Christmas Cake.
"Christmas is a time of gratitude."
Eddie Tasbas, Sales, based in Stockholm (Sweden)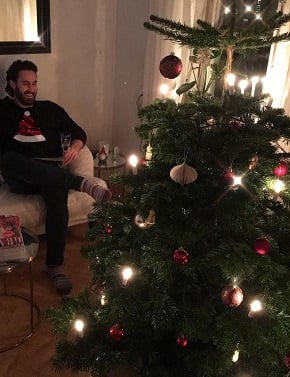 In Sweden, Christmas is the biggest holiday, which we like spending with our closest family. On this day, we eagerly await the arrival of "Tomten", also called "Jultomten", an overweight man with a red Santa hat and a long white beard who gives presents to all the people who have been good during the year.
To prepare for his arrival, we have several traditions like chocolate advent calendars, advent Sundays, Lucia, and dressing the Christmas tree, which we usually do way too early.
On Christmas Eve, in addition to exchanging presents and spending thoughtful time with our loved ones, there is also a lot of binging on delicious food like pickled herrings, graved salmon, "Janssons frestelse" (fish & potatoes), lutfisk, oysters, meatballs, sandwiches with Christmas ham and mustard, sausages, and red cabbage salad. While having dinner, we also often sing some so-called "Schnapps Songs" and play Christmas music.
"The best part about Christmas is the company's Christmas party each year. Everyone is having a happy time together."
Penny Liang, Human Resources Expert, based in Xi'an (China)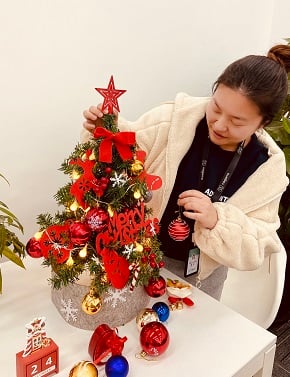 Every Christmas Eve, the streets are full of Christmas decorations. You can see giant Christmas trees in shopping malls and parks.
Although there are no special Christmas meals, we buy some Christmas snacks, such as Christmas trees or snowman cookies. When it comes to the cultural symbolism for Christmas here in China, we refer to Santa Claus as "圣诞老人," the one who brings peace and warmth to Christmas. We celebrate the festival by singing Chinese versions of the traditional carols' Silent Night' and 'Jingle Bells.'
"Fixing the Christmas Lights around the house and packing (surprise) gifts to be opened on 25th first thing in the morning is the best part about Christmas."
Ram Reddy, CTO, based in Boston (USA)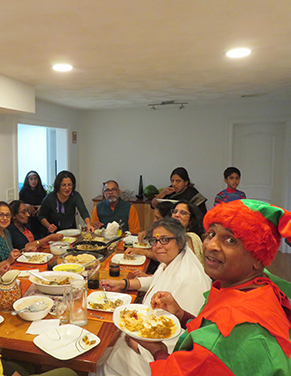 Christmas is a family celebration that we celebrate on the morning of December 25, but it is probably not as big a celebration as in other cultures. My family in the U.S. is divided into seven large groups, and we make it a point to always come together for four days on Thanksgiving.
Personally, I don't prepare too much for Christmas, which is why last-minute shopping is on the agenda for us every year. However, the entire family always gets together the day before, on December 24, because we like going to church together.
When it comes to the much-awaited Christmas dinner, while other families probably have turkey with stuffing, along with mashed potatoes and cranberry sauce, we always eat traditional homemade Indian food, which we all love.
"Preparing for Christmas is a special, festive feeling. From decorating the Christmas tree to getting the kids dressed up as Santa and distributing sweets to kids in the neighborhood, it is all very heartwarming."
Pooja Kishore, Consultant, based in Gurgaon (India)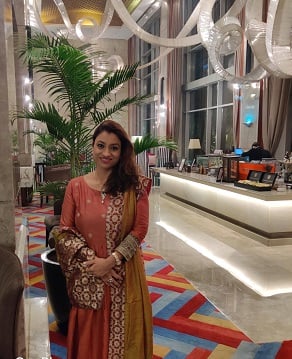 We typically get together with friends to celebrate it. We also put up a Christmas tree at our home, decorate in the best possible way, and surprise the kids with some gifts. We ask them to make some wishes and tell them that Santa will fulfill their wishes. This year, we plan to go to a church to attend the mass.
Our main celebrations are on the evening of 25th December. We bring home a chocolate-flavored Christmas Cake, and prepare a big mixed dinner. The kids love gorging on Italian and Chinese food, along with cake, donuts and cupcakes.
The lead-up to Christmas is quite a festive affair everywhere. There are Santa mascots in malls, along with his portraits and more. So, we make it a point to go to a mall and get our pictures taken. Children love to sing Christmas songs and some kids' rhymes.
"The little things in life count. Sitting with my kids and family in pyjamas the next morning and trying all the new games and clothes they got for Christmas."
Susanne Fuchs-Dobler, Project Manager, based in Vienna (Austria)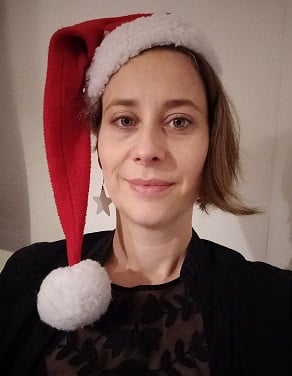 In Austria, Christmas is mostly a family celebration with some religious ceremonies. Every year, we prepare for it with an advent calendar, an advent wreath covered with brushwood and four candles on it, a Christmas tree, and Christmas markets where you can buy handcrafted presents and drink mulled wine.
On 24th December, we attend prayers in our local church and then head home to meet the whole "core" family. Then the most sparkling and exciting moment for my kids happens, because the Christ Child, also known as "Christkindl," arrives. It brings presents for the whole family underneath the Christmas tree. Usually, a family member reads a tale, and we sing some Christmas songs, like Holy Night, Jingle Bells or "Es wird scho glei dumpa", together.
We then have a little dinner together, but we prefer not to cook for hours on that day and rather enjoy the time together with the kids, while they are unwrapping presents, trying games or clothes on, and chatting about what each of them got for gifts.
At night there is a special occasion at church: the Christmas matins. It is a mass at midnight, in which we celebrate the birth of Jesus with sparkling candles, the crib, and a lot of music and joy.
"The ideal image that comes to mind is being together with your family at the dinner table on Christmas Eve, a ton of different food on the table, the Christmas Tree somewhere in the corner of the room with shiny, bright lights, the cold winter air outside and a nice fireplace to keep everyone warm on the inside."
Mike Dolha, Engineer, based in Timișoara (Romania)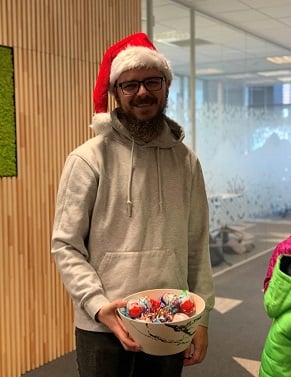 In Romania, Christmas is quite a big deal. Traditionally the children go Christmas caroling close to where they live or near their relatives' places. This means that people are always prepared with big dinner tables full of food and drinks and joy wherever you go. If you are more on the religious side, you'd usually be in a church at midnight on Christmas Eve and Christmas day in the morning. The general idea is that Christmas Eve is an event that brings families and friends together to spread and share joy and goodwill.
In Romania, we call Santa Claus: Mos Craciun, and he looks just like the standard portrayal in American culture of an older man in red and white clothes with a long white beard and glasses.
The most significant tradition we have in Romania is Christmas Caroling. It is a huge deal, and there are thousands of carols to pick from - from ye olde Christmas Carols to very religious ones.
Preparations for Christmas usually revolve around cooking and baking. We make a variety of different foods, from Sarmale (minced meat with rice rolled up in a leaf of cabbage and boiled in water), Salata de Beouf (minced meat and vegetables with a lot of mayonnaise and egg that looks less like a salad and more like a thick chunky paste). We also cook a lot of pork and beef and a lot of Cozonac (sweet bread filled with either Turkish delights, poppy, nuts, or chocolate)
Besides that, we also clean the house, decorate the Christmas tree, and prepare rehearsals for Christmas Carols.
"My favorite part about Christmas is spending time with my family, since all of us live in different parts of the country, and some of them in the USA ."
Barbara Martinez, Analyst, based in Monterrey (Mexico)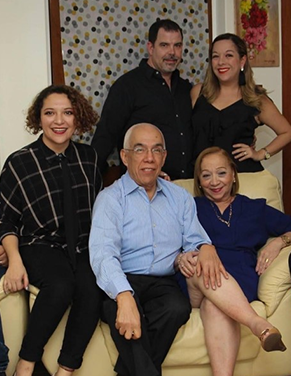 Usually, people in Mexico celebrate Christmas with a family reunion, with a dinner for all. At the end of the Christmas dinner, family members exchange gifts, so the tradition is to leave some presents, especially for the kids because these will then be delivered in the morning in the name of Santa Claus.
We have this party called "Posada" that's a way to spend quality time with friends, coworkers or other people close to you but outside your family. Also, some schools prepare a theatrical piece called "Pastorela" that sometimes depicts the birth of Jesus Christ or a little story related to Christmas and what it stands for.
We celebrate on the night of December 24th (in Spanish, we call it Noche Buena) and on 25th, we spend the day with the family. I can safely say that is the most important day of Christmas celebrations here, particularly for the devoted catholic people that celebrate the Birth of Jesus Christ on this day.
Devout Christians prepare for the day with the advent calendar. And under the Christmas tree, they place a representation of the birth of Jesus Christ (with Jose, the Virgin Mary, seated among animals).
A typical Christmas meal can look very different depending on the region. Still, spaghetti poblano, tamales, sometimes filled turkey, and pork with an adobo sauce is the most common, with smashed potatoes as side dishes. The drinks also depend on the region and taste.
My favorite part about Christmas is spending time with my family, since all of us live in different parts of the country, and some of them in the USA. Especially since the pandemic, being together has become even more precious to us. So that is my favorite part, being with all of them.
As we witnessed through some Nagarrians based in geographies far and wide, Christmas is celebrated worldwide in diverse and distinct ways, but with the same sentiments of love, faith, and joy binding the festivities together. As we draw closer to the festival, we wish you and your loved ones a joyous festive season and many years of good health and prosperity.
Which of the traditions mentioned above did you like the most and would you like to try? Make sure to go on social media and tell us. You could tag us in your images as well!