The media and entertainment industry has drastically shifted. The major change was the switch from linear to digital media. This trend continues and has now become a global preference. With increasing demand and increased revenue opportunities, the competition in the digital space is extreme. It's no longer only about making the content available. Instead, the experience must be unique and captivating to keep the viewers engaged.
If you have been considering launching your over-the-top (OTT) platform, now is the time. Suppose you are a player looking to expand your user base or struggling to retain your existing users. In that case, this is the time to immerse them in the next-generation video experience. Demand conditions are favorable. Also, the generation shift is happening. In this blog, we are focusing on three key reasons which validate why it's the time to let your platform mature to the next level with next-gen video experience.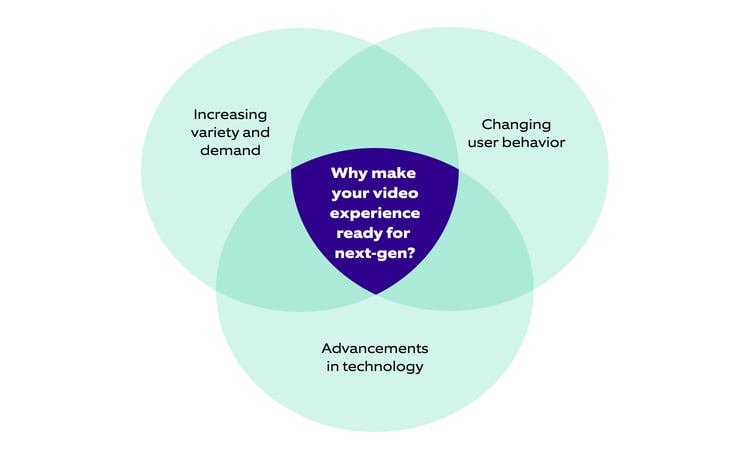 Increasing variety and demand
The demand for engaging content available anytime and anywhere has increased over the last few years and is expected to keep rising in the coming times. A report by Tellyo reveals that 62% of people watch videos through TV and mobile streaming apps. Also, 36% of Gen Zers say that they don't watch live or cable TV.
With this changing behavior, mobile streaming apps and OTT video revenue is expected to reach USD 224 billion by 2027. Content creation is not limited to production houses only; it's no longer a monopoly. Alongside traditional content, namely, movies, news, and sports, the platter is increasing in size and variety. Web series, podcasts, and short movies are some of the new offerings that keep the viewers hooked. In addition to all this, user-generated content provides even more variety.
There is an ever-growing amount of inventory, which in turn, brings technology, infrastructure, and scalability challenges.
Investing in the right infrastructure, technology, and marketing strategies is crucial to cater to the rapidly growing demands.
Infrastructural decisions must be thought through, keeping the present and future in mind. Overspending on infrastructure initially but not being able to scale up eventually or investing in infrastructure that does not cater to your growing needs of increasing load can be a big misalignment. Therefore, investing in infrastructure and technology which is sustainable for your company's vision, in the long run, is of utmost importance.
You might be aware of the Meta outage that impacted 3.5 billion users, led to losses of around USD 60 million in revenue and wiped off almost 5% of its share value. With more variety of content coming in comes the challenge around distribution and discoverability. A single monetization strategy – subscriber-only or ad-only – may not work for all viewers, so content providers are moving to hybrid monetization strategies. After years of showing paid content, Netflix is now introducing an ad-based model. OTT providers must optimize their content for search and implement effective marketing strategies to ensure that their content is discovered by the right audience in the easiest way possible.
Advancements in technology
Technical developments and innovations have made content global and readily available with a single click. Multi-CDN technologies, faster broadband, and 5G are helping resolve the problem of quality, load, and latency. Technology platforms have evolved as PaaS or SaaS using streaming and cloud edge delivery. Device capabilities have increased, and viewers are not restricted to a single device.
An average person consumes OTT on three different devices and uses three OTT apps for content consumption. There are multiple platforms to get viewers to consume your content. Apps can be customized, and out-of-the-box features are made available with minimal effort. Bundling with a telco or retail partner allows easier acquisition. Viewers are now open to subscriptions, and the ease of payment integration ensures multiple options are being made available to them in the form of varied monetization models. 88% of US adults watch content on OTT SVOD platforms.
With experience-driven UX, viewers' onboarding experience can be made seamless, and with personalized content APIs, viewers can enjoy the varied content.
Leveraging the latest and most trending technologies can help OTT entertainment providers stand out from the crowd.
Yet, there might be multiple challenges associated with these advanced technologies. The first one is usability across multiple devices. Since viewers are using different devices to consume the content. The experience may not be consistent across all the devices and compatible with multiple platforms, such as iOS, Android, Roku, Apple TV, etc. 83% of the consumers think that a seamless user experience across all devices is vital. With increasing competition, faster time to market is always the top priority. However, this sometimes leads to a compromised user experience, resulting in negative reviews and increased user churn.
Changing user behavior
As a result of strong tech, options are varied, and users are spoiled for choices. 83% of consumers think that a seamless user experience across all devices is vital. 86% of the consumers will pay more for a better experience, which is a differentiating factor. 94% of the audience is very likely to renew their subscription and recommend the platform if they are delighted with the user experience.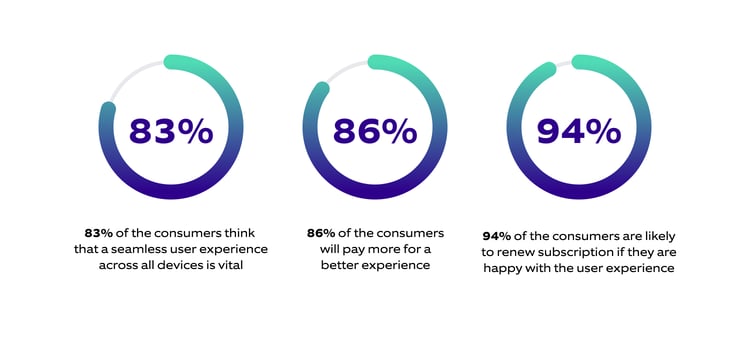 Also, engagement needs to be user-centric to stay ahead of the competition. From viewing being a family affair on TV some years back to everyone having their own device today, viewers are getting used to recommended, niche, and personalized content. The global market size of a recommendation engine is expected to be USD 54 billion by 2030. Niche content helps define viewers' personal preferences, and data augments all core business aspects.
The content is also rapidly getting redefined in a big way with futuristic technologies. For example, the metaverse provides a unique immersive experience at home, which was beyond comprehension a few years back.
By utilizing vital user data, creators can make the content more niche, audience-focused, and personalized.
However, such niche content may not align with mainstream content due to factors such as limited audience, limited advertising opportunities, lower production value, limited distribution, and fierce competition. Acquiring subscribers can be challenging for video content creators. Retaining them can be even more difficult owing to a competitive market, impatient viewers, and rapidly changing viewer interests.
Conclusion
Gone are the times when only content variety and availability were the dominating themes of the business strategy for any media company. The media industry is undergoing a massive transformation, and it's the perfect time for businesses to prepare for a next-gen experience. This means investing in new technologies and platforms, embracing user-generated content, and being prepared for the challenges that come with it. The key takeaway is that the next generation of video experiences will be highly interactive, personalized, and immersive. Businesses that are prepared to meet these demands will be well-positioned for success.
Have any feedback regarding this article? Or, want to chat about how to take the leap in your OTT digital maturity? Reach out to us at media.practice@nagarro.com.