Digitalization has transformed the way banks operate, increasing customer expectations substantially. Gratifying products and frictionless experiences have become the norm and are no longer sufficient to satisfy the customer. In the face of such dwindling customer loyalties, banks and financial institutions like to stand out, and want their products to have top-of-the-mind recall value.
But the big question is, what else is left when all is done? This is where 'gamification' comes to the rescue!
What is gamification
Gamification has made its way into banking and financial institution interactions, leveraging the concept to achieve varied business objectives — from boosting customer engagement and instilling saving or investing habits, to securing emotional loyalty.
Of course, gamification is not gaming; rather, it is the application of gaming principles and mechanics to a non-gaming environment to influence real-world behavior. It works because it appeals to human impulses and desires, such as the need for simplicity, entertainment, social interaction, reward, and competition while enabling players to achieve goals.
According to a report by Fortune Business Insights, the global gamification industry expects to reach $37 billion by 2027, growing at a CAGR of 24.8%. As affirmed by BBVA Open Innovation Report (November 2022), some of the world's largest banks and financial institutions have already adopted gamification, generating a value of $12.25 billion in 2021.
But where can one use gamification strategies? Let's check.
Use cases of gamification in banking
Here are some high-potential use cases for banks and financial institutions: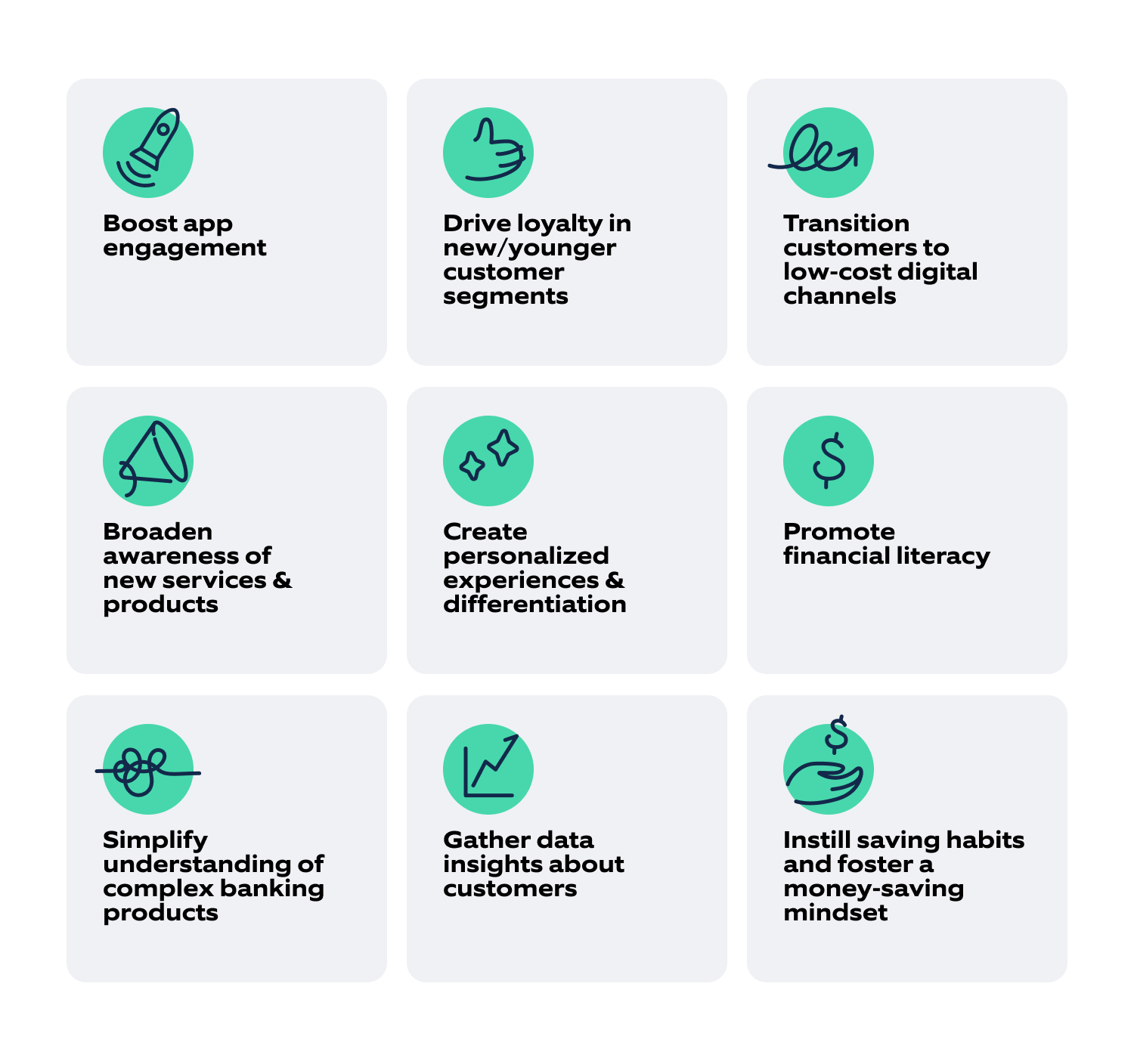 Fig 1: Gamification use cases in banking
Banking gamification examples
Gamification is picking pace as more and more financial institutions and banks aim to amplify customer engagement with it. Here are some examples:
Extraco Bank (USA): They used gamification to push an unpopular decision — curtailing its free-checking accounts. Customers meet James, a character in the game, who is irked by the bank's plan. He introduces users to a series of questions and personalized tips which guides them to a workaround of reducing or even eliminating the monthly fees. The app has since generated a 7X higher conversion rate from 2% to 14% and raised customer acquisitions by 700%, ensuring brand loyalty despite a disliked strategy.
Monzo: This is one of the earliest app-based challenger banks in the UK is known for its gamified banking application. From a task-based instruction menu for onboarding to challenges that unlock different achievements throughout the customer journey, these gamification strategies have helped Monzo grow its customer base to 5+ million users without any physical branches.
An example of how Monzo is helping customers meet their saving goals is the 'run and save' scheme. Customers link their Monzo accounts to Strava or Fitbit, and on meeting a running target, some money moves from their savings accounts to "saving pots." These saving pots can be locked or added with friction, ensuring customers don't break them easily, hence sticking to their saving commitments.
Emirates NBD: This large government-owned bank in Dubai offers fitness accounts that reward users with up to 2% p.a. interest on their savings, depending on their physical activity levels. The base interest rate of 0.25% increases to 0.5% for 5,000 steps, 1% p.a. for 8,000 steps, and 2% p.a. for 12,000 steps. This gamification strategy has brought Emirates NBD $4.37 million in savings and increased customer loyalty.
Insurer Aviva: This insurance company is affirming gamification by not only awarding badges to customers for reaching distance milestones, but scoring their driving techniques (like accelerating, cornering, and braking) between 1 to 10 for every 300 km, entitling them to get discounts off their car insurance - ranging from 0% to 20%. Aviva has integrated with Facebook and Twitter; users can share the earned badges on social media, generating further traction and acquisition.
State Bank of India: Gamification in banking need not be restricted to the digital world. State Bank of India's InTouch branches, which are staffed by just two people, allow customers to open an account in real-time and get a personalized debit card. This new customer can then go to a "gamification table" to plan their investments and expenses, access a dream wall, where they can look up options to finance their needs and get help from a "remote expert."

Let's now explore the different elements of gamification.
Game mechanics and gamification principles
To begin, banks and FIs must first discover the customer`s needs and desires to implement gamification. The next step is to create a gamified solution or introduce gamification into existing solution(s), aligning with the customer`s needs. Once the goals of the gamified solution are meaningful to the customers, they become engaged at an emotional level, motivating them to perform specified activities. This helps to change the behavior of a target group and meet business objectives.
But to create gamified solutions for financial use cases, one needs game mechanics and gamification principles.
Game mechanics like points, badges, leaderboards, narratives, emotions, challenges, etc., are used to implement the underlying engagement models and rules.
Gamification principles, based on game design, are used to increase customer engagement and provide a better user experience.

Below are a few gamification principles inspired by game design:

• Treat users differently based on their persona and lifecycle
• Incentivize key actions/"core loop" and reward consistently
• Constrain resources to push players to maximize their experience
• Personalize the experience to instill greater affinity and a higher switching cost
• Integrate Social to your experience
• Sustain motivation with intrinsic rewards.
Integrating gamification in business processes
However, the concept of gamification works when it extends gaming to real-world problems. For this, designing player-centric applications that meet the bank's or financial institution's end objectives is important.
But apart from understanding the user and their goals, this requires a solid game plan, which includes establishing a game economy, game rules, and engagement loops.
Game plan
While game mechanics are seemingly the trademark of gamification, when designing a game plan, it is important to focus on meeting the end user`s goals and motivations by embedding gaming principles and mechanics into business processes. Besides, one should focus on three other key components:
Game economy: Players accumulate four basic currencies in the game economies — self-esteem, fun, social capital, and things that are implemented through game mechanics — and this is how users are rewarded for their efforts as they strive to meet their goals.
Engagement loops: These are the positive reinforcement and feedback loops that keep the player engaged in the game. A classic example is Nir Eyal`s hooked model, which promotes the creation of habitual behaviors via a looping cycle that consists of a trigger, an action, a variable reward, and an ongoing investment.
Game rules: The game rules combine the mechanics into a flow to motivate the player to achieve the mission.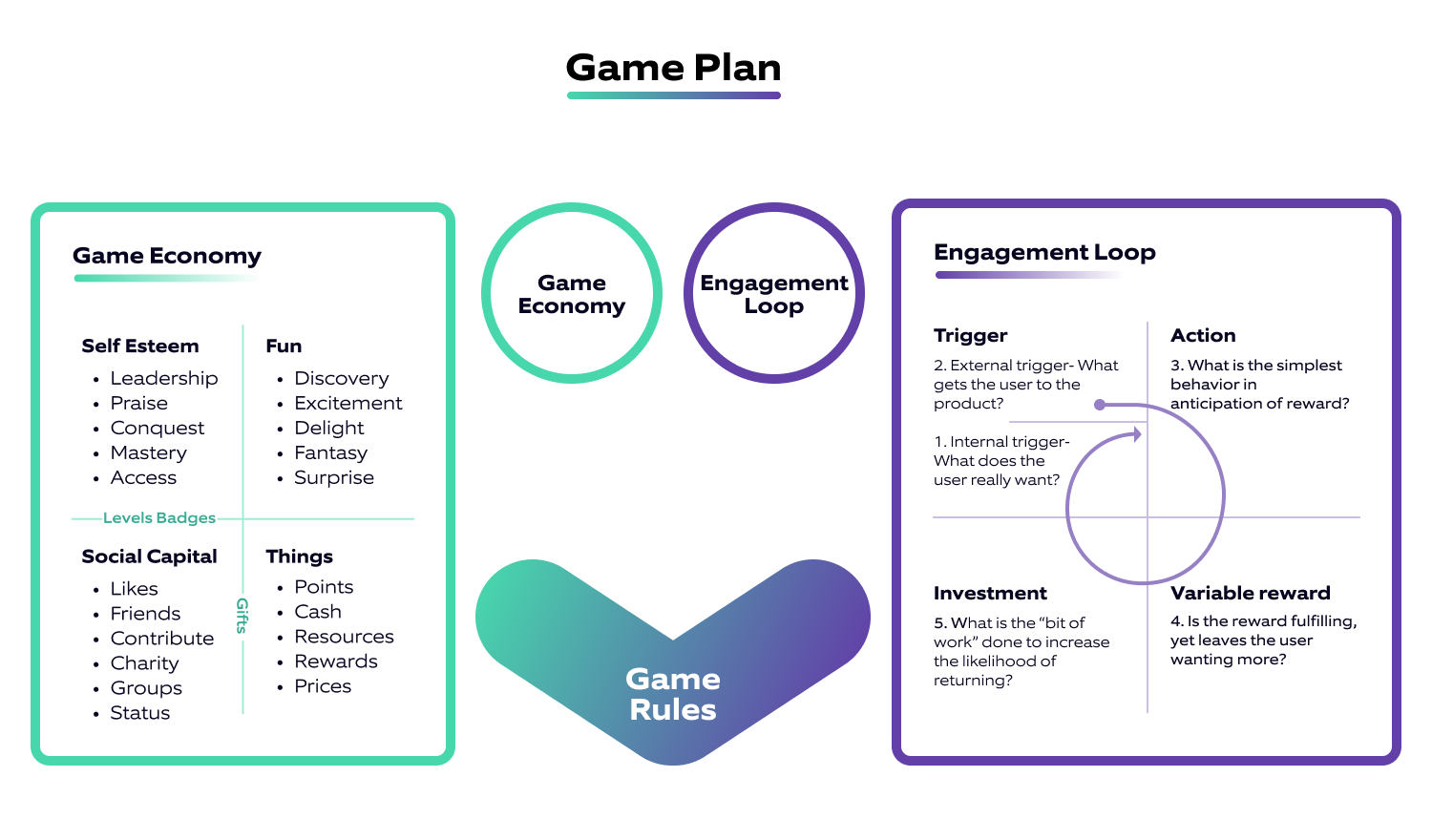 Fig 2: Game plan
One must ensure the use of relevant game mechanics, focusing on the intrinsic motivation behind the game design - effective engagement loops and game rules to orchestrate a successful gamification strategy.
Our take
At Nagarro, we understand that financial organizations sometimes need help defining a clear gamification strategy, or the strategy may not deliver the desired outcomes. They may need clarification in deciding whether to build or buy solutions, how to integrate with pre-existing platforms and processes, and how to ensure scalability. We address all such challenges with the right attitude - making gamification a key business driver rather than a tactical tool to achieve short-term goals.
All stakeholders must remember that gamification is a step up on loyalty programs, inducing behavioral change, and it is for all age groups, including mature audiences. The trick, however, is to tailor it to the customer's persona, aligning with one's motivations, frustrations, aspirations, and preferences.
Are you up for it? Let's talk!