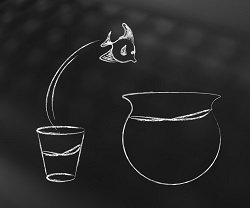 One of the biggest concerns for CTOs and IT leaders is not being able to harness the power of digitization and mobility due to their legacy IT system. Is your current IT landscape limiting you from integrating with newer technologies? Is your system running on obsolete technologies that are inflexible and preventing you to adopt modern development methodologies such as agile? If the answer to all is yes, then most likely your IT landscape is trapped in a legacy system.
Most monolithic and aged IT systems prevent integrations to the modern technologies due to limited interfaces thus causing hindrance in your journey to digitization. With new technological models gaining prominence, businesses are investing more to maintain legacy system at the expense of innovation. Moreover, legacy systems are updated with various sub-systems – around the core IT system due to new requirements and features – to cater to market and business needs. These sub-systems are developed based on the availability of technical expertise.
In majority cases, additional systems that are ahead in terms of technology augment the complexity of the IT landscape. With time, the additional sub-systems around the core system emerge as a stable ecosystem that has many parts which are dependent on each other, but that needs manual work due to limited interfaces available. It ensues another challenge of consolidation of home-grown ecosystems. Here are more reasons why escaping the legacy trap is essential and why there's a need to consolidate mature ecosystems:
Inability to make the current IT landscape compliant with new regulatory requirements
High cost to maintain the current system leaving no scope for innovation
Limited skilled expertise with knowledge of legacy technologies
Inefficient systems and redundant code in the system
Unable to adapt to meet customer demands
Limited interfaces in the core system for connecting to newer technologies. The IT ecosystem is developed with different technologies. Thus, there are manual tasks in the system
Limited resources with knowledge of multiple technologies used in the ecosystem for overall maintenance.
Now, let's talk about how to escape the legacy trap.
Nagarro's AMS CoE has developed a unique methodology called the ART (Assess, Renovate and Transform) methodology that enables the organization to increase the ROI of legacy investments. In the Assess phase, our experts discover system characteristics and build an understanding of the current environment to develop a road map for a suitable modernization strategy. The selected strategies could be of any type: Renovative or transformative. Renovative techniques are meant to improve cost-effectiveness, efficiency and flexibility of existing legacy systems. While transformative techniques involve building the legacy applications on new-age technologies or integrating them with off-the-shelf packages.
Future-proofing the IT Infrastructure: How to be avoiding the legacy trap for good?
Seamless application integration to ensure system resource sharing and to reduce functional redundancy
Interoperability among disparate servers, operating systems, software packages, and home-grown applications
Scalability to accommodate future growth
System intelligence that anticipates workload, guarantees uptime, and enables resource sharing
Faster delivery of applications, solutions, and services with agile methods
Meet end user demands at scale through mobile and cloud-enablement
Quick time to market to ensure value for money invested in deploying changes to IT applications.
An effective legacy modernization effort requires thorough assessment of the existing environment followed by diligent planning as agreed by all stakeholders. Identify all risks and have a mitigation strategy in place before the execution phase because the effort required for modernization may be easily underestimated.
The choice of strategy for an organization depends on the business objectives and the budget of the organization among several other factors. The best migration approach balances risks, investments, complexities, and ROI in a manner to suit the company's best interests. A phased approach is prudent if in case the outcome of a particular phase doesn't meet expectations, the efforts and further investments can be curtailed. Strategies that require the longest implementation timelines are usually the riskiest. Regardless, health checks on the modernization work during the execution phase are a must to ensure productivity.
Nagarro's ART methodology makes it easier to predict outcomes of a legacy modernization effort. Using ART, our clients have been able to plan and execute successful modernization in a way that reduces inefficiency and lowers cost.