"Agile Enterprise – to be or not to be?" – this was the all-important question that the Quality Leadership Circle (QLC) addressed on October 29, 2019. Digital leaders from different industries met for the eighth time at Bel-Etage of Landtmann, the Viennese cafe and exchanged their views on Enterprise Agility. It was an exciting discussion with controversial approaches, and I am pleased to share a short review of the event. Let me say one thing in advance - agility has much more to do with a "Viennese Melange" than you might think at first!
Status Quo: Start, Grow, or Recharge
The assessment of the managers during the introduction round proved that across different companies, although agile methods are being used across individual projects or teams, they are not being used across the entire organization. Half of the assessed companies are in the initial stages of their journey towards becoming an "agile enterprise" i.e., although one team or another - mostly in IT - is already working according to agile methods, they still face the task of scaling agility to a pan-organization level. In the other half of the assessed companies, such companies are either in their growth phase and in a positive mood or they have got stuck somewhere in their agile journey. In such a scenario, instead of the promised benefits from adopting agile, one finds that frustration starts creeping in and a recharge is the need of the hour.
The Impulse Talks
At our event, we had two speakers, Robert Modliba (Head of Operations at Österreichische Post AG), and Leo Hintersteiner (CIO at LKW Walter Internationale Transport Organisation AG), who explained how to successfully scale agile teams.
At Österreichische Post, for example, an extensive program - with several mixed teams from business and IT - was implemented by using agile methods. The aim was to implement a uniform delivery process for letters and parcels. This not only posed a major architectural challenge for IT but also meant that the processes had to be thought afresh from a technical perspective and had to be re-aligned to future requirements. A successful concept for scaling agile teams was required, which also finds its way outside of IT into other areas of the enterprise.
"Our operating division comprises more than 12,000 employees, who are dispersed across Austria – an area that has historically been controlled by process specifications and work instructions. Such a working environment is exactly where I see the advantage of adopting an agile mindset, i.e., self-organized teams characterized by personal responsibility and self-control. Of course, this is a giant step for a traditional company and needs to be approached carefully. It is clear to me that there is no way around it," says Robert Modliba.
He gave the analogy of the construction of a new distribution centre to explain that a differentiated approach is also appropriate for companies which are on their way towards becoming an agile enterprise. "There are completely different challenges here, with years of lead time from site selection, through dimensioning along the volatile future throughput, to construction. Implementing such a project in an agile manner would be a completely wrong approach", he added.
The Austrian transport & logistic company LKW Walter has also been undergoing an agile transformation for several years and is currently facing an important stage of development. From agile IT projects, according to SCRUM to scaling via the Scaled Agile Framework, the agile maturity level has continuously been developed further. Leo Hintersteiner sums it up with these words: "In recent years, we continuously tried out and implemented agile methods and process models, technologically put many things on a new footing and underwent a rapid cultural change towards digital business. Of course, not everything has always worked smoothly from the beginning, and we have discarded some things again, but for me, this is an integral part of an agile culture. What we, as an organization have learned is: to learn."
His company is currently facing the challenge of aligning the IT architecture and application landscape even more consistently with the product teams, which is not always clearly possible due to the historically heterogeneous application landscape. "This once again shows how important an IT architecture geared to agile product organization is," says Leo Hintersteiner.
Why agile and what was there again with the "Viennese Melange"?
The lively discussion between all participants in the plenary proved that Agile Transition is a hot topic in the industry. In answering the question of why agility is so important today and also in the future, the participants largely agreed that agility for the sake of agility will not be successful. It needs a purpose, for example, the necessity to adapt to new market requirements in a short time or to have flexible answers to continuously changing customer requirements. Agile companies must be able to adapt their organization and business model to the constant changes. Change becomes a routine to eliminate organizational paralysis through an ongoing change process.
As far as the term "agility" is concerned, a wide variety of views prevailed. For some, agility is a synonym for "speed" or "flexibility," for others, a set of methods such as Scrum, Design Thinking, or Lean Start-up. Some participants also see agility as the creation of a framework within the company that enables and promotes an agile mindset. Agility is, therefore, in practice, often a collective term for a combination of thinking, behavior, and procedures. Not least because this QLC took place again on the premises of the Viennese coffee house tradition, would I like to try to summarize the opinions with a metaphor: as with the Viennese Melange, agility also depends on the mixture - the right ratio of methods and mindset.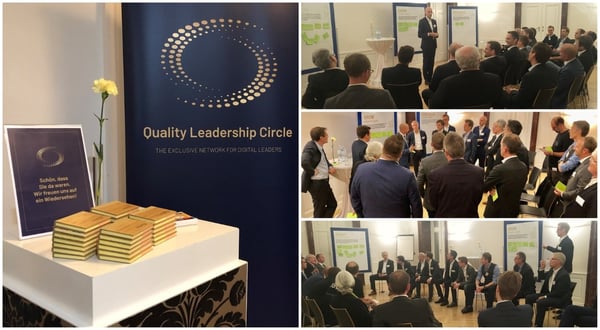 Moving from doing agile to being agile
Methods alone are not enough to make an organization's culture more agile. An essential reason behind enabling agility lies in the mindsets of all those involved, and in those representatives who see their companies through to an advanced stage in their agile journey and are currently devoting themselves towards further expansion.
If agile methods are put over or misunderstood in a traditionally-created corporate culture, the risk of failure is high. For example, authoritarian executives could govern self-organized teams or the fear of mistakes might prevent innovative experimentation. Based on the experiences of the decision-makers who were present, such a cultural change requires professional preparation and support, and one would be well-advised to start small. Start with "building projects around motivated individuals" e.g., with an intrinsically motivated team or a team open to new approaches for your first pilot, in order to arouse curiosity and interest in other areas of the company, and to find imitators.
Every step that a company takes towards enterprise agility should be set in the context of addressing these core questions: Who do we want to be? What do we want to achieve? And how do we want to work? It is only when you consider the areas of culture, strategy, and tactics equally, that a sustainable change can be achieved with great effect.
Finally, the topic of "misunderstood agility" was discussed extensively. Successful agile organizations are characterized by the fact that their stability is achieved by decentralization of responsibilities. To ensure this, teams need expertise and disciplined adherence to fixed rules.
Making spontaneous interventions under the guise of agility or unstructured interventions in ongoing projects or plans have nothing to do with agility. On the contrary, any lack of planning or uncoordinated actions in ad hoc processes or sudden changes in plans and responsibilities are always undesirable. By doing so, instead of being agile, an organization appears to be plan-less and chaotic, without leadership.
The event-finale
After their extensive discussions, the participants met to exchange more thoughts and experiences at a relaxed, social networking party with food and drinks, which lasted far beyond the planned schedule. I would like to take this opportunity to thank all the participants once again. I was delighted to see many QLC members again and to meet new people responsible for digitization. Speaking of digitization, the QLC community is also online on LinkedIn. Digital leaders are cordially invited to apply for membership by visiting the "Quality Leadership Circle" page on LinkedIn.
I am already looking forward to the next meeting of the QLC Community in spring 2020! Detailed information on the date and topic will follow in my ensuing posts.
About the Quality Leadership Circle:
The Quality Leadership Circle (QLC) is a network for selected key players who wish to make their companies fit for the future. As part of this convention, participants exchange views on strategic developments, challenges, and opportunities in key fields of action in a small, trusting setting. Thought-provoking discussions on emerging topics, and the exchange of personal experiences provide valuable inputs towards achieving digital breakthroughs. #ThinkingBreakthroughs