The aviation sector has, over the years, evolved to meet and exceed the needs of both passengers and airlines. However, as any observer in the aviation segment can vouch for, it is the passengers who are vital to the health of the industry.
This fundamental truth motivates service providers to go to extreme lengths to appease their customers. With multiple airlines offering the same routes at competitive prices, the passenger's choice is often determined by whichever airline provides the best end-to-end experience.
The shrinking of operating margins as a result of rising global fuel prices and competition from low-fare players means that airlines are forced to resort to cost-cutting measures. The end result is a leaner operating model that significantly brings down the cost and time. However, most of these strategies are at the expense of passenger experience. Considering how expensive air travel and its associated expenses are, they might not be too pleased about this.
But the tide is now changing, thankfully, to benefit the passengers.
The core edicts of customer communication — to improve customer satisfaction, increase revenue per customer, reduce churn, and reduce costs — have remained unchanged over the years. However, with the emergence of new technologies and the steep increase in competition, how companies interact with customers has seen a drastic change.
Take, for example, the rise of chatbots. Powered by AI, chatbots have revolutionized customer service by being available at all times and by increasing customer engagement. In other words, integrating digital solutions doesn't just stop at optimizing airline operations. Their benefits extend to customer service as well.
The latest digital solution promoted by the airline industry is Augmented Reality (AR). From tech expos like Consumer Electronics Show (CES) to Realty Expos around the world, products incorporating augmented reality have taken center stage and captured the consumer's imagination.
A new reality augmented by technology
Whether in aviation or medicine, AR is helping companies take a customer-first approach.
But what exactly is augmented reality?
Commonly defined as the integration of digital information on a user's environment, AR has turned the future imagined by sci-fi movies of the '80s and '90s into today's reality. Computed data is overlaid on real-world objects to enhance the user experience, thus providing a composite view. Perhaps the most well-known example is the AR mobile game Pokémon Go, published by Niantic for Android and iOS devices.
The sheer scale of the global audience and the praises it garnered have validated industry speculation that AR is poised to be a critical factor in driving meaningful engagement with customers.
According to a Global Market Insights research report, the AR market size is set to cross USD 50 billion by 2024. Shipments of AR devices are expected to grow at a CAGR of over 75% from 2017 to 2024. Sophisticated graphics are blurring the line between what's computer-generated and what's real by feeding perceptual data to users, including sight, sound, touch, and even smell.
Augmented reality in action
A loose screw or a rattling sound from your car's engine can be ignored for a while and can be fixed quickly enough. But when you're 20,000 ft in the sky, improperly maintained engines become a much bigger problem that is, in every way, at another level!
This is why American aerospace manufacturer Pratt & Whitney, in collaboration with other parties, invested in a virtual reality engine maintenance training for airline mechanics. Mechanics will be able to virtually walk inside an engine to examine various parts and view a running engine in motion, using headsets and hand sensors. Training mechanics in this way will undoubtedly minimize engine faults and will help to identify potential issues early on.
Airplane safety aside, airlines like Air New Zealand are beta testing Microsoft's Hololens to provide passengers with exquisite in-flight service. The simulated scenario is of a future where flight attendants will be able to view passenger information such as flight details, time since last served, and even the emotional state of the passenger on their headsets.
The benefits are quite apparent for both airlines and passengers.
Flying your passengers to cloud nine
From the moment passengers check-in at an airport to the time they collect their luggage at their destination, airlines are playing the hard game to offer a pleasurable experience.
The plethora of choices on popular air routes means that even the slightest inconvenience is cause for passengers to shift loyalties.
Some service providers are taking the guessing game out of seat selection by providing passengers with a virtual tour of the available seats in an aircraft through virtual reality.
As any traveler can tell you, having your cabin bag tagged and tossed in with other checked-in luggage can ruin your trip. You might have some medicines in there or maybe even an iPad for some in-flight entertainment. The last thing you want to do is last-minute luggage shuffling just because your intended cabin bag was a bit bigger than the permitted dimensions. Tackling scenarios like these is what Nagarro had in mind when developing an app to help with cabin luggage verification.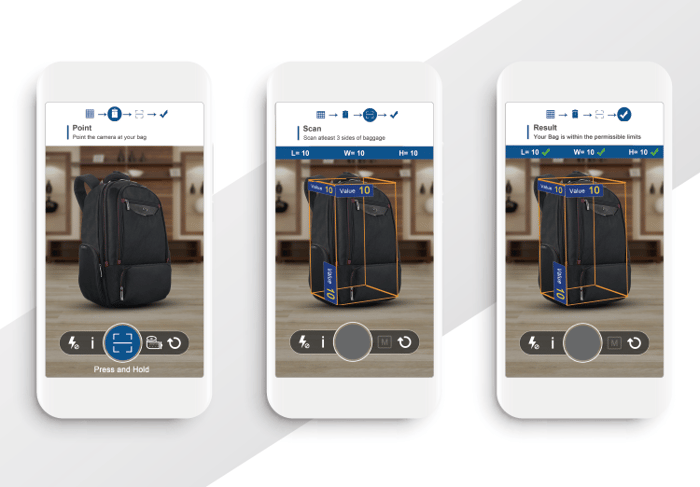 App to determine whether cabin luggage is within permissible limits

The mobile app leverages augmented reality to help you decide if your carry-on baggage can indeed be carried on the flight. Once passengers log in to the app, they point their device camera towards the empty floor. A virtual bag — with the maximum dimensions allowed on the flight — will appear. All they need to do is overlay this virtual bag on their actual bag.
If the carry-on is of the approved size, it will be completely covered by the virtual bag. If not, the real bag will go beyond the outlines of the virtual bag. Pain point: solved!
Enhancing passenger experience
Make no mistake: AR is not just another gimmick. It's not another case of companies doing it because "everyone else is." Integrating AR into standard processes in the aviation industry has the potential to increase flight safety, bring down costs, and ultimately provide passengers with a seamless travel experience.
No issue faced by the customer is too small when it comes to the aviation industry. Well known for providing top-notch experiences, they are leveling up in the customer satisfaction scale by adopting new technologies like AR and VR.
With the steady increase in consumers' purchasing power and quality requirements, brands can ill afford to drop the ball. Airline service providers are investing more resources to better understand, model, and predict customer behavior. With augmented reality, they have a real chance of upgrading consumer satisfaction to version 2.0.