In today's fast paced landscape, efficiency is paramount. An efficient utilization of limited resources ensures we get the best outcomes possible, while cutting down on wastage. This makes optimization a key, and maiTour, a powerful tour planning add-on for SAP Sales Cloud, helps in refining and aligning sales strategies.
What is maiTour?
The SAP Sales Cloud, in its essence, is a powerful platform. It centralizes data, automates workflows, and provides insights that are crucial for sales strategies. But, as with any tool, there's always room for enhancement.
This is where maiTour comes into play.
Here's how it works. maiTour seamlessly extracts data from your SAP Sales Cloud, taking into account your appointments, preferences, client histories & data, recent interactions, and more. Using sophisticated and customizable algorithms, it prioritizes your customers, ensuring that your attention is directed where it's most impactful.
Got an urgent client call in between your busy schedule? Open maiTour and re-optimize your already planned visits. Watch as the tool refines the plan, making it even more aligned to your goals.
With maiTour, sales tours can be data-driven, strategic, and prioritized for maximum optimization and efficiency.
Once everything is in place and you're satisfied with the proposal, a simple click is all it takes. The add-on automatically creates visits within your SAP Sales Cloud, integrating the optimized tour plan directly into your Sales Cloud calendar and therefore, into your workflow.
In essence, maiTour doesn't just make tour planning easier – it redefines the entire process, ensuring every tour is data-driven, strategic, and poised for success. An excellent planning tool, maiTour turns the potential of the SAP Sales Cloud into tangible results and guides sales teams to excellence.
Smoothly navigate through the three sales optimization stages
The software guides you seamlessly through the three stages, leading to a transparent and optimized result.
Customer Selection
maiTour proposes customers with the highest priorities within a planning period. These priorities are calculated by our highly customizable priority algorithm. Together, we establish business rules upfront that factor into the priority calculation, ensuring that the proposed customers are always those of utmost significance during the chosen planning period.
Additionally, already planned appointments which are part of your calendar are automatically included in the chosen planning period.
Furthermore, if you miss a specific customer or have finished earlier for the day and want to add some more customers in your surrounding area, you can search through your customers and add them to your proposals.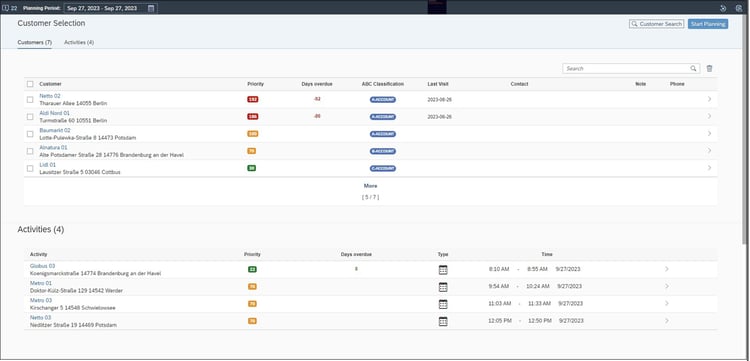 Customer selection interface
Planning restrictions
The planning restriction stage is the main stage to set time and date restrictions and decide whether it is mandatory or optional that a specific customer needs to be visited in the chosen planning period. You can add and remove overnight stays, temporarily change the duration for one or more visits, or adapt your own working hours and a lot more.
All your set restrictions will be considered while optimizing your tour.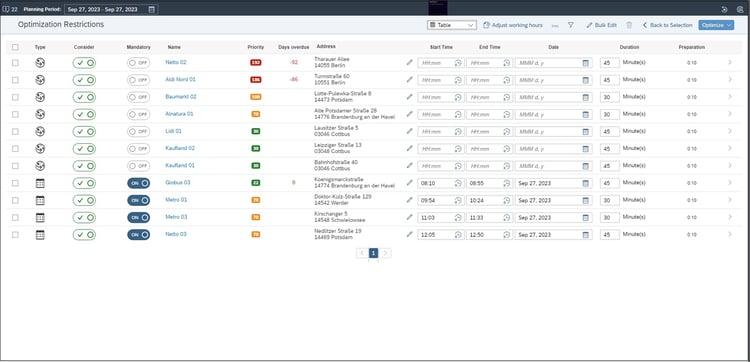 The interface where restrictions can be optimized
Optimization results
The final stage showcases and consolidates the outcome of the optimization. It displays which suggestions were optimized or left unchanged, considering your constraints and the determined priority. Furthermore, you have the option to view your optimized route on a map and inspect each day separately. After doing so, you can effortlessly save all the visits to your SAP Sales Cloud calendar with a single click.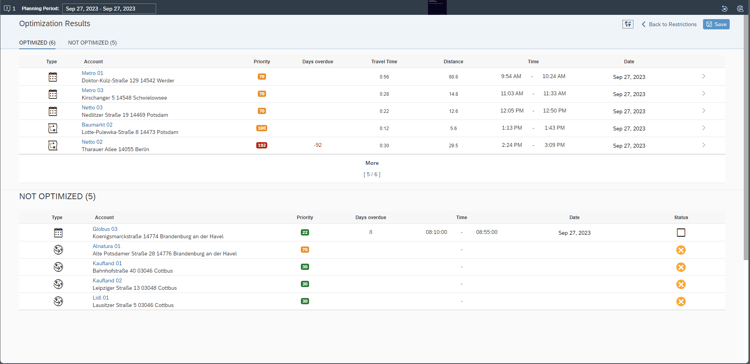 Interface showing the optimization results
How does it work?
The process of sales tour planning and optimization through maiTour happens through these following steps:
1. Data extraction
maiTour extracts all the vital data required to effectively prioritize and suggest customers. To provide a more comprehensive and tailored user experience, maiTour further supplements this data with additional information. This encompasses specifics set directly in the add-on, such as conditions maintained in the restrictions stage, as well as user-specific configurations and preferences. By harmoniously combining data from the Sales Cloud with user-defined parameters within maiTour, the system ensures that proposals are not only accurate but also aligned with individual user needs.
2.
Optimization Request
The consolidated and organized data collected from the SAP Sales Cloud is transmitted to PTV's specialized route planning endpoint for route optimization. This ensures the utmost optimization of the tour, aligning with best practices and enhancing the overall user experience, while also maximizing route efficiency. This integration with PTV's optimization capabilities showcases the synergy between data structuring and high-end tour planning for superior outcomes.
3. Optimization Response
maiTour efficiently processes and refines the outcome derived from PTV. By employing advanced filtering mechanisms, maiTour ensures that the data presented is both relevant and tailored to users' needs. This specialized summary and presentation technique enhances clarity, enabling users to grasp the insights from PTV in a user-friendly and meaningful manner. As a testament to the integration capabilities of maiTour, it harmoniously bridges the gap between raw PTV results and actionable insights for its user base, emphasizing the platform's commitment to delivering superior user experiences.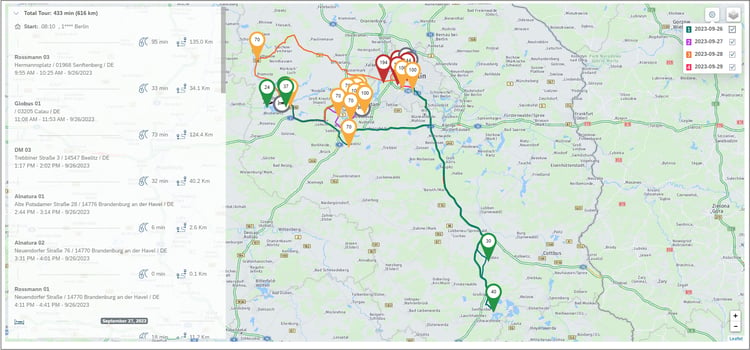 Map view of multiple days of visits (different days are indicated through different colors)
4. Creation of visits
Clicking the 'Save' button in maiTour instantly generates visits within the Sales Cloud Calendar. This process reflects the system's seamless integration, enabling users to quickly update their sales calendar and reducing the need for manual entries.

The flow of data from SAP Sales Cloud to maiTour and beyond
Read our success story that explains how we implemented maiTour effectively for fritz-kola.
Advantages of optimizing processes with maiTour
There are many advantages of optimizing processes with maiTour. Some of them are:
Resource conservation

: Whether it's time, money, energy, or materials, maiTour's optimization support helps ensure that these resources are used efficiently, avoiding waste.

Maximizing output

: In sales, optimization means reducing your travel time and distance, visiting more customers, and delivering superior service to clients. By setting the priority of customers, maiTour helps in maximizing your and your team's output.

Improving decision making

: maiTour helps leverage data-driven optimization and prioritize leads and opportunities. It empowers sales reps to make choices rooted in concrete insights, ensuring decisions are more strategic rather than mere hunches.

Adapting to change

: maiTour's optimization allows for quick adaptability and responsiveness to changes and business demands.
Conclusion
In essence, optimization is about making improvements. As our world becomes more complex and interconnected, the drive to refine, enhance, and perfect becomes more urgent. maiTour offers interesting features to apply the right optimization approaches to your sales initiatives. It also provides the freedom to focus on more urgent tasks at hand, instead of wasting precious time in just planning, arranging, and analyzing your sales visits.
Want to know more about maiTour or understand it in context of your processes? Get in touch with our experts; they will be happy to assist you.