As a proxy Product Owner (PO), I recently witnessed a highly anticipated release of a flight planning software's MVP. While working closely with product owners and managers of proven mettle, I realized that one faces complex problems in building that dream product with multiple teams across domains and regions.
For example, I saw how the customer expected changes even more quickly than the pace of the product's evolution, or sometimes, how the team was no longer aligned with the product goal. In such cases, it was important to share the outcomes with the end customers and relay the feedback to the team to decide whether to continue or correct.
At other times, the team faced a discipline crunch, like the non-availability of any UX resource. The best course of action was to make the UX skill less of a discipline and more about competence. For example, training the team about UX practices via online courses. For me, such unavoidable issues demonstrated why a practical and solid approach is so important and how it steers the team in the right direction.
Today, everyone is talking about strategy (so much so that it is often misused and overused), but what does it mean in product management? Let's find out.
What is a product management strategy?
Most people think that a product roadmap is a strategy. Well, not really! This discounts the market/competitive analysis or the customer needs study. An effective product strategy covers the plan to implement the defined scope (what). Its main subjects include:
analysis of the current situation
understanding the market situation
setting up guidelines to follow
validating the results against set benchmarks
reviving the methodology to stay abreast with technological changes
These ideologies are based on personal experience and not on any defined set of sequential steps of product management (because a fixed solution does not exist!).
What are the elements of a product management strategy?
Product vision
Product vision is the quintessential idea of why the product is built and how it stands out. It defines the target customers and the challenges that the product can overcome. To successfully create an accurate and inspirational product vision, everyone involved must know the product and the reason.
In his book "Start with the Why," Simon Sinek calls this the "Golden Circle." It describes the three layers: The "Why," the "How," and the "What" of the product.
Most top organizations know what they are doing and how they are achieving it, but they rarely understand why they are doing it. That is what differentiates organizations like Apple from their competitors; they think inside-out (instead of outside-in) of the circle.
Sinek's famous words: "People don't buy what you do, they buy why you do it."
An effective product vision makes people believe in our cause, belief, or purpose, i.e., the why of the product.
A great example is the Wright Brothers, who were so driven by a belief that if they could invent the flying machine, it could change the course of the world. However, their competitors were different. They were in pursuit of riches and not the dream. This is why, when they saw that the Wright Brothers had beaten them to take the first-ever flight, they completely withdrew from the idea instead of investing in innovating further.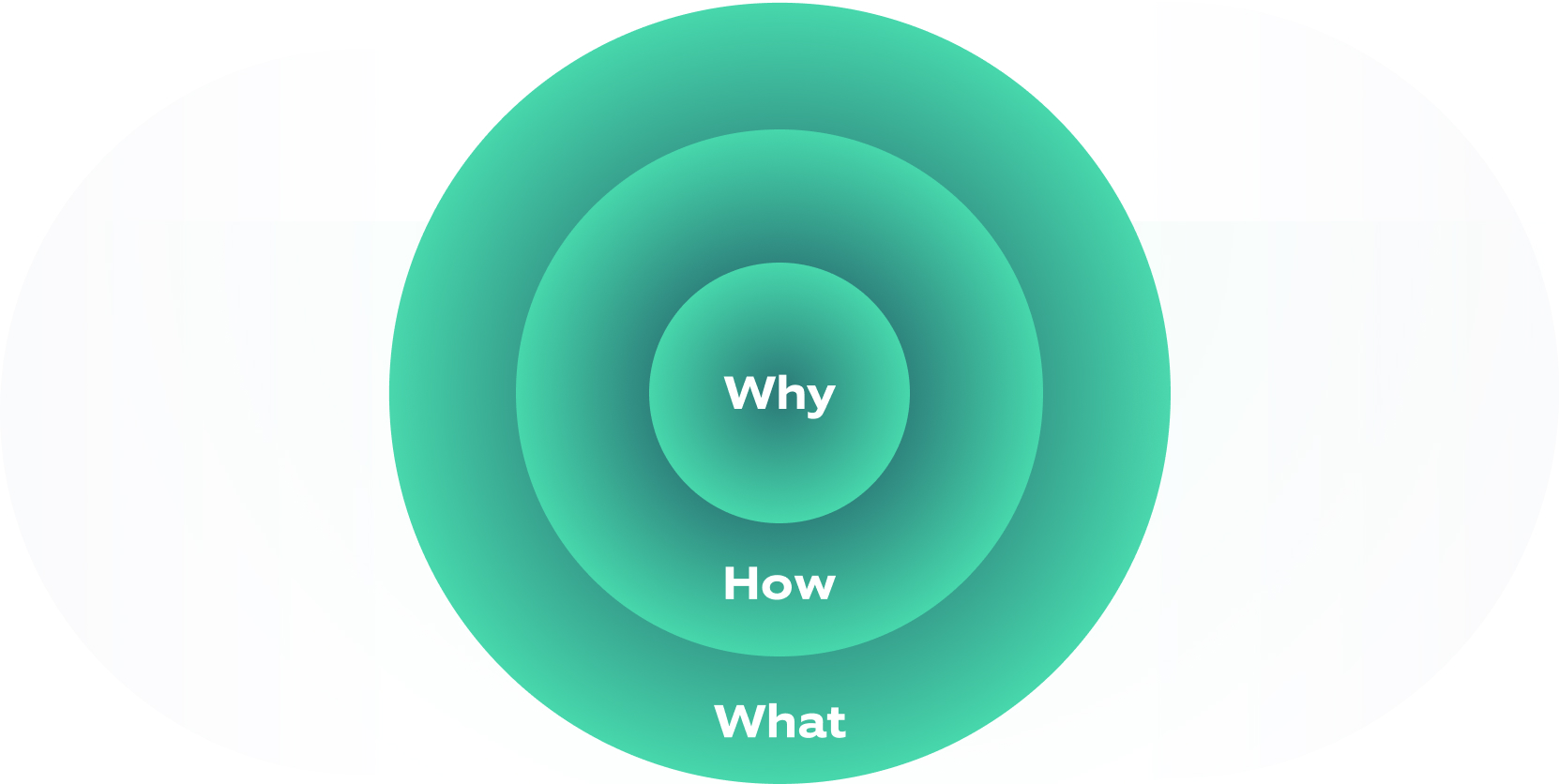 The Golden Circle
Current reality
Once the product vision is drafted, the next step is to introspect on the current reality to understand the obstacles in execution. This is why a market study is important, as it helps in knowing about the competition.
Conducting research is a great source of obtaining valid and substantial data to understand the current market situation.
Product management research involves a series of complex methods that use quality tools to capture customer data such as usage, demand per region, and normalizing data to project patterns conveniently and easily interpretably.
Businesses must understand their competition from the start because they can't make critical decisions until they know what their competitors look like and offer.
A competitor can be anyone who offers similar products and services, is in the same region, and targets the same customers.
Once the competitors are defined, the management can perform a competitive product analysis.
The analysis can be done by studying the companies' market history found in the marketing handouts, brochures, emails, product websites, and annual public reports that can help gauge other businesses' pricing, marketing, and sales strategies.
Another aspect of research is about knowing the customer or the end-user. Customer development is a process to check if we're building the right thing.
It's a process of maintaining a communication channel with customers to develop ideas and hypotheses, try them out, get feedback, and adapt the product accordingly.
Customer interviews accomplish this through questionnaires on social networking sites like Twitter, LinkedIn, email surveys, or employing methods like personas (fictional characters created to represent a particular user type that might similarly use the product/service).
Product roadmap
A product roadmap is a carefully curated strategic document that communicates:
the product vision
the priorities of a business
the product plans vs. the product timeline
The rudimentary principle in building the roadmap is prioritization.
It constantly evaluates the features based on coherence, market demands, development efforts, and technical debts.
Companies use different prioritization models like the MoSCoW principle, KANO model, weighted scoring, impact/effort matrix, etc., as per their relevance.
Irrespective of the method, the result must be that the stakeholders (both internal and external) should have clarity about the features to be developed, on hold, or completely abolished along with their respective timelines.
Guidelines
The guiding policies for implementation are just like the highway guardrails that help point in the right direction but can't help with the driving. It is important to start the development drive with a set of guiding policies to avoid alignment issues. For example, creating and maintaining an organizational culture where everyone understands the customer and has a passion for delighting them. This means greater good (customer satisfaction) is prioritized over opinion-based differences and personal conflicts.
A product manager needs to nurture an environment where empathy comes organically, and there is no judgment. Technology giants like Google and Apple foster an ambiance of innovation wherein employees are given the freedom to try out new ideas and iterate on them. Google's founders Larry Page and Sergey Brin have weekly company meetings where they share their learnings and discoveries with their doubts and fears. The floor is open to the audience for questions that they answer transparently.
Another guideline is about sharing product development frameworks and processes knowledge across the involved hierarchies and designations. So, if an organization follows the agile methodology for development, everyone should be aware of the agile ceremonies and their expected outcomes. A project repository with a version management tool should be made accessible to facilitate real-time or offline collaboration. Employees should be encouraged to share the information through templates, documents, and presentations.
Performance review
Reviewing the performance is crucial to gauge the solutions and understand what has been accomplished.
In the words of Alban Denoyel, product manager at Sketchfab:
"The most important lesson I have learned in my product management career is to do a few things but do them well. 80% of your users only need one of two of your features but need them to be perfect."
It is important to set objectives, and collect feedback.
Performance metrics are figures that describe what's going on with the product and can cover growth and engagement metrics, retention, user happiness, and revenue metrics.
Effective metrics are easy to understand, quantifiable, correlated, and changeable.
The most common frameworks are OKRs (Objectives and Key Results) and KPIs (Key Performance Indicators).
Google introduced and promoted the OKR framework and attributed much of its success to this goal-setting model. OKRs help companies establish "objectives" that usually focus on improvement areas, measured by "key results". OKRs help set up rigorous team goals and outline the steps to accomplish them. Google has been using it ever since it had only a dozen employees.
An example of an OKR is:
Objective: To become the most downloaded music app for android
Key result 1: Identify the most wanted features and incorporate them within the first quarter.
Key result 2: Conduct user testing of the developed features.
Key result 3: Reach X users by the first quarter.
Defining OKRs requires close collaboration with the cross-functional teams to help everyone stay focused and aligned with the larger objectives. This framework boosts employee engagement as each person is aware of their task's purpose,, and there are fewer chances of boredom and demotivation. Since OKRs are usually short-term, a company can more quickly adjust priorities, reallocate resources, and pivot. Common pitfalls to avoid while framing OKRs are having too many of them, which are not even on the priority list. While OKRs should be ambitious but not unattainable as the team might lose motivation, seeing no results.
KPIs are measurable numbers that represent the success of a business or any activity from sales, marketing, and revenue generation.
KPIs can be applied to companies, projects, departments, teams, and individuals to set targets and monitor progress.
The targets can be annual, quarterly, monthly, daily, or even hourly, depending on what you are tracking.
Just as every employee is different, each organization varies from one another w.r.t frameworks, policies, management, etc. KPIs should be tailored to specific organizational objectives, the plan to achieve them, and who can act on this information.
Example of KPIs:
Revenue is x million dollars.
Monthly website traffic is 10,000 new visitors
Deals closed by a salesperson per month is 10
Gain at least 5 mentions on LinkedIn, Quora, and Twitter
One key difference between OKRs and KPIs is the purpose behind the goal setting. KPI goals are typically achievable and denote the project or process output, while OKR goals are more aggressive and ambitious.
Regardless of the technique chosen, the bottom line is that the only way to improve the product is by measuring and reviewing its performance.
Sidenote – The "burning platform" effect
While attending a course related to business transformation using the cloud, I learned the importance of abiding by the technical revolutions through comparative case studies. This is relevant across the stages of the product development lifecycle of every product ever developed.
The "burning platform" effect requires organizations to take a leap of faith and jump from one paradigm to the next, time and again. Once the product roadmap is in place, and the objectives are met, innovation should never stop because technical revolutions are inevitable. Being relevant to the evolving technology is the best way for any product to stand the test of time.
Nintendo is one such example of a company that jumped off the burning platform. It has been creating games since 1889, when it started with traditional Japanese playing cards. From there, it has consistently taken up the technology from each era to evolve its business and become one of the leaders in gaming. Yet it doesn't dwell on these successes and instead revolutionized mobile gaming with Pokémon GO before launching the first cloud console with the Switch in 2017. It is a classic example of an organization shifting its paradigm from one platform to the next and consistently expanding its market when most of its competitors were fading out.
The opposite example is the Encyclopedia. Companies that sold encyclopedias focused on how to print and sell a specific type of books; leather-covered volumes in the finest libraries and the few happy scholars who could afford them. They became obsessed with the books and lost sight of the initial mission: to share human knowledge via any medium. And then, every new technology became a threat to them, starting with the CD-ROMs.
Nintendo and Encyclopedias were both incepted from the printing era, with traditional playing cards and books. Yet, they didn't react to their burning platform in the same way and have had very different outcomes in the past decades.
Conclusion
Effective product managers focus on the outcomes, not outputs.
In her book "Escaping the Build Trap," product management expert Melissa Perri explains that many organizations get stuck in a flawed strategy of building a product for revenue generation where the team is focused more on producing a finished product (the output) than on whether that product will find a profitable market (the outcome). This is the build trap.
Effective product managers take the time to work with their user personas, understand their grievances, think of solutions while staying ahead of their competitors. Product management is not about marketing and sales, customer success, and customer support. Albeit each of these teams have their specific responsibilities related to a product. The product manager assists the teams in fulfilling their responsibilities. However, product management is the practice of prioritizing and making product-related decisions, evangelizing problem-solving across the organization, providing value to the customers, and supporting stakeholders to ensure success.
There is no silver bullet for drafting the best strategy. However, product vision, current market analysis, product roadmap, setting goals are the puzzle pieces. Measuring them and a dedicated team for ongoing research is some common denominators while chalking out an effective strategy for a product.