In simple terms, "E-commerce returns" is the concept of returning any goods or products bought from e-commerce sites. This article is about the impact of returned e-commerce products, especially from the perspective of sustainability and the environment.
Returns in e-commerce have always been a debatable topic. Various return strategies suggested in the past have not yielded any long-term sustainable returns. As one can expect, the returned products have a particularly significant impact on the environment.
According to Optoro's research, "Each year, 5 billion pounds of returned goods end up in landfill, and 15 million metric tonnes of carbon dioxide are emitted in the transportation of returns."
Given such a bleak and highly avoidable scenario, how can we best manage e-commerce returns? Let's find out!
Why have e-commerce returns increased?
Online retailers create easy and free return policies to retain or convert customers. These retailers treat the return as simply a cost of doing the business online. As part of customer conversion and retention, online retailers have also introduced more flexible options (like Pay Later). These options only facilitate and encourage the customer to go on a buying and returning spree.
Take the example of a 'Buy, Try, and Return' option. Since customers miss the try and buy factor when shopping online, they purchase more products than required. Such policies provide an in-store experience and create the same offline confidence in customers. This only encourages customers to buy products in large numbers, try them, and return the extra ones. Customers purchase many items during promotion periods and return the excess or the unwanted ones only before the return date. Only for the environment to bear the brunt later.
The post-COVID world has witnessed a rise in online shopping and, consequently, increased returns as a by-product. According to CBRE, e-commerce returns were as much as $70.5 billion, a 73% increase compared to the previous five-year average. This increase is directly attributed to the historic rise in e-commerce sales after the COVID-19 pandemic.
When a product is delivered to the customer, it is no longer the end of the story. After being delivered, when the product is returned, the return will impact the environment exponentially - in terms of packing waste, landfill waste, and carbon footprints. According to CBRE's forecast, the average e-commerce return rate is 30% compared to 8-10% for offline stores. Let's look at some effective strategies to handle e-commerce returns in a better way.
How to make e-commerce returns sustainable?
It is time to think about saving the planet by implementing return strategies that could decrease packing waste, landfill waste, and carbon footprints and help increase the profit for the retailers.
Here are some ways to make e-commerce returns more sustainable: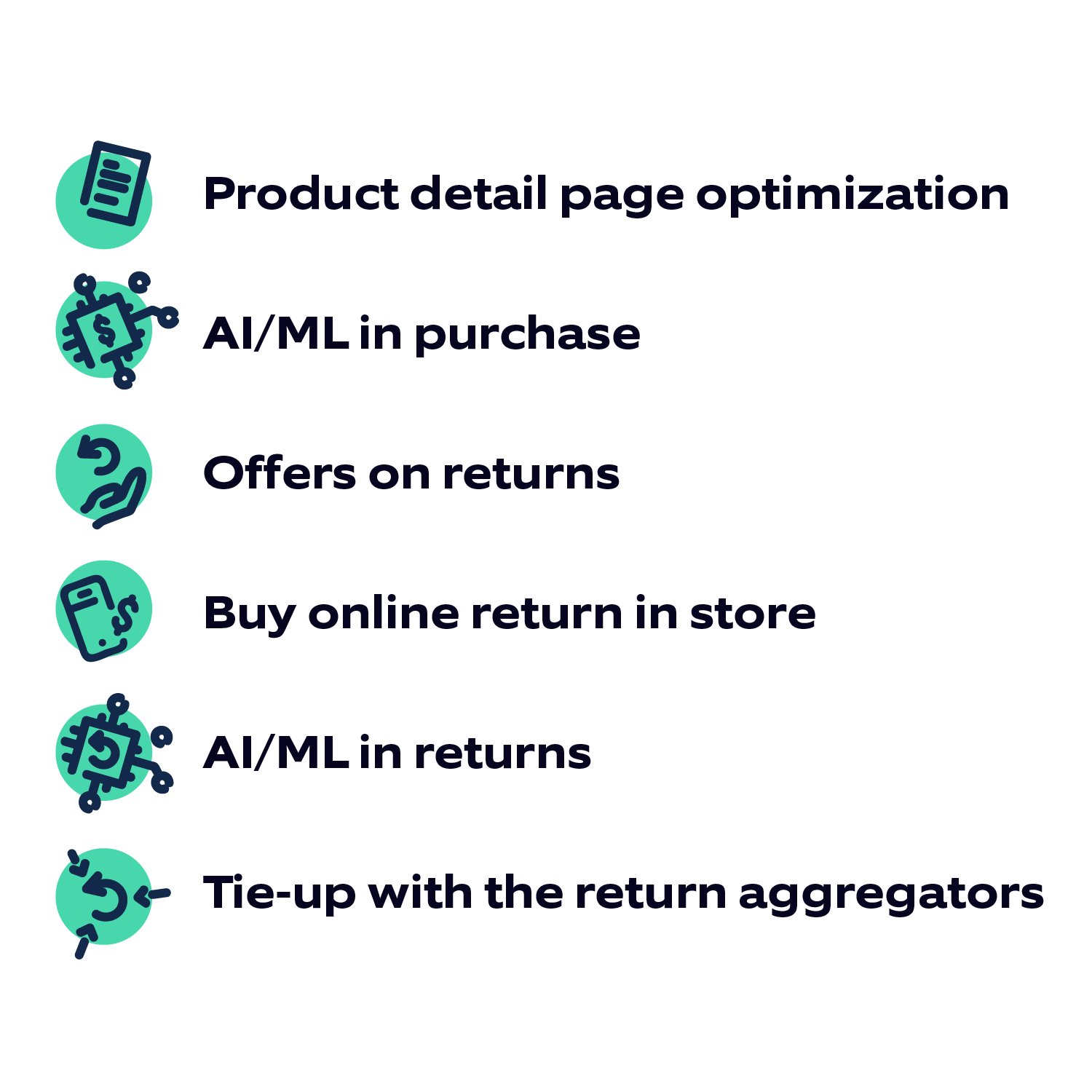 1. Ensure optimized product detail page
The main reasons for a return are either the size is incorrect, or the product is not as per expectations. To proactively fix this problem, it should be ensured that the details on the product detail page are accurate, with proper size charts. The product images should be precise in terms of color, size, and design. Online retailers should encourage customers to provide feedback with the actual product images. All these measures offer accurate product information from a verified purchase and help avoid returns.
2. Harness the power of AI/ML in the purchase
Online retailers should leverage technologies like AI/ML to provide an in-store experience to the customer. These technologies can offer 3D product views to help the customer verify the product's size, design, and look. Online retailers might also integrate their websites with apps that can create a 3D view of the person by collecting data points using AI/ML or creating one from scratch. It will help provide the customer with an in-store try-and-buy experience.
3. Provide offers on returns
Returns are always the unknown and undetermined parameters that impact profitability. An online retailer should provide certain offers on the products for return. Evaluate the return cost compared to the product cost and then decide whether to take the product back or let the customer keep it. In this way, it will be a win-win situation for both. Online returns should promote selling the returned items under the refurbishing category by contacting the town's local retailer instead of dumping them from the environment's perspective. It will help reduce landfill waste, packing waste, and carbon emissions during transportation.
4. Buy online returns in-store
According to many studies, the return has an environmental impact due to packing waste and carbon emissions. Online retailers should encourage the policies to return at the store like purchasing the product (buy online and pick at the store). They should collaborate with the local stores and create a return collection point. Online retailers will reduce the cost incurred in collecting the return. For local stores, it will increase the footfall at their store, thus increasing their sales. This approach will also be instrumental in reducing packing waste and the carbon footprint.
5. Use AI/ML in returns
Online retailers should leverage AI/ML technologies to study the pattern of user-specific returns. These technologies can help customers with suggestions for the future. Such technologies can help online retailers identify the different reasons for a return. Based on the patterns, they can distinguish these reasons from each other to determine which reasons can be corrected at their end and which ones might require policy creation. Technology can also help online aggregators block repeat offenders (retailers or customers who have a consistent track record of returning) based on their return habits.
6. Tie-up with the return aggregators
As e-commerce expands around the globe, online retailers should collaborate with return aggregators to facilitate returns. This aggregator works to optimize the return process. For example, instead of transporting the returned item to the retailer's warehouse, they can store it at their warehouse and send it all at once, only after the container is full, reducing the carbon footprint. They can also be useful in another aspect that encourages packing the returned items in environmentally-friendly packaging material, reducing the packing waste. We can also develop an ecosystem where small traders can purchase these items. This will also help in reducing packing and landfill waste.
In a nutshell
Given that online shopping is here to stay, it is the moral responsibility of the seller and the customer to minimize returns. The seller should ensure to provide detailed product information and use the latest technology to build more confidence, thus enhancing the shopping experience. Technologies like virtual sizing and augmented reality can offer precise product assessments to customers, which can also help them make informed decisions and reduce returns.
While e-commerce returns are inevitable, they can be managed in sustainable ways to lower their impact on the environment. Should the 'e' in 'e-commerce returns' denote the 'e' in 'wastage'? Or would you like it to stand for the 'e' in 'environment'?
Want to know how? Nagarro has always led from the forefront when it comes to not just thinking breakthroughs but also in thinking sustainable breakthroughs for its clients. To explore how we can help you, do get in touch with our experts!