Okay, all of us know that today, "Digitization" sits at the core of every business. In case there were any concerns, the Covid pandemic has proven beyond doubt that digital devices can connect the world and help run businesses seamlessly. We bring you some exciting digital concepts, product structures, and learnings from our experiments using existing ideas.
Let's dive deeper into these frameworks to discuss, and ultimately improve, the ways of creating products and doing business, driving better value during these fast-moving times. This article explores how digital business models are innovating.
What is a business plan?
In every industry, a product enthusiast must consider some strategic imperatives for successfully enabling product-centric businesses: How are these digital transformations vital in championing the change? What are the best product practices to keep you ahead of the curve in enabling digital business innovations?
Many organizations lack a proper plan to sustain and grow in today's digital era. Let's first understand what a business plan means:
The term 'business model' means a plan about how a company will profit. It includes the products or services it plans to sell, the target audience/market, and any projected expenses. Business models are an integral part of new and established businesses. A business plan can include many attributes and is depicted in a "Business Model Canvas". As a general practice, the business model canvas should be mandatorily reviewed every three years.
0.1 Business model canvas
A business model canvas outlines the critical KPIs which are instrumental in defining the business plan for an organization; these KPIs include:
customer segments,
The organization's value proposition,
different revenue streams,
business channels,
customer relationships,
key activities of the organization,
essential resources,
crucial partners,
and the overall cost structure of the organization.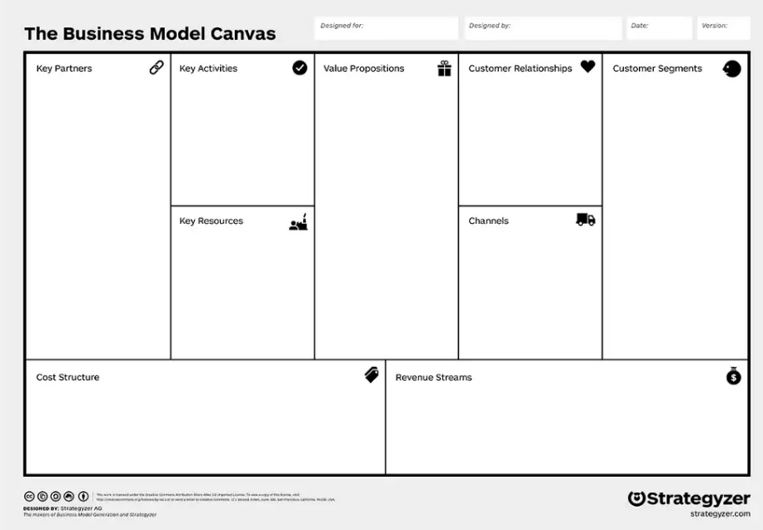 0.2 Decoding the digital world
Today's customers have on –demand needs and they don't want to wait. A customer's buying decisions are mostly based on:
Choice
Immediacy
Convenience
Accuracy
Experience
Integration
Personalization
Native preferences
Digital businesses demand organizations to be more customer-centric and to ensure that. they must have digital processes. They must develop new digital business and revenue streams, and increase their understanding of customer needs through data collection and analysis. We have the following types of digital data present across the globe: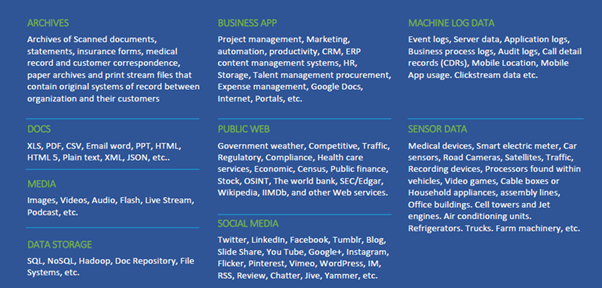 0.3 Evolving business models
We have seen a dramatic shift in focus in business models over the past two decades. Businesses have changed gears to be more customer-centric rather than product/brand-centric. This helps them in knowing the customers better, reducing the friction in the customer value chain, increasing the margins, and reducing costs.
0.4 Stated drivers of success
Technology drivers
It consists of processing power data and storage capability, bandwidth, and the interfaces around different business components. Technology drivers help achieve exponential growth by scaling the business to the masses. These technology drivers have expanded the product reach. Here are some reasons why technology drivers are changing the business landscape:
Creating a divergence in performance
Media economy
Making everything global
Demanding & retaining talent
Blurring business boundaries
Increasing the pace of innovation
Social drivers
Social drivers are directly linked with customer expectations for a product or service. Social drivers are driven by customers' needs, expectations, opportunities, utility factors of the product or service, transparent business practices, and accountability of organizations. Social drivers are changing the business landscape by:
Group buying
Decreased loyalty to a brand
Customer's voice is amplified
Visible reputation
New drivers of success
The new drivers of success that use the stated drivers of success in the new digital era are:
Flexible organization structure
Distributed innovation
Tapping talent
Dynamic strategy
Scalable relationship
Governance of transformation
0.5 Creating a niche – new and future business models
Creating new and future business models with the ability to sustain and scale has always been a challenge for organizations. Here are some of the examples that organizations can focus on to solve this problem: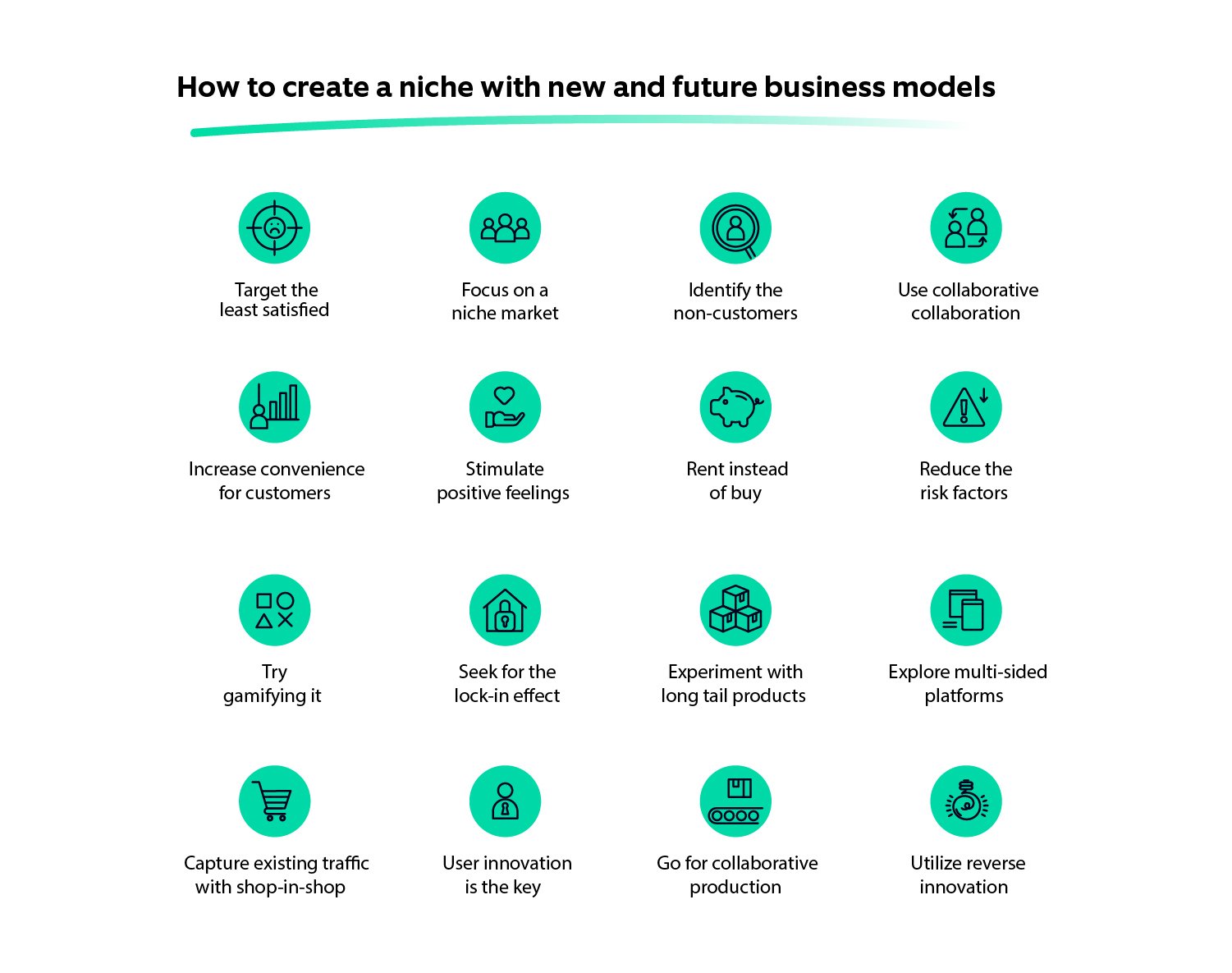 Least satisfied
Instead of focusing on customers who are satisfied with the status quo regarding your solution, focus on the ones who are very unhappy. Companies like ZARA, Urban platter, and MRS. SPORTY target the least satisfied customers by fulfilling their unmet needs.
Niche market
Successful companies typically start in niches before going for mass markets. To be successful in a niche, companies typically offer specific products. The downside is that focusing on a niche could make it difficult to transfer your solution to other markets. Companies dealing in customized diet and health segment, Segway, and Polaroid, are few examples.
Non-customers
Identify which group is currently not buying or consuming your product or service. Sometimes, there could be a chance to win them over as customers with a slightly different value proposition or product offering. McDonald's (veg burgers) and Nike (product - Hijab) are some of the examples in this segment.
Collaborative consumption
Collaborative consumption is about sharing a product or service among a group of people. It provides people with the advantage of ownership while reducing the burden of personal expense. Examples of such collaborative consumption systems include well-established companies like Zipcar, Airbnb, and Uber.
Convenience/Job to be done
This is about finding new ways to increase convenience for customers. Sometimes, this may involve the extension of the value chain or getting the job done in more holistic ways. What can you offer to help your customer get more of the job done? Some good examples are Uber Eats and Swiggy Genie.
Positive feeling
Can you help create positive emotions for your customers? Stimulating pleasant feelings typically resonates with consumers more than negative, neutral, or information-based ones. TOMS shoe company launched a "one for one" idea, where they would donate a pair of shoes for every sale to disadvantaged children. This model helped boost sales and created a positive impression of the brand on customers.
Rent instead of buy
Sometimes, renting out your product or solution could make more sense, rather than selling it. This is particularly true if your products are expensive, such that owning them does not provide substantial additional value or has high maintenance costs. Car, appliance, and furniture rentals are common examples of this model.
Risk reduction
How can you reduce the risk for your customers? There can be various types of risks: physical (risk of using the product/service), financial (cost and value), selection (finding the right product), delay (timely delivery), functional (performance not as predicted or expected), and psychological risk (e.g., status, peer pressure).
Examples of this segment are Intersport - we can rent out the skiing equipment. Or in India, if someone is going to Leh, Ladakh, they can rent out thermal jackets.
Gamification
Gamifying your service means employing game design elements in non-game contexts. This can have many benefits like improved user engagement, organizational productivity, flow, learning, crowdsourcing, and ease of use. It can also create a lock-in for your customers. For instance, by introducing rank lists or allowing them to connect with like-minded people. Many organizations like Microsoft, Siemens, and Salesforce have used gamification. Salesforce used a hunting game to engage users with more aspects of the platform. Users started as a 'chicken hunter' and went up to a 'big game hunter' level as they interacted more with the platform.
Lock-in effect
The lock-in model locks a customer into a vendor's world of products and services. This creates a barrier for the customers to switch to another vendor without exposing them to substantial additional costs. This strategy protects the company from losing customers to competitors. Nintendo, Apple, LinkedIn, are some well-known organizations using this model.
Long tail
Instead of concentrating on blockbusters, the main revenue is generated by selling many different niche products (long tail products). Adding up small sales from such products generates significant revenue without requiring high volumes or high profit margins for single products. Long tails typically reduce the risk of failure by spreading their offers across a portfolio of products. Examples: Netflix, Audible, etc.
Multi-sided platform
Multi-sided platforms have become a popular approach, where platforms act as intermediaries to connect offers and demand. Platforms typically support the match through customer ratings or matching algorithms. If community functionalities are being offered, they are often referred to as peer-to-peer approaches. Some good examples are eBay, SRide, and other peer-to-peer lending platforms.
Shop-in-shop
Instead of opening new branches, this model first chooses a host retailer whose branches offer a designated space to a specific brand. A win-win situation for both. The hosting store can benefit from attracting more customers, while gaining constant revenue through the rent from the hosted shop. On the other hand, the hosted brand gets access to cheaper resources, such as space, location, workforce, and existing customers. Samsung is a successful example of this: In 2013, it launched 1400 "Samsung Experience" mini phone stores inside Best Buys in the US.
User innovation
Customers become manufacturers and consumers at the same time. The company typically offers an (online) platform facilitating the customer in creating new/individual solutions. These solutions are available to other customers, generating additional sales. The company benefits from creating a large community, while the customer benefits from interacting with peers, receiving feedback, and/or bringing an idea to life. One such example is "Lego" where they run competitions for people to come up with new structures/games.
Collaborative production
Collaborative production is about creating a product or service in co-operation with partner companies or your customers. Typically, this reduces costs and/or adds value. Google and FIAT use this model.
Reverse innovation
Simple and inexpensive products, which were developed within and for emerging markets, are also sold in industrialized countries. 'Reverse' is the process by which new products are typically developed in industrialized countries and then adapted to fit emerging market needs. Examples are P&G & DENIZEN from Levi's.
Conclusion
Digital transformation offers many opportunities to create strategic business value through disruptive digital business models. Business model innovation in digital product management heavily depends on making scalable and sustainable business choices. A robust digital product strategy can help organizations ensure faster time-to-market and value-based products & services. For the existing & emerging business models, a robust digital product strategy should be in place, keeping applicable frameworks & designs as suggested above, in this article. We also recommend following an agile roadmap planning approach not only limited to product implementation but broadly also addressing the required change of various business layers, particularly in the business, organizational, and a technical layer.