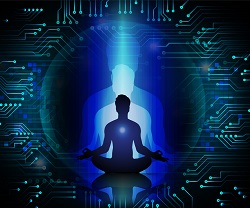 Digital forces will steer the world in 2020. The Nexus of Forces—the convergence of mobile, social, cloud and information—has become the platform of digital business. For enterprises, this is more of a journey from being traditional to digital, where the focus is shifted from data silos to integrated data insights, IT as a cost center to IT as a revenue model, process-driven to data-driven and more.
This change is more of a business transformation, where people (both employees and customers) are at the center of the business strategy. Rapid transformation has a multiplying effect particularly on the people of an enterprise because their preferences change largely influenced by technological disruptions. These rapid changes are creating a digital tsunami in the enterprise world. In the digital world of today, an enterprise must respond to both outside-out and outside-in changes.
So, how can an enterprise effectively adapt to achieve Digital Nirvana?
Organizations have relied on enterprise architecture (EA) toolkits to induce changes. To accommodate business agility that the digital tsunami demands, EA can no longer remain a mere tool to facilitate IT-enabled businesses. It needs to establish an additional architectural landscape that not only integrates with existing business architecture, data architecture, application architecture, and information architecture but enables evolution across these landscapes as well.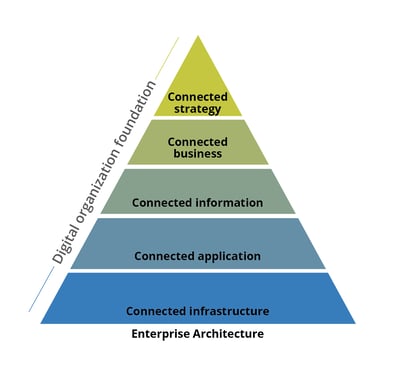 Figure 2: EA's digital foundation
EA needs a separate pillar of digital architecture that brings fluidity, through data-driven and automated technology-enabled business. Setting up a digital pillar requires a digital enterprise architecture foundation that is oriented towards connected infrastructure, connected application, connected information, and connected enterprise. Also, a connected digital enterprise, which has automated processes that can identify the change, understand it, and help in automated decision making. A digital pillar can help derive insights (both inside and outside an enterprise) effectively, thereby adapting to customer journeys that are more dynamic. For example tailoring customer buying experience on an e-commerce website based on search and/or buying patterns.
At Nagarro, customer interests are addressed using a Quad-Speed IT model to help them establish a truly digital organization by connecting everything that matters.The model transforms the customer's system of records into a system of engagements, coordination, and insights; to create an integrated and intelligent system needed to support a truly cross-channel people experience.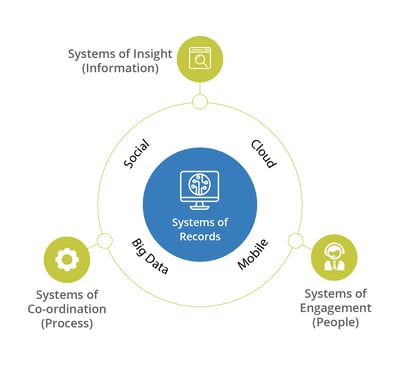 Figure 3: Quad-Speed IT model
Our encounters in various digital transformation workshops have strengthened our belief in building an architecture-centric approach. Through our 3D (Discover, Define and Deliver) framework for digital transformation, we provide cutting-edge business solutions. The 3D framework enables enterprises to identify and align their digital vision to a roadmap of a transformational journey, where they are constantly aware and ready to make a decision based on insights derived from the existing data context (Quad-Speed IT model). Read more about our strategically focused 3D framework.
The framework is based on a digital DNA in an enterprise through our RAPID4 (R4) execution pillars:
Rapid Teams: Develop small and focused teams, which are responsible for business delivery of a complete segment.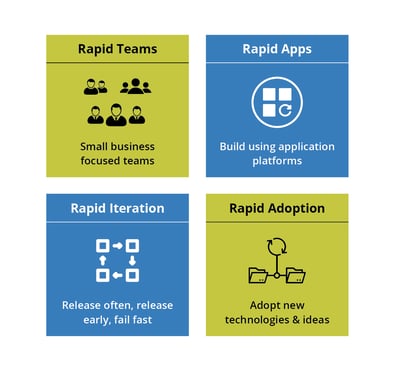 Figure 4: R4 pillars
Rapid Iterations: Develop practices to release deliverables quick and in time. That will help identify failures early and provide feedback promptly.
Rapid Adoption: Develop a culture of constant awareness and understand the relevance of latest technology to churn out cases in business context.
Rapid Apps: Develop applications with agility by leveraging proven and tested frameworks and practices.
An enterprise might reap short-lived success with an ad-hoc approach to digital transformation, but that might quickly turn into an unmanageable enterprise state with undesired business complexity and performance. So an architecture-centric approach is recommended where a connected system of information should be developed, through a framework that guides on an accelerated evolution path to digital nirvana.