Today's successful companies are digitalized companies. More and more physical products are either being transformed or enabled by digital business and/or service models or digital-only products are being developed.
Michael E. Porter identified the following factors that impact the competitive advantages of companies: Cost leadership, differentiation, and focus. Today, due to rapid developments, it is often most important to be the "fastest", e.g. time-to-value or time-to-market. Through digitalization, the barriers to market entry have become very low. Since the costs for digital products are close to zero, the competition on the market is very high. In this article, I would like to share how it is still possible to succeed in a very competitive market.
The challenges of digital product development
In developing digital products, business and service models confront companies with unprecedented external and internal challenges, involving a lot of risks. Defining the right starting point or an adequate strategy, including risk assessment and the involvement of key stakeholders, can be difficult and complex. Many companies are facing the following challenges:
Necessary change management processes for the organization and the corporate culture
Need for new competencies among employees and the introduction of new roles
Adjustments of core processes of a company
Changes in the value chain of a company
Changed upstream and downstream (suppliers, customers) value chains and their interconnection
Changed customer behaviour and new customer demands
Impact on the technological basis, as well as corporate, data and information security
Adapting to current products, business, and service models
Realignment of vision and strategies to achieve goals
Agile methods and the "magic triangle of transformation" for sustainable change
To better manage these challenges and risks, Nagarro uses agile models and approaches to develop digital products, business and service models. These comprise Scrum, Kanban, Design Thinking (technical feasibility, economic feasibility, customer-centricity) in combination with proprietary models and methods that also include sustainability aspects.
The "magic triangle of transformation" has stood the test of time in our work with our clients. In the development and implementation of digital products, as well as in transformation projects and programmes in general, we always work on all three levels: culture, practices, and strategy to drive sustainable change.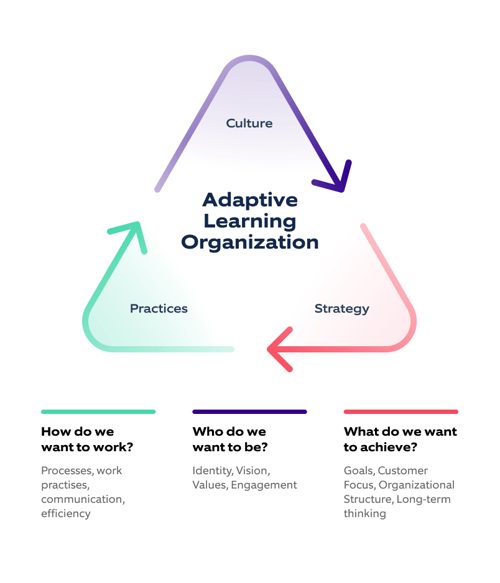 Culture involves:
Agile Mindset & Innovation DNA
Leadership and new forms of cooperation
Roles and role models
Training & new skills

Practices involve:
Reporting and controlling
System and data architectures
Cloud Computing and Big Data
Algorithms and Software Agents
Smart products and services
Digital ecosystems, platform solutions and integration capabilities
Agile methods and LEAN practices
Hybrid approaches
Strategy involves:
Digital Vision
Digital Strategy
Digital Roadmap
Digital Business Model
Business Logic
Digitalized value creation
7 practical tips for your digital product development
The following measures have proven to be success factors in supporting transformation projects and in developing digital products and services for our customers:
At the beginning of a new product development process (including the business model), it takes a lot of courage to break new ground even within a motivated and interdisciplinary team.

Full support and backing from management is important and game-changing.
The timely involvement of the relevant stakeholders is critical to the success or failure of the project.
A good database is essential. If it does not exist, it is important to define an appropriate data strategy as part of the product development. This will ensure that you develop in a practice-oriented and timely manner to meet customer needs. It will also create a sustainable, high-performing and scalable basis to further develop the digital product, business or service right from the start.
Create a digital vision, strategy, and roadmap. Look beyond your own horizon - context analysis, market analysis and general industry structure analysis are very helpful here. Or you can also radically "destroy" the envisaged product and the associated business model as part of a facilitated workshop to learn from it.
Carry out a detailed and sound analysis of the customer journey to understand future customers and their needs. Do a first round of a LEAN canvas to explore future business models in depth. The creation of corresponding hypotheses and business experiments should be an associated exercise to quickly test the first product, business model, and service model ideas with the target customers and to get direct feedback.
Create an initial product backlog as a basis for transferring the idea into an agile, iterative implementation of the new digital product.
Would you like to benefit from our experience? We offer world-class support you with our expertise, commitment, distinctive social competence, and the right instinct on the transformation journey to the digital product: all the way from the idea to its real value. If you have just launched an exciting digital idea, how about a casual exchange? We look forward to the journey together with you and your company within the framework of an exciting, sustainable, and customer-centric product development process.
Here is a quick glimpse of some of our digital transformation projects that we successfully undertook with our clients: