Who would have thought that buying shampoo or a pair of jeans would involve an online search, looking at customer reviews, and hopping between stores (offline and online) to get the best price? As purchase decisions become more nuanced due to increasing customer awareness levels, customer-brand engagements are at an all-time high. Customers today interact with brands across several touchpoints, demanding a seamless customer experience across channels.
According to a PWC report, 32% of customers would stop doing business with a brand they loved after just one bad experience. Multiple studies quote that customers are ready to pay a premium for a positive experience giving the brand an edge over its competitors. Consequently, organizations are building big marketing tech stacks to meet the ever-increasing demand for a better customer experience.
Content management systems (CMS) have been a significant part of the marTech stack to deliver elevated customer experiences. However, over time the CMS also evolved into web experience management solutions that have now given way to digital experience platforms. As marketers deploy multiple tech tools to deliver an enhanced customer experience, digital experience platforms have become integral to delivering the right customer experience (CX).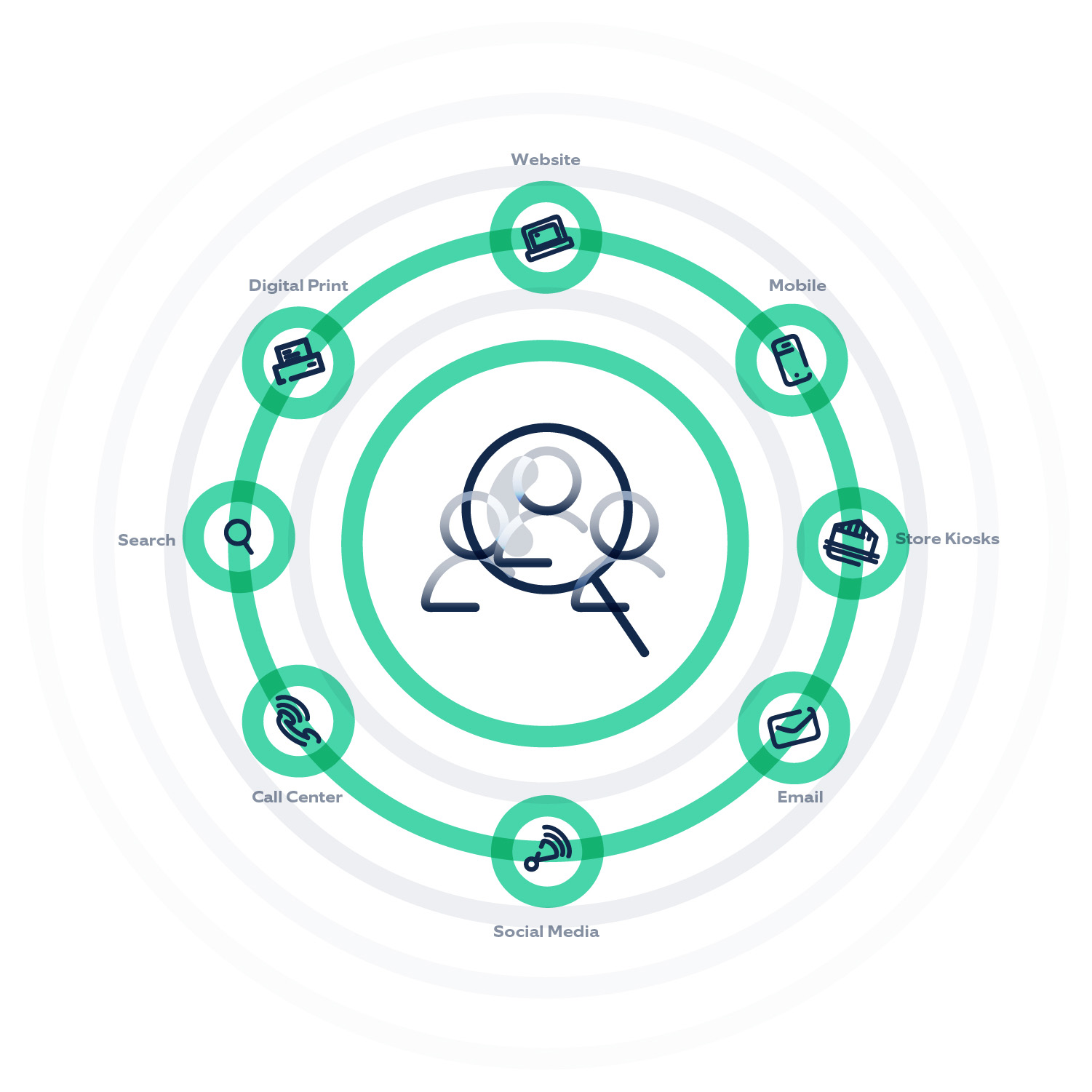 What is a Digital Experience Platform (DXP)?
Digital experience platform, or DXP, is an integrated and cohesive technology designed to enable the composition, management, delivery, and optimization of contextualized digital experiences across multi-channel customer journeys. A DXP provides an architecture for organizations to digitize their business operations, deliver connected customer experiences and gathers actionable customer insight.
DXPs are unique because they can track consumer behavior on multiple platforms. This allows marketers to build a comprehensive profile of their customers and then customize their customer communications using various DXP tools.
A DXP comes bundled with a set of technologies and tools such as CMS, personalization, analytics, and a customer data platform that enable a seamless customer experience across all the customer touchpoints. Having all these capabilities on day one is not mandatory for a successful DXP implementation. However, a digital experience platform allows you to include all these capabilities at a pace comfortable to your IT and Marketing team. DXP features can be available as a suite of composable solutions, from a single provider or various products from multiple providers.
What constitutes a Digital Experience Platform?
DXPs didn't appear out of thin air and evolved from content management systems. A digital experience platform constitutes different components, including customer data platform (CDP), content management system (CMS), analytics, artificial intelligence, personalization, search, presentation, commerce, and collaboration.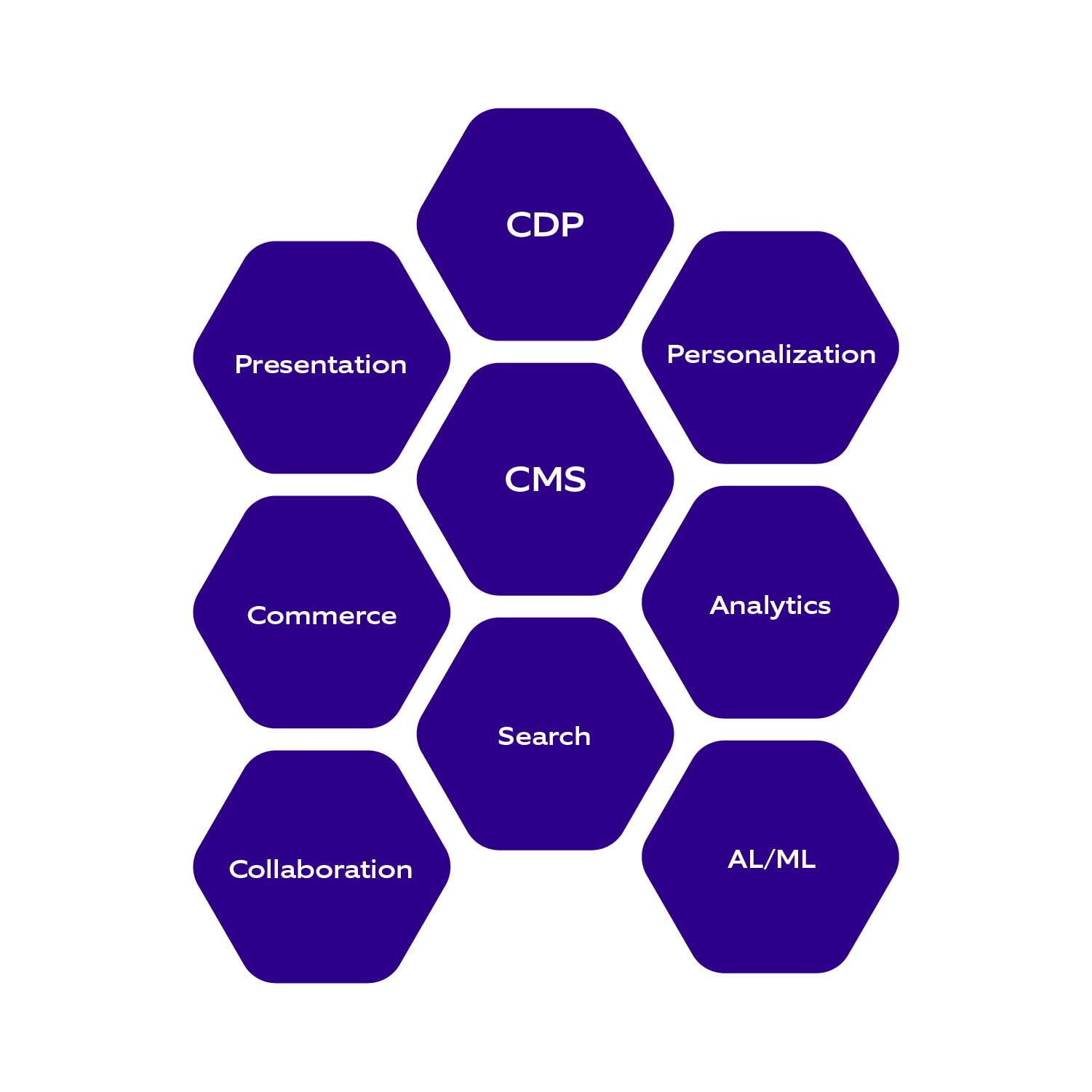 Let's look at a few components of a digital experience platform in detail.

Content Management Systems (CMS): A content management system or a CMS is a system running behind a website or a mobile application that allows you to create, edit and maintain content. CMS platforms have several architectural patterns, and when used correctly, it gives organizations complete control over their website, eliminating the dependency on programmers. Even without technical knowledge, users can easily add content to their website.

CMS have graphical user interfaces (GUIs) that allow content creators to enter and style their content by choosing from existing templates and themes. They come with capabilities for search, roles and permissions, content approval, and publishing workflows.

Over time, CMS began to evolve to offer web experience management capabilities. With the ever-increasing demand for personalized experiences, some CMS also allows companies to collect data on user behavior - such as page visits, consumed content, the areas of the page they lingered on, and for how long. Marketers can pair this data with customer demographics and tailor individual customer experiences.

Capabilities of a CMS:
Content organization structure using hierarchy and taxonomy
Customisable templates and themes to manage the content presentation
SEO-friendly URLs
Permission-based access control
Multilingual and multiuser support


A CMS allows brands to create and share engaging content with the customers making it an essential tool for customer engagement and a significant part of a DXP.
At Nagarro, we have created a design methodology that lets marketers use CMS tools most effectively. We have a catalog of components and templates built to solve industry use cases. We have solutions deployed on-premises, on-cloud infrastructure, and fully services-based solutions (using a SaaS model) as well. This way, your marketing, and IT teams can focus on the core business while the CMS manages the underlying solution.

Customer Data Platform (CDP): A customer data platform or a CDP integrates all the relevant sources that help create user-profiles and segments. Organizations can source this information from first-party sources (like a brand website), second-party sources (like partner websites), and third parties (data sold by any data collection company). With the help of intelligent models and databases, a customer data platform can clean, organize, segment, and standardize the data format, making extracting information and performing various analyses easier.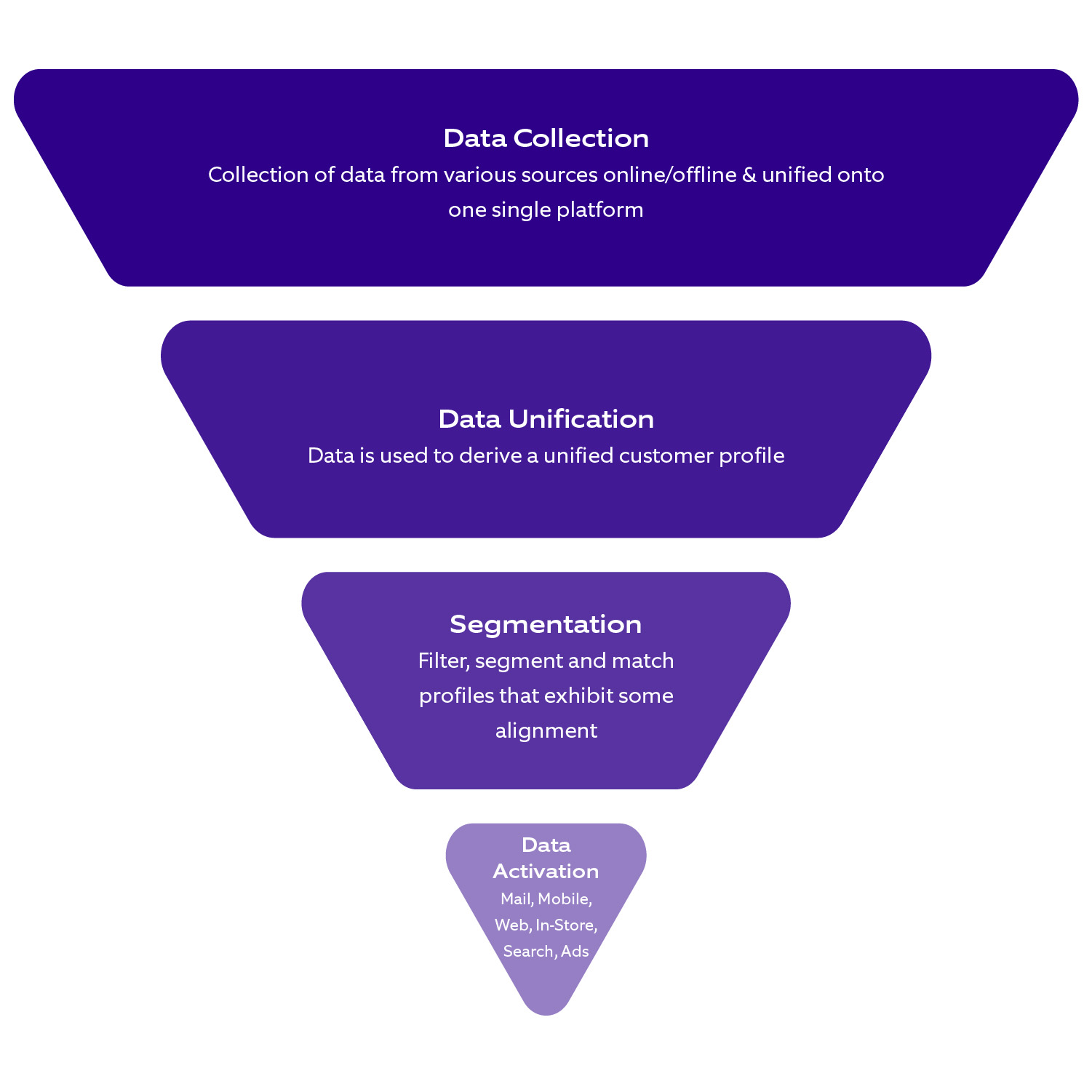 Data ingestion is one of the most critical parts of a CDP platform, and getting this right is vital for any organization. Any issues or errors in data ingestion will slow down or stall a CDP implementation over time. For example, a plugin-based architecture is a must-have along with a platform strategy for such a critical sub-system. The output from a CDP serves as an input for the personalization framework.
Our team at Nagarro uses a layered architecture for data ingestion, creating insights, and delivering recommendations and personalization. This approach helps optimize the client's overall marketing platform strategy. With our system, frequent modifications to the source data can be handled seamlessly, and swift changes help keep a low error rate. We also have a cloud-agnostic strategy for CDP solutions that help you align the solution with your overall IT strategy.
Personalization: Digital experiences are more important than ever as businesses are challenged to replace in-person interactions with online interactions. Personalizing that experience is a top goal for digital marketers, yet research shows that by 2025, 80 percent of digital marketers will abandon Personalization efforts due to a low ROI. It begets the question of how we can ensure simple and successful personalization.
A successful Personalization depends on having a clear strategy and philosophy to guide the process. Personalization is a way of streamlining a marketer's efforts to improve the consumer's journey, and it can be a significant part of a DXP.
A personalization framework uses the CDP data as input and a set of technologies to make recommendations. Customer data such as user profiles and responses form a personalization framework's starting point. Marketers can use machine learning algorithms, knowledge graphs, and data enrichment to sort and analyze this data culminating in customer insights.
These insights are further used to give product/service recommendations. For instance, the personalization framework can use historical data to suggest the content to be shared with a customer depending on the marketing channel. Communication through email would vary compared to communication through the website. These recommendations become the basis for personalizing interaction with users through multiple channels (Website, App, Email, SMS, WhatsApp, Community solutions, etc.) to drive effective user engagement and communication.

There are two approaches to personalization: client-side personalization and server-side personalization.
Client-Side: In the client-side approach, pages are modified directly in the visitor's browser. Page is built on a server without considering the persona of the end-user. These changes instantly reflect while the page is loaded at the user's end, and the modified page is finally displayed.
It is best suited for teams that don't have much technical knowledge. They can create and manage personalization use cases easily using an intuitive interface of readily available tools such as WebEngage, Google Optimize 360. The client-side approach allows marketers to be agile and flexible and lets them innovate and optimize the strategy.
Server Side: Server-side personalization approach enables applications to serve personalized content from the server. It gives developers and technical teams complete control of their personalization from their regular working environment.
Server-side personalization is best suited for complex scenarios where specific algorithms decide on the persona, customer profile, and the content to be served for each user segment. Server-side personalization use cases include complex logic like product recommendations and adding new features or components based on the user's interaction with the website.

At Nagarro, we have implemented personalization on both session-level and historical data. With both approaches, we can determine the user intent based on user actions or using the historical user data and recommend relevant products/services. We have accelerators and readily available components that can plug into an existing app to create a personalization experience for the customer.
Collaboration: For customers to resonate with a brand, they need to be engaged at a deeper level. One way to do it is to involve the customer in the communication and foster collaboration within the customer community. However, it is easier said than done. Customers are looking for relevant content customized to meet their needs. Personalizing content and communications at scale can be difficult, especially for smaller businesses. And the task is made more complicated by the need to make experiences consistent across channels.
Marketing automation tools automate marketing tasks such as relationship marketing, cross-selling and lead generation. Creating campaigns for individual customers and constantly tweaking them according to customer response isn't feasible. For instance, email automation sends mails to the customer depending on their past purchases or web activity on the website. Depending on these factors, it can trigger an email offering a discount or signup bonus.
You can send push notifications about recent discounts and upcoming sales using mobile marketing. Marketers can create personalized web pages on social media sites where customers can engage with polls and contests. Once all the tools are deployed for marketing, the next step is to measure the results and innovate to optimize engagement further using the analytics and reporting part of the marketing automation.
At Nagarro, we use a three-step approach for effective customer engagement, i.e., research, analyze and iterate and innovate. Research involves the collection of data via surveys, loyalty programs, etc. Analyze involves finding different types of engagements happening and finding out how much percentage of it is translating into sales and why the rest of the engagements are not translating into sales. In the final step of iterating and innovating, we use our findings to close the loop between actions and desirable results.

A digital experience platform is the right tool to streamline and consolidate your marketing tech stack and build high-engagement content for the customer that drives business growth. However, organizations must have a strategy in place before investing in a DXP. It is also essential to assess the various DXP tools available in the market and identify the one that fulfills your requirements the most.