Imagine being stationary for 96% of the time. How would it impact your productivity? While humans don't stay still, cars do. Cars are in use only 4% of the time, and the rest of the time, they're idle. And while being out of service, they eat up a lot of parking space.
Meanwhile, roads are getting busier, traffic jams are becoming more frequent, and global warming threats loom large. No wonder there is little joy left in owning and driving cars. As car ownership sees a gradual decline, shared mobility is becoming mainstream.
To remain competitive in the current scenario, an Original Equipment Manufacturer (OEM) must develop its shared mobility platform to onboard vehicles at lower prices. The shared mobility models are lucrative for OEMs as they have an advantage in operating costs compared to start-ups.
OEMs are aware of the opportunities associated with the shared mobility space, and some leading car manufacturers are already walking down this road. India's largest passenger-car manufacturing company, Maruti Suzuki, recently launched a monthly subscription service called Subscribe. Even entirely new OEMs such as Lynk & Co (whose primary value-proposition is ownership-free mobility) are trying to take a pie from the expected $2Tn global mobility market size by 2030[1].
An OEM's decision to venture into shared mobility complements its existing connected and electric cars strategies. The real power of autonomous vehicles (and the services) is unlocked only through multiple consumers in a shared ecosystem. Developing a shared mobility platform (and profitable products on it) becomes the first significant milestone in an OEM's journey towards the future of mobility.
However, the development of such digital products comes with many challenges. This article describes the hurdles that automakers face while conceptualizing their product, the key decisions to be aware of, and the solution approach to get the right product-market fit, focusing on the innovative ideas to monetize, differentiate, and market such products.

Challenges in developing shared mobility products
The initial hurdle for automakers is to define their unique shared mobility strategy for the company, considering their core competencies and existing brand image. A few strategic questions to ask are:
What product to develop first? Should it be a vehicle subscription or rental (station-based or free-floating) or car-sharing?
How to onboard the dealerships without creating a conflict of interest?
Which partners are required for technology and operations-related activities?
How to differentiate the product offering from the competition?
After answering these key strategic questions at the start of the product development phase, there is a slew of challenges they will encounter in product development:
It is difficult to get the customer personas right, understand their mental model, and capture their ever-changing operating behavior.
Lack of in-house talent adept with new digital technologies and subsequent inability to integrate new applications with enterprise legacy systems.
Inexperience in human-centric product designing and lack of an inspiring culture that promotes curiosity, creativity, and agility.
Difficulty in ensuring faster time to market and expansion of product beyond the pilot stage indicating the need for robust platform engineering capabilities, and more.
Essentially, a manufacturing company must set up a digital platform business. The difficulties that come with this transition require a collaborative ecosystem.
Solution-approach to alleviate design challenges
When strategizing the shared mobility journey, it is essential to understand where the future of mobility is headed. We see the transformation as a three-stage process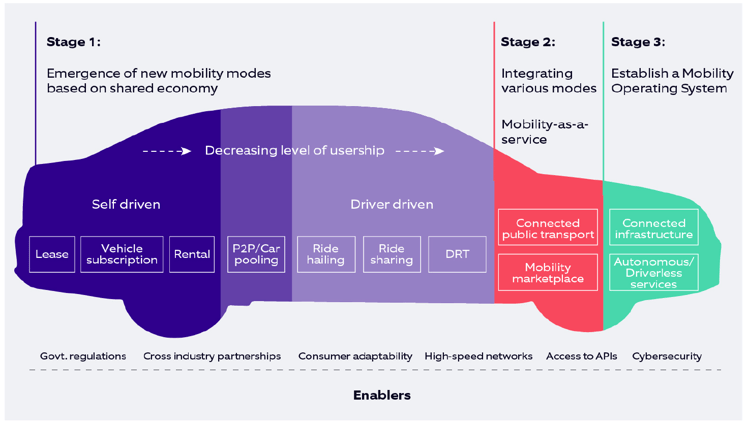 Figure 1. The drive towards future mobility: From vehicle manufacturers to mobility service providers

From this point of view, there are specific considerations for automakers:
The complexity of the technology landscape increases as we move from left to right. For example, while the technologies required for vehicle subscription are backend cloud systems, front-end solutions, enterprise integration, etc., for a free-floating rental, the dominant technologies are telematics, navigation, dispatch algorithms, big data solutions, and others. For Stages 2 and 3, the technology requirements are more complex involving V2I/V2P communications, blockchain-based transactions, real-time traffic management, autonomous fleet operations, etc. When creating the shared-mobility strategy, OEMs must map their technological maturity with the expertise required to develop that product.


The inter-dependency on the partner ecosystem also increases as we move from left to right. While vehicle subscription might only require collaboration with dealers and a few technology partners, a ride-hailing product might require intensive collaboration with the driver community, banks, payment firms, cellular network companies, and multiple technology providers.


When deciding on the platform roadmap, OEMs must consider the readiness of the target market. The acceptance of shared mobility varies from region to region, e.g., while vehicle subscriptions are prominent in US/NA, short-term rentals are more popular in Europe. Such variations also exist among cities: cities with robust public transportation are generally more open to short-term rentals, whereas cities with poor public transportation gravitate towards options with longer time commitments such as car subscriptions. A combination of infrastructure, social impact, market attractiveness, systems efficiency, and innovation can determine the mobility readiness of a city[3], and that can guide the product-rollout strategy for automakers.

After deciding on the product, the next avenue is product development. Since this is primarily driven by changes in consumer preferences, taking a human-centric product design approach is immensely crucial while conceptualizing any shared mobility experiences.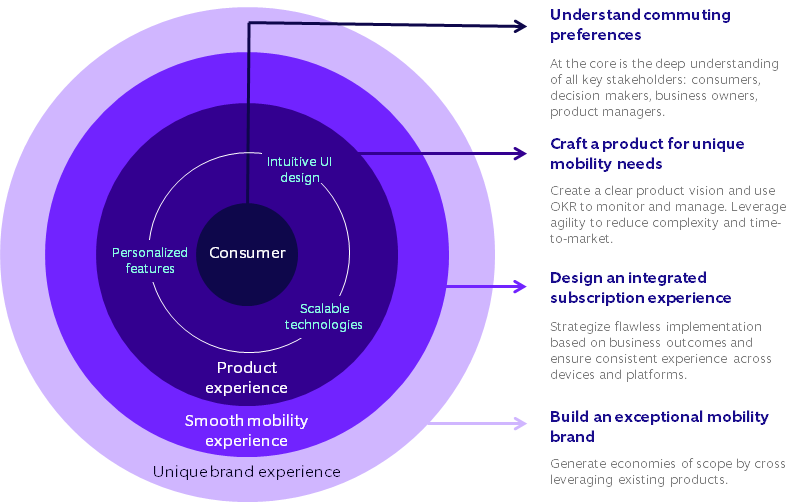 Figure 2. Consistent shared-mobility experience through a human-centric product design approach
1st layer (innermost):

At the heart of this approach is the deep understanding of customers' commuting preferences.

2nd layer:

The product must be developed around the customer needs and expectations and following agile methodologies, considering three key aspects: features, UI, and technologies.

3rd layer:

The product must deliver a smooth and consistent subscription or rental experience.

3rd layer

:

Finally, automakers must create a unique brand experience by cross leveraging existing products to generate economies of scope and establish themselves as end-to-end mobility service providers.
This approach and the mobility experience framework can guide automakers in tackling many product-design challenges. (Download it here: Shared Mobility Toolkit)
Innovative ways to monetize, differentiate, and market the shared mobility products will be crucial for success
Considering the rise of shared-mobility aggregators, end-to-end multimodal transportation providers, and city-wide mobility operating systems, OEMs must find ways to stay relevant and play a crucial role in the future of mobility. While a well-engineered shared mobility product with a customer-centric design and a shorter time-to-market is of utmost importance, it is also essential to generate new avenues of monetization, creatively differentiate product offerings, and find innovative ideas to market such products. Some ideas are:
Integrate with the ecosystem: Collaborating with various players in the mobility ecosystem (smart parking, charging) can help gain an edge over other players. Beyond start-ups and private companies, establishing partnerships with municipalities and governments (buses, trains, metro rails) can help automakers integrate their offerings with the larger mobility ecosystem in a mutually profitable way. This enables the shift from CaaS (Car-as-a-Service) solutions to MaaS (Mobility-as-a-service) solutions.


Leverage connected and electric vehicles: Data from connected vehicles have immense potential. It can open a revenue stream through use cases such as navigation, infotainment, remote diagnostics, lifestyle, health, and well-being. A fleet of EVs with tailored features such as the quickest routes for charging stations can push sustainable mobility and establish a greener identity for the company. Investing in charging infrastructure and reverse logistics services around battery exchange can also generate monetization opportunities.


Differentiate the product: It is crucial that OEMs go beyond just 'basic needs' and aim for 'delightful' features to stay ahead of the competition. These differentiations can be fleet type, product experience, pricing, and/or features. For example, for vehicle subscriptions, the "one bill" concept currently includes insurance charges, vehicle warranty costs, and maintenance besides vehicle fees. Some possible differentiators in the future could be the addition of refueling, navigation, parking, congestion, and tolls, opening additional per mile revenue opportunities[5]. Sharing within sharing is another possibility for differentiation.


Interact and engage with customers in creative ways: In-vehicle retailing via a marketplace is an opportunity waiting to be tapped. For the same number of vehicles, OEMs can connect with a greater number of consumers through shared mobility (as compared to selling cars to private individuals). This >1 customer per vehicle can be leveraged to provide engaging and personalized services (for entertainment and shopping) through the infotainment system.


Transform vehicle showrooms into a community hub: With the emergence of shared mobility and online car-selling, dealerships can be repurposed as experience centers to develop a community of like-minded individuals. Ideas of member-only access and additional facilities like a cafeteria or workspace can help establish a unique brand identity – more relatable to the new-age customers.
Bottomline
Though OEMs realize the need to evolve from their current role as vehicle manufacturers to mobility service providers, the transition is easier said than done. Nagarro has been a product strategy and engineering partner for many automakers in their shared mobility journey. Over the years, we have collaborated with clients to fast-track the development of their shared mobility platforms.

Let us help you move your fleet towards the future of mobility!

Sources:

Frost & Sullivan. (2019). Global Mobility-as-a-Service (MaaS) Market, Forecast to 2030. p.11.
Frost & Sullivan. (2020). Digitization and Automation to Power the Rise of Smart Cities, 2019–2030. p. 19.
Statista. (2021). Leading cities according to the Urban Mobility Readiness Index as of 2020. [Accessed: 8/4/2022].
Frost & Sullivan. (2018). Future of Vehicle Subscription—Business Models and Opportunities in North America and Europe, 2025. p.16.
Frost & Sullivan. (2018). Future of Vehicle Subscription—Business Models and Opportunities in North America and Europe, 2025. p.13.