Atlassian suite and Amazon Web Services (AWS) are two of the most prevalent solutions in today's world. The customizable cloud can be tweaked to work with Data Center applications like Jira software, Jira service desk, Bitbucket, and Confluence. The cloud-based Atlassian environment is reliable, available, secure, and scalable. Connect these dots and you get a melting pot of seamless integration within the toolset with endless possibilities of customization - an ideal choice for teams of all sizes and skill sets. So, is there a quick and simple way to deploy Atlassian apps on AWS?
This blog shares how we can deploy Atlassian Data Center applications on AWS and leverage Platform-as-a-Service (PaaS) solutions.
Why do we do it?
The first step towards finding the best solution lies in identifying the exact problem. To better understand the client's requirements, Nagarro's experts set up an AWS site with Atlassian products to mirror real-time data with all its complexities.
What does it enable Nagarro to do?
Sets up a ready-to-use demo Jira site for our prospective clients.
Validates our implementation plan on our environment before client environments.
Prepares us with on-site demos, simulating the client development environment.
Equips us to come up with plans to mitigate or avoid any challenge.
How did we do it?
We used the following tools for the implementation:

Database requirements: RDS PostgreSQL
User management with SSO capability: Atlassian Crowd
DevOps: Atlassian Bitbucket & Atlassian Bamboo
Plans, documentations, and knowledgebase: Atlassian Confluence
Driver for syncing progress across tools and teams: Atlassian Jira
Maintain performance among distributed users across the world: AWS CloudFront

Frequent data transactions/manipulations for a live environment.
Atlassian Standard Infrastructure (ASI) on AWS is a highly available, secure Virtual Private Cloud (VPC) that is customized to host Atlassian Data Center. The ASI contains all the components required for the deployment and integration of multiple Atlassian Data Center products within it.
Atlassian Suite
Atlassian Suite applications comprise software development and collaboration platforms. They cover all activities - planning & tracking, building & shipping, and knowledge capturing.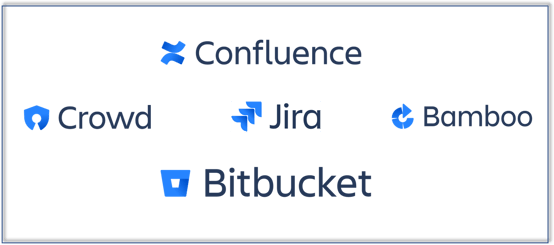 Our secret sauce
High availability. Quick performance. Scalable security.
Atlassian's self-managed enterprise offering supports Data Center infrastructure that is reliable, copes well with unplanned downtimes, and provides product support to plan Disaster Recovery strategies. Even the steps to add, remove, and update the working nodes of applications are relatively simpler.
Can there be anything better than a high performing, resilient setup?
AWS cloud ensures a secure, globally available & high-performing setup which can manage the underlying infrastructure. Atlassian and AWS create a robust integration that works for your team and not vice versa.
What does AWS add to the recipe?
Atlassian's provision for a data center infrastructure allows us to host applications on multiple nodes. These nodes maintain a central database and file system, enabling us to retain data integrity among nodes.
AWS offers a wide array of Platform-as-a-Service (PaaS) solutions that we can leverage:
ELB (Elastic Load Balancing): Smart algorithms allow traffic routing only to the up and kicking nodes. Any node not fit to process requests does not participate in balancing the incoming load. This provides uninterrupted access to the critical Atlassian applications, even if one of the nodes isn't working properly.
Auto-scaling Groups: Scaling policies, node replacements, and management - In times of high load, the Scaling Group enables us to maintain healthy nodes, replace any unwell nodes automatically, and reduce the number of nodes during low traffic. It saves the business from getting affected and also reduces maintenance costs.
VPC: VPC provides secure access to Atlassian tools without exposing them to the internet.
RDS PostgreSQL: Easy to operate and scale.
EFS (Elastic File System): Performance and cost-optimized storage service is used for a shared file system to store shared artifacts.
AWS CloudFront:This improves user experience and overall performance of applications hosted in other geographically distant regions. Static content is cached to the nearest edge location after the first request, thus reducing the application load time.
While we have discussed only AWS capabilities, it's noteworthy that Atlassian also provides similar easy-to-deploy templates for other PaaS Cloud providers, such as Microsoft Azure and Google Cloud Platform.
Nagarro's Partnership with Atlassian and Amazon – Do it right!
Nagarro is a Platinum Solution partner with Atlassian and a global Amazon Consulting Partner. Our expertise in Cloud platforms and in implementing and supporting Atlassian products can help you get customized solutions that can be just what suits you best! We have helped clients begin their journey with Atlassian tools, customizing and standardizing an already-implemented solution and supporting them through their journey of being a power-user.
Leverage our expertise and experience to get the most of Atlassian tools and AWS platform.
At Nagarro, we will be happy to help you 😊