Customer engagement and brand loyalty go hand-in-hand. For the former to succeed, marketing must catch up with trends and technology. Mass customization has long given way to mass personalization and omnichannel marketing must adopt this trend to encourage brand loyalty.
A gentleman of the 19th century – the one with the land, and the manor, and the horses – walks into the shop of his shoemaker and picks up the pair that has been made specially for him. His wife's evening dresses and ball gowns come from the dressmaker who's been appointed by the family for generations.
The lord and the lady always got what they wanted because mass production had not yet made its entry into everyday life. Once that happened, everything looked like everything else.
But that customer trend, in which every customer knows exactly what he wants and then hopes to get it, has come full circle today. Personalization of services has become the core of marketing, with a significant impact on sales. The lost art of personalization has returned, and now, brands customize their services to meet the specific requirements of their individual customers.
The deluge of text messages and emails that end up on your phone don't always get read simply because there are so few that are customer-relevant. The offered services and products must resonate with the customer on an individual level, creating a personalized customer experience that is less generic and more specific. The simplest reason why such an experience is important is the customer psychology of feeling good once they are treated in a special, customized manner.
Customer expectations brought about this disruption in the brand marketing world. This prompted brands to develop a single view of the customer for a seamless, personalized experience. Although brands have had some success with it, it has not yet been as considerable. In omnichannel e-commerce, brands stand the very serious risk of being left out, if they do not catch up with the latest trends.
A Seamless Customer Experience is Not an Option
The communication between a customer and a brand takes place across multiple touchpoints like websites, apps, emails, and good old brick and mortar stores. For a brand to maintain omnichannel customer experience and satisfaction, it needs to wade through the quagmire of data and attain perfect synchronization across platforms and channels. My recent shoe-shopping experience is a wonderful example of this:
I have been wearing shoes from the same brand since 1996. In fact, I used to be so satisfied with the brand that my wife and children also wear shoes from them. Four months ago, when I wanted to buy a new pair, I went online and just performed a simple Google search. I didn't make any purchase, but I received a promotional e-mail from the brand the next day, informing me about their latest launch. This pair was perfect, and I immediately clicked the link to – yes of course, as its name says – know more! Since I first wanted to try them on before purchasing them, I decided to visit a store. Four months, 2 countries, and 16 stores later, I still hadn't found the one pair of shoes that I wanted. When my current pair broke, I switched my allegiance and brought a new pair of shoes from a different brand.
The ultimate mistake of my preferred brand was its failure in customer conversion; they were able to identify the shoes that I would have bought yet, somehow, failed to give me those shoes! The result: they lost a loyal customer, who was wooed by a superior brand through smarter customer acquisition.
A 2017 survey reported that 41% of US customers said that they will switch brands because of the lack of personalization. This lack of personalization results in a lack of trust and customers refuse to return to the same brand.
Customers expect consistency across channels and the margin of error for brands is so little. All it takes is for you to make one mistake and the results might be appalling, like what happened with my shoe incident.
Customer engagement is about to make a radical shift that will disrupt omnichannel e-commerce. Watch out keenly for these 3 disruptions:
From One-to-All to One-to-One: Personalization
No sooner was mass customization introduced than it became the norm. And today, it has long given way to mass personalization. Many brands have achieved personalization for segments and are able to send offers to customers in bulk. But today, customers need a more personal touch and expect brands to know everything about them – from their preferences to their historical data!
If my preferred brand had analyzed my intention of buying a new pair of shoes, and had been successful in making the shoes available in the nearest outlet, I would still have been a loyal customer. But they failed to do the required customer analysis, and thus, paid a hefty price.
A significant amount of investment is required to set up systems and tools, and to leverage technologies to analyze consumer behavior. Big data, AI, and machine learning offer unlimited resources to companies to capture and analyze not just consumer preferences but consumer intent as well. We must also identify consumer actions on all touchpoints to build unique customer profiles.
Real-time Personalization
Digital innovations have guaranteed a shift in consumer-buying behavior. Customer experience is spread across channels and brands should be committed in following customer choices. Capturing customer actions online even through multiple platforms might be relatively easy. In fact, most brands are already providing real-time personalized experience based on the customer's current location or their reading history. Recommendations that pop up every now and then on the screen is testament to that. But that is not enough.
Seamless personalized customer experience requires satisfaction across channels. My brand failed in customer retention because it failed to make the connection between the different touchpoints, even though I visited them multiple times on multiple locations. I did try to stay loyal, by Googling only for their product and taking action on their promotional mail. But they eventually lost me because their channels weren't synchronized.
Once again, it comes down to basic psychology. Customers need to feel special and that you know them personally, for them to start trusting you. Or else, like me, they will leave.
Platform-driven Personalization
Every marketing technology has some form of built-in personalization. If your technology landscape is simple enough to have one unified tool that meets all your marketing needs, you are one of the very few lucky ones! There is a high probability that you have invested time and effort in setting three or more tools that meet all your marketing demands, which would include website recommendations and personalization, advertisements, mobile apps, direct email marketing, and social campaigns. To add to this complexity, you also need to think about how you are going to bring personalization to your customers when they visit you in your store.
Of the 16 stores I visited, 11 didn't even know about the model I was searching for. The problem goes beyond the lack of communication between two channels. This also reflects the brand's inability to serve its customer in a digital world.
Personalization must not be only an element of your marketing technology; it should be one of the most important ones that sets the goal. This will enable you to establish consistency across all channels. It is a cause worth investing in, which will set you up for success in digital transition.
Before Disruption Strikes..
Personalization – the customer's very own 'lord and lady' experience – is a trend that is still in evolution. It will be a wise move to re-evaluate your personalization tools and strategy. Even more importantly, this personalization strategy must support your omnichannel e-commerce.
Nagarro's Interactive Experience and Marketing (IXM) practice has a unique Point of View (POV) about how personalization services should be pulled out of core platforms. Check out the following image to know how, as a marketeer, you should look at personalization services, to be applied in such a way that all consumer touchpoints can experience your brand in the same manner: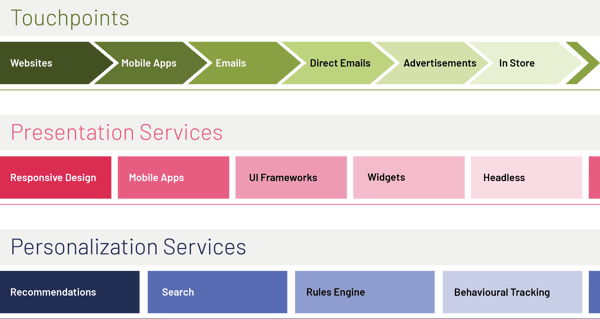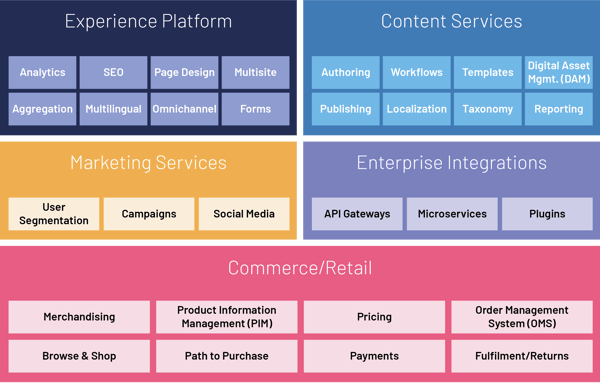 Nagarro's POV – Personalization-led Experience
For successful personalization of omnichannel e-commerce, you should be able to create customer profiles for every customer who connects with you through any and all touchpoints. Be agile. Leverage technology to help you respond in real-time. Staying ahead of disruption takes a lot. Anticipating it, even more!